10 Best Lakme Face Creams In India For Different Skin Types No matter what your age or skin type is, you need to follow a good skin care routine if you want healthy, glowing skin. This is where face creams come in. The ideal face cream not only moisturizes your skin but also protects it from damage and keeps it supple and soft. Lakme has a unique range of face creams that are formulated to perfection. This article lists the 10 best Lakme face creams in India for different skin types. Scroll down and take your pick!
10 Best Lakme Face Creams In India For Different Skin Types
Enjoy the goodness of makeup and skin care with the all-in-one skin Lakme 9To5 CC Complexion Care Cream. It offers a sheer and fresh finish by blurring away blemishes, dark spots, and large pores. The glycerin in the formula deeply hydrates, brightens, and smoothens your skin. This cream has SPF 30 to protect your skin from harmful UV rays. It makes your skin look perfect and does leave a sticky feeling post application.
Skin Type: All
Pros
Lightweight
Non-greasy
Has SPF 30
Blends well
Good coverage
Travel-friendly
Value for money
Cons
This super-creamy, ultra-light, and lush cream by Lakme is a must-have in your kitty. It is enriched with skin-lightening vitamins and microcrystals to enhance your skin tone and impart an illuminated look. It melts into your skin to minimize melanin.
This cream is formulated with SPF 30 and contains niacinamide or provitamin B3 that protects your skin against environmental aggressors and repairs skin damage. It also contains glycerin that moisturizes the skin and makes it plump. This cream tackles dark spots, breakouts, blemishes, pigmentation, and aging signs to give you glowing and younger-looking skin.
Skin Type: All
Key Ingredients: Niacinamide and Glycerin
Pros
Has SPF 30
Lightweight
Absorbed quickly
Smells good
Cons
Fortify your skin with intense nourishment of the luxurious Lakme Peach Milk Soft Creme. Its soothing fragrance revitalizes your senses. The lightweight moisturizer is absorbed effectively into your skin and imparts a healthy glow. The hydrating oils in the formula – like sunflower seed and apricot oil – deeply hydrate and nourish your skin. This cream locks in moisture for up to 24 hours. The vitamin E in it protects your skin from free radical damage. Regular use of this cream leaves your skin feeling soft, smooth, and flawless.
Skin Type: All
Key Ingredients: Peach milk extract, Vitamin E, and Sunflower seed oil
Pros
Smells good
Non-sticky
Non-greasy
Lightweight
Absorbed well
Cons
Enhance your bedtime beauty routine with this night cream from Lakme. It is infused with allantoin and glycerin that repair and moisturize the skin overnight from deep within. The micro-crystals in the cream lighten and even out the skin tone, while vitamin B3 nourishes and repairs the skin throughout the night to make it look clear and rejuvenated.
Skin Type: All
Key Ingredients: Allantoin, Glycerin, and Vitamin B3
Pros
Non-sticky
A little goes a long way
Value for money
Cons
Add a burst of refreshment to your skin with this aloe vera-infused day cream from Lakme. The lightweight formula brightens and hydrates your skin, protects it from daily pollution, and reverses dryness and dullness. It is infused with SPF 20 PA++ to shield your skin from the harmful UV rays.
This cream contains the antioxidant-rich aloe vera that has anti-inflammatory properties that purify your skin. It also hydrates your skin, while glycerin locks in moisture. The vitamin E in the formula protects your skin, and vitamin B3 imparts a radiant glow. The cream has a non-greasy and non-sticky texture that lets your skin breathe throughout the day.
Skin Type: Combination
Key Ingredients: Aloe vera extract, Vitamin B3, Vitamin E, and Glycerin
Pros
Lightweight
Non-greasy
Works as a makeup base
Absorbed quickly
Has SPF 20 PA++
Cons
If you have dry and mature skin, this cream by Lakme is the holy grail. It is infused with niacinamide and vitamin E to reverse all signs of aging. The collagen boosters in the cream fade blemishes, wrinkles, fine lines, pigmentation, and dark spots with ease. The luminizing pearls provide instant brightness and revive a youthful look. This cream also has SPF 15 PA++ that protects your skin from harmful UVA and UVB rays. It enhances your skin's elasticity and improves cell renewal.
Skin Type: Dry
Key Ingredients: Vitamin E, Collagen, and Niacinamide
Pros
Smells good
Has SPF 15 PA++
Imparts glow
Glides smoothly on the skin
Cons
Give your skin some overnight TLC with the Lakme Youth Infinity Skin Sculpting Night Creme. It is formulated with luminizing pearls and insta-collagen boosters, which leave your skin looking brighter overnight.
This formula does not block your pores and lets your skin breathe. It contains niacinamide that protects your skin from further damage and strengthens its barrier and vitamin A that reverses aging signs like dark spots, fine lines, wrinkles, and pigmentation. It works best when paired with the Lakme Absolute Youth Infinity Skin Sculpting Day Creme.
Skin Type: Dry
Key Ingredients: Vitamin A, Collagen, and Niacinamide
Pros
Dermatologist-tested
Non-comedogenic
Non-greasy
Pleasant scent
Cons
Nourish and revitalize your dull and damaged skin with this luxurious cream from Lakme. It provides a boost of hydration, radiance, and broad-spectrum protection to your skin. This lightweight cream is infused with Moroccan argan oil, which seeps into your skin and fortifies it. It does not feel heavy or greasy on your skin. The cream also has SPF 30 PA+++ that provides intense sun protection.
Skin Type: All
Key Ingredients: Moroccan argan oil
Pros
Lightweight
Smells good
Has SPF 30 PA+++
Non-greasy
Cons
The Mattifying Moisturiser from Lakme is your go-to formula to reduce enlarged pores and prevent breakouts. It is fortified with 100% pure green tea extracts, rich in antioxidants and anti-inflammatory properties, which balance sebum production. This lightweight cream is absorbed easily into your skin, giving you an instant matte finish. The potent plant extracts provide intense moisturization, leaving your skin shine-free for up to 12 hours.
Skin Type: All
Key Ingredients: Green tea extract
Pros
Gentle
Lightweight
Non-greasy
Smells good
Cons
Add a splash of hydration to your dry and dull skin with the Hydra Pro Overnight Gel from Lakme. It is infused with HA-PENTA Complex and hyaluronic acid. These ingredients replenish the lost moisture and lock in hydration all through the night to make your skin feel refreshed when you wake up. This lightweight gel leaves your skin super soft, supple, and plump.
Skin Type: Normal
Key Ingredients: Hyaluronic acid and Pentavitin
Pros
Absorbed well
Smells good
Dermatologist-tested
A little goes a long way
Cons
When choosing a face cream, each of us requires a different formula. The above-listed Lakme face creams suit different skin types and are sure to awe you with the results. Pick your favorite(s) and hit the buy button!
The following two tabs change content below.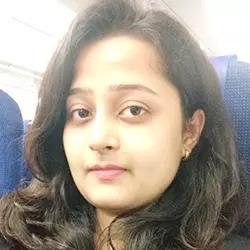 Anjali has a master's degree in Economics and a bachelor's degree in Nutrition and Dietetics. She has over four years of experience in writing articles related to niches like Travel, Fashion, and Fitness. She now spends her time writing articles related to beauty, home, and lifestyle.