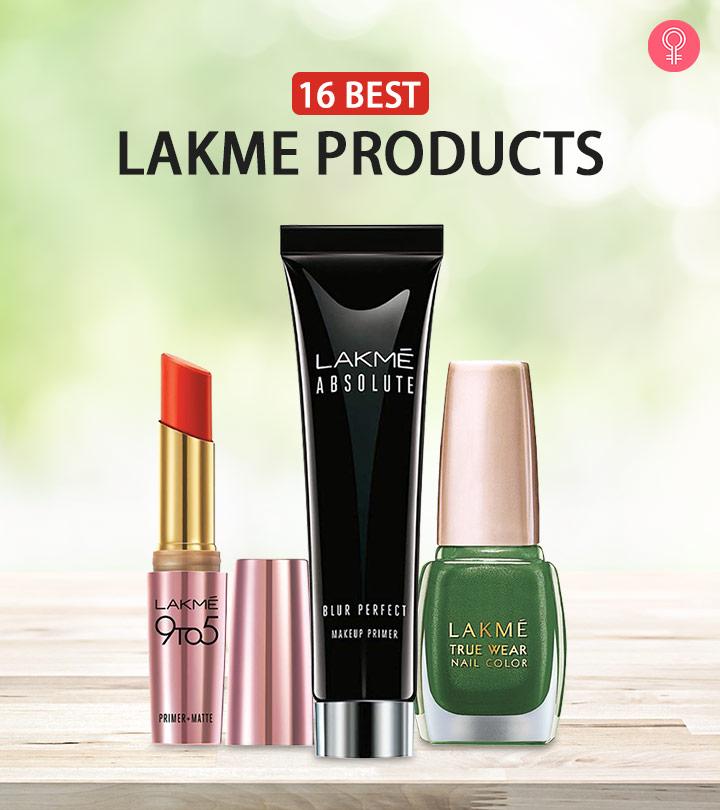 Lakmé is the oldest Indian cosmetics brand that offers quality makeup at reasonable prices. In fact, it ranks at number one in the colored cosmetics market in India. An ally to the classic Indian woman, the brand has massively grown and evolved over the years, bringing us better and far more efficient makeup products. If you are looking to shop for makeup while on a budget, you can count on Lakmé to help you build a vast makeup collection. Here's our round-up of the 16 best Lakmé makeup products that are certainly worth a try! Read on to find out more.
16 Of The Best Lakmé Makeup Products
Review
This foundation has a feather-like texture that lasts up to 16 hours. Its velvety mousse formula stays true to its word and feels weightless on the skin. Besides effectively hiding pores and minimizing the appearance of fine lines, its formula also blends wonderfully. It is an excellent base for daily wear and available in 9 shades.
Pros
Long-wearing
Lightweight
Easy to apply
Smoothens and evens out skin tone
SPF 8
Cons
Does not cover dark spots and blemishes effectively
Review
A primer is a must if you want your makeup to go on smoother and last significantly longer. This formula from Lakmé works wonderfully to fill in pores and blur out flaws. It is a lightweight, the waterproof formula that creates the perfect velvety finish that you can wear alone or as a base for your makeup. If you have oily skin, this is one product you can't afford to skip.
Pros
Easy to use
Brightens skin
Evens out skin tone
Long-wearing
Minimizes the appearance of large pores and redness
Cons
None
Review
This compact from Lakmé shields your face from the harsh summer sun with its SPF 40 formula. Its high-cover layer blocks harmful UVA and UVB rays and prevents skin concerns like premature aging, dark spots, sunburn, and tanning. It is suitable for all skin types and valuable addition to your makeup collection, especially if you are big on wearing sun protection regularly.
Pros
Mattifies skin
Controls oil
Blends well
Lightweight
Affordable
Cons
Available in only one universal shade
[ Read: 15 Best Lakme Face Creams For Different Skin Types ]
Review
This lipstick from Lakmé's 9 to 5 range is a legit bestseller. Its new formula comes with a built-in primer to help you achieve a long-lasting matte finish that feels super comfortable throughout its wear time. This lipstick goes on smoothly, and all its shades offer a rich and intense color payoff. It is available in 30 shades.
Pros
Easy to apply
Long-wearing
Does not dry out your lips
Rich color
Does not bleed or settle into fine lines
Cons
None
Review
This liquid foundation from Lakmé is one of the brand's oldest and most affordable foundations. Even its packaging has remained unchanged over the years! This formula spreads evenly and does a good job at covering spots, dark circles, and blemishes. It also works well to fix redness and patchiness. This foundation is available in four shades that are ideal for Indian skin tones.
Pros
Easy to apply
Blends well
Water-resistant
Oil-free
Formulated with vitamin E
Budget-friendly
Cons
Not ideal for acne-prone, sensitive skin
Review
This is, in all likelihood, the eyeliner you saw your mother use when you were a child. It still is on sale, and that is mainly because it is good stuff. Its formula is highly pigmented and helps you achieve high-definition eyes in one stroke. It is also smudge-proof and stays in place throughout the day, making it convenient for everyday use. Although its packaging is pretty basic and straightforward, its thin brush steals the show as it offers you full control over how you want to line your eyes. This liner is now available in three new shades: blue, golden, and green.
Pros
Water-resistant
Lightweight
Smudge-proof
Comfortable to wear
Economical
Cons
None
Review
The Lakmé Enrich Lip Crayon is a newly formulated lip color that offers a soft texture and smooth matte finish. It is formulated with a rich mixture of olive oil, jojoba oil, natural shea, and cocoa butter to condition and nourishes your lips all day long. Enriched with a highly-pigmented formula, this crayon delivers intense color that stays on through the day. Lakmé Enrich Lip Crayon is available in 10 shades.
Pros
Easy to apply
Does not dry out lips
Ideal for daily wear
Long-wearing
Inexpensive
Cons
None
Review
If you fancy liquid lipsticks, Lakmé's Matte Melt Liquid Lip Color from its Absolute range gives you perfect velvet matte lips. Its weightless formula has an intense color payoff that feels feather-light and comfortable on the lips, unlike most matte liquid lipsticks. It is available in 12 new shades to help you achieve a lush, suede-like finish instantly.
Pros
Easy to apply
Long-wearing
Non-drying
Transfer-proof
Value for money
Cons
None
[ Read: Best Lakmé Lipstick Reviews ]
Review
If you love wearing eye makeup, this eyeshadow palette from Lakmé's Absolute range is a must-have. It features six satin and shimmer finish shades that are perfect to glamorize and achieve any classic eye makeup look. Designed by fashion designer Sabyasachi Mukherjee, these high-intensity shadows are available in three different palette choices: Royal Persia, Nude Beach, and French Rose.
Pros
No fallout
Pigmented colors
Blends well
Long-wearing
Versatile
Cons
None
Review
Finishing powders are all the rage, especially if you are trying to achieve a natural glow without heavy coverage. This rose powder from Lakmé is one product that has been on the market for decades now and with good reason. It adds a gorgeous final touch to your base, controls oil and shine, and protects your skin from harmful UV rays. It is available in two natural-toned shades.
Pros
Pleasant fragrance
Blends easily
Adds radiance to the skin
Evens out skin tone
Inexpensive
Cons
None
[ Read: Best Lakme Absolute Products – Our Top 10 ]
Review
No makeup look is truly complete without kohl. Lakmé's Eyeconic Kajal is one of the best drugstore kajal on the market. Its pigmented formula gives you long-lasting eye makeup that is both smudge-proof and waterproof. The pencil's twist-up packaging is convenient, and its tip makes it very easy for you to achieve a controlled application. It is available in six shades: classic brown, black, brown, turquoise, royal blue, and regal green.
Pros
Pigmented colors
Smooth and easy application
Waterproof
Long-wearing
Cons
None
Review
Lakmé's first lip and cheek color come in a mousse formula that is literally weightless. It gives your pout a powdery matte finish and your cheeks a soft blush of color. Its versatility makes it a highly functional product for the average working woman who is always on the move. Its applicator glides on seamlessly, making it incredibly easy to apply. This lip and cheek color is available in 20 shades.
Pros
Lightweight
Feels comfortable on the lips
Smudge- and feather-proof
Transfer-resistant
Cons
None
Review
Full and shaped eyebrows add more definition and structure to your face. Lakmé's Eyebrow Pencil helps your brows achieve a distinct and groomed look. Its water-resistant formula is extremely long-wearing and does not need any touch-ups. It is also easy to control and sharpen. If you are a beginner at doing brows, this pencil is a good product to start off with.
Pros
Easy to use
Long-wearing
Water-resistant
Smudge-proof
Cons
Available in a single shade
Review
The Absolute Plump & Shine Lip Gloss has the revolutionary property of 3D gloss combined with a luscious sheen. Its smooth consistency gives your lips the perfect pop of color without the heavyweight feel of a typical lipstick. It is ideal for the times you want to glam it up a notch, especially during the evenings. It is sold in 8 shades.
Pros
Moisturizes lips
Plumps up lips
Buildable color
Good applicator
Cons
Review
Lakmé's Enrich Satin Lipstick is the brand's most popular and mainstay classic lipstick range. Its smooth formula keeps your lips satin soft and vibrant. Formulated with vitamin E and olive extracts, this lipstick is ideal for normal to dry lips. Every color is extremely pigmented and created to suit the average Indian skin tone.
Pros
Lightweight
Moisturizing formula
Long-wearing
Available in 32 shades
Cons
None
Review
Lakmé's True Wear Nail Color coats your nails to perfection with its long-lasting and chip-resistant formula. Its applicator is handy, which makes the polish easy to apply. This line has 22 shades, and there is a color for all seasons and occasions.
Pros
Long-wearing
Chip-resistant
Contains resins with color lock technology
Inexpensive
Cons
None
That brings us to the end of our list of the best Lakmé products. Have you tried any of these products? Do let us know what you think about them in the comments section below.