5 Best Lancôme Eye Creams Of 2023
Reduce puffiness around your eyes and restore their original shine with these creams.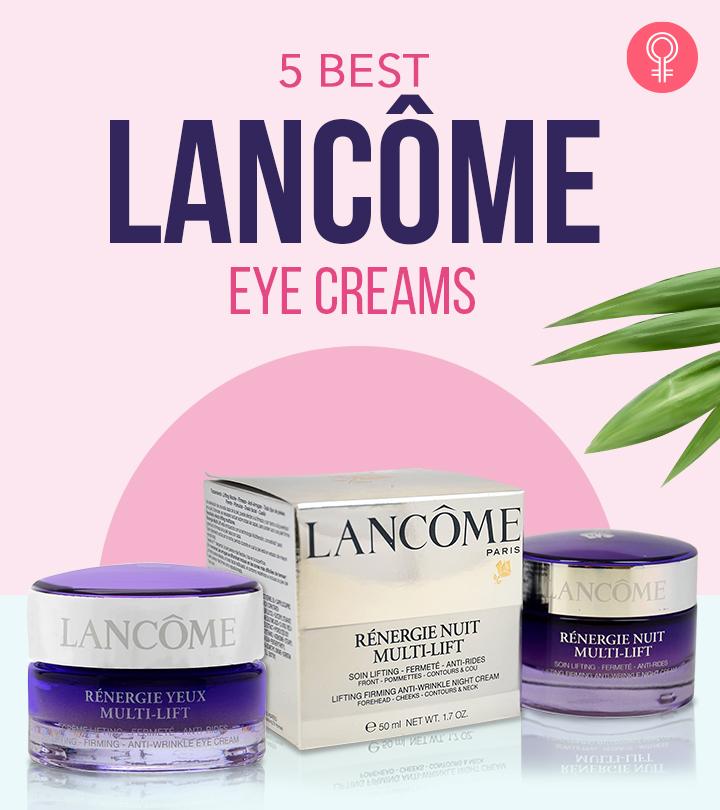 Most of us notice a person's eyes when we first meet them. And eyes surrounded by dull, tired, aged skin do not leave a good impression. The perfect solution is using the best Lancôme eye cream to restore your eye appearance. Lancôme eye creams provide versatile and high-quality results. Their formulations contain anti-aging benefits that decrease signs of aging, dark circles, fine lines, puffiness, and fatigue. In addition, they ensure the skin around your eyes looks soft, healthy, and glowing.
Scroll down and check out the 5 most popular Lancôme eye creams available online. Keep reading to see all their benefits!
5 Best Lancôme Eye Creams Available Right Now
Lancôme Renergie Lift Multi-Action SPF 15 Lifting And Firming Cream is effective against the early signs of aging. It smoothens your skin and tightens to make it look firm and youthful. You can see the improvement in your eye area in just one week. It also offers SPF 15. This eye cream repairs your skin from the damage caused by free radicals. Its nourishing and powerful ingredients hydrate your skin and prevent the delicate eye area from drying out and aging. Keep using this lightweight cream regularly to get beautiful, supple, and younger-looking skin. It can be used by people of all ages, genders, and skin types.
Skin Type: All skin types
Key Ingredients: Avobenzone 3%, Octisalate 5%, and Octocrylene 7%. 
Pros
Broad spectrum SPF 15
Prevents fine lines and wrinkles
Hydrates the skin
Smoothens the skin
Repairs damaged skin
Dermatologist-tested
Cons
Pro Tip
Apply just a small amount of eye cream, and do not use too much under your eye because it may cause irritation and milia.
Price at the time of publication: $110.0
If you want to repair the signs of aging around your eyes, Lancôme Absolue Eye Premium Bx Replenishing And Rejuvenating Eye Cream is your best bet! It contains the patented Pro-xylane complex that restores the moisture in the skin. This improves the firmness and elasticity of your skin and makes it look radiant and smooth. This revolutionary anti-aging eye cream leaves your skin rejuvenated and replenished in just 4 weeks! It is specially formulated to fight the signs of aging such as crow's feet, puffy eyes, fine lines, and wrinkles around the fragile eye area.
Skin Type: Mature skin
Key Ingredients: Patented Pro-xylane complex, jojoba oil, and hydrolyzed soy protein
Pros
Improves skin elasticity and firmness
Moisturizes the skin
Brightens the under-eye area
Luxurious texture
Ophthalmologist-tested
Travel-friendly
Cons
Price at the time of publication: $11.9
This powerful and effective eye cream from Lancôme has been developed with Multi-Tension Technology that transforms the tired, dull, and aging skin around your eyes. This velvety cream gets absorbed easily into the skin and de-puffs eye bags, fades dark circles, and leaves your skin looking radiant and wrinkle-free. It lifts and firms the eye area by strengthening the skin's natural protein-lipid structure. This multi-action eye cream shows stunning results within a month and is a must-have in your skin care routine! Click here to check out this YouTuber's unbiased review.
Skin Type: Mature skin
Key Ingredients: Glycerin, squalane, hyaluronic acid, and linseed extract 
Pros
Fades dark circles
Improves skin firmness
Fights fine lines and wrinkles
Reduces under-eye bags
Nourishes the skin
Cons
Pro Tip
Do not rub eye cream aggressively when applying. Instead, gently dab the product with your fingertips and spread it evenly.
Price at the time of publication: $58.57
Lancôme Renergie Lift Multi-Action Lifting And Firming Eye Cream is a best-selling eye cream. It is enriched with a hydration boosting formula that contains hyaluronic acid, shea butter, and caffeine. This luxurious cream visibly lifts and tightens the skin to reduce dark circles and puffiness on the delicate skin around the eyes. Hyaluronic acid replenishes the moisture in your skin and makes it soft and supple. Shea butter moisturizes the skin, giving it a youthful appearance. This eye cream also fights the visible signs of aging such as fine lines, wrinkles, tired eyes, and crow's feet. The lightweight, silky cream can be safely used under makeup. It can be used by people who have sensitive skin as it is free from harsh chemicals and synthetic fragrances.
Skin Type: All skin types
Key Ingredients: Caffeine, hyaluronic acid, and she a butter
Pros
Provides intense hydration
Rejuvenates tired skin
Fights fine lines, wrinkles, and crow's feet
Sulfate-free
Paraben-free
No formaldehyde and formaldehyde-releasing agents
Phthalate-free
Cons
None
Price at the time of publication: $55.5
Lancôme Renergie Nuit Multi-Lift Anti-Wrinkle Night Cream is a nourishing eye cream. It is enriched with the Multi-Tension (MT) complex that helps the cream penetrate deeper into the skin's epidermis. The powerful ingredients such as apricot kernel oil, shea butter, and glycerin replenish the lost moisture from the skin barrier and lock it in. This ultra-hydrating cream reduces wrinkles and fine lines and prevents future signs of aging. Use this dermatologist-approved eye cream overnight for the best results.
Skin Type: All skin types
Key Ingredients: Glycerin, apricot kernel oil, and she a butter
Pros
Moisturizes the skin
Tightens the skin
Reduces fine lines and wrinkles
Imparts a radiant glow
Paraben-free
Improves the skin tone
Dermatologist-approved
Cons
Price at the time of publication: $95.6
Lancôme Paris has a set of eye creams that provide high-quality and versatile results, while targeting specific issues like dark circles, aging, fatigue, puffiness, and fine lines. To ensure that you select the ideal eye cream for your skin, here are a few features to consider.
How To Choose The Best Lancôme Eye Creams Of 2023
Skin Type
It is better that you choose an eye cream that is specifically formulated for your skin type. For instance, if you have oily skin, look for an oil-free eye cream and if you have dry skin go for a hydrating eye cream. If you have sensitive skin, go for hypoallergenic products, which are formulated to prevent allergic reactions and irritation.
Ingredients
The main reason for investing in an eye cream is dark circles. The circles are mainly caused by lack of sleep or a hectic lifestyle. Ingredients like licorice, vitamin C, niacinamide, retinol, hyaluronic acid, and kojic acid are perfect for treating dark circles. Vitamin C, which is an antioxidant, helps protect the skin against sun damage, and reduces the formation of melanin, thus lightening brown spots and pigmentation. Niacinamide effectively treats blemishes by regulating sebum production and increasing ceramide formation on your skin, thus leaving it supple and glowing.
Anti-Aging Benefits
The very first signs of aging are crows feet and wrinkles around the eyes. In this case, look for a thick cream that is rich in peptides, retinol and hyaluronic acid. Retinol is a powerful anti-aging ingredient which is a derivative of vitamin A. In case you have sensitive skin, go for peptides, as retinoids can be a bit irritating. Peptides are similar to retinol but milder in effect. Hyaluronic acid helps hydrate your skin, while filling in the wrinkles and keeping your skin plump.
Consistency
Choose eye creams as per the consistency you prefer. Go for lightweight and runnier creams if you have oily skin. These creams will prevent your skin from becoming too greasy. Apply thicker creams if your skin is dry and needs intense moisturizer.
Infographic: All About Lancôme And Lancôme Eye Creams: How To Apply And Key Ingredients
Eye creams are greatly beneficial in calming delicate skin, reducing dark circles, wrinkles, and fine lines, and minimizing puffiness around the eyes. Lancôme eye creams are some of the most effective and loved formulas in the market. In the infographic below, you will find a small account of the history of the brand and its eye creams. Take a peek!


Eyes create a great impression. And when they are surrounded by fine lines, wrinkles, and dark circles, your eyes look dull and change your entire look. The best way to alter this is by using eye creams that minimize fine lines, wrinkles, dark circles and brighten your skin around the eyes. Lancome eye creams create a great impact on the skin and cater to the skin issues around the eyes. These creams come with an SPF value and have anti-aging benefits on the skin. They improve skin firmness, provide hydration, and combat aging signs.
Why Trust StyleCraze?
Shiboli Chakraborti, the author of this article, is a certified skin care coach who loves trying out new products. Her extensive knowledge of skin care helps her pick the best for her readers. She has browsed through several user reviews and product details to prepare this list of the best Lancôme eye creams. These products ensure the skin around the eyes is soft, healthy, and glowing.
Frequently Asked Questions
Can you use Lancôme Genifique under your eyes?
Yes, the Lancôme Genifique eye cream reduces the appearance of dark circles and fine lines and moisturizes your delicate skin.
Are Lancôme eye creams safe for pregnancy?
Yes, some Lancôme eye creams are safe for pregnancy. Steer clear of the products that contain retinol, essential oils, or hydroquinone, as these ingredients are not safe for pregnant people.
Do Lancôme eye creams have retinol?
Yes, some Lancôme eye creams contain retinoids to reduce aging signs and improve fine lines. This ingredient also helps improve your skin texture.
Can I use a Lancôme eye cream every day?
Yes, use a Lancôme eye cream daily to prevent premature signs of aging. Scoop a little cream on your fingers and swipe it horizontally along your under eyes and brow bone.
How long do Lancôme eye creams last?
Lancôme eye creams last 12 to 18 months, depending on your use. It is recommended to stop using eye creams if they smell different or appear clumpy.
Recommended Articles
The following two tabs change content below.