15 Best L'ange Hair Products For Women (2023) – Reviews & Buying Guide
Regain your confidence and youthful glow with these affordable hair products.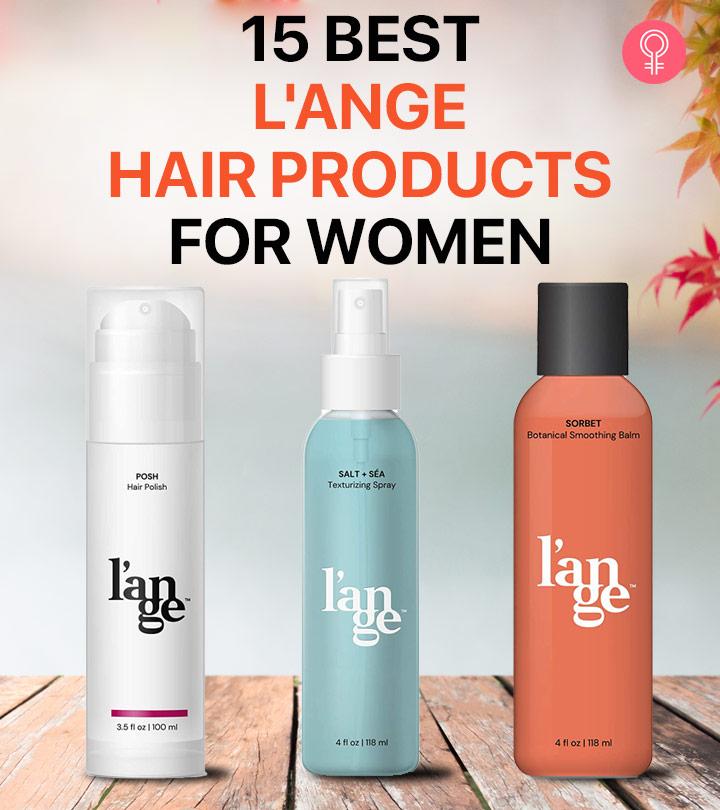 If you're looking for a trustworthy brand to spoil your locks and give you a stunning makeover, L'ange might be the brand for you. The best L'ange hair products will revive your tired tresses and help you regain your confidence. L'ange was founded in 2023, and their hair care items have helped more than 900 thousand individuals regain their soft, luscious hair. They are easy to use, high-quality, and highly affordable. Premium ingredients are used to develop them, and you are guaranteed salon-like results every time you use them. Ciara Rice, a stylist at The Drawing Room NY in Soho says, "The brand L'ange focuses on making your unique hair goals a reality. With competitive price points throughout the line and the products focus on heat protection, taming frizz whilst still being lightweight on the hair."If you believe this is piquing your interest, go through this list curated after careful examination of formulations and reviews, and pick out the best hair products for women.
15 Best L'ange Hair Products For Women
The L'ange Hair Le Volume 2-in-1 Volumizing Brush Blow Dryer has a unique oval barrel that enables 360° airflow. Its premium titanium plates help smooth, shape, and volumize your hair while quickly drying it.
You can style your hair to get smooth, sleek, voluminous strands, or beautifully curled ends. The adjustable airflow lets you control the heat and speed, while the titanium barrel gently smooths the hair to make it a shiny and frizz-free perfection. The product helps in easy detangling of tresses as well and supports free-flowing hair. The ionic technology of the device prevents excessive heat damage. Before buying, have a look at this video of the tester's experience for more details.
How To Use
Towel-dry your hair to remove the excess water. Apply a hair serum or heat protectant. Adjust the setting on the brush to meet your styling requirement (low for fine or thin hair, and high for thick, coarse, or textured hair). If you want to enhance the shine and lock the style, go for the cool setting. Section your hair into manageable portions and work the dryer from root to tip until completely dry.
Best For: Dry, frizzy, and textured hair
Pros
 Ergonomic design
 Powerful motor
 Provides frizz control
 Adjustable settings
 Travel-friendly
 Compact
 Long cord
Cons
None
The L'ange Salt + Séa Spray helps give your hair body, texture, and solid hold without the crunch. It is enriched with sea salt, algae, and kelp extracts that reinforce your hair to keep it lustrous and manageable.
The hydrating elements leave your hair soft and glossy with a radiant finish. This hair protectant hairspray also shields the hair against UV rays and absorbs excess sebum. The formula helps you achieve a sleek or curled hairstyle and helps lock it in. The fresh and invigorating scent makes you feel like you are on a vacay.
How To Use
Spray the product on damp or dry hair. Finger dry or let it dry naturally for a more tousled texture. You can also gently style the hair with a brush or curling iron before it dries completely.
Best For: All hair types
Pros
 Travel-friendly
 Pleasant scent
 Quick-action formula
 UV protection
Cons
The L'ange Sorbet Botanical Smoothing Balm conditions your hair gently but deeply and makes it sleek and smooth instantly. The formula is infused with vitamins C and B complex and fatty acid-enriched lemongrass and rosehip oil that strengthen, smoothen, and tame your locks and aid healthy hair growth.
The sorbet is expertly curated with a blend of biotin and coconut oil that revives dry and lifeless strands and aids in effective hair repair. This product provides unparalleled UV protection and protects your hair color. Its invigorating coconut scent makes you feel like you are on a tropical island. Amazon reviewers say that a little goes a long way with this product, and it does not leave the hair greasy.
How To Use
Squeeze a pea-sized amount of the sorbet onto your palm. Use it on damp hair. Start applying the product from the mid-portion of your hair strands and move towards the tips, massaging it in. Style your hair and use a blow dryer on a cool setting to lock it in.
Best For: Frizzy hair
Pros
 Pleasant coconut scent
 Travel-friendly
 UV protection
 Paraben-free
Cons
The L'ange Le Vite Hair Straightening Brush contains the power of a straightener in the simplicity of a hair brush. It heats up quickly and distributes heat evenly along the ceramic bristles to give you smooth, frizz-free hair in just one go. The product helps increase manageability and effortlessly tames unruly hair.
This is due to its cutting edge Double Negative Ion Technology that traps moisture and seals the cuticles, making your hair healthier. The LCD interface and the control buttons of the brush give you easy control over the temperature settings. The device has a 30-minute auto shut-off function that ensures it won't keep running unattended.
How To Use
Use this straightening brush on completely dry hair. Section your hair into manageable portions. Run the L'ange Le Vite Hair Straightening Brush from root to tip at a slow to moderate pace, creating a smooth and sleek look. Repeat until all your hair strands are straight. After use, switch off the device and place it in a safe and dry space.
Best For: All hair types
Pros
 Compact design
 Auto shut-off
 LCD interface
 Value for money
Cons
None
The L'ange Hair Soleil Professional Hair Dryer helps you achieve salon-quality results at home. You can customize your hair styling routine and get a flawless blow dry in a few minutes with its powerful 1875-watt motor, three heat settings, and two-speed settings. The innovative ionic technology is a game changer for people who struggle with frizzy and static hair. This advanced technology lightweight device is ergonomically designed, making it easy to handle and use for extended periods.
How To Use
Remove excess water with the help of a towel. Detangle your hair and apply a heat protectant serum or spray. Choose the appropriate heat and speed settings on the device. Section the hair and hold the dryer six inches away. Work the hair dryer from root to tip and use a brush to style the hair.
Best For: All hair types
Pros
Powerful motor
Suitable for all hair types
Reduces frizz and static
Lightweight
Long-lasting results
Cool shot button
Cons
None
The L'ange Ondulé Curling Wand has a tourmaline-infused titanium barrel that causes minimal heat damage and makes your straight hair look beautiful and curly. It ensures even heat distribution, giving you a salon-like finish every time. The curler is equipped with far infrared heat technology that gives you lustrous, smooth, and frizz-free hair, while eliminating flyaways. Its negative ion technology makes your hair shiny and soft. This heat styler features a 360° swivel cord and reaches a temperature of 410°F. Watch this video featuring the reviewer's experience to know more about the product.
How To Use
Turn on the device, and it will automatically heat up to 410°F. Section your hair into 1-inch thick strands and wrap each section around the barrel while pointing it away from your face. Hold it in position for 3 to 5 seconds and uncurl. Repeat until all the portions are optimally curled.
Best For: All hair types
Pros
 Ergonomic design
 Lightweight
 Dual voltage
 Corrosion-resistant
 Stain-resistant
 Travel-friendly
Cons
The L'Ange Le Rêve Titanium Straightener helps condition and smoothen your hair. It features a 100% titanium rose gold plate that minimizes heat damage. The infrared light strip beams far-infrared wavelengths into your hair cuticles and locks in moisture.
Its negative ion technology offers soft and silky locks, while the 25% longer plates ensure more coverage and faster straightening. This device has advanced technology features, such as the 60-minute automatic shut-off safety feature. The temperature can be adjusted between 175°F to 450°F.
How To Use
Turn on the device and adjust the temperature to suit your straightening requirements. Section your hair into 2-inch thick portions and place one section between the plates. Press the plate on the section for a few seconds and gradually slide down the lengths of your hair. Repeat the same until all your hair is straight.
Best For: All hair types
Pros
 Lightweight
 Durable
 Dual voltage
 Travel-friendly
 Corrosion-resistant
 Stain-resistant
 Long swivel cord
Cons
The L'ange Hair Grand Début Root Booster can help you put an end to your dry and thin hair woes. This lightweight foam-to-lotion spray adds volume to the hair. The potent blend of proteins, vitamins, and volumizing ingredients adds lift and bounce to the roots of flat, lifeless hair. The product exhibits strengthening effects that help promote free-flowing tresses and make the hair healthy. The non-sticky formula imparts a long-lasting hold to your natural curls. This product is suitable for all hair types and protects color- and chemically-treated hair against heat damage.
How To Use
Use this product on clean, dry hair. Hold it 6 inches away from the hair and spray it into the roots for an instant lift and volume boost.
Best For: Dry, flat, and thin hair
Pros
Adds instant lift to the hair
Suitable for all hair types
Paraben-free
Alcohol-free
Color-safe
Long-lasting
Pleasant scent
Cons
None
The L'ange Hair Elixir Transformative Oil Treatment is a boon for dry hair and scalp. This nourishing oil can be used as a pre-shampoo treatment to moisturize and restore the shine and elasticity of the hair. The product can easily be incorporated in your scalp care routine for lustrous tresses. It contains all-natural and nourishing ingredients such as castor, argan, jojoba, and olive oils that lock natural moisture and boost shine. The lightweight and non-greasy formula offers restorative care and does not weigh the hair down. This hair treatment contains rosemary and peppermint oil, which help soothe a dry and itchy scalp.
How To Use
Take a few drops on your palm and apply it directly onto unwashed, dry hair. Massage the oil well on the scalp with your fingertips and spread it gently on the hair ends. Leave the product for 20 minutes and shampoo your hair.
Best For: All hair types
Pros
Adds shine
All-natural ingredients
Safe for color-treated hair
Paraben-free
Alcohol-free
Sulfate-free
Silicone-free
Cons
None
The L'ange Hair Violet Toning Shampoo helps you achieve and maintain the perfect shade of blonde or silver on your hair. This violet elixir helps in maintaining a cool, neutral, and ashy tone. It also keeps your hair soft and healthy.
The shampoo is enriched with borage oil, rich in GLA that moisturizes the hair and promotes its healthy growth. It also contains panthenol that increases the elasticity of your hair and softens it. The linseed oil in the formula is rich in vitamin E that has anti-inflammatory and UV-protective properties. This shampoo eliminates brassy tones in just one wash.
How To Use
Wear your gloves and massage a small amount of the shampoo onto wet hair. Lather well, rinse thoroughly, and repeat. Follow up with any conditioner of your choice. Use it 2–4 times a month to get the best results.
Best For: Blonde, White/silver colored hair, Dry hair
Pros
 Lathers well
 A little goes a long way
 Spreads evenly
 Long-lasting effects
Cons
The L'ange Hair Envie Leave-In Conditioner is formulated with botanical extracts of biotin, coconut oil, camomile, rosa canina, lemon balm leaf, lemongrass, alba bark, aloe vera leaf, sage, wild geranium, and witch hazel. Just one dollop of the conditioner can help promote hair growth and untangle heavily knotted hair.  It has UV blockers that defend your hair against sun damage, while the vitamin B complex provides hydration and restorative care that smoothes and softens your hair.

How To Use
Towel-dry your hair. Squeeze a pea-sized amount of the conditioner onto your palm and work throughout your hair evenly. Proceed to blow dry or style as usual.
Best For: Curly, Color-treated, and Dry hair
Pros
 Pleasant fragrance
 Non-greasy
 Provides smoothness
 Leaves no residues
 Lightweight
Cons
None
The L'ange Hair Borago Borage Oil Deep Conditioning Masque penetrates and quenches your hair follicles and protects them from heat and chemical damage. Its immensely rich and luxurious conditioning revives dry and chemically treated hair, restoring its elasticity and natural oils. The masque is packed with nourishing ingredients, such as keratin protein, borage seed oil, and amino acids that offer premium treatment to your hair.
How To Use
Take a small scoop of the product and apply it to wet or damp hair. Gently massage hair and scalp. Leave the product on for 2-3 minutes or up to 12 minutes, depending on the level of damage. Rinse thoroughly with cool water. Use once a week for best results.
Best For: Dry, Chemically-treated, and Damaged hair
Pros
 Invigorating scent
 Lightweight
 Easy to use
Cons
The L'ange Hair Glazé Hair Lotion adds volume and texture to dry and lifeless hair and gives you defined, lustrous, and radiant curls. It is packed with vitamins, antioxidants, fatty acid-enriched jojoba oil, antioxidant-rich sunflower seed extract, essential oils, and other botanical extracts that nourish and moisturize your hair and help it retain its natural bounce. This luxurious and rich-smelling hair lotion keeps your hair tangle-free and lustrous throughout your day.
How To Use
Apply a few drops of this lotion on towel-tried hair before using a blow dryer.
Best For: All hair types
Pros
 Lightweight
 Travel-friendly
 Paraben-free
 Alcohol-free
 Sodium chloride-free
Cons
None
This mist moisturizes, hydrates, and conditions your hair. It has a color-safe formula and is infused with premium nourishing ingredients, such as marula extract, citronellol oil, essential fatty acids, and antioxidants that nourish your scalp. The UV blockers and antioxidants protect your hair from harmful environmental aggressors and keep it looking young.
How To Use
Spray the product on damp or dry hair. You can gently comb or run your fingers through your hair to cover all the strands thoroughly. Let it dry naturally for a minute.
Best For: Dry hair
Pros
 Weightless formula
 Pleasing scent
 Provides color protection
 A little goes a long way
Cons
The L'ange Hair Réplenish Conditioning Spray leaves your hair smooth and silky all day long, tempting you to keep running your fingers through it. Its expertly curated formula makes your hair tangle-free and prevents further tangling.
The wheat amino acids, aloe, chamomile, sage, and lemon balm in the formula add volume to your hair, making it look full and bouncier. This hairspray also contains geranium that helps restore your dull locks by sealing moisture in them. It also protects your hair from further environmental damage.
How To Use
Use it on dry or damp hair. Shake the bottle well and spray lightly but thoroughly on your hair strands. Comb and style your hair as desired.
Best For: All hair types
Pros
 Lightweight
 Color-safe
 Paraben-free
 Travel-friendly
Cons
 Contains alcohol and added fragrance
*The prices provided in this article are based on the latest available information. However, they may vary due to changes in pricing by the seller and/or promotional offers.
Why Trust StyleCraze?
Shiboli Chakraborti, the author, is a hair care enthusiast. She is a big fan of L'ange hair products and has reviewed various products from their range. To shortlist the best from the brand, she carefully considered multiple online reviews from product users and looked closely at the ingredients and formulations of the options available in this category. The hair care products from L'ange listed here are easy to use, highly affordable, and made from premium ingredients that revive tired and dull hair to make them soft and luscious.
Frequently Asked Questions
Are L'ange products paraben-free?
No, not all products from L'ange are paraben-free.
Are L'ange products vegan?
No, L'ange products are not vegan. But they are cruelty-free.
Is L'Ange a professional brand?
Yes, L'Ange offers professional-grade styling tools and salon-quality treatments. Although the brand offers premium-quality goods, its products are greatly affordable.
Do L'Ange hair products have silicone?
No, L'Ange hair products do not contain silicone, sulfates, or parabens. Their lightweight products boost shine, smooth out frizz, and improve your hair texture.
Is L'Ange Glaze a heat protectant?
No, L'Ange Glaze is not a heat protectant. It is a hair lotion that improves your curl textures and keeps frizz away.
Can you use L'Ange products on dry hair?
Yes, you can use several L'Ange products on dry hair. It is recommended to use L'Ange heat protectants only on damp or dry hair.
How long do you leave L'Ange purple shampoo on?
You can leave L'Ange purple shampoo on for three to five minutes. Then, rinse your hair with lukewarm water to remove the shampoo remnants after use.
Recommended Articles