10 Best Large Exercise Mats For Your Workout At Home – 2023
A surface large enough to ensure great balance and support through your workout session.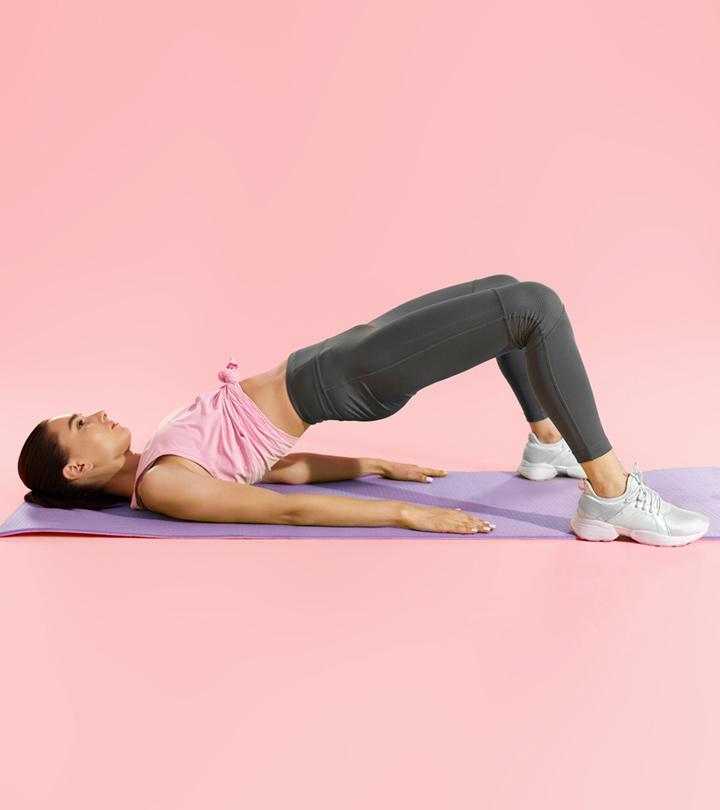 Maintaining a healthy lifestyle is challenging. And one of the reasons, if our sedentary work-life that restricts us to one position for long hours. So, if you have a large exercise mat you can change some of that with some yoga and stretching. You can use these mats for multiple workouts. They are portable and easy to store. The mats are made of vinyl or rubber material with anti-slip properties. They are durable and thick. In addition, the mat allows you to perform your exercise without injuring or hurting yourself. You can now save yourself from excuses and get some exercise from the comfort of your home.
There are a lot of exercise mats in the market, all claiming to have the best features. So, how can you tell which ones are really worth the investment? Well, in this article, we have put together a carefully curated list of 10 best large exercise mats and elaborated on their features, pros, and cons. You can now scroll down and easily find out which one will suit your needs the most.
Choose Your Favorite Out Of These 10 Large Exercise Mats
If you're inclined towards light sports such as mild yoga or meditation, this thick yoga mat comes in NBR (Nitrile rubber) material which is meant to provide you the comfort of a soft feedback to your joints when you workout. NBR is also a high-quality non-toxic element synthesized to be more gentle towards the environment. Now, with yoga or exercise mats comes the worry of selecting the best non-slip large exercise mat. Gruper's Yoga Mat assures a smooth workout session on any type of flooring you have, be it wooden, tile, or cement. The mat comes in an extensively stretch-proof and tear-resistant form that also characterizes moisture resistance to an extreme.
Pros
NBR material
Super wide
Sweat and water resistant
Eco-friendly and non-toxic
Anti-slip
Anti-tear
Cons
Price at the time of publication: $37.99
Say goodbye to knee, elbow, and tailbone pain caused by thin mats with the Fit Active Sports Large Exercise Mat. The thick padding of 8mm is the ideal foundation for your home gym or fitness studio. Thanks to its extra-wide, non-slip, shoe-friendly surface, you can now work out without worrying about slipping or wearing shoes. The extra-large size ensures that you have plenty of space to move and exercise freely. The durable construction lasts through your sweat sessions.
Pros
Sturdy build
Non-slip design
Ideal for large spaces and studios
High-density material
Cons
Price at the time of publication: $129.99
Working out with a partner has never been not fun, and if you're on the lookout for a mat to workout with a partner, this exercise mat answers all your queries. With a wide dimension of 7ft in length and 5ft in width, now you will be able to share not only the experience but also a good motivating session with your workout buddy. Its complex texture and double-sided design allows one to move seamlessly. The mat is absolutely free from latex or any toxins while being squishy to the touch and firm at the same time. The thickness of the mat is 8mm which is impressive for an oversized exercise mat. Now you can forget the knee pads because of the extreme weight resistant cushion. Click here to check out a detailed personal review of this product.
Pros
Double-sided skid-proof design
Eco-friendly
Ideal for 2 partner workouts
8mm thick
Cons
Not meant for high intensity workouts
Price at the time of publication: $189.95
This 6mm thick exercise mat scores an A with its strong gripping design that promises zero slide or slip. Opting for an absolutely comfortable yoga session? Roll this mat down on your hardwood floor and proceed to follow your breathing patterns while the patterns on the mat keep you stable on the floor. The cherry on the top is that the material used to finesse this product is made from TPE (thermoplastic elastomer) which is a form of rubber that is made of recyclable rubber and is also waterproof. This means that you can sweat as much as you want and the mat will hold true to its form and build. Created for regular, dynamic, or less intense workouts, it is sure to make you want to move. Here's a review video to help you get a better understanding of the product.
Pros
Double sided
Anti-skid
TPE rubber mat
Composed of non-toxins and non-phthalate
Cons
May not be ideal for all kinds of floorings
Price at the time of publication: $39.99
Home workout sessions come with the basic need of a proper yoga mat, keeping that under consideration, you'd also want to invest in one that promises to not only last long, be stable while being soft and cushiony, but also be of no harm to the environment based on the products they're made up of. The Odoland yoga mat is a 6mm large roll-up exercise mat that is entirely made with TPE, and is suitable for whatever workouts you want to practice on it. The wave texture underneath provides an ample amount of grip which can make you hold steady. This multi-purpose mat also comes with a promise of long-lasting durability and waterproof layer that is easy to clean after your routines. Now you can perform your favorite sets be it pilates, stretching, cardio, or yoga on the comfort of an eco-friendly rubberized veneer.
Pros
Lightweight
6mm thickness
TPE mat
Ideal for all types of workouts
Cons
Some may find it too thin to their liking.
Price at the time of publication: $45.99
A great way to indulge yourself in working out at home on a serious level is to separate a dedicated space to draw a giant exercise mat on the floor and use it for your daily intense grind. This 8 x 6 ft large exercise mat for home gyms is the best to serve your needs for a high intensity workout. This mat is totally compatible with tile, concrete, basement, garage, and even carpet flooring! Furthermore, to cater to your health's needs, this mat guarantees the fusion of eco-friendly and toxin-free elements. With a 7mm cushioned layer, you would definitely feel the ease and comfort in performing multiple forms of exercises. This exercise mat from ActiveGear is also accompanied by 2 velcro straps and a carry bag for storage purposes. You can enjoy your workout sessions knowing that you are on a mat that is both stable and sturdy and offers comfortable cushioning, while providing the perfect foundation for your fitness activities. Need more information? Watch this video to make an informed decision about the product.
Pros
Extra large
7mm padded mat
Eco-friendly and toxin-free
Ideal for high intense exercises
Cons
It may initially have a peculiar odor.
Price at the time of publication: $179.95
Got a hankering for a heavy-duty cardio workout but want it at the comfort of your home? Well, this large exercise mat from Square36 promises exactly what you must look for when buying a mat for cardio workouts at home. Ideal for cardio, strength-training, kickboxing, aerobics, etc., this mat assures absolutely no slip and a full-on grip. With this mat, you can also choose to go against wearing shoes when performing activity-induced tasks and not worry about the fallbacks. Free from BPA, phthalates, formaldehyde, and other harmful chemicals, you could see this exercise mat setting its own standards.
Pros
7mm dense
Ideal for HIIT, cardio, aerobics
Endures intensive movements with or without shoes
Free from harmful chemicals and colorants
Cons
May peel off after several months of use
Price at the time of publication: $279.99
Witness the comfort of an 8.5mm thick gym mat crafted especially to fulfill your bones' needs. This large exercise mat from Sensu provides the optimal level of comfort with the dense cushiony yet firm grasp that allows you to go from yoga to muscle building without a second doubt about descending to the floor. Your daily drill will now be safe and secure in the support of this mat. Additionally, this versatile fitness surface offers comfortable cushioning as well impact protection and joint support. What's more? The mat also comes along with a large sweat-absorbing towel and also a case with strap to carry or store the mat in. The product is absolutely safe as it avoids the inclusion of latex, rubber, dioxins, and other harmful chemicals or metals.
Pros
8.5mm thick
Odor-free and non toxic
Does not contain latex, rubber, dioxins, furans
Made from 16P-Eco material
Cons
Some may find it a bit heavy.
Price at the time of publication: $139.97
Roll out this fine quality yoga mat and stretch as much as you want to. With a thickness of 6mm, this exercise mat proves to be just the perfect one for light home workouts. Combined with ultra durability and stretch, this mat assures a complete non-slip technique with a uniquely designed pattern meant to grip on the floor. Perfected to be utilized on any type of flooring— hardwood, carpeted, or concrete, you can now finish your sessions on the mat with ease and much, much space. You can leave the mat to be on the floor as is or roll it and store it.
Pros
Hatch pattern prevents tearing or ripping
6mm thickness
Anti-slip or skid sponge rubber material
Large, heavy-duty exercise mat accommodates up to 2 people
Cons
May not seem as cushiony to some
Price at the time of publication: $142.85
Transform the way you work out at home with the AG ACTIVEGEAR Large Yoga Mat. The eco-friendly construction enables the mat to withstand heavy use while offering comfort as you stretch, practice yoga, or do pilates. The mat surface feels soft on your skin and joints and is made of shock-absorbing high-density foam, reducing the risk of injuries and rashes. You can enjoy your workout sessions without worrying about slipping or bad odors, thanks to the mat's excellent traction and odorless material. Embrace the benefits of shock-absorption with this protective mat for a fulfilling and comfortable home workout routine.
Pros
8mm thickness
Eco-friendly material
Odorless
Toxins free
Can be used with shoes on
Moisture-wicking
Easy to store
Cons
None
Price at the time of publication: $159.29
Choosing an item such as a yoga or exercise mat can be confusing at times with tons of brands promising a similar end result. However, there are a couple of things to keep in mind before you do intend to invest on an exercise mat. And here we give you an elaborate buying guide to help you out.
How To Choose The Large Exercise Mat
Remember, short or standard-sized exercise mats would be best for post-workout or menial movements, whereas, a long or broader mat would provide the area to perform intensive yoga or workouts.
Thin or thick yoga mats work best for the kinds of movements you want to pursue. Thin exercise mats are ideal for high intense workouts, however, you may have to compromise on the comfort levels of the mat when compared to the thick mats. Thick mats provide ample support; however, dynamic workouts may seem a tad bit difficult to perform on them.
Eco-friendly mats are considered a must, especially if you're practicing yoga. Since yoga is more of a spiritual connection with the outerior world around us, using an environment benefiting mat would help release some of the guilt or stress that one may get from using a hard-to-recycle mat. Also, they're good for human health as well.
Stickiness of the mat prevents you from slipping, and depends on the kind of material utilized in manufacturing the mat and as well as the texture of the mat. PVC mats (not easily recyclable) mats are considered to have the best sticky factor. However, with the intent of creating earth friendly mats, elements like NBR, TPE do stand close in terms of their stickiness and they are mostly made without harmful chemicals.
Our lives have seemed to come at a standstill, in a way that it has affected us not just mentally, but also physically. It may seem pointless in caring about our bodies since we are now advised to stay in. However, continuous ignorance towards our health may result in adverse results. Therefore, in order to incorporate certain levels of movements and activeness in our lives, doing a couple of exercise routines may actually help us cope. Getting a yoga mat is just the first step.
Why Trust Stylecraze
Shreya Vishwanathan is an experienced writer and editor who has been in love with the health and fitness segments ever since she started experimenting with diet and effective workout plans. In this article, she highlights the best large-sized exercise mats for you to start working out at home. These mats are soft and comfortable and come with anti-skid properties that allow you to exercise without any mishaps. The author has thoroughly researched and vetted each product in this list that consumers across various forums also endorse.
Frequently Asked Questions
What is the best thickness for an exercise mat?
The best thickness for an exercise mat is 0.125 inches or 1 inch. It provides adequate cushioning to your feet and stabilizes your body posture.
Is a thick or thin exercise mat better?
Thin mats offer increased stability and improve your balance. On the other hand, thick mats offer optimum cushioning suitable for therapeutic practices. So, choose a mat according to your needs.
What is the difference between an exercise mat and a gymnastics mat?
A gymnastics mat offers a greater surface structure and adept grip than exercise mats. In addition, gymnastic mats have a rougher texture. In contrast, exercise mats have a smooth surface with adequate cushioning that helps you stabilize your postures better.
Can you use a yoga mat as an exercise mat?
No. Yoga mats are usually thin compared to exercise mats. Therefore, they do not provide adequate cushioning and stabilize your sharp and frequent exercise movements. In addition, exercising on a yoga mat imposes a high impact on your knees and ankles, resulting in increased leg injuries.
Can an exercise mat be too thick?
No. An extremely thick exercise mat slows down your movements and offers less support. In addition, such a mat sinks you in at all times and restricts your leg movements.
How thick is a gorilla mat?
Gorilla mats are usually eight inches thick.
Is it better to work out on the carpet or a hard floor?
Working out on a carpet reduces the impact on your knees and decreases the chances of knee and ankle injuries.But, exercising on a hard floor helps you maintain balance and achieve the correct posture.
Recommended Articles