5 Best At-Home Laser Hair Removal Devices For Dark Skin
Get rid of unwanted hair growth without having to pay frequent salon visits.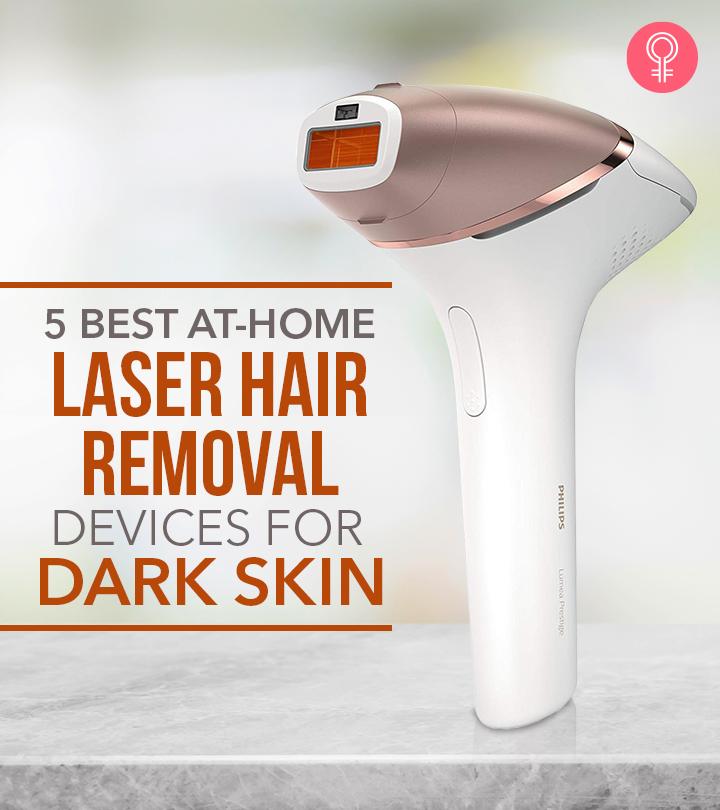 Let's talk about laser hair removal for dark skin at home! How does it work? What are your options? Let's see what we can find out!
At-home laser hair removal equipment is not only less unpleasant than waxing or epilating, but they significantly diminish body and face hair growth over time. They target your hair follicles with IPL technology, reducing their capacity to generate hair. Such devices may cost a little more, but the benefits they provide are well worth the investment. But, laser hair removal equipment that works for darker skin tones is difficult to come by. Don't worry – after considerable research, we have uncovered the 5 best laser hair removal devices that work on darker complexions without causing damage. Keep reading to know more about them.
But first, let's look at how laser hair removal functions before we get into the products.
Top Picks
How Does Laser Hair Removal Work?
During laser hair removal, the laser emits a monochromatic light that gets absorbed by the melanin present in the hair. This light energy then converts to heat and damages the hair follicle. This further inhibits or delays future hair growth. In the following section, we have discussed the 5 best laser hair removal devices also meant for dark skin.
5 Best At-Home Laser Hair Removal Devices For Dark Skin
The Silk'n Infinity Laser Hair Removal System utilizes a technology that uses pulses of light to remove undesired hair growth permanently. The device avoids stubble and ingrown hairs and reduces redness and other forms of irritation. The device removes hair easily and painlessly. It is ideal for any skin type and can be used on the face, legs, arms, upper lip, and bikini lines. The device has a high-speed repetition of light pulses. The quartz bulb included in the device allows for quick reloading and faster pulses. Here's a personal review video to help you get a better understanding of the product.
Pros
Painless
Easy to use
Rejuvenates skin
Ergonomic size
Easy to hold
Cons

Quick Tip
Always use a laser hair removal device on clean and clear skin for the best hair extraction.
Price at the time of publication: $299.0
Look no further than the Braun Silk Expert Pro 5 for the most efficient and durable IPL device on the market! This powerful and convenient device is the best hair removal option for the money. It is dermatologist-certified as skin-safe (Skin Health Alliance). Its powerful sensor technology automatically adjusts the light's depth and intensity according to your skin's needs.
With a 100% satisfaction guarantee, you'll never have to worry about hair growth at undesired places again. In addition, it has a lightweight design, is easy to transport, and has long-lasting results, making it perfect for busy lifestyles. And if that wasn't enough, the product comes in a convenient travel case so you can take it wherever you go.
Pros
Easy to use
Rejuvenates skin
Long-lasting effects
Certified skin safe
Lightweight design
Cons
None
Price at the time of publication: $349.99
The Braun IPL Hair Removal System is the perfect solution for those looking for permanent hair removal. Its clinically-proven technology helps deliver long-lasting results, making it a great alternative to traditional hair removal methods. It is easy to use and can be used on the face and body, making it perfect for both men and women. The device is dermatologist-approved and has been cleared by the FDA for safe use at home. With a large treatment window and a high-energy output, this system can cover a large area in a short amount of time, making it perfect for those who want to get rid of unwanted hair quickly and efficiently. The device features a built-in sensor that adapts to your skin tone, ensuring that the treatment is safe and effective.
Say goodbye to the hassle of shaving and waxing and hello to smooth, hair-free skin with the additional caps in the system that offer precise hair removal. The wide headed caps are ideal for upper legs, chest, and back hair while the precision heads are ideal for your face and intimate areas. The system flashes 125 times per minute to ensure effortless hair removal and full skin coverage.
Pros
Easy to use
FDA-approved
Full skin coverage
Multiple energy levels
Dermatologist-approved
Cons
May cause skin irritation or redness on sensitive skin

Caution
Avoid under-eye areas, tattoos, or moles when using a laser hair removal device.
Price at the time of publication: $429.99
The BoSidin At-Home Hair Removal Device is the ultimate solution for achieving smooth and silky skin in the comfort of your own home. This powerful device uses advanced laser technology to effectively remove unwanted hair, leaving you with long-lasting results. The device is designed for use on the face and body, making it perfect for women of all skin types and hair colors.
It features a large treatment window that allows for quick and efficient hair removal. The device also has a built-in skin sensor that adjusts the laser intensity as per your skin tone, ensuring safe and effective treatment. With five different energy levels to choose from, you can easily customize your treatment to suit your needs.
The device is easy to use and comes with a user-friendly manual that guides you through the process. It also includes a rechargeable battery, so you can take it with you wherever you go.
Pros
Long-lasting results
User-friendly
Multiple attachments
Adjustable energy levels
Rechargeable battery
Cons
None
Price at the time of publication: $389.99
The SmoothSkin Pure FIT IPL Hair Removal Device is the ultimate solution for smooth, hair-free skin. This advanced device uses intense pulsed light technology (IPL) to target and destroy hair follicles, resulting in permanent hair reduction. It allows ultra-fast treatment sessions, making this device the perfect solution for larger areas such as legs and arms. With just a few treatments, you shall witness a noticeable reduction in hair growth and smooth, silky skin.
The device is equipped with a unique skin tone sensor that ensures the right intensity of light is used for your skin type, making it safe and effective for all skin tones. Its compact design makes it easy to use and store. The device is cordless, so you can use it anywhere, at any time.
Pros
Ultrafast IPL technology
Unique intelligent sensor
Customized treatment
Suitable for every skin tone
Cons
Expensive
Not suitable for use on darker skin tones or black hair.

Remember
Do not sunbathe before using an IPL hair removal device, as increased skin pigmentation can affect the process.
Price at the time of publication: $322.15
Laser treatments are the best option for achieving a smooth, hair-free body in the long run but they are thought to be expensive. Nowadays, clinical laser hair removal procedures don't require you to burn a hole in your pocket or spend hundreds of dollars. Thanks to the compact devices available, hair removal can be used right at the comfort of your home. To help you pick the right product, we have listed the key features to keep in mind when you decide to buy a laser hair removal device.
How To Choose The Best At-Home Laser Hair Removal Device For Dark Skin
Most laser hair removal systems provide numerous attachments for removing hair as long as 4 cm from your back, legs, arms, and stomach. If you wish to remove hair from smaller areas of your body, such as your upper lip, chin, bikini line, or armpit, use a hair removal device with a 2 cm surface. Most devices include extra filters and rounded attachments designed specifically for each body location.
For a long-lasting device, consider the number of flashes the laser hair removal device offers. Most devices offer more than 500,000 flashes which is good to go for 20 years. Few models give you over 1,000,000 flashes that last more than 20 years.
A rechargeable laser hair removal device is totally wireless. This is ideal for traveling, and it also provides complete flexibility of movement when in use. You may even use it if the battery dies while it is plugged in. If you choose a device that operates on the electrical grid, you must be close to a plug. The advantage is that you won't have to worry about your device's battery dying!
These are the 5 best laser hair removal devices for dark skin. But are these devices safe for dark skin? We will explore the same in the following section.
Is Laser Hair Removal Safe For Dark Skin?
According to dermatologists, using the right laser removal device will not pose any risk to dark skin tones. However, consult your dermatologist before using these devices. Their extensive use may cause skin damage, including hyperpigmentation, which may not always be reversible.
Dr. Enrizza Factor, a Diplomate of the Philippine Dermatological Society and Fellow of the Philippine Academy of Dermatologic Surgery Foundation Inc., says, "Most models work more effectively on light skin and dark hair. The reason why is the fact that there needs to be a contrast between the pigment of the hair and the pigment of the skin. Today, there are fewer devices that efficiently remove dark hair from dark skin. These models emit longer wavelengths that don't harm the skin. The laser hair removal machines for dark skin today are safe to use. There are professional lasers at beauty clinics and at-home lasers. Before buying a certain model, make sure it is suitable for your skin tone. Check it out within the hair color and skin tone chart."
Infographic: The Dos & Don'ts Of At-Home Laser Hair Removal For Black Skin
Laser hair removal is only effective when done safely and the right way. Although an expert traditionally does laser hair removal, the safe build of these at-home devices allows you to get similar benefits from the comfort of your home. Check out the below infographic to ensure you are doing it right.


Try out the best at-home laser hair removal devices if you are tired of waxing, epilating, or shaving and are looking for a permanent and effective hair removal solution. With these devices, you will get long-lasting results and not have to worry about frequently visiting the salon. These devices are equipped with IPL technology that reduces the capacity to generate hair. The products mentioned above are easy to use and painless. However, we recommend you consult your dermatologist before using these devices.
Why Trust Stylecraze?
Oyendrila Kanjilal, the author of this article, is a certified skin care coach. She is passionate about skin care and understands the skin and its needs. Her interest in this field motivates her to learn more and review the latest products. Her extensive research has helped her curate this list of best at-home laser hair removal devices. She has checked user feedback to understand the efficacy of the devices and has considered safety, ease-of-use, design, laser wavelength, and other parameters to esnure only the best ones make it to the final list.
Frequently Asked Questions
Do home laser devices remove hair permanently?
Yes. With regular use of a hair removal device, you can permanently remove unwanted hair from your body and face.
How long can you spend on the process?
You can spend upto 60 minutes removing hair from your skin. The duration also depends on the area you are targeting.
Can you use at-home laser hair removal machines on dark skin?
Yes. Certain at-home laser hair removers have low-energy IPL settings, adjustable configurations of the IPL flashes, and wavelength filters that make them perfectly safe to be used on dark skin.
What happens if you use IPL on dark skin?
Certain IPL devices are devoid of any low-energy settings so they can adversely affect dark skin. They transfer heat onto the melanin-rich skin cells resulting in discoloration of your skin.
Who should not take IPL treatments?
Pregnant women who are on blood thinners, people who are taking acne-relieving drugs, and those with active acne and severe scarring should avoid IPL. Plus, those who have experienced sunburn recently should not use IPL treatment.
Can you use IPL on tanned skin?
Yes, you can use IPL on tanned skin without harming your skin.