12 of the Best Eyelash Growth Serums for Healthy Lashes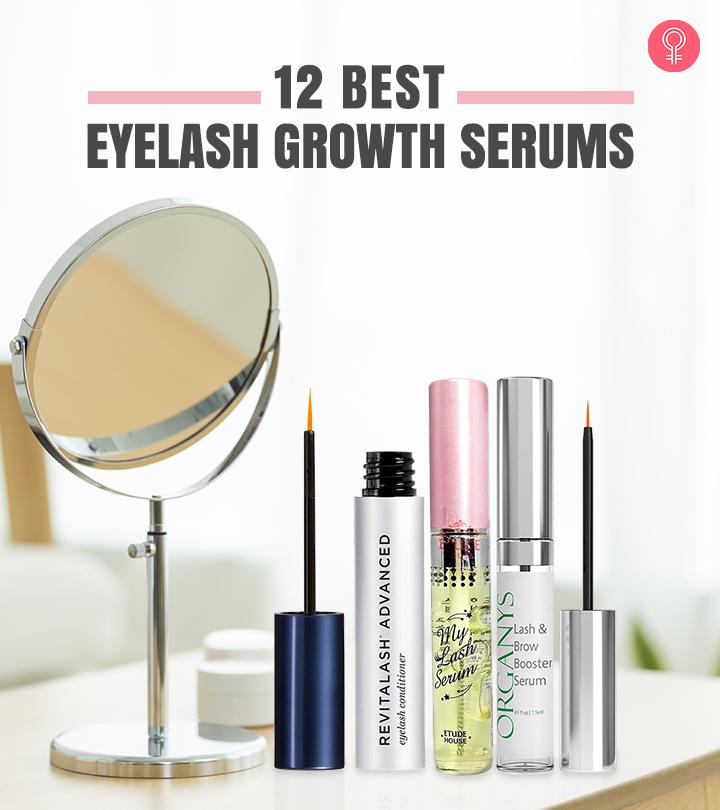 Thick, fluttery, and mile-long lashes are a universal symbol of beauty, and we all want to have them. If you haven't already been blessed with luscious lashes, there are a bunch of ways you can accelerate their growth and achieve the lashes of your dreams. Investing in an eyelash serum is one such way.
This wonder product is enriched with fatty acids and conditioning peptides that give your lashes a real boost. In this article, we have reviewed 12 of the best eyelash growth serums on the market that will make your lashes fuller and longer.
12 Best Eyelash Growth Serums That You Need To Try
Review
Rimmel Lash Accelerator Serum is formulated to give you longer and thicker lashes while conditioning and nourishing them. It contains glycerin, panthenol, caffeine, and arginine along with biotin and hydrolyzed keratin. If your lashes need a significant boost without the help of mascara and falsies, this serum from Rimmel does a great job of encouraging hair growth. Use it twice a day for best results.
Pros
Lightweight
Easy to apply
Suitable for sensitive eyes
Affordable
Cons
The complete list of ingredients is not mentioned anywhere.
Review2
Revitalash helps you achieve fuller, longer, and thicker lashes in 3 to 10 weeks. Its two primary ingredients are trifluoromethyl dechloro ethylprostenolamide, a prostaglandin derivative that mimics the actions of hormones to encourage eyelash growth, and chlorphenesin, a muscle relaxant. It also contains ingredients like panthenol (a humectant that moisturizes your lashes) and citric acid (which is not only a preservative but also helps strengthen your eyelashes).
Pros
Works on both eyelashes and brows
A percentage of its sales are donated to breast cancer research
90-day money back guarantee
Cons
Review
RapidLash Eyelash Enhancing Serum is one of the most effective eyelash serums on the market. Its formula contains a derivative of prostaglandin, which is a drug used to treat glaucoma. It helps in promoting eyelash growth in a short period. While its results are amazing, its formula contains certain questionable ingredients, such as phenoxyethanol and chlorphenesin, both of which are known eye irritants. If you face any issues or significant side effects after using this serum, we recommend you stop using it immediately.
Pros
Easy to use
Clinically and ophthalmologist-tested
Works on both lashes and brows
60-day money back guarantee
Cons
May cause redness if you have extremely sensitive eyes
Review
Rodan And Fields Eyelash Serum features a unique proprietary formula that improves lash volume and length. You need to use this serum for at least 8 weeks to see noticeable results. Apply it every night along your upper lash line and continue to use it after desired results are achieved to maintain your lashes.
Pros
Effective results
Easy to use
Long-lasting
Good packaging
Cons
Expensive
May cause side effects because it contains Isopropyl Cloprostenate, which is a medication used to treat eye conditions like glaucoma.
Review
GrandeLash Serum encourages longer and thicker eyelash growth while repairing and restoring the condition of your brows and lashes. This serum is made from natural ingredients and can also be worn with makeup. You need to apply this serum just the way you apply liquid eyeliner. If you are under 30, apply it once a day, and if you are over 30, use it twice daily.
Pros
All-natural ingredients
Clinical evidence provided
Paraben-free
90-day money back guarantee
Cons
Not safe for pregnant women and for those undergoing chemotherapy.
Review
This lash serum from the Korean brand Etude House is enriched with vitamins, panthenol, and dogwood berry extracts for a noticeably fuller lash line. It comes in the cutest tube with an applicator that reaches the smallest of lashes and applies the product without causing any mess. At its low price point, this serum is definitely worth a shot to achieve the lashes of your dreams.
Pros
Nourishing and conditioning formula
Safe for sensitive eyes
Perfect applicator brush
Strengthens eyelashes
Cons
Review
The L'Oreal lash serum helps promote full, strong, and healthy lashes. It contains nourishing castor oil, conditioning pro-vitamins, strengthening keratin, hyaluronic acid, and madecasside to protect your lashes and filloxane to boost volume. For best results, apply this serum twice a day at the root of your lashes.
Pros
Budget-friendly
Easy to apply
Safe for sensitive eyes
Sleek packaging
Cons
None
Review
This lash serum does not promise to make your lashes longer, but it does add a whole ton of volume to them. The newfound fullness and thickness make your lashes look longer. Its formula is enriched with conditioning oils, strengthening keratin, and nourishing peptides. For best results, use this serum twice daily.
Pros
Moisturizes eyelashes
Protects lashes from breakage and brittleness
Contains 3 amino acid peptides
Value for money
Cons
None
Review
This serum from Shiseido prevents your lashes and brows from looking sparse, thin, and short. It gets absorbed easily at the roots and leaves your lashes feeling conditioned. Its active ingredient, arginine, is known to help restore the appearance of hair in your brows and lashes. Its unique flocked-tip applicator is easy to use and comfortably reaches the smallest of areas for an even application.
Pros
Packed with powerful and hydrating ingredients
Conditions lashes
Easy to use
Can be used on brows
Cons
Review
The No7 Fanomenal Lash Serum contains hydrolyzed keratin and panthenol. Both of these ingredients are known to boost and accelerate hair growth. Apply this serum to cleansed eyelids once a day and expect noticeable results within 8 weeks of regular usage. However, its shoddy applicator makes using it quite a task.
Pros
Works on both lashes and brows
Contains peptides and moisturizing and conditioning compounds
Affordable
Cons
The brand does not disclose the full ingredient list.
Review
If you are looking for a lash serum that is packed with wholesome ingredients to improve skin and hair health, you will love Lancer Lash Serum. Its formula is free of harmful parabens, phthalates, and sulfates. Its conditioning formula utilizes a combination of essential fatty acids, the zinc found in pumpkin seed extract, and the moisture of glycosaminoglycans to make your eyelashes more lustrous and glossier.
Pros
Ophthalmologist-tested
Safe for contact lens-wearers
Ideal for broken, brittle lashes
Cons
Review
Organys Lash Serum is an all-natural formula that is free of harmful parabens that may irritate your eyes. It needs to be applied twice a day. It is not intended to give you a permanent solution for thin or brittle lashes. It is more of a "food product" that will help you maintain your lashes on a daily basis.
Pros
Natural formula
Easy to use
Ideal for sensitive eyes
Cons
None
One major trick to growing your lashes and maintaining them is sneaking in some beauty treatments while you rest. Eyelashes, like any other body part, require vitamins and nutrients to grow and remain healthy. Adding foods or supplements with iron, biotin, and folic acid to your diet will also promote healthy eyelash growth.
Finally, consistency is key – use your lash serum regularly, and you will end up with naturally gorgeous lashes in no time.
That was our round-up of the best eyelash growth serums out there. Have you tried any of these serums? Which one are you looking forward to trying? Let us know in the comments section below.