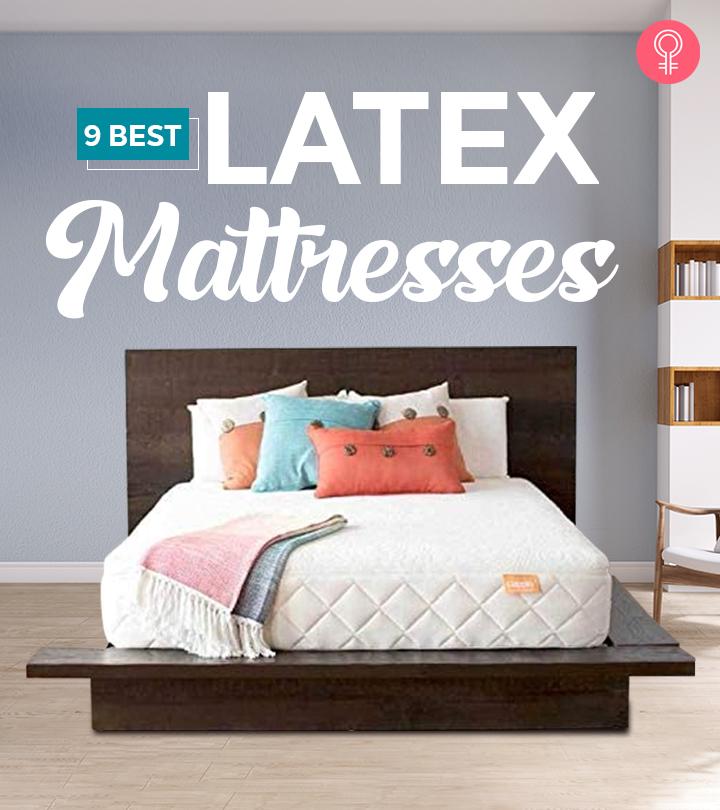 A good night's sleep is a blissful experience. A major part of that depends on your mattress. And what can be better than a latex mattress! Latex mattresses make you feel relaxed and energetic, relieving body aches. These mattresses conform to your body closely and align your spine, alleviating pressure points. They are durable, responsive, and a favorite among versatile sleepers. We have listed the 9 best latex mattresses for your consideration. Scroll down to check them out.
9 Best Latex Mattresses
The LUCID Latex Hybrid Mattress is perfect for most middle-aged people, pregnant women, and children. This soft latex memory foam is infused with a temperature-regulating gel that disperses your body heat efficiently while providing relief for pressure points. It is compatible with the platform, metal grid, slatted, box spring, and adjustable bed sets. The dual-transition layers help minimize motion transfer, while the individually-encased steel coils isolate movement and improve airflow.
Features
Size: Twin XL
Dimensions: 80 x 39 x 12 inches
Weight:3 pounds
Warranty: 10years
Pros
Ideal for back sleepers and plus-size people
Durable
Provides edge support
Aligns the spine
Cons
The Linenspa Latex Hybrid Mattress consists of four layers of latex and foam that give the required support without being overly firm. The four layers use two response foam – a transition foam followed by a Dunlop latex. This hybrid mix is temperature neutral and remains cooler than an all-foam mattress. Its high-quality steel coils are wrapped individually for motion isolation and encased in the foam to provide edge support. The latex foam bounces back when you lie on this mattress and provides a cradling comfort.
Features
Size: Queen
Dimensions: 80 x 60 x 10 inches
Weight: 81 pounds
Warranty: 10 years
Pros
Temperature neutral
Responsive
Motion isolation
Durable
Hybrid design
Cons
Might not expand uniformly
Might sink
The Sunrising Bedding Mattress provides optimal airflow and motion support. You can use this with bunk beds, box spring, foundation, and different slat types. It is made using pain-relieving and fire retardant Talalay Latex that provides ultimate relaxation. The natural latex extracted from the Malaysia rubber tree regulates the temperature and prevents dust mites and molding. This mattress has gauge encased coil springs that have an orthopedic effect on the back, waist, and shoulders by relieving numb muscles and joint pains. The premium pocket coils work independently to stay firm regardless of your position. Its hybrid nature drawn from natural organic latex and innerspring mattress components provides comfortable cushioning, close conforming for targeted pressure relief, strong edge support, and balanced sleep experience.
Features
Size: King
Dimensions: 80 x 76 x 8 inches
Weight:6 pounds
Warranty: 20 years
Pros
Mold-resistant
Affordable
Strong edge support
Responsive
Bouncy
Toxin-free
Odor-free
Allergen-free
Cons
This mattress by ViscoSoft is created using revolutionary gel-infused latex foam. The layers include – a 100% cotton removable cover, a plush down-alternative pillow for cloud-like comfort, responsive gel latex for optimal sleep support, and anelastic skirt to secure the topper with the mattress. It is durable, responsive, and CertiPUR-US certified. This product is made without ozone depleters, flame retardants, mercury, lead, and other heavy metals. It also has low VOC emissions and maintains indoor air quality. The cutting-edge formula rebounds the mattress to prevent sinking and aligns your spine to relieve common pressure points. Its superior heat transfer coefficient and the ventilated design allow air circulation.
Features
Size: Queen
Dimensions: 23 x 22.25 x 15 inches
Weight: 9 pounds
Warranty: 3years
Pros
Reduces body aches
Durable
Responsive
CertiPUR-US certified
Cons
This latex infused memory foam mattress helps correct your sleeping posture and relieve stress and back pain. It offers high resilience, breathability, and dehumidification that ensure that it is cool. The soft memory foam provides pain relief and comfort, while the latex layer helps keep the mattress clean. The independently encased coil structure helps reduce the sensation of movement. Its hybrid design balances between its firmness and softness, making it suitable for all kinds of sleepers. It is CertiPUR-US Certified, eco-friendly, durable, and also meets CFR1633 Standard.
Features
Size: Queen
Dimensions: 80 x 60 x 10 inches
Weight: 1 pounds
Warranty: 10 years
Pros
Durable
30-day trial
Suitable for all kinds of sleepers
High resilience
Breathable
Cons
Needs 72 hours for complete expansion
The Eco Terra Mattress combines the elements of plant-derived, hypoallergenic natural latex, and innerspring mattress. It uses soft Talalay latex in the plush layer and scores 5.5 out of 10 on the firmness scale. This mattress is responsive and molds to your body for ultimate comfort and support. Its individually wrapped inner coils help minimize motion disruption. The mattress cover is made of GOTS Certified Organic Cotton, with enhanced breathability and moisture-wicking ability.
Features
Size: Twin XL
Dimensions: 80 x 38 x 11 inches
Weight: 63 pounds
Warranty: 10 years
Pros
Responsive
No motion disturbance
Allergen-resistant
Fabric-encased coils
Cons
Not suitable for side sleepers
The plush top layer of this mattress is made of high-quality natural latex that conforms to your body. This premium triple-layered firm mattress also offers orthopedic support that helps align your spine and reduces pressure on your hips, lower back, and shoulders. It includes a removable stretch skirt, a non-slip bottom, and a gray polyester mesh. The combo of a specially designed fabric and an open-cell gel memory foam ensures proper ventilation and continuous airflow that stays cool throughout the night.
Features
Bed Size: Twin
Dimensions: 75 x 39 x 12 inches
Weight: 51 pounds
Warranty: 10years
Pros
Responsive
Affordable
Offers orthopedic support
Cons
This mattress from Latex For Less has 6" 100% natural Dunlop latex infirm, 2" 100% natural Talalay latex in medium, and 1/2" 100% natural wool. The 100% natural latex is harvested sustainably from the Hevea Brasiliensis tree without harmful chemicals, ensuring a cloud-like, buoyant feel. It features a unique dual firmness option between a medium and firm side – just flip the mattress to the side that suits your sleeping pattern. The 100% natural Californian wool breathes better than synthetic substitutes and helps regulate your body temperature. It also provides a flame-resistant barrier without using synthetic chemicals.
Features
Bed Size: Queen
Dimensions: 80 x 60 x 9 inches
Weight: 132 pounds
Warranty: 20years
Pros
2-in-1 firmness options
Flame-resistant
100% organic cotton cover
Affordable
Hypoallergenic
Cons
The Happsy Organic Mattress features a breathable coil system and moisture-wicking wool,ensuring comfortable sleep without overheating. It is supported by pocketed springs made without glues or adhesives and topped with two inches of organic latex and wool batting for firm support. It is a certified 100% organic mattress and flame-resistant.
Features
Bed Size: Full
Dimensions: 10 x 75 x 53 inches
Weight:5 pounds
Warranty: 20years
Pros
Non-toxic
GOTS certified
No adhesives/glues
GOLS certified
GMO-free
No flame retardants
Cons
Now, let's find out what a latex mattress is and its types.
What Is A Latex Mattress?
A latex mattress is any mattress that has either one or more layers of latex as a comfort or support layer.
There are different types of latex, and you can choose the one that best suits your requirements.
What Are The Types Of Latex Mattresses?
Natural Latex: This type of latex is extracted from the rubber tree sap. There are two kinds of processes for manufacturing natural latex – Dunlop and Talalay. Talalay is a new method and produces more homogenous, softer, and lighter latex compared to the primitive Dunlop process.
Synthetic Latex: This kind of latex is derived from a bunch of petrochemicals and uses either Dunlop or Talalay manufacturing process. Generally, a synthetic latex mattress costs you lesser than a 100% natural latex mattress.
Blended Latex: The blended mattress is a mix of synthetic and natural latex foams. A mattress is 'blended' when it contains 30% or more natural latex.
Before making a purchase, you need to consider certain factors to ensure a successful buy.
What To Consider When Buying A Latex Mattress?
Firmness: Your sleep position decides the required firmness of your mattress. Back sleepers may prefer various versatile options, such as very soft, soft, medium-firm, firm, or very firm. Side sleepers usually prefer soft latex that allows their shoulders and hips to sink deep, ensuring healthy spine alignment. Stomach sleepers prefer firm mattresses to prevent it from sinking too deeply. Choose your latex mattress depending on your sleeping preferences.
Body Weight: Your body weight is another crucial factor. For people who are lightweight (< 130 lbs), a soft surface would be ideal, while heavyweight sleepers (> 230 lbs) may go for a firm latex surface. Average weight sleepers (130-230 lbs) may go for either 'medium' or 'medium-firm' for optimal support.
Support Layer: The support layer of a mattress is its most elastic and resilient part. This layer provides pain relief and bounce without altering the shape of the mattress. Natural mattresses usually consist of a support core made of foam, while synthetic and hybrid models use polyfoam or steel coils as their support layer. Mattresses made entirely of foam are durable and have five times better lifespan than the others.
Comfort Layer: The comfort layer is the top layer of the mattress that your body comes in direct contact with. While Dunlop and blended latex offer durability, Talalay latex is more popular due to its cloud-like, soft feel.
Sleep Temperature: As latex is more breathable than other materials, it tends to be cool. Also, Talalay latex is cooler than Dunlop.
Thickness: Most natural latex mattresses are between 6-12 inches thick, whereas blended latex mattresses are 8-12 inches thick. Heavy adults should go for an all-latex mattress of at least 10 inches thickness for optimal support.
The distinct features and feel of a latex mattress are the major reasons for its popularity. Let us look at some of its advantages.
What Are The Advantages Of A Latex Mattress?
High Durability: A typical natural mattress has a minimum lifespan of 10 years. On the other hand, synthetic or blended mattresses tend to last for 5-6 years.
Shape Conforming: One of the best features of a latex mattress is that it conforms to your body, alleviating pressure points and helping in spine alignment. Its shape recovery ensures no permanent indentations on the top surface.
Adjustable: Unlike the typical memory foam mattresses, the latex adjusts to the sleeper's curves instead of sinking. It is a great option for chronic back or shoulder pain and side or back sleepers.
Motion Isolation: As a result of its point elasticity, the latex is capable of isolating motion transfer without disturbing the rest of the mattress area.
Noise: One of the best advantages of a latex mattress is that it remains virtually silent while bearing weight. This results in a peaceful sleeping environment, especially for sensitive sleepers.
Invest in a durable latex mattress that caters to your sleeping pattern. Pick your favorite one from our list and relax blissfully!
Expert's Answers For Readers' Questions
Do latex mattresses smell?
Ideally, a natural latex mattress should not smell. But mattresses made of synthetic latex tend to have smell initially. However, it goes away within a few days.
How long does a latex mattress last?
An all-natural latex mattress can last between 12-40 years or even more. However, the blended latex mattresses have a lifespan of 6-10 years.
Why are latex mattresses so expensive?
Latex mattresses are more expensive than your regular mattresses as it is made of rubber, which is a natural substance. But, it is durable and holds the shape well, which is worth the price.
Do latex mattresses sleep hot?
It is a common misconception that latex mattresses are hot. Since a latex mattress allows better air circulation than other types of mattresses, it stay scooler and offers a more comfortable sleep.
Can you flip a latex mattress?
While there is no harm in flipping or rotating the layers of your natural latex mattress, you might not need to flip it since the foam layers are made of rubber.
Can bed bugs live in a latex mattress?
The natural latex foam is denser than other mattress materials. Thus, it prevents the burrowing by bed bugs.
How do I know if I am allergic to latex?
If you were exposed to latex previously and experienced symptoms like itching, hives, and a runny or stuffy nose, you might be allergic tolatex. These symptoms can begin minutes after exposure to latex-based products.
Recommended Articles
The following two tabs change content below.

Latest posts by Harini Natarajan (see all)

Harini Natarajan
As Chief Editor, Harini sets the tone and editorial direction for StyleCraze to deliver engaging, interesting, and authentic content revolving around women's health, wellness, and beauty. She has over 14 years of experience in content writing and editing for online media. She specializes in the areas of Beauty, Lifestyle, and Health & Wellness and is proficient in Medical Sciences (Biology, Human Anatomy and Physiology, and Biochemistry). Her background in Biomedical Engineering helps her decode and interpret the finer nuances of scientific research for her team. Harini is a certified bibliophile and a closet poet. She also loves dancing and traveling to offbeat destinations.