13 Best Lavender Perfumes For Women In 2021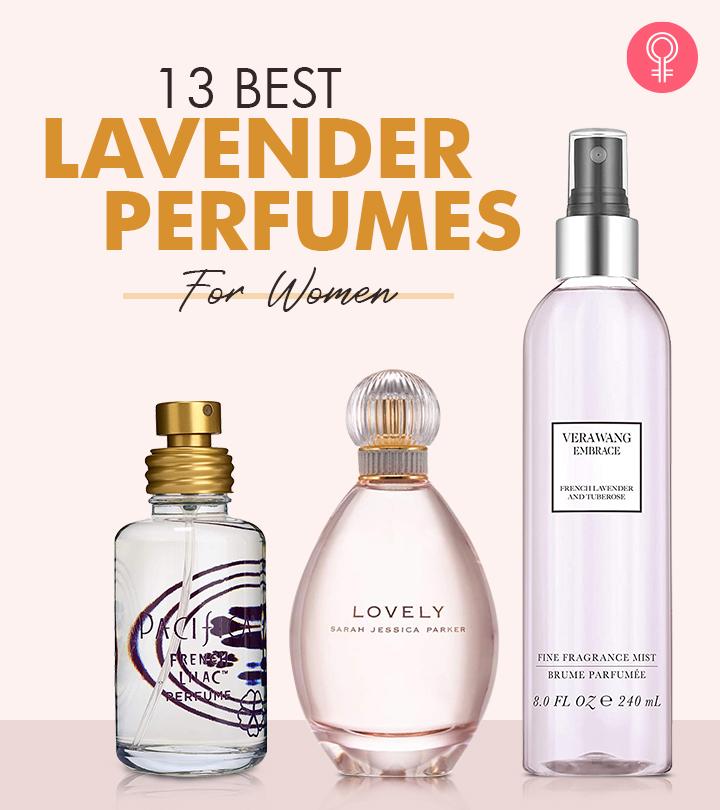 Lavender perfumes are truly regal with their delicate scent that remains a timeless signature across all generations. It lends you a touch of grace and is still a scent one would associate with relaxing freshness. Of all the floral scents flooding the market, lavender embodies a sweet floral aroma that is gentle and never leaves a sickly sugary feeling behind.
If you are looking for this head-turner in your perfume cabinet, check out our list of the 13 best lavender perfumes for women that are sure to woo.
What Can Lavender Fragrance Do For You?
The scent of lavender is truly enchanting, and it remains equal parts calming and uplifting. This aromatic plant has been a daily commodity in the world of perfumery. It features as a top favorite because of its sweet scent that is believed to help us calm down and alter our emotional state. It helps induce sleep, relaxes muscles, and relieves inflammation. For just the promise of soothing our nerves and reducing stress alone, we would bump this one up as a stellar ingredient to all fragrances.
The Embrace French Lavender and Tuberose by Vera Wang is a burst of fruity-floral bouquet in a bottle. Top notes of Mandarin tingle your senses with a zesty fresh aroma as the scent builds into a sweeter lavender and tuberose. Vanilla and cacao are the base holding this fragrance together. This is a truly floreintal scent crafted with an ingenious blend of lavender for a soothing experience.
Pacifica French Lilac perfume strives to present springtime in a bottle. The brand is sustainably driven and brings a non-toxic, clean product that smells great and sticks to an all-natural approach. Its scent has a sweet honey accord and smells of fresh lilacs in the backyard. Ylang ylang, heliotrope, and hyacinth elevate the blend. But what has us sold is the nectarine heart that rounds out this floral fragrance with a hint of refreshing youth. The brand packs a true-to-life botanical fragrance that captures the senses of all who wear it.
Lovely by Sarah Jessica Parker is undeniably classy but still puts a modern sensual twist to its classic qualities. This is a soft, powdery, and discreet fragrance for the modern women. The top notes open with wood and citrus notes featuring rosewood, mandarin, lavender, and apple martini. It develops into its glamorous silky charm with the middle notes of paperwhites, patchouli, and orchids. The base is a sultry cedar, musk, and amber for that hint of casual elegance.
Dynamic and full of intrigue, the Libre Perfume by Yves Saint Laurent is an enticing woman's fragrance. A burst of freshness rises from the opening notes of black currant, mandarin orange, petitgrain, and lavender that slowly evolves into a more soft bouquet of jasmine, soothing lavender, and orange blossom. Finally, a combination of Madagascar vanilla, musk, cedar, and ambergris completes the scent and makes it a quintessential fragrance for all boss ladies out there.
Yardley London English Lavender is a delicious lavender blend where none of the notes are chaotic or loud. Top notes of rosemary, eucalyptus, lavender, and bergamot greet the senses ever so mildly. The middle is a soft and uplifting clary sage, geranium, and cedar. The scent then slides into the base notes of musk, tunica bean, and oakmoss. This scent is reminiscent of the countryside with its classic freshness.
A luxe and well put together scent, this Eau de Toilette smells of the most natural and fragrant lavenders. The calming scent opens with the top notes of lavender flowers as it intensifies into a blend of rosewood and lavender. This sweetness is balanced by cedarwood, musk, and tonka beans that harmonize the entire scent with their dry down. This is a good scent for layering, and it suits every occasion.
This hand-crafted faceted crystal bottle is a work of art. The H and D lavender bottle is an elegant statement piece for your dresser and adds that extra touch of sophistication to all your favorite fragrances. Because luxury is seeing something before you let your senses indulge in the experience. This refillable bottle has a thick and sturdy design with a beautiful purple color that shimmers under sunlight. And the charm of its scent is just to die for! This is a perfect Christmas or birthday present for your loved ones.
Caswell Massey Centuries Lavender EDT is a well-dosed, sweet, and harmonious blend that imparts a fresh delicacy of floral scents. The scent has a beautiful powder note on the dry down that leaves you calm and relaxed. This is a great gift for lovers of simplicity who enjoy clean, single-ingredient scents.
The L'Ooccitane Terre de Lumiere is liquid dusk in a bottle. This fragrance is a blend of the magic of golden hour as it meets aromatic freshness. The scent gives off a wild edible aroma of honey and almond as it grows from the sparkling breeze of its opening notes of pink pepper and bergamot. The scent evokes a sense of immersion in the delicate beauty of the South of France. This perfume douses you with its lavender and honey to treat the senses before settling into the warm embrace of the musky base notes.
The Lavanila Vanilla Lavender perfume is a refined bouquet of delicacy. It blends lavender with rose, violet leaf, and Madagascar vanilla for a fresh-cut flower bouquet that soothes the senses. This blend infuses organic sugarcane alcohol, essential oils, and botanicals for an experience of pampering. It is a clean and skin-loving perfume that is safe yet top-notch in quality.
Pacifica Lavender Lemon perfume is lush with a summer beach vibe with its fresh breeze and buttery lotion scent. It opens with a bright and sharp lemon and grapefruit note in the beginning with lavender in the background that reveals more of itself as the scent grows. Sugary notes are prominent with vanilla, making the scent a refreshing coastal scent ideal for daytime wear.
Hand-picked for the apothecary enthusiasts, the Broken Top Lavender Mint Roll-on is nature-inspired but backed by modernity. It brings a simple and bold statement in a bottle that is crafted with minimal delicacy. Its jojoba oil base is infused with essential oils. The scent trails off with garden mint with a strong note of lavender and hints of lemon, bergamot, and eucalyptus essential oils. The use of clean sources makes this scent long-lasting and uplifting.
The Jo Malone Amber and Lavender Cologne opens fresh and clean and goes on to become a deeply aromatic scent. The top notes are lavender, bergamot, and mint that mix with clove and cinnamon for a bit of an edge. The herbal scent is tempered by warm and spicy amber and later by the woody patchouli. The fragrance is intricate and unique and makes for an excellent gift for summer weather.
How To Choose The Best Lavender Perfume
1. Sillage- Look for the sillage of the perfume. Sillage is the degree to which the fragrance lingers around when you leave a space. A strong sillage would make the scent more prominent, and the lavender would stand out more.
2. Longevity– Find a perfume that has good longevity. Without good longevity, the lavender note would fade away soon and would require reapplication.
3. Potency– If the blend is sourced from high-quality ingredients following a stringent standard control, the quality of the fragrance would be superior. A good lavender perfume should be made from high-quality lavenders that retain their potency even after extraction and blending.
There are many wonderful lavender perfumes that smell divine and have us feeling fresh and fragrant all day long. But to choose from the many blends and aromas might not be easy. But fret not, our list above makes it easy for you to find the perfume that would deliver a tantalizing treat to the senses.
Frequently Asked Questions
What perfumes have lavender in them?
Perfumes that use lavender essential oil and list lavender as a note in the blend are perfumes that have lavender in them.
What is lavender perfume made of?
A lavender perfume is made from the extracted essential oil of lavender that is delicately crafted into a blend that carries its floral aroma.
Why does lavender smell so good?
The lavender plant is an aromatic sweet herbal plant. The extracted lavender encapsulates the sweetness of a floral bouquet and smells wonderful to the senses.
What fragrances go well with lavender
It is a versatile fragrance that pairs well with most other families of fragrances.
Does lavender perfume repel mosquitoes?
Yes, lavender fragrance can repel mosquitoes.