13 Best Lavender Perfumes For Women In 2023
A few sprays of these fragrances will leave you surrounded by a regal and calming aroma.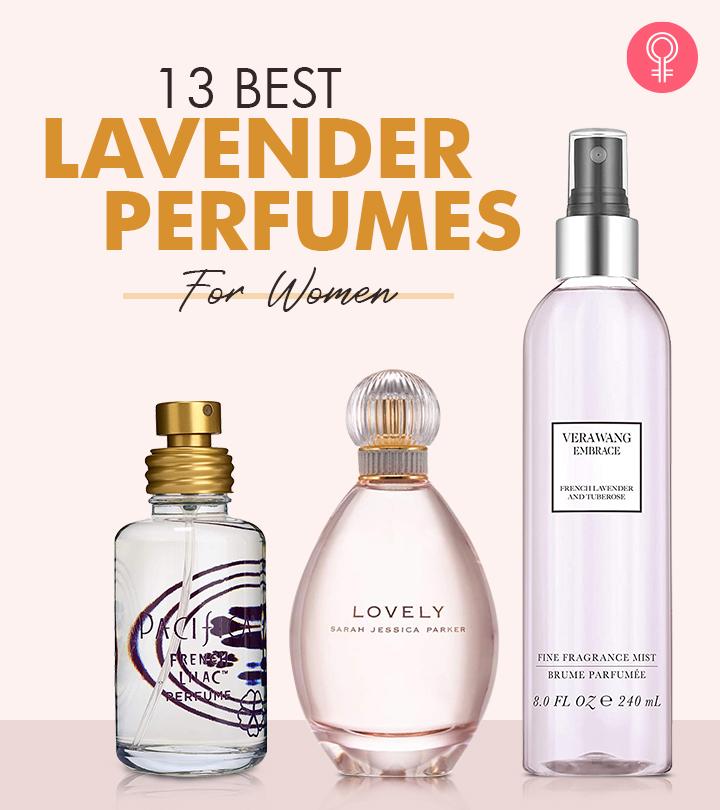 Lavender note perfumes have been the most popular scent for ages. It offers a relaxing, calm, and happy fragrance. Hence, the best lavender perfume is regal. There are wide floral scents available in the market, out of which lavender incorporates a sweet floral aroma that is tender and does not leave behind a sugary feeling.
However, lavender is not just a sweet floral scent. It has many iterations that match everyone's preferences. Check out our list of the 13 best lavender perfumes for women. Read on and find yourself your ideal lavender perfume!
What Can Lavender Fragrance Do For You?
The scent of lavender is truly enchanting, and it remains equal parts calming and uplifting. This aromatic plant has been a daily commodity in the world of perfumery. It features as a top favorite because of its sweet scent that is believed to help us calm down and alter our emotional state. It helps induce sleep, relaxes muscles, and relieves inflammation. For just the promise of soothing our nerves and reducing stress alone, we would bump this one up as a stellar ingredient to all fragrances.

Pros
Romantic scent
Fresh aroma
Suitable for regular use
Cons
Price at the time of publication: $9.48
Pros
Long-lasting fragrance
Refreshing scent
Vegan
Paraben-free
Cons
The scent may be too sweet for some
Price at the time of publication: $20.85
Pros
Suitable for all seasons
Suitable for formal wear
Medium sillage
Elegant packaging
Cons
None
Price at the time of publication: $33.8
Pros
Suitable for daily use
Refreshing scent
Skin-friendly
Elegant packaging
Cons
None
Price at the time of publication: $106.99
Pros
Mild scent
Suitable for formal wear
Suitable for all seasons
Perfect for casual brunches
Cons
None
Price at the time of publication: $18
Pros
Suitable for all occasions
Natural scent
Contains essential oils
Cons
The scent may be too strong for some
Price at the time of publication: $33.8
The Heart Company Me Time In A Bottle Lavender Perfume is the ideal way to treat your senses to a moment of peace while indulging in timeless self-care. The perfume comes in a clear purple heart-shaped bottle that will add a touch of sophistication to your vanity. The luxurious blend of lavender and other calming scents helps you relax and unwind. The Me Time perfume is all about reminding you to prioritize yourself.
Pros
Travel-friendly
Calming scent
Long-lasting
Vegan
Cruelty-free
Cons
None
Price at the time of publication: $56.99
Pros
Calming and relaxing scent
Long-lasting
Travel-friendly packaging
Sulfate-free
Paraben-free
Cons
None
Price at the time of publication: $60
Pros
Delicate scent
Travel-friendly
Long-lasting
Good for gifting
Refreshing for mind and body
Cons
None
Price at the time of publication: $20
Pros
Mild fragrance
Suitable for all-day wear
Paraben-free
Vegan
Clinically tested and approved
Cons
The smell may have a chemical tinge
Price at the time of publication: $48
Pros
Suitable for formal wear
Mild sillage
Suitable for the summers
Cons
None
Price at the time of publication: $49.99
Pros
Organic formula
Scented with essential oils
Long-lasting
Recyclable and renewable
Paraben-free
Vegan
Cons
None
Price at the time of publication: $27.99
Pros
Suitable for spring and summer season
Perfect for daytime wear
Subtle sillage
Value for money
Cons
None
Price at the time of publication: $157.55
How To Choose The Best Lavender Perfume
1. Sillage- Look for the sillage of the perfume. Sillage is the degree to which the fragrance lingers around when you leave a space. A strong sillage would make the scent more prominent, and the lavender would stand out more.
2. Longevity– Find a perfume that has good longevity. Without good longevity, the lavender note would fade away soon and would require reapplication.
3. Potency– If the blend is sourced from high-quality ingredients following a stringent standard control, the quality of the fragrance would be superior. A good lavender perfume should be made from high-quality lavenders that retain their potency even after extraction and blending.
Infographic: Tips To Choose A Lavender Perfume
Why Trust StyleCraze?
Baishali Bhattacharya, the author of this article, is a certified expert in makeup techniques and is a certified style and image consultant. Her in-depth knowledge of the industry allows her to choose what's best for the readers. Being a perfume lover, Baishali has tried a wide range of lavender perfumes that helped her compile this list. These light and sweet-smelling perfumes relieve inflammation and reduce stress, making them a must-have in one's collection.
Frequently Asked Questions
What perfumes have lavender in them?
Perfumes that use lavender essential oil and list lavender as a note in the blend are perfumes that have lavender in them.
What is lavender perfume made of?
A lavender perfume is made from the extracted essential oil of lavender that is delicately crafted into a blend that carries its floral aroma.
Why does lavender smell so good?
The lavender plant is an aromatic sweet herbal plant. The extracted lavender encapsulates the sweetness of a floral bouquet and smells wonderful to the senses.
What fragrances go well with lavender
It is a versatile fragrance that pairs well with most other families of fragrances.
Does lavender perfume repel mosquitoes?
Yes, lavender fragrance can repel mosquitoes.