9 Best Lavender Soap Bars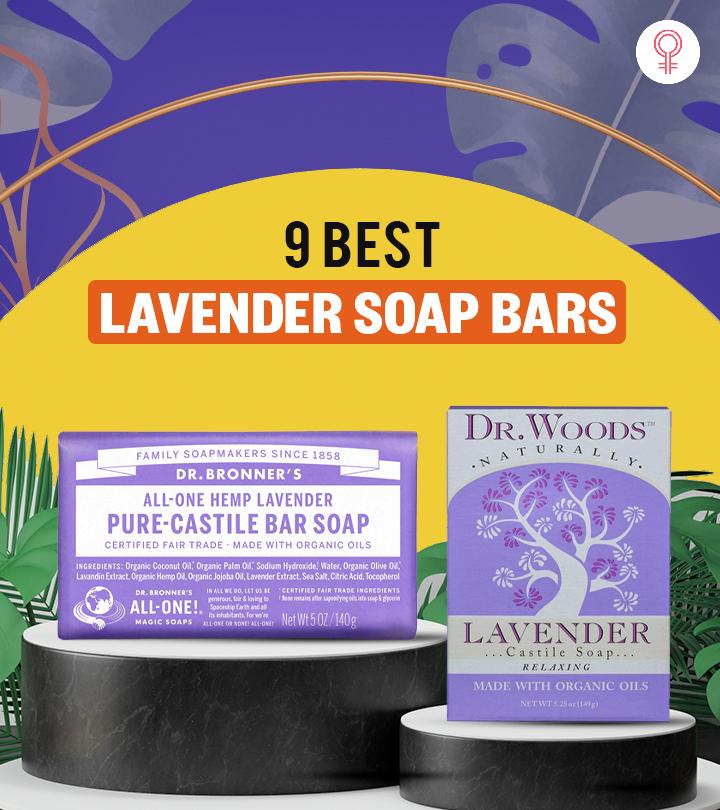 Nothing is as refreshing as stepping out of your bathroom and smelling amazing all day long! Lavender soap bars have been used since ancient times for their aroma and soothing medicinal properties. These soaps are packed with inflammatory and antioxidant properties to minimize skin conditions like dryness, acne, itchiness, and eczema. If you are considering switching to luxurious lavender soaps, you are on the right page. In this article, we have listed the 9 best lavender soap bars. Scroll down to pick your favorite!
9 Best Lavender Soap Bars
This naturally moisturizing bath bar from Yardley is loaded with pure lavender extracts and essential oils. The traditional formula lathers richly and is easy to wash off. It does not dry out your skin or make it feel parched. Instead, it calms dry skin and leaves it soft, supple, and smooth. The aromatherapeutic properties of lavender soothe your senses. The tranquil and pleasant fragrance lingers for hours, melts away stress, and is perfect for daily routine or special night-time bathing ritual.
Pros
Rich lather
Gentle
Pleasant fragrance
Ideal for everyday use
Long-lasting
Paraben-free
Sulfate-free
Cruelty-free
Cons
May cause allergies in sensitive skin.
This lavender bar soap from DR.BRONNER's is packed with pure certified organic oils and ingredients that leave your skin soft and smooth. It has soothing and mind-calming pure lavender oil and organic coconut, olive, jojoba, and hemp oils. This bar soap is formulated with moisturizing and nourishing plant-based ingredients that form a rich lather. It can be used on your body, face, and hair. It has no synthetic preservatives, making it safe and mild enough for sensitive skin.
Pros
Gentle
Soothing
All-natural ingredients
Biodegradable
Vegan
Cruelty-free
GMO-free
No artificial foaming agents
Synthetic preservative-free
Cons
The Naturasil Sulfur-Lavender Soap Multi-Purpose Homeopathic Formula can treat a variety of skin conditions safely. It is formulated with pure lavender, plant extracts, and 10%micronized volcanic sulfur. This natural medicated soap nourishes, calms, and soothes your skin. It also contains palm kernel and coconut oil, which have hydrating and moisturizing properties. This soap helps eliminate symptoms of acne, fungal infections, scabies rashes, tinea vesicular, and tinea (ringworm, jock itch, nail fungus, etc.).
Pros
All-natural ingredients
Pleasant fragrance
Paraben-free
Sulfate-free
EDTA-free
Cons
Might cause itching or irritation.
This lavender bar soap is a traditionally produced quadruple milled pure vegetable soap with a uniform and smooth finish. The French formula lathers richly, and its aromatic fragrance is sure to transport you to a moment of tranquility, calmness, and vitality. This soap is enriched with shea butter, pure lavender essential oil, and plant extracts that leave a woody aromatic fragrance. It gently exfoliates your skin, leaving it soft and moisturized.
Pros
Gentle
Long-lasting
Rich lather
Refreshing fragrance
Paraben-free
Phthalate-free
Lead-free
GMO-free
DEA-free
Phenoxyethanol-free
Ethyl alcohol-free
Mineral oil-free
Petrochemical-free
Cruelty-free
Cons
The DR. WOODS Naturally Lavender Castile Soap alleviates stress while deeply cleansing and moisturizing your skin. This 100% natural lavender soap bar is enriched with organic lavender essential oil, organic shea butter, vitamin A and E. This potent blend instantly helps to refresh, revive your mood, and hydrate your skin.
The blend of shea butter and vitamins A and E soothes and balances your skin. Lavender oil calms the senses and eases joint and muscle ache, while its soothing fragrance relaxes your mood. These naturally therapeutic attributes effectively work on all skin types, and their mild exfoliating properties even tone your skin for a youthful look.
Pros
Ideal for everyday use
Gentle
Soothing
Paraben-free
Phthalate-free
Sulfate-free
Cruelty-free
Gluten-free
Vegan
Pleasant fragrance
Petroleum derivative-free
Cons
This natural frankincense and lavender soap bar from Zum is formulated with goat's milk that moisturizes and softens the skin. It also has food-grade saponified coconut oil, olive oil, and a blend of essential oils that gently cleanse the skin and condition it. It is close to your skin's pH and thus maintains the oil balance for a hydrated skin tone. It improves your skin's overall texture and appearance, and is suitable for oily, combination, normal, and dry skin types.
Pros
Natural ingredients
Handmade
Cruelty-free
Paraben-free
Cleanses well
Gentle on skin
Pleasant fragrance
Cons
This lavender soap bar is made from the purest and premium-quality organic ingredients. This lavender soap bar is formulated with skin-friendly ingredients that give your skin a soft texture and a healthy glow. It is enriched with the base of organic shea butter, which suits even the most sensitive skin.
The lavender essential oil soothes and protects your skin while relaxing your senses with its remarkable aromatic and therapeutic properties. The antioxidant-rich blend protects your skin from free radicals, boosts cell turnover, and makes your skin younger-looking. It is mild on the skin and lasts longer compared to other products.
Pros
Gentle
Hypoallergenic
Affordable
All-natural ingredients
Mild fragrance
Cons
Caswell-Massey Luxury Bath Soap Set is formulated with natural ingredients and is free from harmful ingredients. The soap moisturizes the skin naturally, and the lavender scent provides a relaxing effect. The triple-milled procedure removes excess water and air from the soap. It creates a luxurious lather and makes the skin fresh and smooth. This soap offers long-lasting freshness.
Pros
Phthalate-free
Paraben-free
Plant-based
Cruelty-free
Gluten-free
Fresh scent
Lathers-well
Cons
The Botanical Bars Lavender Soap has moisturizing and nourishing properties with long-lasting, effective results. It is formulated with pure ingredients like shea butter, dried lavender, and lavender essential oil used for aromatherapy.
A thorough shower with this refreshing lavender soap bar is sure to leave you feeling relaxed and stress-free. The dried lavender particles provide mild exfoliation that helps in blood circulation and eliminates dead skin cells. This handcrafted and handmade soap has a creamy, rich lather that leaves your skin feeling clean and visibly softer.
Pros
Long-lasting
Relaxing
All-natural ingredients
Affordable
Cons
These were the 9 best lavender soap bars available on the market. In addition to healing your skin, they also instantly calm your nerves and work as stress busters. And who doesn't want a soothing fragrance lingering on all day long? Pick your favorite and experience at-home therapeutic spa-like treatment and tranquility each time you step into the shower
Recommended Articles.