10 Best Layering Tank Tops For Women That Are Must-Haves In Your Wardrobe
Stylize your typical, dull outfit within seconds with fashionable and fun clothing.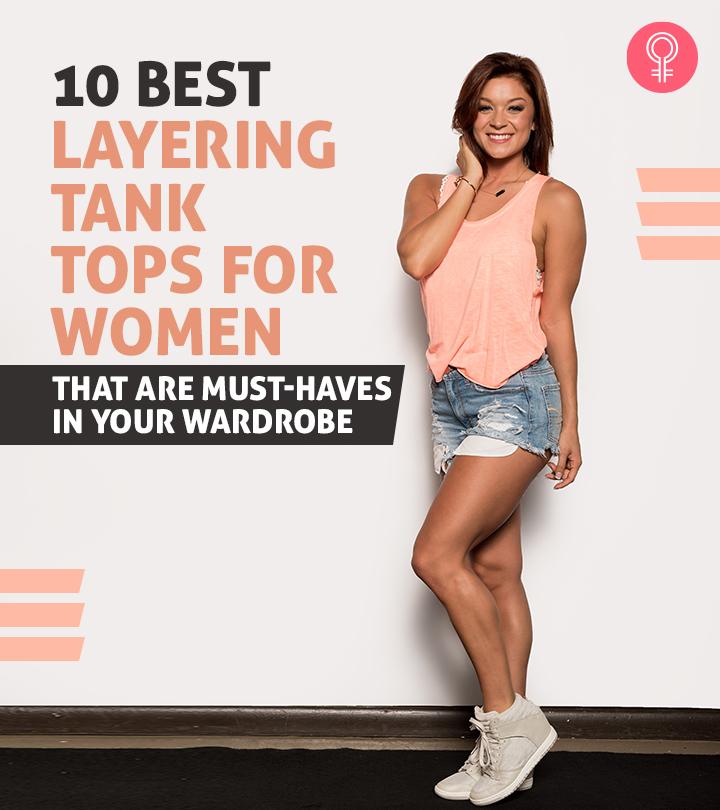 Layering helps to enhance your fashion game. Plus it is definitely one of the most practical ways to dress up. The best layering tank tops in the market can be worn with jackets shrugs or with dungarees for casual styling. You can also choose to layer your tanks as per the texture color and length to be more versatile and unique in your styling approaches. There are a variety of versatile layering pieces in a wide range of colors on the market. Tank tops can truly change the dynamics of your outfit without being too dull or boring. With that thought in mind, let us check out the best tank tops from trusted brands available online.
But first let us find out about the different types of layering tank tops.
Types Of Layering Tank Tops
Tank tops are irreplaceable wardrobe essentials. You can wear them to the gym and formal events or lounge in them – the choice is yours. Here is a wide variety of basic tank tops that you can layer over or under your outfit.
1. Basic Tank Tops
These everyday tank tops are lightweight comfortable and come in varying lengths — going up to your thighs or ending just above the navel. You can pair them with joggers jeans or pajamas.
2. Athletic Tank Tops
Athletic or sports tank tops are slightly loose-fitting and often come with a fixed bandeau for support. These tops are mostly made from breathable moisture-wicking fabric that keeps you cool and comfortable during the workouts.
3. Double Layer Tank Tops
These layered tank tops come with a flared bottom making them perfect for all body types. In addition you can layer them over a form-fitting t-shirt for a street-inspired look.
4. Racerback Tank Tops
Athletes also prefer these T-back or racerback tank tops during workouts. Since the straps are hung on the back behind the shoulder blade you get a full range of motion during a workout.
So here are the major types of tank tops that you can layer with your dresses for a fresh new look. Now stay put and check out the best layering tank tops that are a must-have in your wardrobe.
10 Best Layering Tank Tops
This Amazon Essentials Women's Slim-Fit Tank is an everyday piece of clothing that you can wear indoors or outdoors. Its versatile with a slightly tailored fit around the waist that shows off your silhouette. The rib-knit fabric — a blend of cotton modal and elastane — is soft and breathable and comes with enough stretch to hug your body. This tank top is trusted by many reviewers for its impeccable quality and comfortable fabric. It has a flattering fit that looks good on every body shape and provides a slimming effect.
Pros
Breathable fabric
Lightweight fabric
Non-sheer fabric
Form-fitting
Budget-friendly
Machine washable
True size
Cons
Stitching falls apart
Shrinks on wash
The Felina Reversible Cotton Tank Top is made of cotton, modal, and spandex. The fabric comes with moisture-wicking properties and offers cooling comfort during intense chores and workouts. It is an essential wardrobe staple that is easy to layer under any outfit. It has the perfect length and long form-fitting design that can be layered with jackets or worn with leggings, jeggings, and jeans. The design also comes with a reversible scoop neck and V-neck. As per the reviewers, the fabric stretches as per your body features and requirements and offers a smooth fit.
Pros
Offers cooling comfort
Stretchable
Moisture-resistant fabric
Form-fitting design
Reversible neck design
Cons
None
These quality-tested tops from Just My Size are perfect for layering. The mini-ribbed polyester Cooldri Performance fabric wicks moisture away to keep you cool and fresh throughout the day. Plus the fabric comes with a 50+ UPF rating and protects you from harmful UV rays. You can style its scoop neck design under low neck cardigans or shrugs with ease.
Pros
Easy to layer
Moisture-wicking fabric
Breathable
Quick-drying fabric
50+UPF rating
Cons
The Hanes Live.Love.Color Scoop Neck Tank is a minimal must-have piece of clothing in your wardrobe. The soft and comfortable SmoothShape cotton fabric comes with a little stretch that softly hugs your body while retaining its shape after countless washes. These Lasting Color™ tanks from a trusted brand do not fade or bleed color post-wash.
Pros
Breathable fabric
Soft fabric
Hypoallergenic
Does not lose its shape after wash
Fade-proof
True size
Stretchy material
Cons
Baggy design near the armpit area
The ShezPretty Basic Cami Tank Top is made of cotton and spandex. It comes with an adjustable pull-on closure for the utmost ease. The tank top is soft, stretchable, and curated in a long form-fitting design. It comes with a smooth and seamless construction, supported by durable spaghetti straps and a straight neckline. The entire design provides a relaxed fit that is perfect for lounging around or carrying on with chores at home. It is also perfect for layering with stylish shrugs and jackets. This tank top has received rave reviews for its perfect thickness and length for layering.
Pros
Cotton blend fabric
Stretchable
Form-fitting design
Adjustable pull-on closure
Seamless design
Relaxed fit
Cons
None
These premium Star Vibe Racerback Tank Tops are perfect for your gym wardrobe. They are lightweight and made of breathable modal-spandex blend fabric that keeps you cool and fresh during workouts. The scoop neck design low-cut armholes and racerback design offer maximum comfort during workouts. Since these tanks run to the hips you can easily pair them with shorts or yoga pants during workouts. In this pack you get four tank tops in assorted colors.
Pros
Breathable fabric
Easy to layer
Stretchable
Low-cut armholes
Form-fitting
Cons
The LouKeith Tank Top comes with a cotton and spandex blend with an elastic closure. The fabric is super soft, comfortable, and lightweight which is suitable for daily wear. The design has a sleeveless style with a halter neckline accentuating your curves. The curved hem design looks attractive and trendy. The medium length of the tank top goes well with tight jeans, leggings, or a skirt if tucked properly. The tank top can also be layered with a denim jacket or cardigan for a party look.
Pros
Lightweight
Stretchable
Soft fabric
Suitable for daily wear
Cons
None
The ODODOS Seamless Crop Tank Top is made with a blend of nylon and spandex. It has a pull-on closure. The tank top has a seamless design for a more casual fit and added mobility. The skin-friendly and easy-going fabric has a soft, rib-like texture, along with a four-way stretch, which makes the design body-hugging. The high-elastic design accentuates your curves and offers a comfortable fit. This tank top blends well on your body but does not make way for any restrictions when you are lifting weights, jogging, running, or cycling. You can wear this cropped tank top with or without a bra. It offers smoothing support and can be layered with a jacket or a shrug for added style.
Pros
High-performance fabric
Stretchable material
Skin-friendly
Adjustable pull-on closure
Seamless design
Cons
None
The lightweight ultra-soft tanks from Vanity Fair are made of stretchy seamless fabric that flexes according to the contours of your body. Their wide straps provide extra coverage for your bra while the V neckline makes them perfect for layering. These straps offer long-lasting durability to the tops. As per reviewers, these tank tops are perfect for lounging at home or wearing with a pair of trousers or denims.
Pros
Breathable fabric
Stretchable
Wide straps
Feels soft on skin
Cons
These cotton tank tops from Vavonne are exactly what you need in hot and humid summers. The soft sweat-absorbent fabric keeps you cool and fresh throughout the day. The lace detailing adds a touch of soft elegance to the top. Plus, these tank tops are pre-shrunken hypoallergenic and come with cute lace trimmings that add to their charm.
Pros
Pre-shrunken
Hypoallergenic
Sweat-absorbent
Budget-friendly
Cons
None
*The prices provided in this article are based on the latest available information. However, they may vary due to changes in pricing by the seller and/or promotional offers.
Tank tops are a versatile and fashionable clothing option. You can wear them under a skirt skinny jeans or shorts and layer them the way you want. The key to choosing the right tank top for your wardrobe lies in picking up a product that suits your styling needs and occasion. Here are few pointers that can help you out.
How To Select Best Layering Tank Tops
The primary purpose of layered tank tops is to keep you comfortable, which means conducting a fabric testing session is necessary. So, go for lightweight breathable fabrics like cotton rayon and polyester or a blend of them. These sustainable materials and fabrics are breathable, moisture-wicking, and sweat-absorbent and keep you cool and fresh throughout the day.
Tank tops with a scoop neck or V-neckline are perfect for layering. Due to their low neckline these tanks stay hidden underneath the cardigans or dresses.
Other features like shelf-bras or adjustable straps add to your comfort and minimize the layer of clothing you need to wear underneath the top.
The tank tops come in a variety of sizes and lengths. While some tops can go up to your hips or thighs others might end above your navel. You can wear the cropped tanks during summers while picking up the longer ones during the colder climates. It would be best to choose a tank top based on your fit assessment and stylistic evaluation.
These best layering tank tops are a fashion must-have perfect for all seasons and occasions. They are versatile layering pieces that you can wear under cute cardigans and skinny jeans for extra or wear indoors with cozy pajamas. One of the best ways to style a tank top is with a flannel shirt. They look casual yet fashionable as the top layer stays loose while the tank top peeks out just a little.
Why Trust StyleCraze?
Srijani Roy Chowdhury the author of this article is a fashion enthusiast. She has put together this list of the best layering tank tops after browsing through online reviews on various e-commerce platforms and keeping an eye on the hottest trends in the fashion industry. This well-researched list ensures high-quality tank tops that can be layered with a shirt jacket or overcoat! These are made with breathable fabric and suit any styling need.
Frequently Asked Questions
Will these tank tops shrink after washing?
Cotton tank tops may shrink if extra heat is applied while washing them. However chances of your tanks shrinking automatically lessen if you gently rinse your clothes without using much physical pressure.
Is layering tank tops good for exercise?
Layering tank tops can be an excellent choice for exercising. They can keep you comfortable throughout the workout with their sweat-resistance fabric and can provide easy mobility.
Are layering tank tops supposed to be tight?
No, tank tops should not be worn extremely tight as they may take away the comfort factor of the garment. A tank top should fit a little loose and should not be hugging your body too tightly.
Can I wear layering tank tops as an undershirt?
Wearing a tank top as an undershirt may not be the best idea. Although there is nothing wrong with doing so in theory, it may however completely defeat the purpose of an undershirt. Undershirts are worn to provide coverage and tank tops look very visible under shirts.
Can I sleep wearing layering tank tops?
Yes, layering tank tops can be quite comfortable to sleep in as most of them are made of breathable material and are often loose-fitted, which makes them perfect for sound sleep.
How do I wear layering tank tops?
Layering tank tops should be a staple in every wardrobe just because of how easy it can be to style. You can pair a tank top with denim shorts and skirts during the summer for a casual look. A tank top also looks great with a pair of high-waisted pants or with a cardigan for a chic look.
Is it okay to wear a tank top over a long sleeve shirt?
It is quite unusual to wear tank tops over long sleeve shirts. Tank tops are not designed to be worn over a long sleeve shirt and do not really serve any purpose.