13 Best Leather Cleaners And Conditioners – Top Picks Of 2022
Protect your precious leather against scratches, dullness, and cracks with these products.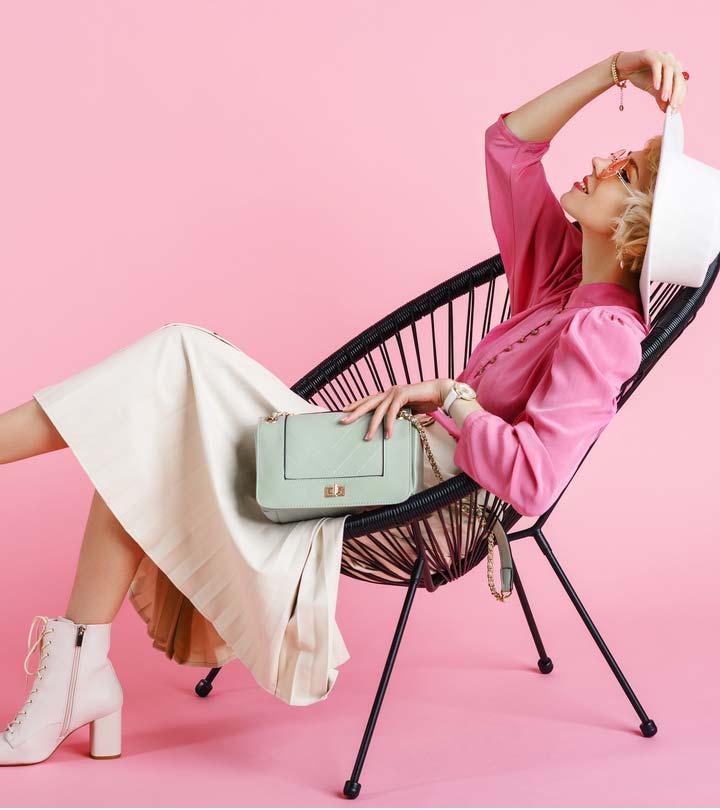 If you love leather accessories, be it leather furniture, leather bags, or shoes, then you must be aware that leather can get damaged easily due to environmental elements. Leather often suffers dullness, scratches, and cracks with time. To maintain all your leather accessories correctly, you need the best leather conditioners. When you spend so much money to buy your favorite piece of leather, you would not want to see it losing its luster due to aging. A leather conditioner works like a magic potion to reverse and delay the aging process of your favorite leather product.
For those who love investing in leather accessories, using a leather conditioner is an absolute mandate. Be it your leather boots, watch strap, bags, or even furniture, this product will make them look new and rich. As there are quite a few options available out there, in this post, we have rounded up the 13 best leather conditioners that will make you fall in love with your favorite leather accessories all over again. So read on to explore the list and make your best pick!
What Does Leather Conditioner Do To Leather?
Leather conditioners basically help keep leather looking as soft, smooth, and healthy as they look right after the tanning process. Leather conditioners are made from oils, wax, lipids, and other nourishing ingredients that penetrate deep into the leather material and reach the fibers to strengthen them and prevent the leather from cracking or getting dry. Most leather conditioners are also formulated to protect leather from environmental elements such as UV rays, rains and water, stains, and extreme temperatures in order to prevent the leather from going dull and fading prematurely. And so, a leather conditioner is absolutely needed when you own leather accessories.
13 Best Leather Conditioners That Make Leather Last Longer
The Leather Honey Leather Conditioner for boots, bags, furniture among other leather goods helps rejuvenate old and dry leather to add life to it. It penetrates deep into leather and has the advantage of being non-sticky, which makes it easier to work with it. All you need is a quarter-size drop of this conditioner to coat your leather with a thin and even layer. This leather conditioner is ideal to use at room temperature or can even be slightly heated before being used. Just pour a few drops of the conditioner onto a lint-free cloth and wipe it over your leather-made accessory or furniture. Each application of the Leather Honey Leather Conditioner lasts 6 months, ensuring your leather shoes, bags, belts last forever.
Pros
 Non toxic
 Non sticky
 Odorless
 Free of silicone
 Free of animal products
 Free of solvents
Cons
 The consistency may feel too thick to spread.
Coming from a trusted brand that Obenauf's is, the Heavy-Duty Leather Preservative is formulated with real beeswax and plant oils that give it a nice creamy consistency, making it extremely easy to work with. You will notice the cream melting to evenly spread on the leather surface as you apply it to your leather belongings. This natural leather conditioner prepares your leather boots to resist chemicals, salts, petroleum, and acids, and it also makes them waterproof. It also proves to be a blessing for sun-faded saddles, holster, chaps, and boots made out of leather. Give this leather conditioner for bags and boots a try and watch your leather accessories resist stitch tears, premature cracking, and scuffing.
Pros
 Waterproofs leather
 Resists acids and chemicals
 Restores sun-faded leather
 Helps leather resist scuffing
 Prevent premature cracking of leather
Cons
 May not be suitable for perforated leather seats
This powerful leather conditioner not only conditions leather, it also cleans and protects your leather bags, boots, and just about anything from premature aging, damage from UV rays, and cracking as well as fading. This non-greasy, non-whitening formula also cleans your leather goods to remove dirt and grime. It is enriched with aloe, which is an amazing natural conditioning agent, and so this leather conditioner for jackets, boots, and bags keeps them soft, supple, and as good as new. This 3-in-1 Gold Class leather conditioner deserves brownie points for being formulated with non-hazardous ingredients, and it comes in a convenient spray bottle which makes it extremely easy to use.
Pros
 3-in-1 action
 Removes dirt and grime
 Offers UV protection
 Non-greasy formula
 Does not leave behind a white residue
 Helps prevent premature aging
Cons
 May add a little shine to the leather surface
If you're specifically looking for the best leather conditioner for plush leather seats, this product from the Chemical Guys has to be your first choice. However, you can also expect this top-rated leather conditioner to work its magic on leather-made shifter knobs, steering wheel, furniture, etc. Made from refined water-based formula and infused with vitamin E and aloe, it does a great job at softening your leather car seats to give them that soft-to-the-touch feel while making them look and smell like brand new leather. If you have faux leather car seats or want to get rid of stains from faux leather surfaces, you can totally count on this leather conditioner. Use this product from time to time and your leather products won't crack, fade, or discolor.
Pros
 Removes light stains
 Softens leather
 Suitable for faux leather
 Offers UV protection
Cons
 Some may not like the smell of the product.
Formulated by a brand that is well-known among detailing professionals and auto restorers alike, the Lexol All Leather Conditioner helps extend the life of both new and old leather. It works to restore the natural oils used during the leather tanning process. Whether it is the leather furniture at your house, car seats, or your leather-based accessories such as bags and shoes, this leather conditioner cares for them by preventing premature cracks from heat, sunlight, and humidity. And with all the amazing Lexol Leather Conditioner ingredients, your leather products will look brand new when you use this conditioner on a regular basis.
Pros
 Absorbs easily
 Easy to use
 Quick-acting formula
 Does not leave behind a greasy residue
 Works for all leather products
Cons
 Does not remove stains from the surface
This tried and tested formula from Chamberlain's Leather Milk helps breathe back life into dull, dry, and scratched leather. Made from all-natural ingredients sans chemicals, it has a pleasant smell to it. It is infused with vital oils that naturally strengthen leather and nourish it so that your leather accessories, car seats, or any other products stay conditioned. It is carefully created to have a consistency that makes this leather conditioner extremely easy to apply to the leather surface. The formula also works on leather without making the surface look sticky or greasy. As a plus, you also get one free applicator pad that you can use to clean and conditioner your leather product with the Chamberlain's Leather Milk Leather Care Liniment.
Pros
 All-natural leather conditioner
 Chemical-free
 Doesn't leave behind a bad smell
 Non-sticky formula
 Fixes scratches
Cons
 May darken the color of very light leather products
Extend the life of your leather boots and bags with this wax-free Boot & Shoe Leather Lotion by Cadillac. Leather boots generally develop water spots over time, and you can easily get rid of such stains using the Cadillac leather conditioner to enhance its overall look. What makes this one of the best leather conditioners is that it is extremely versatile and can also be used for belts, wallets, sofas, coats, and car upholstery made from leather. Besides that, you can also use this for other types of exotic skins such as elephant, crocodile, snake, ostrich, among others. And since it is formulated without wax, you don't have to worry about the leather turning hard.
Pros
 Removes water spots
 Prevents leather from cracking
 Works on reptile skins
 Wax-free formula
Cons
The TriNova Leather Cleaner And Conditioner works effectively to keep your treasured leather items in good shape. With a powerful dual-action formula, it not only conditions but also cleans leather products such as wallets, shoes, bags, jackets, furniture, and much more. It enriches the fibers of your leather item with its water-resistant formulation to make it soft and supple. It comprises potent ingredients that moisturize the leather surface and keep it safe from UV rays while also restoring the color of faded leather. All you need to do is shake the bottle, wipe the leather surface down with a microfiber cloth, and apply the conditioner to the leather surface with the free applicator pad and wait for 30 minutes. And with this, you get to prevent your leather product from being damaged as a result of premature aging, cracking, or drying.
Pros
 Easy to apply
 Helps clean vinyl surface
 Reduces stains
 Protects leather from UV rays
 Comes with a complimentary applicator pad
Cons
  May not restore scratched leather
Neatsfoot oil is one of the most effective natural conditioners for leather, and what could be better than a neatsfoot oil conditioner coming from a trusted brand that has been around since 1882? The Bickmore Neatsfoot Oil Leather Conditioner is a gentle cleanser that moisturizes and lubricates the leather surface to soften it and extend its life. It also keeps leather products safe from environmental elements and repels water. You can use it for all kinds of leather products, however, since it is known to darken the color of leather, it is recommended to use it for products that are already quite dark in color. To use it, apply a thin layer of the oil to the leather surface, wait for the oil to be absorbed, and wipe off any excess. Voila! Your leather product will shine like new!
Pros
 Made from 100% neatsfoot oil
 Moisturizes leather surface
 Naturally repels water
 Free of added petroleum distillates
Cons
 May darken the color of your leather
Made from plant-based ingredients, this organic automotive leather conditioner from KevianClean is one of the best leather conditioners if you're looking for an eco-friendly alternative to conventional leather conditioners. It is formulated to be pH-balanced and is free of masks and dyes. And so, it does not alter the color of your leather products and nourishes and cares for them while retaining the true color of the product. You can use it for automotive leather upholstery, car seats, your furniture, or even leather accessories such as bags and belts. Say goodbye to premature cracking and drying of your leather items as you use this premium leather conditioner on a regular basis.
Pros
 Eco-friendly
 Made from plant-based ingredients
 pH-balanced formula
 Prevents drying and cracking
 Smooth and creamy application
Cons
 May not offer long-lasting results
One of the downsides of using most leather conditioners for light colored leather is that they tend to darken the leather. However, you don't have to worry about that when you use the Apple Leather Care Leather Conditioner. Formulated wax free, this conditioner is an amazing choice for finished, naked, exotic, and simulated leathers. What makes it an easy choice is that it does not leave behind an oily residue and applies effortlessly. Not only does it clean and condition leather, but it also preserves the smoothness of it without compromising its breathability. Suitable for almost all leather products, you can confidently pick this bottle of exotic leather conditioner for your bags, shoes, belts, wallets, car seats, and even sofas and couches.
Pros
 Wax-free formula
 Works on simulated leathers
 Safe to use on light colored leathers
 Does not leave behind a residue
Cons
 May not offer long-lasting moisturization
If you're looking for an extremely nourishing formulation that deeply conditions your leather items, this has to be the best cream conditioner for leather. Concocted with lanolin, neatsfoot oil, coconut oil, and aloe vera, this leather conditioner not only conditions but also revives dried out leather to soften and smoothen it. It is also formulated with natural waxes such as Brazilian carnauba wax and beeswax. With all these effective natural ingredients, it has a creamy consistency that is easy to apply, and it penetrates deep into the leather fibers, offering maximum protection from premature aging. And since it is not sticky or greasy, applying it to the surface of the leather item feels like a breeze.
Pros
 Helps leather resist cracking
 Free of harmful solvents
 Free of silicones
 Formulated with natural conditioning agents
Cons
 Not meant for suede or nubuck
This non-toxic leather conditioner is a buttery blend of beeswax and naturally-occurring oils and lipids that helps restore the health of your leather items and prolong their life. This handmade conditioner for leather products is made in small batches that helps ensure top notch quality. Made from natural and non-toxic ingredients, it is free of the many questionable ingredients such as silicones, petroleum, and dyes that may adulterate and deteriorate the quality of the leather conditioner. All you need to do is— clean the surface of the leather that you intend to condition, apply a little bit of the product on your fingers or a lint-free cloth, and rub it in circular motions on the leather surface. Give it about an hour to dry and you can even apply a few more layers if needed.
Pros
 All natural leather conditioner
 Handmade
 Free of dyes and petroleum
 Silicone-free
 Safe for pets and kids
Cons
 May not moisturize leather
How To Choose The Best Leather Conditioner
 Leather material to be conditioned
The type of leather conditioner you opt for primarily depends on the type of leather you aim to condition. While some leather items such as bags, belts, wallets, jackets, gloves, and boots are made from suede, some may have a smooth leather finish. However, so many leather conditioners that work amazing on smooth leather are not at all meant for suede or even exotic leather materials such as crocodile, lizard, or ostrich skin. Therefore, it is crucial to check the label of the product and see if it is meant for the type of leather that you intend to clean, condition, and restore. Using the wrong kind of leather conditioner on your product may end up doing more harm than any good.
While this aspect is more about convenience, it does make sense to keep the form of the conditioner in mind because you will be using the leather conditioner on a regular basis. Leather conditioners are commonly creamy in consistency and they can be easily applied to the leather surface using either an applicator pad or fingers. However, if that's not your preference, you can also invest in conditioner sprays. Leather conditioner sprays are ideal for larger leather-based products such as car seats, sofas and couches, etc. because cream-based conditioners will take you more time and effort. However, sprays remove that hassle and make conditioning the leather a quick and easy process.
For delicate products made from colored or unfinished leather or aniline and semi-aniline leather, it is best to use conditioner milk such as Chamberlain's Leather Milk Conditioner and Cleaner. These conditioners are gentler alternatives that don't change the color of your leather product and penetrate deep into the fibers to condition it.
One of the best ways to ensure that your leather conditioner does not contain any toxic ingredients is to buy the conditioner from a trusted brand. Conditioners made from questionable ingredients may irritate your skin, especially when you use it for your furniture, bags, jackets, etc. and may even deteriorate the quality of your leather product over time.
While most of us wouldn't consider pH of the leather conditioner an important factor to keep in mind, the pH level of your leather conditioner has to be balanced because if not, it might end up darkening the color of the leather and may even cause hardness, brittleness, and loss of strength in the long run, which is exactly the opposite of what you would want to achieve. And in case a leather conditioner does not indicate pH level, you can perform a spot test and check before you use the product on your leather item.
The key to extending the life of your leather item is to use the leather conditioner that you purchase the right way. While every product may come with indications as to how exactly you should use it, it is more or less a similar process for almost all leather conditioners. Here's a brief yet useful guide on how to use a leather conditioner to derive maximum benefits out of it.
How To Use A Leather Conditioner
 Step 1: Clean the leather surface thoroughly using a cloth to get rid of any stains, dirt, or dust.
 Step 2: Take an appropriate amount of the leather conditioner and apply it to the surface of the leather either using your fingers, an applicator pad, or simply a lint-free cloth. Make sure that you apply an even coating.
 Step 3: Wait for about 30 minutes to an hour as indicated by the brand. Once the leather conditioner dries, you can wipe off the excess using a cloth.
 Step 4: If needed, you can also follow that up with a 1 or 2 more layers for the desired results.
Leather accessories and products add a touch of elegance to the outfit you wear, your interiors, and to your car. It could be anything, a touch of leather can totally transform the look of it. However, leather products require a bit of TLC. And when you pay so much for a product, you would naturally want to extend its life and take proper care. And so, a good leather conditioner is more of a necessity than a luxury. We hope that our list of the 13 best leather conditioners from the most trusted brands makes it easy for you to pick one for your precious leather item so it lasts you forever.
Why Trust StyleCraze?
The author, Priyam Gupta, is a makeup and fashion enthusiast and a big fan of leather accessories, be it boots, bags, watch straps, and even furniture. This list of the best leather cleaners and conditioners has been compiled following hours of research and thorough analysis of the online reviews. These products penetrate deep into the leather and strengthen the fibers to prevent cracking.
Frequently Asked Questions
Does leather conditioner work on fake leather?
While certain types of leather conditioners from certain brands may be suitable to use on fake leather, not all of them may help condition faux leather. It is recommended to always check the label of the conditioner and see what it is suitable to use for.
When should you apply leather conditioner?
While you can leave your leather product unconditioned for a year from when you buy it, when you finally start conditioning your leather product, you might want to repeat the process every month to keep the leather looking healthy, moisturized, and free of scratches and cracks. If you're confused about when to start conditioning, you can start when the leather starts appearing duller than normal.
How often does leather need to be conditioned?
Leather should ideally be conditioned once a month. However, it depends a great deal on the type of leather conditioner you use and how long-lasting the results are. Some of the leather conditioners even offer outcomes that last up to 6 months to a year.
How long does leather conditioner last?
This totally depends on the size or volume of the bottle of leather conditioner that you purchase, the surface area of the leather that you decide to coat, and the number of layers you coat each time. However, each layer of the product can be a thin coating. And if you use the conditioner from tiny accessories such as a bag, boots, or belts and wallets, it might last you over a year.
Can leather conditioner fix dried-out or worn seats?
Yes. Leather conditioners contain nourishing ingredients that penetrate dried-out or worn seats and partially restore their shine and texture.
Can you use leather conditioners on vinyl and plastics?
Yes. Leather conditioners are safe to use on vinyl leather and plastics.
Does leather conditioner permanently darken leather?
No. Although leather conditioners darken the leather for some time, the color reverses to its original shade once the leather dries.
Does the leather conditioner remove scratches?
Yes. Leather conditioners are effective in removing light scratches from the leather surface.
What happens if you do not condition the leather?
If you do not condition the leather, signs of dryness, like cracks and scratches, may develop on the surface. In addition, the material may also turn brittle.
Is coconut oil a good leather conditioner?
Yes. Coconut oil softens the leather, increases its sheen, and creates a thin layer of protection on the leather surface.
Recommended Articles