13 Best Leather Handbags To Make A Style Statement
Make a style statement every day with the most affordable and functional accessories at hand.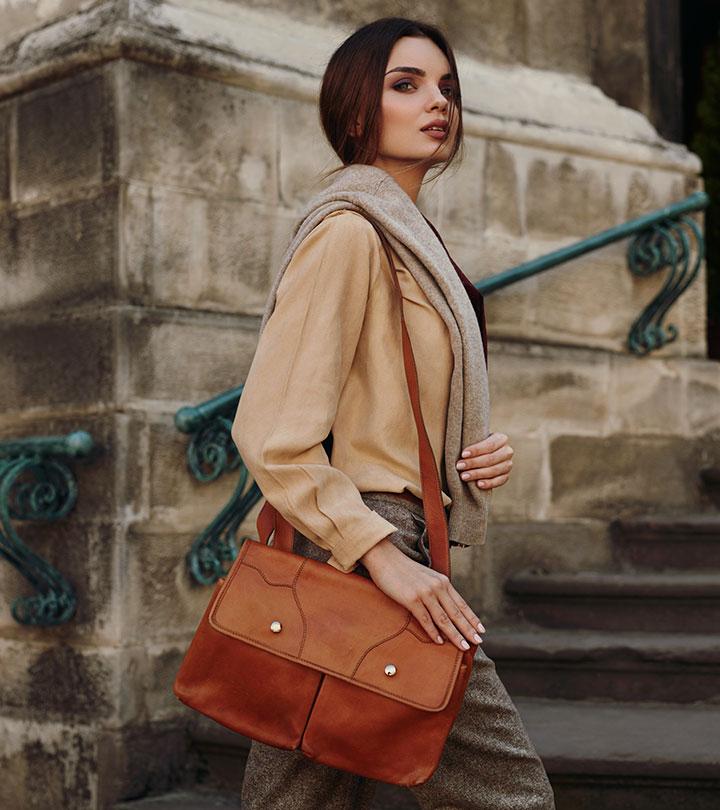 If you are someone who loves to carry around your makeup items and favorite snacks along with your cash and ID cards, you know the importance of the best leather handbags. Not only are their designs timeless, but they are also durable and sturdy and offer enough space to carry everything you need while you are out and about.
Be it an office party, a dinner date, or a reunion with your college friends, leather bags are perfect for every occasion. Their versatile designs compliment every outfit and take your fashion game several notches high. These handbags are available in various colors, designs, and sizes. Our list covers various brands that women love to flaunt. Swipe up for details.
13 Best Leather Handbags To Amp Up Any Outfit
With over 6,500 positive reviews on Amazon, this is one of the best leather handbags by BOSTANTEN. It uses cowhide leather complemented with gold hardware. To secure it, you can use the metal magnetic buckle, which makes for convenient opening and closing. You will find a main compartment with a removable pouch, which further contains a slip pocket, zippered pouch, and a main pocket for your everyday essentials. For easy access, 2 side slip and buckle pockets sit on the exterior. The bucket bag has a large capacity and features 2 straps of which one is woven and the other leather. As they are detachable, you can change them up for a crossbody style once in a while!
Antonina Ambre, a fashion consultant, says, "This is the best example of the basic bag in your wardrobe that would fit every style and outfit. Modest colours like black, brown and grey will be definitely a great fit for every item in your closet, while colorful pieces like yellow and purple combined with other coloful details in the outfit can make it more memorable."
Pros
Available in 24 colors
Removable pouch
Large capacity
Gold hardware
2 detachable straps
Magnetic snap closure
Cons
Some may find the shoulder straps to be bulky
Price at the time of publication: $96.99
ITSCOSY has the best soft leather handbags that are made of anti-scratch and tear-resistant PU leather. The gold accessories add an elegant touch to the solid color while the detachable straps make for easy carrying. To help you stay organized, a main zippered compartment is present along with smaller slip pockets for your wallet, phone, and keys. This handbag has over 6,000 rave Amazon reviews for being stylish and durable. It is available in 10 colors and adds a touch of sophistication to your entire outfit.
Pros
Anti-scratch
Tear-resistant
Wallet included
Available in 10 colors
Detachable straps
Smaller slip pockets for easy access
Cons
Some may find the bag to be heavy
Price at the time of publication: $42.99
Uncle.Y offers the best women's leather handbags that are roomy and made of high-quality PU leather. This handbag has over 4,800 reviews and features a large zippered compartment with two slip pockets for phones and keys and a zippered side pocket for your cash or wallet. Not only is the material soft to the touch, you can wear this bag 2 ways with the smaller adjustable leather straps or attach a large one during rush hour. 6 neutral colors are available, all of which can be a fantastic addition to your bag collection.
Pros
Soft leather
Side zippered pocket for valuables
Open pockets for easy access
Gold hardware
Available in 6 colors
Detachable shoulder strap
Cons
Some may find the zippers aren't very smooth
Price at the time of publication: $38.99
Kattee offers some of the best designer leather handbags made of waxed cowhide and accentuated with copper hardware. The bottom of this durable material retains shape owing to the 4 metal rivets that also protect it from abrasion. In the interior, 2 main compartments have a divider and you will find 2 zippered and slip pockets to store your belongings. This product features adjustable buckles and removable straps for ease of use. With over 4,300 rave Amazon reviews, this bag will indeed become your everyday staple.
Pros
Available in 4 colors
Holds shape
Copper hardware accents
Removable strap
Zippered and slip pockets
Buckles for adjustment
Cons
Some may find the zippers to be weak
Price at the time of publication: $79.99
Handmade by professionals, LEVOGUE's got the best brown leather handbags, which are timeless. This durable piece will withstand all the wear and tear of daily life owing to its sturdiness and durability. A zippered pocket on the exterior is handy for your most-used items in these affordable leather handbags. On the inside, a large zippered compartment and a slip pocket to hold your phone are present. Strong YKK zippers function smoothly and an adjustable strap allows you to turn the bag into a crossbody if you prefer.
Pros
Strong and smooth zippers
Exterior pocket for easy access
Available in 8 colors and 2 styles
Resistant to wear and tear
Made with genuine leather
Cons
Some might find it to have less storage capacity
Price at the time of publication: $49.99
One of the best lightweight leather handbags, ACLULION's product is made of PU leather with an inner polyester lining. The smooth and sturdy zippers open up to 2 main compartments that feature 2 zippered and slip pockets. Gold-toned accents on the bag make it seem more elegant and will add a hint of style to your outfit. With 8 gorgeous colors available, you can use these soft leather bags for both work and play!
Pros
Inner polyester lining
Gold-toned accents
Smooth and sturdy zippers
Available in 8 colors
Detachable strap
Lightweight
Cons
Might have a strong chemical odor
Price at the time of publication: $29.99
If you love vintage, you will love the Fossil Fiona crossbody handbag. Beautifully crafted in a mid-century design, it celebrates the designer's creativeness. This stylish bag is spacious, making it excellent for carrying everyday items. It is made of genuine leather with easily accessible pockets. The detailing is intricate, the material is high-quality, and the hues are unique.
It has a zippered closure that keeps your belongings safe inside. It has one zippered pocket in the front, one slide-back pocket, and two front slide pockets on the bag's exterior. Inside, the bag has two slide pockets, one zippered pocket, and some space to keep devices like your cell phones and compact laptop. The strap is detachable and adjustable, making it comfortable for almost anyone. This fashionable and classic piece measures 11.88 x 2.75 x 9.88 inches.
Pros
High quality leather
Spacious interior
Long strap
Vintage design
ID window
Many pockets
Recyclable packaging
Cons
Price at the time of publication: $105
S-ZONE's bag contains pliable cowhide full-grain leather on the outer layer and is supplemented with silver hardware accents. This is one of the best large leather handbags as it contains various pockets and can even fit your laptop for work. Its versatility allows you to adjust the smaller rolled handles and detach the longer strap if it's not needed. On the exterior, you will find 2 magnetic closure side pockets with a zippered one, so you can easily access your daily essentials.
Pros
Available in 6 colors
Silver hardware accents
Large capacity
Adjustable handles
Detachable strap
Exterior pockets for easy access
Cons
Price at the time of publication: $74.88
This bestselling handbag by Montana West has a massive 3,700 reviews on Amazon. It features a double-zippered center pocket that keeps your items safe. This is one of the best vegan leather bags you can own as it is spacious with pockets and dividers, so you can stay organized. A zippered back pocket and two more on the sides are helpful for your most accessed belongings.
Pros
Available in 4 colors
Vegan leather
Spacious
Exterior pockets
Double-zippered pocket
Cons
Some might find the odor to be overwhelming
Price at the time of publication: $46.99
For daily use, Iswee's got the best leather satchel handbags made of cowhide leather. 2 main compartments with a zippered divider, a phone pouch, and a card slot helps keep all your stuff organized. You can store your most-needed items like keys on the exterior zippered pocket. The stainless steel silver-toned hardware on these luxury leather bags gives a classy look with the adjustable strap allowing for easy carriage.
Pros
Available in 5 colors
Adjustable strap
Exterior zippered pocket
Stainless steel silver-toned hardware
Separated compartments
Cons
Some may find the bag heavy even when emptied
Price at the time of publication: $89.99
Made with 100% genuine cow leather, Segater's multicolored bag has a funky yet stylish look with a snake scale texture. One of the best tote leather handbags, this one has 6 pockets for convenient storage. You can adjust the long shoulder strap to wear this as a crossbody bag for casual events. With 6 colors available, Segater's handbag is a must-have if you're into abstract and colorful designs!
Pros
6 pockets
Exterior easy access zippered pocket
Adjustable shoulder strap
Available in 6 colors
Textured surface
Cons
The initial odor might be overpowering
Price at the time of publication: $49.99
Heshe's one of the popular handbag brands and their bags are intricately crafted with top-grain cowhide leather and have a durable brown polyester lining. To store all your essentials neatly, you can utilize the main zippered pocket with smaller pockets and slots. On the exterior, you can make use of the zippered compartment to store things you'll need on the daily. The double handle can be used for an elegant look but you can also add the removable strap for convenience.
Pros
Available in 4 colors
Polyester lining
Soft leather make
Multiple zippered compartments
Detachable strap
Cons
Some might find the bag to be bulky
Price at the time of publication: $94.99
Over Earth's handbags feature 4 metal studs on the bottom to safeguard from wear and tear. The outer layer contains top-grain cowhide leather with a black polyester lining to keep your items stacked away tidily. Multiple inner pockets and an outer zippered one allows you to separate your essential items. The bag's pebbled surface adds flair and you can carry it with ease owing to the detachable shoulder strap.
Pros
Available in 7 colors
Bottom metal studs
Lined with polyester
Textured surface
Detachable shoulder strap
Segregated compartments
Cons
Price at the time of publication: $96.82
Now that we've looked at the best leather handbags on the market, let's get into how you can choose the right one for yourself.
How To Choose The Best Leather Handbag
Cowhide which comes from cows is quite durable yet expensive even though it is made of higher quality. Pebbled leather has a bumpy and textured finish. It is resistant to scratches and maintains a nicer appearance for a longer duration. Suede has a matte finish and looks like velvet. It's quite difficult to maintain as it can scuff easily and can get damaged when wet. This is why it's not the best option for a daily use bag. PU leather which is short for polyurethane is an artificial fabric which is considered vegan. It is easy to design and style this type of leather and it is also quite sustainable. However, vegan leather handbags can be damaged easily and are not breathable like genuine leather ones.
Some bags can be quite heavy even before you put anything inside. This could be due to the weight of the leather itself or the hardware used. As the bag becomes heavier with stuff inside, consider this factor because you might be faced with shoulder, neck, and back pains. A lightweight bag is ideal if you're going to be carrying it for hours on end.
If you have a lot of things to carry on the daily, look for slouchy leather handbags that contain multiple compartments that are further divided for smaller items. A large pocket that can house your laptop or tablet, with small zippered pockets for your wallets, cash, cards, and keys are essential. Slip pockets can be helpful to hold your phone or chapstick while exterior pockets can be beneficial for most-used items. Check for sturdy zippers as they keep the compartments neat and secure.
Why Trust StyleCraze?
Priyam Gupta, the author who penned this post, is a fashion enthusiast with a knack for sniffing out the best fashion trends. If you love leather, she recommends using these handbags. Not only do they look great, but they are also durable and sturdy and can hold all your essential items. After hours of pouring through numerous reviews, she recommends these high-quality leather bags available online.
Frequently Asked Questions
Can leather handbags be washed and dry cleaned?
Leather handbags can only be dry cleaned and this must also be done only for stains that are prominent as this process can be quite damaging to the material.
How long do leather handbags last?
High-quality leather bags that are used and stored well can last you up to 30 years. However, a leather bag's lifespan depends on the type of leather used as well as the brand.
How do you clean a leather bag?
You can use vinegar and warm water to clean the stains off your leather bag. You can also use a few drops of baby shampoo and water to clean your leather bags.
How can I protect leather bags?
Follow the steps below to protect and prolong the life of your leather bags.
• Do not keep them inside a plastic bag.
• Let them out in the open regularly.
• Wipe them with a soft cloth.
• Apply leather wax or cream to maintain the luster and natural health of the leather.
• Blot off any liquid immediately from the leather surface.
How do I keep my leather bag from cracking?
Keep the following pointers in mind to prevent your leather bag from cracking.
• Do not buy cheap quality leather.
• Avoid exposing your bags to high heat.
• Do not overstuff your bags.
• Clean your bags regularly with a soft cloth.
• Be careful of sharp, pointed objects that may cause scratching or tearing.
Recommended Articles:
Best selling Handbags You Need To Get Your Hands On Right Now!
Best Stylish Red Handbags Available On The Market
Best Vegan Bags That Look Like Real Leather With Reviews
Best Popular Crossbody Bags That You Need In Your Wardrobe