9 Most Comfortable Leather Sofas Of 2021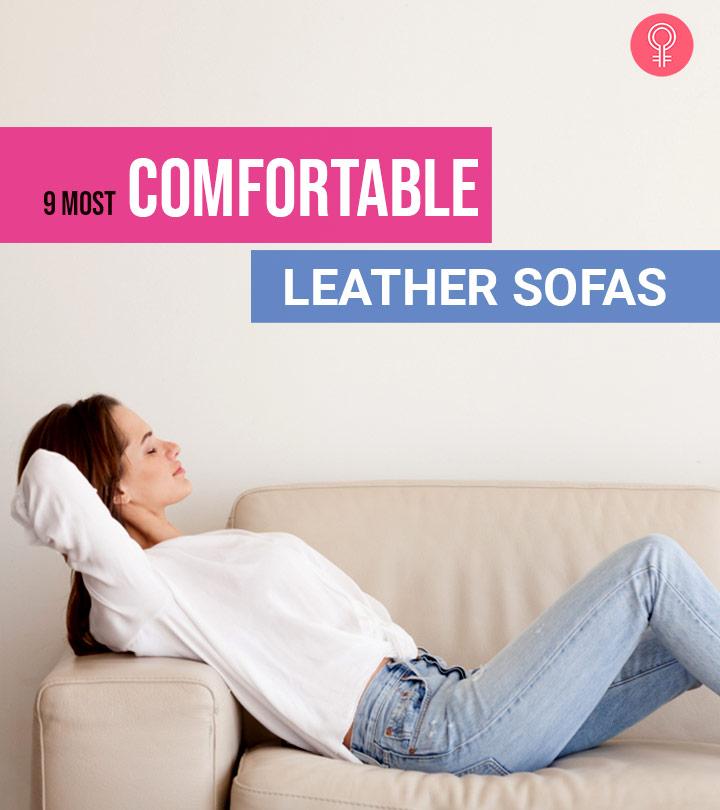 Whether you are eating a snack, taking a nap, reading a book, or watching a show, the sofa is the focal point of any activity that does not require standing up. We spend a lot of time on our sofas, so it is important to pick a good one that will last long. You need something that is the perfect blend of comfort and style. This is where leather sofas come in. These sofas are sturdy, plush, and go with any decor.
In this article, we have compiled a list of the 9 most comfortable leather sofas that will rock your living space. Check them out!
Top 9 Inexpensive Leather Sofas
This convertible futon sofa bed is made of tufted faux leather that is resistant to wear and tear. The durable foam padding helps maintain its shape over time. This sofa has three adjustable backrest settings – recline, flat, and straight. You can recline it to a 75-degree angle to relax, push it flat to lie down, and keep it upright to sit down.
Convert this futon into a bed by removing the armrests and pushing the backrest flat. The chrome metal legs distribute the weight evenly and provide comfortable seating. This sofa also has a folding armrest with cup holders in the middle. It is best for small spaces like apartments and dorms.
Specifications
Dimensions: 30.5 x 65.25 x 31 inches
Weight: 61.73 lbs
Weight Capacity: 500 lbs
Pros
Easy to assemble
Doubles as a bed
Suitable for small spaces
Comes with cup holders
Cons
Minimal padding
Sits way too low
This sectional sofa is made of soft PU leather and extra plush cushions to offer a comfortable experience. The cushions are made of a highly resilient sponge that is comfortable and long-lasting, and the frame is made of solid wood that makes it stronger. The best part is when the pull-out bed is out, the whole unit can work as a sofa bed for two adults. This sofa is perfect for sleepovers and unexpected guests.
This sofa has an adjustable headrest and a cushioned back to help you relax. The top-notch tailoring and crisp welting elevate your living space. The fabric is resistant to moisture and stains and easy to clean. All you need to do is wipe with a damp cloth and allow it to dry. This stylish and comfortable leather sofa comes with two dense foam filled accent pillows. It is easy to assemble and low-maintenance.
Specifications
Dimensions: 77 x 36 x 24 inches
Weight: 262 lbs
Weight Capacity: 450 lbs
Pros
Adjustable headrest
Pull-out bed
Easy to clean
Easy to assemble
Cons
This space-saving, easy to assemble sofa is perfect for small spaces like apartments, studios, and condos. It is sturdy and can handle a lot of weight, so you can sprawl out and cuddle. This convertible leather sofa has a movable ottoman – you can have the chaise at the left or the right and change the sofa's shape to suit the room.
The seat cushions use pocket coils that provide the required support without being too bouncy. The solid wood frame lends support and strength to the sofa unit. This sofa is available in two colors – black and brown – to brighten any living space.
Specifications
Dimensions: 78.5 x 53 x 35 inches
Weight: 105 lbs
Weight Capacity: 710 lbs
Pros
Easy to assemble
Suitable for small spaces
Comfortable
Convertible
Cons
Thin and flimsy backrest cushions
Does not provide lumbar support
This classic leather sofa is made of high imitation PU leather that is durable and easy to clean. It has enough room for two adults and comes with thick padding and sturdy cushions. The detachable chrome legs provide support and do not slide on or scratch the floor, while the solid wooden structure ensures safety and stability. The adjustable backrest has three gear positions to pick from according to your comfort. You can work on your laptop, lie back and chat with your friends, or catch a quick snooze by changing the angles of the backrest.
The armrests and cushions are firm and resilient and make you feel comfortable whether you are sitting or lying down. The foldable middle armest has two built-in cup holders. This comfortable leather sofa is ideal for those with small spaces and limited budgets. This stylish and modern sofa adds a dash of style to your home.
Specifications
Dimensions: 65.35 x 38.18 x 31.49 inches
Weight: 68.2 lbs
Weight Capacity: 500 lbs
Pros
Adjustable backrest
Convertible
2 built-in cup holders
Sturdy
Easy to assemble
Great for small spaces
30-day refund guarantee
Cons
The Yaheetech Leather Futon Couch is made of high-quality artificial leather and has a sturdy and durable iron frame. The high-quality metal legs can bear high loads, and the bottom footpads prevent scratching the floor or sliding. The contrast double stitching and deep padding make this sofa durable and comfortable to sit or sleep on. This couch can be converted into a bed within seconds. It is great for a teen's bedroom, living rooms, or offices.
This comfortable leather sofa has a tilting backrest to adjust to the contours of your body and help you relax. You don't have to separately invest in cushions for this one as the soft armrests double as cushions. The middle armrest features two cup holders to store your coffee or drinks. All you need to do is decline the backrest and remove the armrest – and lo! Your guest bed is ready! This model is available in three other colors – brown, black, and white.
Specifications
Dimensions: 65.75 x 32.09 x 28.74 inches
Weight: 62.4 lbs
Weight Capacity: 500 lbs
Pros
Ergonomic design
Multifunctional
Removable armrests
Easy to assemble
2 built-in cup holders
Sturdy
Cons
Small
Not very comfortable for sleeping
The Rivet Revolve Modern Leather Sofa has a solid frame, sleek lines, and minimalist design that will instantly upgrade your living room. This classic-meets-contemporary sofa features durable leather upholstery, a hardwood frame, and solid beech wood legs that offer support, durability, and stability.
It comes with six cushions and square armrests and can easily seat 3-4 people. This sofa is easy to assemble and clean. All you need to do is wipe the dust with a soft cloth. It comes with a one-year warranty.
Specifications
Dimensions: 79.9 x 34.6 x 35.4 inches
Weight: 109.1 pounds
Weight Capacity: 500 lbs
Pros
Firm
Comfortable
Easy to assemble
Easy to clean
Pet-proof
Cons
Moves around while sitting
This sofa is a dream come true for all the gamers out there. This inexpensive leather sofa is also ideal for falling asleep while watching a movie. It has an internal steel frame structure and is padded with high-density foam and resilient sponge, covered with PU leather.
The sofa-cum-foldable bed comes with two pillows, and the back can be adjusted from 90-180 degrees in five different positions. It is versatile, lightweight, and foldable, which makes it extremely convenient for transportation or storage. It is easy to assemble and clean and perfect for small spaces.
Specifications
Dimensions: 89.37 x 43 x 4.72 inches
Weight: 33.1 lbs
Weight Capacity: 250 lbs
Pros
5 adjustable positions
Versatile
Durable
Easy to clean
Stain-resistant
Cons
This gorgeous, compact sofa from Aileekiss in retro green with white lines looks simple and stylish. The high-quality faux leather lends a sense of style and luxury to the room. This sofa has a hardwood frame and solid wood feet that make it sturdy, safe, and durable.
It has soft cushions, armrests, and a comfortable and removable backrest to support your arms and back for the ultimate comfort. This sofa is water-resistant and easy to clean. It comes with tools and instructions for easy assembly.
Specifications
Dimensions: 45.28 x 25.98 x 15.75 inches
Weight: 67.9 lbs
Weight Capacity: 300 lbs
Pros
Removable backrest
Easy to cleaners
Easy to assemble
Comes with tools
Sturdy
Comfortable
Suitable for small spaces
Cons
None
This blue-colored sofa is made of semi-aniline dyed Italian leather. Unlike the others on the list, this is a high-end leather sofa that offers royal seating. This sectional sofa comes with a full chaise for maximum comfort. The kiln-dried solid wood frame has reinforced joints and corner blocks to enhance strength and durability. The solid wood legs in mahogany finish lend support and stability to the sofa.
This leather sofa has high-density foam with polyester filling and Pirelli webbing to support the seat and back cushions. It also has a feather down topper on the seating cushions and a blend of feather down and fiber for the back cushions and bolsters. This sofa is easy to assemble and can be put together in under 5 minutes.
Specifications
Dimensions: 67 x 104.5 x 34 inches
Weight: 163 lbs
Weight Capacity: 500 lbs
Pros
Comfortable
Sturdy
Easy to assemble
Cons
None
Let's now look at the factors to consider before buying a leather sofa.
Things To Consider Before Buying A Leather Sofa – Buying Guide
Measure the size of your room to determine the dimensions of the sofa you will need and then check out the options.
Check the weight capacity of the sofa, i.e., how much weight it can handle without breaking or creaking.
Set your budget before you decide on a model. Faux and natural leather sofas are less expensive and look as good as high-quality leather sofas.
Decide what kind of style you want, depending on the space available and how you are planning to use it. You can pick among normal sofas, loveseats, sectional sofas, and convertible futon-cum-sofas.
Go for models with metal or solid wood frames as they are durable and offer complete support.
This depends on personal preferences. You can choose among genuine leather, PU leather, faux leather, and natural leather, depending on your budget and requirements. However, faux leather will eventually flake, and genuine leather will develop a patina that gives it authentic and vintage vibes.
Ensure that the color of the sofa compliments the decor of the room.
Check if the sofa has an adjustable arm, back, and headrests for a comfortable and relaxing experience. Sofas with built-in cup holders work great when you have friends over for drinks or sleepovers.
It's time to replace and revamp your living space with these ultra-chic and comfortable leather sofas. Pick one from the above list, sink in, and relax!
Frequently Asked Questions
Are leather sofas comfortable?
Though not as cushiony as the fabric ones, leather sofas are extremely comfortable and retain their shape.
What are the types of leather sofas?
Leather sofas are classified according to the cuts of leather and the dyes and pigments required to treat the leather. Top-grain, split leather, nuckbuck, and suede are different parts of the hide, while aniline, pigmented, and semi-aniline are the categories in dyed leather.
Do precautions need to be taken to make your sofas last long?
Yes. Clean the leather with a dry cloth. Keep it out of direct sunlight. Polish the sofa for a shine and avoid cleaners with grease residue. Use a nukbuck cloth to wipe. Use a spray to protect the leather from stains and moisture.
How many years does a leather sofa last?
A good quality leather sofa can last anywhere between 7-15 years.
Does the leather peel off?
Real genuine leather takes a lot of years to peel, while faux leather starts peeling after some wear.
Does real leather flake off?
If not maintained and moisturized, real leather turns dry and starts to flake in a few years.
What kind of leather does not peel?
Real leather develops a patina on its surface instead of wearing out. On the other hand, PU leather and faux leather will crack and peel.
Recommended Articles
The following two tabs change content below.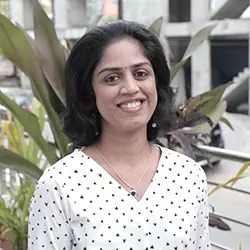 As Head Of Content Operations, Harini sets the tone and editorial direction for StyleCraze to deliver engaging, interesting, and authentic...
more