5 Best Leave-in Conditioners For 4C Hair To Feel Nourished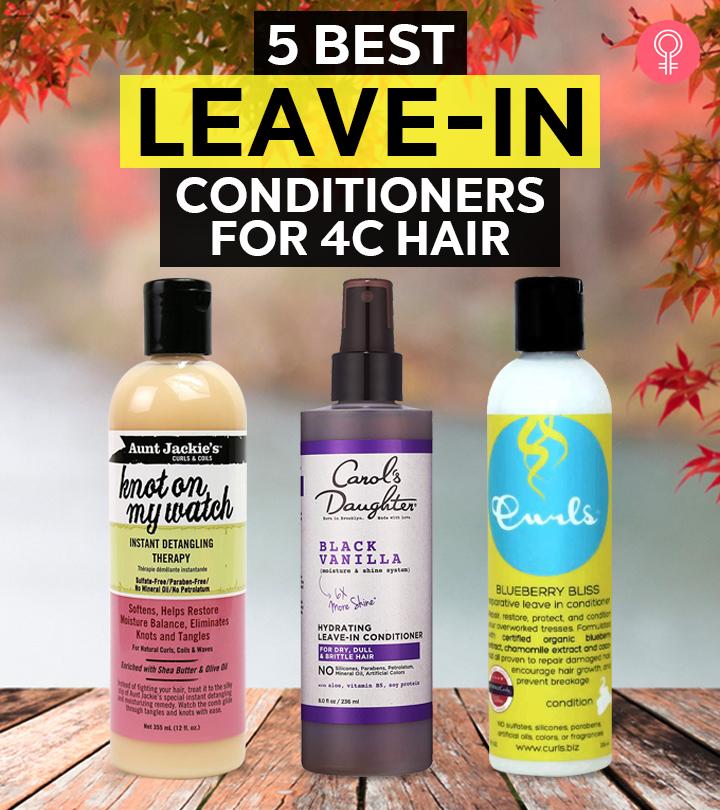 To prevent dryness, breakage, and detangle 4c hair, you must get your hands on the best leave-in conditioner for 4c hair. 4c hair is very prone to breakage and damage as it is fragile. However, using the right leave-in conditioner will hydrate the hair, add volume and shine, making your curls look naturally glossy. It will also make hair manageable and won't strip off the natural oils. Listed below are the 5 best leave-in conditioners for 4c hair. Keep scrolling to explore the best for your hair.
5 Best Leave-in Conditioners For 4c Hair
This leave-in conditioner protects your locks from knots, tangles, and disorderly tresses. It contains shea butter and is powered with a silky slip formula that enables smooth sliding of your comb through stubborn tangles. Olive oil smoothens hard-to-manage hair without weighing it down. This leave-in conditioner for 4c hair hydrates your hair and prevents breakage for healthy growth. It is lightweight and free of sulfates, parabens, petroleum, and mineral oil. Take a look at this video to learn more about the product.
Pros
Pleasant smell
Paraben-free
Sulfate-free
Petroleum-free
Mineral oil-free
Cons
Might cause allergic reactions
Bid adieu to your dull, dry, and brittle hair with this leave-in conditioner. It balances the hair moisture for naturally beautiful curls and seals in softness. This conditioner contains aloe, soy protein, and vitamin B5 to make your tresses glossy, frizz-free, and healthy. It is packed with a hydrating recipe to provide deep nourishment.
The shea butter, clover, and aloe vera leaf juice transform hard-to-manage hair into smooth hair. This lightweight conditioner has natural moisturizers that do not weigh your hair down. It is free of parabens, silicones, petrolatum, mineral oil, and synthetic colors. Watch this YouTuber's honest review to get a better idea about the product and its features.
Pros
Pleasant fragrance
Mineral oil-free
No synthetic colors
Petrolatum-free
Paraben-free
Silicone-free
Lightweight
Cons
This deep conditioner for 4c natural hair contains an organic mix of blueberry, grapeseed oil, mango butter, and coconut oil that helps revitalize your hair, add volume, and loosen the knots, making hard-to-manage hair soft and smooth. The natural formula helps repair and condition curly, frizzy, and dry hair.
You can fix, restore, and moisturize your curls with this leave-in conditioner. The product has been clinically tested to repair damaged tresses, boost growth, and prevent hair breakage. The blueberry extract reacts with hair follicles to trigger growth, slowing hair loss, and graying. This ingredient is rich in vitamins B and C that enhance blood circulation and oxygenation in the scalp. The product is free of sulfates, parabens, and silicones. This video will give you a better insight into the product.
Pros
Sulfate-free
Paraben-free
Silicone-free
Clinically tested
Cons
Might feel heavy on the hair
Causes buildups
This leave-in conditioner gets rid of dryness and eliminates tangles, making your curls soft, smooth, and glossy. It contains natural green tea, argan oil, and shea butter that do not weigh your hair down. The perfect blend of antioxidants and moisturizers helps manage knotty, frizzy, and tangled hair.
This natural formula nourishes the hair roots and ensures healthy hair growth. It detangles tough knots and repairs hair cuticles. Green tea and argan oil enhance blood flow to the scalp and prevent hair loss. Argan oil also heals the hair, prevents future damage, and diminishes split ends. This lightweight formula restores the hair's natural oils and soothes scalp inflammation without any buildup. It is suitable for daily use and even safe for kids.
Pros
Lightweight
Prevents hair breakage
Fights frizz and flyaways
Safe for kids
Pleasant fragrance
No residue buildup
Cons
This leave-in conditioner for 4c hair is lightweight and packed with proteins that repair damaged hair, keeping it healthy, glossy, bouncy, and soft. It detangles your hair for easy combing and styling and also plumps and hydrates it to make it look fuller. This color-safe conditioner is vegan, cruelty-free, and does not contain parabens.
Pros
Lightweight
Color-safe
Vegan
Paraben-free
Cruelty-free
Cons
That was our round-up of the 5 best leave-in conditioners for 4c hair. These conditioners detangle knots, restore hair health, and add volume to your tresses for quick styling. Pick your favorite product from our list and get softer curls in no time.
Why Trust StyleCraze?
StyleCraze articles are backed by experts and suggestions from certified professionals. The author of this article, Shiboli Chakraborti, is a certified skin care coach and hair care expert. She has conducted in-depth research on several products and checked many reviews online to compile the list of the best leave-in conditioners for 4C hair. These products can hydrate your hair and make those tresses look glossy.
Frequently Asked Questions
How often should I condition 4c hair?
If you want deep conditioning, moisturize your hair every 14 days because 4c hair dries very quickly and holds less moisture than other hair types.
Is rice water good for 4c hair?
Yes. Rice water is beneficial for 4c hair in many ways. It encourages healthy hair growth, enhances shine, makes it supple, and moisturizes it. Rice water also smoothens the hair, minimizes surface friction, and prevents tangles.
Should I wet my 4c hair every day?
Yes, you can wet your 4c hair daily. The key to using water on your 4c hair is not saturating it; gently spray it instead.
How long does 4c hair grow in a month?
4c hair grows at approximately half-inch every month, implying that it would grow at least six inches every year.
Why does the 4c hair tangle so easily?
4c hair tangles easily because blow-drying robs the moisture in your locks. This results in tangling, breakage, and shrinkage.
How long does it take 4c hair to lock?
The lock process usually lasts for 3-6 months, depending on how quickly the hair grows. You can try many styles like two-strand twists, braids, palm rolls, and comb coils to start with the locks.
How can I make my 4c hair grow thicker?
If you want to grow fuller, thicker hair, follow a healthy diet full of essential nutrients and vitamins. Massage coconut or olive oil onto your tresses for 30 minutes before shampooing. Repeat this once or twice a week. Also, add a few drops of oil to your conditioner to notice visible results in some weeks.
Recommended Articles
The following two tabs change content below.