Pamper Your Tresses With 13 Best Leave-in Conditioners For Color-treated Hair (2022)
Protect the vibrancy of your hair color and its health with these nourishing conditioners.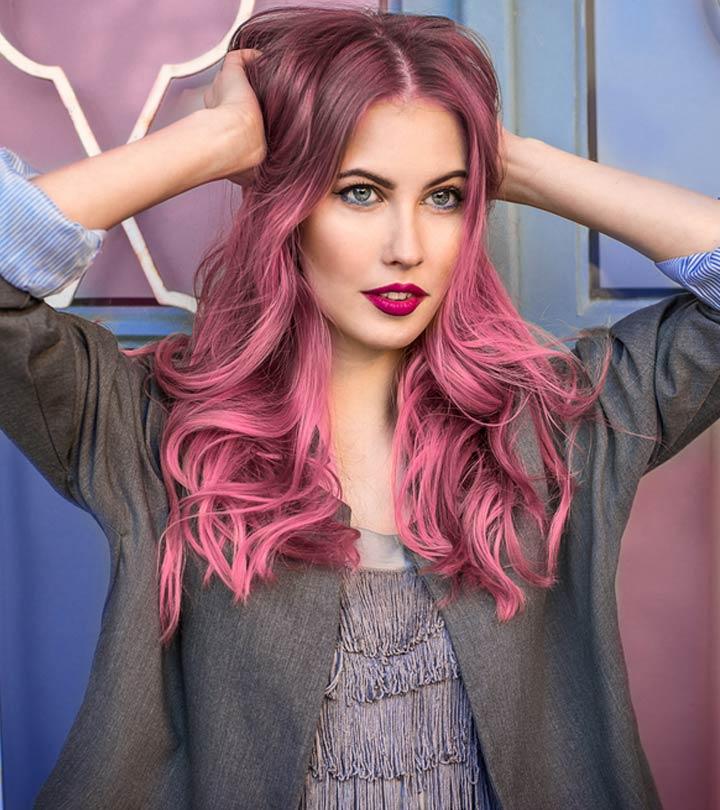 If you tend to color your hair often, for need or style, you must occasionally pamper your tresses with the best leave-in conditioner for color-treated hair. Frequent hair dyeing, styling, and chemical treatments might strip your hair of the natural oils and moisture, leaving it looking rough, dry, and brittle. Unless you make sure to condition it well. While a rinse in conditioner might do the work for you, sometimes you may not have the time or patience to take a proper hair bath. That's precisely when a leave-in conditioner can work its magic for you. Not only does it hydrate and nourish your hair, but also helps maintain the vibrancy of your hair color last longer. Now that you know the trick, you might be eager to pick one for you. Worry not, with the 13 best leave-in conditioners mentioned below, you can color and pamper your hair stress-free.
13 Best Leave-in Conditioners For Color-Treated Hair You Cannot Miss!
Spray on this rich blend of organic oils (olive oil, coconut oil, and camelina oil) and the brand's signature aromatherapy to tame the frizz, ease the tangles and protect the hair color. Considering how uneven porosity is one of the main factors that lead to frizzy hair, the loss of moisture also ends up drying the strands and quicken fading. Hence, this blend of enriching ingredients claims to nourish, add shine, balance the porosity, and prime your hair to look healthy and stunning. To understand the nuances of the product in detail, you can check out this review.
Pros
Versatile leave-in conditioner
Boosts moisture levels
Improves manageability
Provides heat protection
Sulfate-free and vegan formula
Ideal for dry and damaged hair types
Cons
Expensive
Overpowering scent
Prep your hair before styling with this leave-in conditioner, which is ideal for color-treated hair too. Also, given how heat styling can worsen the frizz, quicken fading, and leave your tresses unmanageable, this product ensures to add a protective shield instantly. Claiming to be an all-in-one treatment for hair care, it's a must-try for those who enjoy styling their hair frequently. Check out this YouTuber's review of this product.
Pros
Tames static hair
Improves manageability
Reduces dryness and evens out the porosity
Nourishes and conditions intensely
Prevents breakage, detangles, and eliminates split-ends
Paraben-free and sulfate-free
Suitable for all hair types
Cons
Expensive
It may weigh down thin hair.
Does your work require you to step out in the sun often? If yes, then you must-try this color-safe leave-in conditioner ASAP! Formulated to protect from UV rays, it claims to detangle hair in 7 seconds too! Workaholics, where y'all at? Unite Hair Leave-in Conditioner also offers thermal protection during styling and evens out the moisture and nourishment levels as well. Now, can your conditioner do this? Tell, we'll wait.
Pros
Weightless formula
Primes color-treated hair
Repairs and conditions
Protects and strengthen hair color
Free from sodium chloride and parabens
Suitable for all hair types
Cons
Curls squads, all eyes on this one! Mizani's Miracle Milk, with 25 benefits, including coconut oil and fennel seed oil, will make you fall in love with your curly crown again. Whether you have wavy, kinky, coily, or other textured hair, this leave-in conditioner treatment promises to tackle damages, dryness, and frizz with its ultra-nourishing blend. Yes, from protecting color, restoring moisture to easing the tangles, this one claims can do it all! Do you think you can handle the gorgeousness? You can also check this video out for a brief review of the product.
Pros
Lightweight formula
Improves manageability
Protects during heat styling
Leaves hair soft and shinier
Conditions and hydrates follicles intensely
Primes and delivers a frizz-free finish
Cons
Slightly sticky
Overpowering fragrance
Are you wondering why Hawaiian Silky Leave-in Conditioner claims to be a miracle worker for hair? With 14-in-1 benefits for your tresses, this leave-in conditioner, more like a hair and scalp healer treats and protects dry, damaged, and color-treated tresses like a knight! Infused with keratin oil, which is deemed to be ultra-beneficial to tame frizzes, the formula also has jojoba oil and amino acids to provide holistic hair care. Also, it adds a shine, detangles, relieves itchiness, reduces breakage, defines curls and more! Too good to be missed, right?
Pros
Cruelty-free
Safe for daily use
Provides thermal protection
Non-greasy and non-staining formula
Infused with natural healing properties
Adds softness, soothes and strengthens hair
Suitable for men, women, and children
Cons
Not recommended if you prefer thin consistency
Nobody enjoys watching their hair color fade earlier than expected, especially when you've spent a bomb on it! Hence, you need to try this ultimate color protector that claims to seal in color and keep it stunning and vibrant for up to 12 weeks! With the anti-fading ingredients keeping the hair color intact, Gliss leave-in conditioner for dyed hair also eases the tangles, repairs damages, and adds a stunning shine to the mane. Give it a try if you haven't already!
Pros
Infused with liquid keratin
Quickens repair process
Improves manageability
Provides UVA/UVB protection
Suitable for colored, highlighted, and tinted hair
Cons
Strong scent
Takes longer to set in
Hair, too damaged and dry? How about you switch to a natural and mild option like this leave-in conditioning spray by Briogeo. Made of ethically-sourced ingredients and with no harsh chemicals, this lightweight formula contains coconut oil, vitamin E, rosehip oil, and argan oil for intense hair care. From taming the frizz to detangling knots, this light leave-in conditioner for damaged hair also adds a gorgeous shine and leaves hair manageable too. Try it to notice a difference.
Pros
100% cruelty-free product
Safe for colored, keratin and chemically-treated hair
Sulfate-free, paraben-free, phthalate-free, and more
Ideal for both men and women
Suitable for all hair types and textures
Cons
Oily hair may turn slightly greasy
Let your color-treated hair bask in the Moroccan bliss with Earth Vibes! More like a godsend savior for dry and damaged hair, this detangling leave-in conditioner is a must-try for all. Ensuring extra care with its 100% pure Moroccan oil, argan oil, coconut oil, and jojoba oil blend, watch your hair go from lifeless to livelier with this organic solution. Also, the formula claims to lock in the natural moisture, add sheen, bring back the lost volume and gorgeousness as well! Still, want to stick to your old conditioner now?
Pros
Suitable for all hair types
Safe for kids and adults
Strengthens hair from roots to tips
Improves manageability during styling
Tames flyaways and frizzes instantly
Cruelty-free, sulfate-free, paraben-free, and gluten-free
Cons
Hair may turn slightly greasy
Is hard water being tough on your color-treated or fine hair? If yes, then you must try the Keracolor Leave-in Conditioner. Claiming to neutralize the chlorine and minerals in hard water, this leave-in conditioner leaves hair shiny, soft, and healthy-looking with every use. And as for the knots? Consider them detangled and smoothened out! Also, other than hydrating, this coconut oil-infused conditioner provides thermal protection and prevents early fading as well. Give it a try ASAP!
Pros
Intensely nourishing formula
Seals in the color
Vegan and cruelty-free
Paraben-free and gluten-free
Suitable for thin to medium hair types
Cons
Lock the color in and the UV rays out with this leave-in conditioner by Amika. Given how sun rays can quicken fading, this chloride-patented formula fights UV-B rays and seals in the hair color with every use. Besides this, it also contains amino acids to improve elasticity and enhance the overall health of the hair. Want more? It relaxes stressed hair and protects from cuticle damage and keratin breakdown too. Try it!
Pros
Detangles hair effortlessly
Adds softness and shine
Keep the hair color vibrant and healthy
Paraben-free, gluten-free, phthalate-free, and more
Safe for color-treated, keratin-treated, and Brazilian-treated hair
Cons
Keep your hair color 95% longer with the Framesi Color Lover Primer 11 Leave-in Conditioner. This leave-in spray conditioner offers hair protection and increases shine. It tames frizz, detangles your hair, provides style, and keeps them conditioned. This leave-in conditioner is made with vitamins, quinoa protein, and other emollients that penetrate deep into your strands to keep them healthy and retain moisture for long. In addition, it promotes a healthy scalp and adds volume to your hair.
Pros
 Gluten-free
 Sulfate-free
 Paraben-free
 DEA-free
 Sodium chloride-free
 Vegan
 UVA/UVB-protectant
Cons
None
What's different about this leave-in conditioner? First, it's a great pick for those with limp or fine hair, and second, it detangles knots instantly! Infused with a combination of the purest water, sea salt, and aloe vera powder, it repairs, protects, and enhances the overall health of the hair too. And since the color on thin hair can fade quickly, Loma Leave-in Conditioner Spray promises to protect and extend color vibrancy with every use. Do not skip it!
Pros
Offers an aromatic therapy
Contains organic ingredients
Closes the cuticles and protects hair
Boosts volume and enhances texture
Vegan and cruelty-free product
Soy-free, gluten-free, paraben-free, and sulfate-free
Cons
Not recommended if you are sensitive to smell
Lastly, this leave-in conditioner that your color-treated hair will enjoy! Don't believe us? Spray it on to watch your hair go from blah to beautiful within minutes. From taming the frizzes, adding volume to balancing the pH level of your scalp, there's nothing this leave-in conditioner cannot do! Just the combination you need for the color to last long and tresses to look stunning, do not miss it this season!
Pros
Color-friendly formula
Provides thermal protection
Detangles the knots effortlessly
Adds softness and boosts moisture
Intensely hydrating and conditioning
Ideal for both men and women
Suitable for all hair types
Cons
Overpowering floral scent
And you thought your hair coloring days were over! There you go, those are the 13 best leave-in conditioners for color-treated hair. Do you need more assistance with choosing the right one? We've listed a few tips for you in our buying guide below.
Buying Guide
How Do I Choose The Best Leave-in Conditioner For Color-treated Hair?
Here are a few tips you must remember before choosing a leave-in conditioner for your hair:
Hair type: Make sure the product you are choosing is suitable for your hair type and texture. For example, a leave-in conditioner for thick hair may weigh down fine hair, and those for thin hair may not work on thick hair.
Ingredients: The milder the ingredients are, the better it will be for your color-treated hair. Hence, most of the leave-in conditioners on our list are either naturally-sourced or organic that can lock in the color and prevent fading without being tough on your hair.
No chemicals: Chemicals can wash off the hair color quicker than any other ingredients out there. So, opt for a leave-in conditioner that is free from harsh chemicals such as paraben, sulfate, silicone, phthalates, and more.
UV & Heat protection: Another factor that can cause color damage is sun or heat exposure. Hence, pick an option that guarantees thermal or UV rays protection for the best results.
Intensely conditioning: Lastly, all your color-treated hair needs is extra care, love, and pampering, which is why you must choose an intensely conditioning, nourishing, and hydrating product. After all, only if your hair is healthy and nourished will the hair color shine and look gorgeous.
Why Trust Stylecraze?
The author, Vaishnavi Kothuri, loves everything skincare and haircare. After considerable research and analysis, she has created this list of the best leave-in conditioners for different hair types, along with their pros and cons. She handpicked the products with good reviews and ratings so that you can enjoy the best conditioning for your hair type without worrying about hair damage.
Frequently Asked Questions
Is a Leave-in Conditioner Good for Colored Hair?
Yes, there are umpteen leave-in conditioners available for color-treated hair that help seal in color, prevent early fading, and extend its vibrancy. So yes, leave-in conditioners are great for colored hair.
Which Is the Best Leave-in Conditioner for Damaged and Color-treated Hair?
Pureology Colour Fanatic Leave-in Conditioner Spray, Briogeo Leave-in Conditioning Spray, and Earth Vibes Leave-in Conditioner Spray are some of the best leave-in conditioners for damaged and color-treated hair.
Is a Leave-in Conditioner Good for Fine Hair?
Yes, there are leave-in conditioners that are suitable for fine hair, such as Keracolor Leave-in Conditioner and LOMA Leave-in Conditioner Spray. These will not weigh down your tresses and will add volume, shine and protect your color-treated hair too.
Should I Use a Leave-in Conditioner Every Day?
No, avoid using leave-in conditioner daily because it may lead to residue build-up and greasiness. However, if you are dealing with extra damaged hair, Hawaiian Silky Leave-in Conditioner claims to be safe for daily use.
How Long Should I Leave the Conditioner In Hair?
A post-shower conditioner should be left in for three minutes before rinsing out, whereas the leave-in conditioner should take around a minute to set before you can start combing or styling your hair.
Recommended Articles