The 16 Best Leave-In Conditioners For Curly Hair To Try In 2023
Combat frizziness and lock the moisture in your tresses with these gentle products.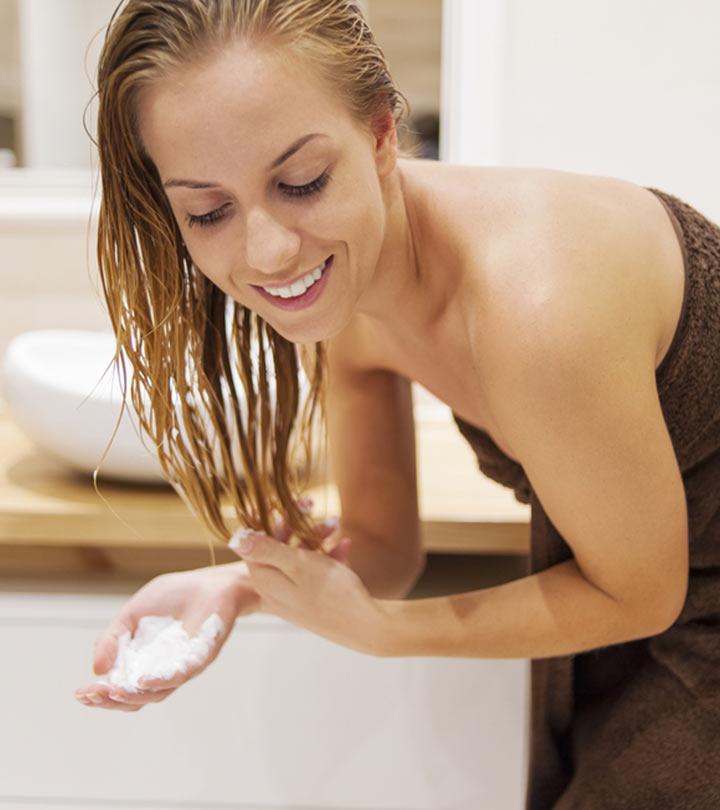 We wish our beautiful curls and waves were spared from the ravages of heat and chemicals, but it is subject to damage and breakage like every hair type. But what do you do? The best leave-in conditioner for curly hair is your answer to beat them all. These conditioners retain the moisture in your hair, leaving it shiny and soft to the touch. They also bring back your shine and kick the frizz out of your hair! Here is our list of the top leave-in conditioners available on the market to get your hair game up. Scroll down to check it out!
Top Leave-In Conditioners For Curly Hair You Can Try
Are you struggling with stubborn knots? Not anymore! Kinky Curly Knot Today Leave-In conditioner soothes the frizz, detangles knots, and repairs the hair follicles, the herbal way. Enriched with botanical extracts and formulated with a creamy texture, watch your comb glide through your curls without causing breakage.
Pros
Creamy consistency nourishes hair
Soothes hair follicles
Detangles the knots and tames frizzy hair
No paraben or other harmful chemicals
Rich in herbal and botanical extracts
Ideal for very dry and curly hair
Cons
It does not moisturize adequately and an additional oil mix is recommended
Price at the time of publication: $12.99
This conditioner is hailed as the Holy Grail of leave-in conditioners for curly hair! All thanks to Curls Blueberry Bliss Reparative Leave-in Conditioner's organic blend of coconut oil, grape-seed oil, and mango butter, which rejuvenates your hair, imparts volume, helps in curl revival, and detangles the knots in your hair. It helps condition and repair curly, very curly, dry, and kinky hair.
Pros
Organic and certified formulated conditioner
Blend of coconut oil, grape-seed oil, and mango butter
Repairs, restores, and conditions hair
Ideal for curly, very curly, dry, and kinky hair
Contains no paraben, sulfates, silicones, fragrances etc.
Healthiest option to nourish curly hair
Cons
Not recommended for fine hair
It does not moisturize adequately
Price at the time of publication: $11.94
Dryness, hair breakage, and split ends are all signs of lack of moisture. Lock in the natural oils, nourish your follicles and replenish the moisture with the rich combo of buttercream and coconut oil in the Garnier Fructis Style Curl Leave-In Conditioner. With an assurance of long-lasting moisture, it also guarantees 24 hours of frizz-control.
Pros
Rich combo of buttercream and coconut oil
Long-lasting moisture and intense nourishment
24 hours of frizz-control
Paraben and sulfate-free
Cons
Not suitable for fine hair
Price at the time of publication: $14.16
Your curls need the right amount of nourishment to love you back. DevaCurl Leave-in Decadence Ultra-Moisturizing Conditioner has everything your curls need. Bringing the goodness of chufa milk, an allergy-free, organic ingredient along with quinoa and pequi oil, this combo acts as a soothing balm for your locks and offers soft curls. Deeply nourishing, replenishing, and conditioning, this hydrating leave-in conditioner heals your curls like no other.
Pros
It is sulfate, paraben, silicone, and cruelty-free
Provides intense hydration to damaged, dry, and frizzy curls
Conditioning does not leave hair sticky or greasy
Formulated with quinoa and chufa milk
Cons
Not suitable for fine hair
Expensive
Price at the time of publication: $26
A few sprays of Briogeo Farewell Frizz Rosarco Milk Leave-in Conditioner can do wonders for your hair. Packed with the benefits of argan oil, rosehip oil, and coconut oil, it assures anti-frizz hair. This frizz-free spray also locks in the nourishment, detangles, and makes your hair look healthier than before. Suitable for all types of hair, watch your mane go from lifeless to flawless in a few sprays!
Pros
Controls frizz, split-ends
Detangles and nourishes hair
Suitable for straight, curly, and colored hair
Protects against breakage
Paraben, sulfate, gluten, silicone, and cruelty-free
Vegan-friendly product
Cons
Not recommended for very curly and kinky hair
Expensive
Price at the time of publication: $25.0
Sealing in softness and shine with its moisture-rich recipe, Black Vanilla Leave-in Conditioner by Carol's Daughter is the hydrating experience that your curls need. It is the ultimate tonic to make your tresses look healthier and frizz-free. The fragrance is soothing and mood-boosting. This conditioner is made from wheat protein and vitamin B5 that guarantee intense nourishment, while sweet clover, shea butter, and aloe vera leaf juice help transform the hair and help improve its elasticity.
Pros
Moisture-rich and organic formulation
Soothing fragrance
Suitable for dry and brittle hair
No petrolatum, mineral oil, or artificial colors
Cons
It does not moisturize effectively
The fragrance may be overpowering for some
The Mielle Organics Pomegranate and Honey Leave-in Conditioner rejuvenates damaged tresses and imparts a vivacious and healthy shine. It is loaded with natural ingredients such as pomegranate, honey, babassu oil, and citrus extracts that hydrate the hair strands deeply and make your curls bouncier and natural-looking by inducing softness in them.
The lightweight and nutrient-rich formula also helps get rid of frizz, split ends, and hair tangling to offer smoothness to your strands. It is easy to apply and does not leave any greasy feel once washed away. The gentle conditioner works as a curl primer ensuring long-lasting hydration while improving your hair texture and reducing hair fall. Apply this conditioner from the roots to the tips to increase manageability and strengthen your tresses.
Pros
Natural ingredients
Non-sticky
Lightweight formula
Increases hair shine
Improves hair health
Repairs damaged hair
Hydrates
Prevents hair frizz
Boosts hair growth
Cons
Price at the time of publication: $10.49
Frequent styling, blow-drying, or sun exposure can leave your curls dry, brittle, and lifeless. Arvazallia's Heat Protectant Plus With Argan Oil forms a shield that repairs heat damage, enriches the scalp, and eliminates frizz, thus making your curls look healthy and vibrant. Infused with the goodness of argan oil, this conditioner acts as a professional-grade thermal protector for the hair. So no more hair buns and hair ties; leave those lustrous locks open and flaunt your curls in your selfies.
Pros
Suitable for hair damaged by heat
Eliminates frizz and nourishes the scalp
Give a soft and silky texture
It does not weigh the hair down
It has a soothing fragrance
Cons
Using too much product will leave your hair greasy
Price at the time of publication: $10.99
Are you looking for the best leave-in conditioner for color-treated curly hair? Revitalizing 3-in-1 Leave-in Conditioner Spray by Sun Bum is the perfect solution for you! All the damage that color does, this miracle spray heals, protects, conditions, and detangles your hair, making it smooth and frizz-free. And that's not all; the vegan blend of quinoa protein and sunflower seed oil also slows down the color fading! This all-natural hair tonic also includes coconut oil, banana pulp, peel, and leaf extracts and offers UV protection. You will not need a hairstylist when you have this revitalizing spray.
Pros
Vegan leave-in conditioner
Protects from harsh UV sun rays
Controls frizz and split-ends
Cruelty-free and contains no paraben or gluten
Repairs color damaged hair and slows down color-fading
Cons
The fragrance may be overpowering
Price at the time of publication: $15
If there is one reason why the Daily Dose Miracle Moisture Spray is fantastic, it is that it promises instant results after a single use! True to its name, this miracle solution gets to work from the first application itself. Whether you have fine, frizzy, natural, curly, coiled, oily, thick, or coarse hair, it is an all-rounder, all-in-one formula that repairs damaged hair, split ends and detangles the stubborn knots. And while it restores moisture, it leaves your hair looking healthy, shiny and so soft that you can't keep your hands off them.
Pros
Instant results
Suitable for all types of hair from fine to coarse, curly hair
All-in-one formula that repairs hair and restores moisture
Suitable for colored hair
100% vegan
Paraben, sulfate, petroleum, gluten, and mineral oil-free
Cons
The fragrance may be overpowering
This product can be greasy
Price at the time of publication: $16.99
Shout out to this all-natural leave-in conditioner for its ultra-nourishing and damage-repairing formula. Your daily routine can leave your hair, especially thick natural curls, severely damaged. This restorative Almond Milk Leave-in Conditioner by Carol's Daughter is a classic blend of all things natural. Infused with almond milk, aloe vera, shea butter, rice seed, and olive oil, your curls are in for a healing therapy daily. From short-cropped 4C curly hairstyles to 1C waves, it's ideal for all. Treat your hair to the goodness of mother nature and watch it shine naturally.
Pros
Organic leave-in conditioner
Ultra-nourishing and repairs damaged hair
Protects hair from daily damage
Ideal for short-cropped 4C curly hair to 1C waves
Formulated with natural ingredients
Offers healing therapy
Paraben, sulfate, petroleum, and mineral oil-free
Cons
The product has a strong scent
Not an intense moisturizing product
Price at the time of publication: $12.54
Who doesn't want long, lustrous, and healthy-looking hair? But along comes brittleness and those stubborn knots that can drive your patience up the wall. And worse yet, the dryness leads to breakage, thus preventing hair growth. But Marc Anthony's Strengthening Grow Long Super Fast Leave-in Conditioner is a godsend as it detangles, adds shine, and provides nourishment to your locks. This anti-breakage leave-in conditioner is infused with the richness of caffeine, ginseng, and vitamin E. The super-creamy and velvety texture ensures natural softness, superfast growth, and lustrous hair.
Pros
Creamy, velvety texture that makes hair silky
It protects hydrates, replenishes, and nourishes hair
Promotes stronger, longer, and healthier hair
Prevents breakage and split ends
Sulfate-free
Cons
It does not add volume
May not control frizzy hair
Price at the time of publication: $8.99
Why keep those beautiful natural curls tied up in a bun or hair-tie? Don't let the frizz and knots control your life. Paul Mitchell's Full Circle Leave-in Treatment wants you to let loose and let those curls breathe. So creamy that it calms those curls and so lightweight that it doesn't weigh your hair down. The enriching power of jojoba extracts controls hair friction, thus taming your tresses. No need to visit the salon to have a good hair day anymore as you can have it whenever you want with Paul Mitchell's leave-in treatment.
Pros
Hydrates hair
Protects from daily damage
Detangles and adds a bounce to the curls
Applicable to both damp and towel-dried hair
Cons
Not suitable for very curly and thick hair
Expensive
Price at the time of publication: $22.0
Say yes to this fruity formula and bid farewell to dry and dull hair. This blend of papaya and pineapple works like a dream on curly and other types of hair such as perm-wavy, braided hair as well, and even extensions! It deep moisturizes to give your hair a bouncy volume, eliminates split ends, prevents hair loss, and also repairs hair damage. Need we say more? Try it yourself to experience what this natural leave-in conditioner guarantees.
Pros
Suitable for all types of hair
Moisturizes and eliminates split ends
Adds volume and prevent hair loss
100% vegan, paraben, and sulfate-free
Cons
Has an overpowering fruity aroma
Price at the time of publication: $25.0
If there's one thing naturalists swear by for good, smooth, and healthy hair, it is argan oil. Rich in moisturizing omega fatty acids, this leave-in conditioner by Arganicare assures intense hydration for dry and damaged hair. It conditions deeply and moisturizes the cuticles to bring back the natural texture of your hair. And it is versatile, effective, and is hailed as the best conditioner for color-treated hair. Formulated with macadamia oil and the nutrient-rich argan oil that treats your hair from the core, this conditioner is a must-have for those struggling to tame their frizzy locks.
Pros
Rich in omega fatty acids that replenish hair
Argan and macadamia oils assure an extensive moisturizing experience
It provides deep conditioning that relaxes the frizz and flying hair
Cons
To be applied in moderation to avoid greasiness
Not suitable for very frizzy hair
Price at the time of publication: $17.99
Is humidity driving your frizzy hair out of control? To bring back the shine and make your curls manageable, it is necessary to address this issue. Marc Anthony's Bye Bye Frizz Protecting Leave-in Conditioner guarantees core treatment that curbs friction between strands of hair, nourishes the scalp, and makes your hair soft and supple. With the natural oils locked in and coconut oil extract moisturizing the cuticles, experience a new side of your hair. Free from silicone and sulfate, this humidity-control leave-in conditioner also has a dual keratin formula that strengthens the hair from its roots.
Pros
Blocks humidity, curbs frizzy hair
Soothes the cuticles and strengthens the hair
Silicone and sulfate-free
Promotes hair growth and protects from damage
Cons
The product does not detangle the hair
Price at the time of publication: $10.75
If you have curly hair, you know that it can be difficult to get it to behave. Whether your curls are frizzy, unruly, or just hard to manage, you may want to consider using a leave-in conditioner. There are a lot of options out there, so we've put together a guide to help you decide which one is best for your curls and overall curl care.
Things To Look For In Leave-In Conditioners For Curly Hair
Ingredients: Look for a leave-in conditioner that contains natural ingredients like coconut oil, avocado oil, shea butter, or aloe vera. Avoid sulfates and parabens if possible as they act as toxins that can damage your hair over time. Look for a conditioner that contains hydrolyzed proteins or botanical extracts instead. Opt for curl-friendly ingredients with moisturizing properties to keep curly or coily hair hydrated and frizz-free.
Lightweight formula: Curly hair can easily become weighed down by thick formulas, so choose something that is light enough to work well without making your curls feel greasy or oily.
Protein content: Protein helps protect hair against damage and strengthens the strands. Look for a conditioner with at least 5% protein content if you want optimal results.
pH level: When looking for a leave-in conditioner for curly hair, it is important to keep in mind two key factors, pH level and texture. Low pH level leave-in conditioners are ideal for curly hair because they maintain the scalp's delicate balance of acidity and alkalinity while delivering needed hydration and conditioning.
Why Trust StyleCraze?
Medha Deb, the author, is a hair care aficionado who loves to use leave-in conditioners for her hair. She prefers them because they retain the moisture in the hair while leaving it shiny and soft to touch. The list includes some of her favorites. She has reviewed multiple online forums and brand websites to recommend the best products to her readers. These conditioners also bring back the shine and reduce frizz.
Frequently Asked Questions
Is leave-in conditioner necessary for curly hair every day?
No, apply leave-in conditioner once or twice weekly for the best results. Your hair may experience weakness and damage if you apply a leave-in conditioner everyday.
Do you put a leave-in conditioner on wet or dry hair?
Apply a leave-in conditioner on damp hair. Do not apply it on extremely wet or dry tresses.
Should I use leave-in conditioner or curl cream?
You may use both leave-in conditioner and curl cream one after the other. While leave-in conditioners moisturize and nourish your tresses, curl creams usually add definition and enhance the shape of your curls.
How do you rehydrate and lock moisture in curly frizzy hair?
Use a hydrating shampoo and conditioner to moisturize and rehydrate your curls. You may also use other products like a moisturizing hair mousse, hydrating mist, or naturally-enriched hair oil for all-day moisture.
How do you refresh your curls after sleeping?
Refresh your curls after sleeping by applying a leave-in conditioner which helps style your locks. The conditioner also combats frizziness, adds moisture, and helps smoothen your curls.
Recommended Articles