The 11 Best Leave-in Conditioners For Fine Hair In 2023
Try these leave-in conditioners for fine hair that leave your tresses healthy and glossy.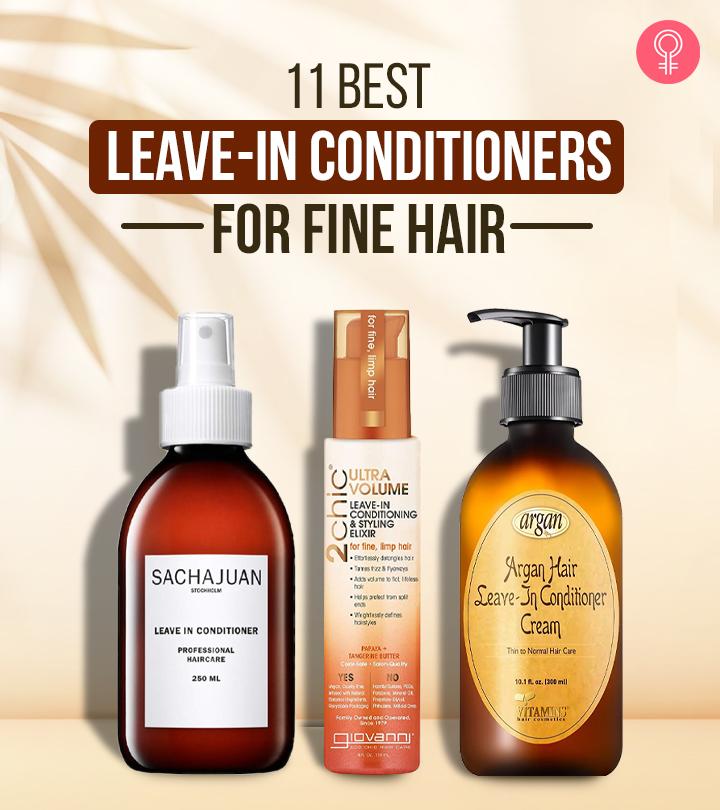 Fine hair calls for a lot of maintenance! While others will tell you how beautiful your hair looks in straight cuts, only you know what goes into keeping them voluminous and healthy. If you have been looking for the best leave-in conditioners for fine hair, we have a list to help you choose what your hair needs. No matter what the length of your hair is, it will keep your hair protected from external damage and nourish it from within. These conditioners contain keratin derivatives, essential oils, and vitamins that keep your hair smooth, glossy, and healthy. Go through our list of 11 conditioners specially chosen to fit the needs of fine hair texture.
11 Best Leave-In Conditioners For Fine Hair 2023
The Miracle Moisture Leave-In Conditioner by Daily Dose™ works on all hair types, including straight, wavy, curly, kinky/coily hair. It can be applied to fine, frizzy, dry, fine curly, oily, greasy, thick, or coarse hair textures. The formula is safe for kids as it does not contain parabens, sulfates, mineral oil, petrolatum, and other harmful chemicals. It contains aloe leaf juice and stable derivatives of vitamins A and E that strengthen and nourish the hair shafts.
Miracle Moisture is a lightweight leave-in spray that spreads evenly and easily on hair and leaves it smooth and silky. You can use it every day to instantly detangle your tresses, prevent breakage, and protect hair color. This conditioner enhances the wave and volume, especially in 3a, 3b, 3c, 4a, 4b, and 4c hair types. It gives your hair a natural bounce and a healthy sheen. Check out this video for a detailed review of the product.
Key Ingredients: Aloe leaf juice, Isohexadecane, Retinyl palmitate, Tocopherol, Limonene
Pros
Paraben-free
Sulfate-free
Phthalate-free
No mineral oil
Non-greasy formula
Suits all hair types
Vegan
Adds moisture
No synthetics
Protects hair color
Cons
Unpleasant smell
May weigh hair down
Price at the time of publication: $16.99
The GIOVANNI 2chic® Ultra Volume Leave-In Conditioning & Styling Elixir is a vegan and cruelty-free formula that builds volume into fine, dull, and thin hair. It contains the proprietary Dual Volumizing Complex of buttery papaya and juicy tangerine extracts along with USDA-certified organic and lightweight oils of sweet almond, vanilla, and grapefruit. This volumizing blend instantly detangles fine hair while protecting against split ends and frizz. It also defines the natural waves and curls in your hair by nourishing them with vitamins B and E, and omega fatty acids. The 2chic® leave-in elixir is 100% color-safe and free of parabens, sulfates, and other harsh chemicals commonly used in regular hair products. Take a look at this video to learn more about the product.
Key Ingredients: Jojoba seed oil, Pro-vitamin B5, Vitamin-E, Tangerine peel oil, Papaya extract, Ginseng root extract
Pros
Volumizing
Paraben-free
Controls frizz
Treats split ends
Weightless
Defines waves, curls
Color-safe
Vegan
Cruelty-free
Long-lasting
Rejuvenating scent
Cons
May dry hair out
Hard to wash away
Price at the time of publication: $8.99
The Miracle Leave-in Lite unique, ultra-light conditioner by It's a 10® haircare caters to the specific needs of fine and limp hair. It also restores hair moisture, strength, and shine. This leave-in product contains hydrating and soothing extracts of chamomile, green tea, marshmallow root, açai berry, rice protein, sunflower seeds, and vitamin B5. These ingredients nourish your scalp and protect your hair from chemical and/or heat damage.
The Miracle Leave-in conditioner seals and protects hair color while acting as a natural sunscreen. It effectively controls frizz and boosts natural bounce and texture. This product comes in a compact, travel-size bottle and can be used on-the-go to instantly zhuzh up your hair. Watch this YouTuber's honest review to get a better idea about the product and its features.
Key Ingredients: Marshmallow root extract, Acai extract, Chamomile extract, Green tea extract, Hydrolyzed rice protein
Pros
Lightweight
Soothes scalp and hair
Travel-size bottle
Gentle on hair
Color-safe
Prevents split ends, breakage
Works as a natural sunscreen
Cons
Overpowering smell
May weigh hair down
Price at the time of publication: $12.19
The MopTop Leave-In Conditioner gives permed, fine hair a strengthening boost of keratin and vitamin B5. It contains deeply hydrating contents like honey, aloe leaf juice, seaweed extract, moisturizing coconut oil, sunflower seed oil, camphor leaf oil, and orange peel oil. These ingredients maintain scalp and follicle health and nourish dry, frizzy, treated fine hair when left through the night.
It can be used on all hair types and textures, including curly, kinky, graying, and colored hair. This MopTop product is free of all harmful chemicals, including parabens and silicones. It is concentrated but yet weighs light on the hair. For best results, apply a small amount to wet hair and work your way to the ends.
Key Ingredients: Aloe leaf juice, Honey, Panthenol, Seaweed erect, Hickory root extract, Coconut oil, Lemongrass leaf oil
Pros
Paraben-free
Refreshing scent
Softens frizzy hair
No synthetic dyes
Suitable for all hair types
Silicone-free
Phthalate-free
Lightweight
Ideal for color-treated hair
Cons
Contains sulfates
Overpowering chemical smell
Price at the time of publication: $17.99
The Sachajuan Leave In Conditioner is a weightless, oil-free formula that makes styling easy. It comes with Ocean Silk Technology that promotes scalp health and adds a natural shine to the hair strands. This conditioner smoothens all hair types, including even rough beard hair.
It protects colored hair and keeps it soft, flowy, and frizz-free. The formula is non-greasy and does not weigh your hair down. It brings out the bounce and texture while strengthening your hair shafts and follicles. Spray a liberal amount of the Sachajuan leave-in conditioner on washed and towel-dried hair. Let it set and do not rinse out. Blow-dry and give your soft and silky tresses a salon-style makeover.
Key Ingredients: Red algae extract, Trideceth-6, Limonene, Cinnamal, Eugenol, Citric acid
Pros
Lightweight
Vegan
Suitable for all hair types
Cruelty-free
Unisex
Paraben-free
Easy to apply
Promotes scalp health
Refreshing smell
Long-lasting
Cons
Spray nozzle issues
Expensive
Price at the time of publication: $36.0
The Vitamins Keratin Leave-In Nourishing Cream hydrates and revitalizes brittle and damaged hair. It works as an intensive keratin booster and anti-frizz cream that reconstructs thinning and treated hair. This nourishing cream works particularly well on split ends and bleached, permed, and dry hair that needs a boost of moisture. It helps hold the hair color and styling for a longer time without weighing it down.
The antioxidants in this formula repair the weakening hair follicles to prevent hair breakage and hair fall. This leave-in conditioner by Vitamins is safe for regular use and is free of parabens, alcohol, sulfates, and other harmful chemicals.
Key Ingredients: Sweet almond oil, Blak castor seed oil, Rosemary leaf extract, Jojoba oil, Flaxseed oil
Pros
Suitable for treated hair
Cruelty-free
Sulfate-free
Alcohol-free
Repairs split ends
Lightweight
Adds subtle sheen
Cons
Price at the time of publication: $17.98
The REFRESH Purifying Leave-In Conditioner by VIRTUE is a weightless, gentle mist that protects, detangles, and nourishes damaged hair. It fights humidity to define curls and the natural texture of fine hair. This leave-in conditioner is formulated with Alpha Keratin 60ku® protein that directly binds and repairs damaged areas in hair shafts and scalp. The white horehound extract helps neutralize the toxic effects of pollutants on hair health.
This conditioner has a revitalizing citrus scent and contains essential oils of sweet orange and lemon. It leaves your hair softer, shinier, and healthier. This paraben-free, gluten-free formula is also safe for regular use on colored and treated hair.
Key Ingredients: Amino acids blend, Benzophenone-4, White horehound extract
Pros
Paraben-free
Lightweight
Color-safe
Gluten-free
Protects all hair types
Refreshing scent
Uplifts treated hair
Controls frizz
Repairs split ends
Cons
Price at the time of publication: $18.0
The Damila leave-in conditioner contains nourishing components that strengthen, add shine, and smooths your hair, returning it to a naturally healthy state. Not only will this profoundly moisturizing leave-in conditioner treat your hair, but it will also prevent it from breakage and damage, allowing it to grow quicker and stronger. This Leave-in Conditioner spray is ideal for usage on a daily basis or immediately after a shower on wash days. Between keratin and deep conditioning treatments, it keeps hair moisturized and prevents breakage. It protects against broken ends between keratin and deep conditioning treatments on a daily basis. It also detangles dry or wet hair quickly, making it ideal for anybody looking for detangling without the risk of irritation or breakage.
Key Ingredients: Keratin, Amino Acids, Myrtillus fruit extract, and Proteins. 
Pros
Sulfate-free
Paraben free
Enhances shine
Detangles knots
Eliminates frizz
Sodium-free
Cruelty-free
Lightweight
No residues
Can be used on both wet and dry hair.
Cons
Price at the time of publication: $18.0
The Style Factor Wigout Leave-In Conditioner coats a gentle mist on the hydrating formula on your hair. It's light yet rich texture leaves your hair feeling smooth and silky through its tips. It contains lactic acid, tocopherol, and other nourishing ingredients that keep the strands tangle- and frizz-free. These ingredients also let the moisture lock into the hair shafts for a longer time. This formula does not weigh the hair down. The Wigout™ leave-in conditioner comes in full and travel sizes. Just give your damp hair a quick spray with this Wigout™ conditioning mist and comb through. Do not rinse.
Key Ingredients: Tocopherol, Lactic acid, Fructan
Pros
Suitable for all hair types
Unisex
Travel-friendly packaging
Easy application
Controls frizz
Lightweight
Cons
Price at the time of publication: $15.78
This leave-in conditioner from Design Essentials penetrates hair strands and nourishes the cuticles for healthy and beautiful hair. Almond and avocado oils moisturize hair deeply and strengthen it, giving it a beautiful shine. This leave-in formula is also enriched with coconut milk that works as a natural detangler, making your hair manageable.
It is best suited for fine, curly, wavy, coily hair ranging from normal to dry hair types. It adds volume to limp hair and does not weigh them down. It also suits color-treated or chemically treated hair, as it revitalizes them, restoring their health and shine.
Key Ingredients: Almond, Avocado, Coconut milk, and Shea butter
Pros
 Lightweight
 Non-greasy
 Paraben-free
 Alcohol-free
 Sulfate-free
 Gluten-free
 Silicone-free
 Petrolatum-free
 Cruelty-free
Cons
None

Price at the time of publication: $16.59
This deep-moisturizing leave-in conditioner by Natural Therapy System is made with six high-quality, certified-organic oils from argan, flaxseed, mongongo, frangipani, palm, and macadamia nuts. This conditioner is color-safe and suitable for all hair types and textures. The oleic acid, linoleic acid, and linolenic acid from these plant oils replenish the nutrients in the hair. They also restore dry, damaged, or color-treated hair.
The formula is vegan and free of alcohol, sulfates, parabens, synthetic fragrances, and harmful phosphates. Its ultra-fine mist instantly absorbs into cuticles to infuse moisture. It also quickly softens your hair and controls frizz, knots, and coarseness. Use it for styling and finishing by spraying a small amount into clean, towel-dried hair. Do not rinse. Comb or brush through hair and style as desired.
Key Ingredients: Argan oil, Flaxseed oil, Macadamia seed oil, Frangipani oil, Red palm oil, Mongongo Oil
Pros
Safe for everyday use
Lightweight
Alcohol-free
No product build-up
Sulfate-free
Paraben-free
Frizz control
Color-safe
Fragrance-free
Cons
Unclear ingredients' list
Price at the time of publication: $24.6
Why Trust StyleCraze?
Oyendrila Kanjilal, the author, is a trained skincare coach and a hair care enthusiast who enjoys writing about skin and hair care products. In this post, she evaluated and reviewed various products to compile a list of the best leave-in conditioners for fine hair that may help restore your hair. Her selection includes a variety of high-quality products, each with a detailed description of the product's distinctive features, along with benefits and drawbacks to assist you in buying.
Frequently Asked Questions
How often should you use conditioner if you have fine hair?
If you have fine hair, you should use a conditioner at least once or twice weekly. Conditioners help revitalize tresses and restore their shine.
Is it OK to use leave-in conditioner everyday for thin hair?
No, using leave-in conditioners daily on thinning hair is not recommended . If used regularly, these conditioners can lead to oily scalp and hair loss while compiling unwanted buildup on your strands.
Recommended Articles