9 Best Leave-in Conditioners For African American Hair – 2023
These leave-in conditioners are a must-have to nourish and protect natural hair.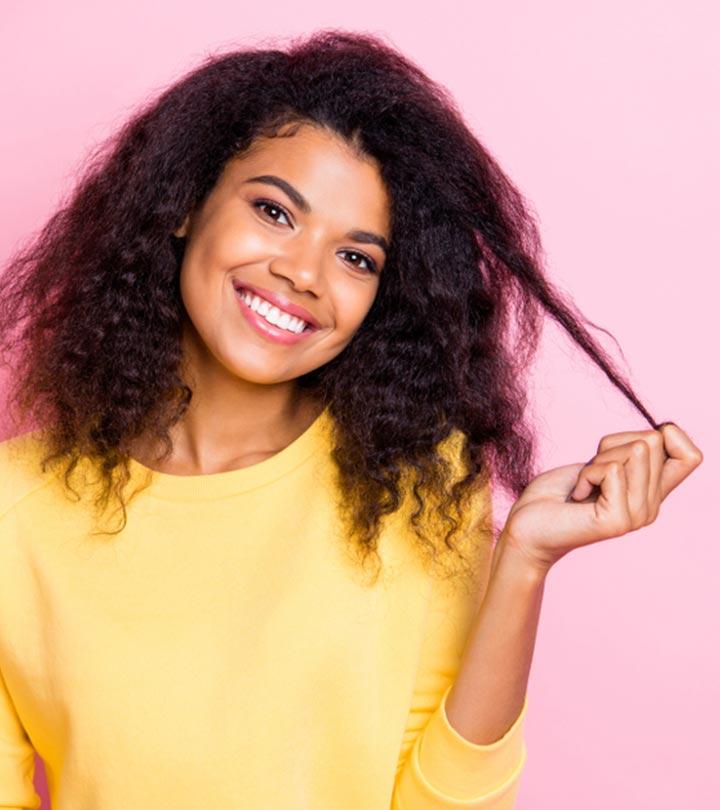 The best leave-in conditioner for natural hair is designed to work on the varied textures of natural hair and leave it well hydrated, frizz-free, and smooth. Maintaining natural hair can be challenging and it is near impossible without a good conditioner.
A leave-in conditioner for African-American hair has a more long lasting effect and makes it much easier to style. It also prevents the hair from drying out throughout the day from additional environmental stressors like UV rays and pollution.
If you are not really sure where to begin, take a look at our list of the top 9 leave-in conditioners for natural hair.

Top Picks
9 Best Leave-In Conditioners For African American Hair Of 2023
Pros
Sulfate-free
Paraben-free
Gluten-free
Silicone-free
Phthalate-free
Mineral oil-free
Paraffin-free
Propylene-free
Cons
Price at the time of publication: $5.97
Pros
Mineral oil-free
Paraben-free
Plastic-free
Silicone-free
Acrylic-free
Wax-free
Carbomer-free
Petroleum-free
Cons
Price at the time of publication: $12.99
Pros
Works on multi textures
Lightweight
Suits colored hair
Suits chemically-treated hair
Alcohol-free
Cruelty-free
Cons
Price at the time of publication: $19.99
Pros
Petroleum-free
Phthalate-free
Paraben-free
Sulfate-free
Silicone-free
Mineral oil-free
Cruelty-free
Refreshing fragrance
Cons
Price at the time of publication: $17.97
Pros
Paraben-free
Silicone-free
Petroleum-free
Mineral oil-free
Cons
Price at the time of publication: $12.54
Pros
Lightweight
Paraben-free
Sulfate-free
Phthalate-free
Cons
None
Price at the time of publication: $6.0
Pros
Intense hydration
Refreshing coconut scent
Suits color-treated hair
Cons
Sticky and heavy on fine hair
Price at the time of publication: $14.48
Pros
Paraben-free
Sulfate-free
Mineral oil-free
Petrolatum-free
Cons
Not great for de-frizzing
Price at the time of publication: $18.0
Pros
Replenishes hair's natural oils
Paraben-free
Sulfate-free
Petroleum-free
Lanolin-free
No artificial colors
Alcohol-free
Cruelty-free
No build-up
Cons
Overpowering floral smell
Price at the time of publication: $13.99
Thick and coily African American hair can be styled in various ways. But the application of several styling products can take a huge toll on the health of your hair. A leave-in conditioner can be your all-time hair care partner as it imparts a long-lasting nourishing effect. Before checking out a host of products online, consider these points given below to make your best purchase.
How To Find Best Leave-in Conditioners For African American Hair
A non-toxic, alcohol-free product infused with silk protein can prevent damage caused due to styling and make hair more manageable. Ingredients like shea butter and castor oil-infused leave-in conditions are perfect for frizzy and kinky strands.
No matter what your hair condition is, an organic formula always stands out by providing the best results. Organic products are infused with herbal extracts like aloe vera, almond oil, and grapeseed oil that nourish dense curly tresses and leave your hair soft and moisturized after each use. Also, look for non-greasy, lightweight products that penetrate the strands without weighing the hair down.
No matter how good the results are, styling products often leads to dryness, thereby leading to hair damage. Check out the ingredient list to make sure the products are free from harmful chemicals like paraben, sulfate, silicone, petroleum, artificial fragrances, and others, to ensure the utmost safety of your hair.
Styling stressors may have a huge toll if you have an existing hair issue like split ends, hair breakage, or even hair fall. Opt for chemical-free, nourishing leave-in conditioners enriched with natural ingredients like coconut oil and black honey, especially designed for hair fall or split ends.
Why Trust StyleCraze?
Shiboli Chakraborti is a certified skin care coach with extensive hair care knowledge. She knows natural hair needs to be cared for properly and maintained to achieve that stunning look. Following a comprehensive analysis of all reviews, she has compiled a list of the best leave-in conditioners for African-American hair. These conditioners last longer, make styling hair easier and keep hair from drying out all day long.
Frequently Asked Questions
Is a leave-in conditioner good for natural hair?
Yes, it is. It helps detangle kinky curly hair. It also hydrates, softens, and nourishes hair.
How often should I use leave-in conditioners on natural hair?
You should use them preferably after every hair wash routine. The frequency also depends on your hair type. If your hair feels greasy and lumpy with the conditioner, use it less often (once or a couple of times a week). If it works well on your hair and makes it feel good and easy to manage, you can use it more often or even every day.
What does a leave-in conditioner do to African American hair?
A good leave-in conditioner makes Afro American hair easy to manage. It also reduces frizz, detangles hair, adds moisture, and defines your curls. It gives natural hair an attractive shine.
Can you use a leave-in conditioner daily on black hair?
Yes, you can use a light organic leave-in conditioner on black hair every day. However, avoid using chemical-based conditioners every day.
How often should you put leave-in conditioner in 4c hair?
You can use a leave-in conditioner every day or as per the requirement of your hair.
Does coconut oil work as a leave-in conditioner on natural hair?
Yes. Raw coconut oil can act as an excellent leave-in conditioner for natural hair as it provides intense moisturization and nutritional benefits.
Should black people use a leave-in conditioner?
Yes. Leave-in conditioners are highly beneficial for black hair. They hydrate, moisturize, and nourish the hair and make its texture smooth and frizz-free. They help prevent hair damage.
Does leave-in conditioner cause hair loss?
No. A leave-in conditioner does not cause hair fall. Rather, it helps in strengthening weak strands and bringing shine to the hair.