12 Best Leave-in Conditioners For Dry, Frizzy Hair Available In India
The secret to stronger, healthier tresses is as simple as using a nourishing conditioner.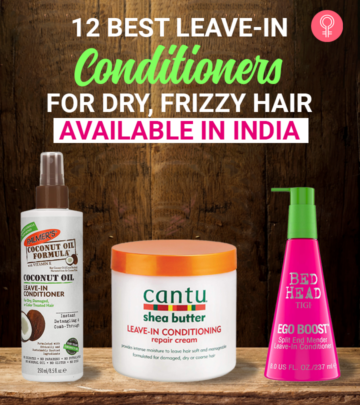 If your hair is dull, dry, and frizzy of late, then chances are it needs a leave-in conditioner. It helps improves hair texture and makes your locks silky, shiny, and smooth. A leave-in conditioner also reduces friction between the hair strands and allows smoother brushing or combing.
Using a leave-in conditioner after you wash helps keep hair hydrated, and it acts like a primer before applying styling products. The market is flooded with many options that are bound to leave you confused. Worry not! Here's a list of the 12 best leave-in conditioners for dry, frizzy hair in India. Take a look.
12 Best Leave-In Conditioners For Dry, Frizzy Hair In India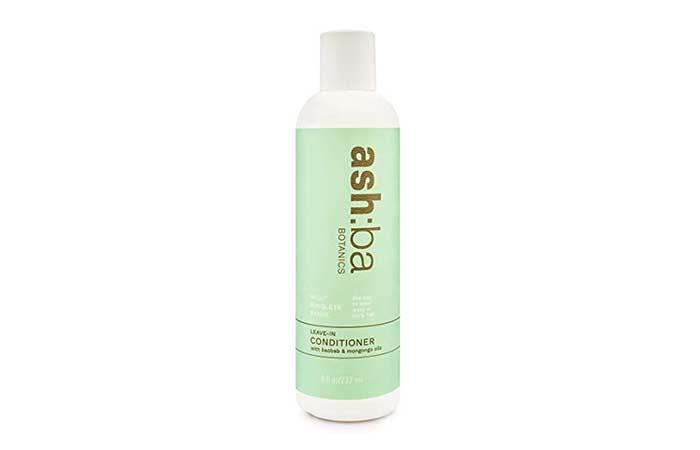 Condition your dry and frizzy hair with the Ashba Botanics Leave-in Conditioner. It keeps your hair hydrated, conditioned, and protects it from dryness. The conditioner is infused with powerful ingredients that help in protecting your hair or color-treated hair from damage. It adds shine to hair and makes the hair appear healthy. Baobab oil strengthens the hair strands, mongongo oil restructures the hair properties, hydrolyzed quinoa protects the hair, and rosemary extract revitalizes hair growth.
Key Ingredients: Baobab Oil, Mongongo Oil, Quinoa and Rosemary
Pros
 Paraben-free
 SLES-free
 Phthalate-free
 Sulfate-free
 Silicone-free
 Mineral oil-free
 Vegan
Cons
None
Palmer's Coconut Oil Leave-In Conditioner detangles knotty, unruly hair and works exceptionally well for thick and curly hair. The moisture-rich formula is infused with coconut oil, monoi oil, silk amino acids, aloe vera, and panthenol that strengthen the hair, control frizz, reduce split ends, and impart a healthy-looking shine.
Coconut oil helps reduce protein loss and keeps your hair healthy. Monoi oil nourishes and hydrates the hair, while the silk amino acids detangle the hair and smoothen frizz. This leave-in conditioner detangles your curls without weighing them down. Just a few sprays of this product provides an instant slip for easy combing and styling.
Key Ingredients: Coconut oil, Monoi oil, and Silk amino acids
Pros
Nice fragrance
Travel-friendly
Easy to use
Sulfate-free
Color-safe
Dye-free
Paraben-free
Phthalate-free
Gluten-free
Mineral oil-free
Cons
Contains alcohol
May make the hair greasy.
Price at the time of publication: ₹5.29
The Sleek & Shine Leave-in Conditioning Cream from Garnier Fructis is a nourishing cream suitable for dry and frizzy hair. It is infused with argan oil and plant protein that nourish the hair and make it tangle-free and manageable.
Argan oil is rich in vitamins and minerals that increase the hair's elasticity and restore shine to dull, lifeless hair. Its antioxidant properties help neutralize hair damage from free radicals and stimulate hair growth and scalp health. This leave-in conditioner also contains Active Fruit Protein™, a blend of citrus protein, fruit and plant-derived extracts, vitamins B3 and B6, and strengthening conditioners that make your hair strong and healthy.
Key Ingredients: Argan oil and Active Fruit Protein™
Pros
Fruity fragrance
Paraben-free
Lightweight
A little goes a long way
Cons
Expensive
Leaves sticky residue.
Price at the time of publication: ₹3209.92
This leave-in conditioner from TIGI comes in an exquisite-looking bottle. It is laced with the fragrance of fruits and berries that imparts a long-lasting, refreshing scent to your locks. This leave-in conditioner contains keratin that nourishes and strengthens your hair, reduces frizz, and improves manageability.
The conditioning complex moisturizes your locks and makes them soft and easy to comb through. This is the best leave-in conditioner for dehydrated hair that repairs split ends and protects your hair from the effects of chemical treatments, environmental elements, and excessive brushing.
Key Ingredients: Keratin
Pros
Suitable for all hair types
Fruity fragrance
Lightweight
Pump dispenser
Cons
Expensive
Does not wash off easily.
Price at the time of publication: ₹850.0
This leave-in conditioner from it's a 10 is formulated with keratin to keep your dry hair nourished and soft. It helps strengthen your hair and prevents dryness throughout the day. The product is rich in keratin and panthenol, which strengthen your hair and make it look healthy.
The sunflower seed extract acts as a natural sunscreen that protects the hair color from fading and becoming brassy. The green tea leaf extract has powerful antioxidants that protect the hair from environmental damage, and the silk amino acids restore the hair's natural moisture while adding strength and shine. Vitamin C is an antioxidant that restores the hair's natural strength and shine.
Key Ingredients: Keratin, Sunflower seed extract, Green tea leaf extract, Vitamin C, and Silk amino acids
Pros
Color-safe
Heat-protectant
Lightweight
Organic ingredients
Suitable for all hair types
Cons
Price at the time of publication: ₹16.5
Palmer's Olive Oil Leave-In Conditioner nourishes and repairs dry, frizzy hair. It contains extra virgin olive oil, vitamin E, keratin, and silk proteins that moisturize and strengthen the hair and impart shine.
Olive oil softens the hair and adds shine. Vitamin E helps repair hair follicles from the roots and allows them to grow strong and healthy. Keratin replenishes the lost protein and repairs the hair follicles from within, while the silk proteins help smoothen, detangle, and moisturize the hair, leaving it manageable. You can use it on dry or wet hair.
Key Ingredients: Extra virgin olive oil, Vitamin E, Keratin, and Silk proteins
Pros
Contains natural ingredients
Hypoallergenic
Sulfate-free
Paraben-free
Phthalate-free
Mineral oil-free
Gluten-free
Dye-free
Cruelty-free
Cons
Giovanni has introduced a cream-based direct leave-in conditioner with Eco Chic Technology that deeply conditions the hair and makes it manageable for easy styling. It contains aloe vera, rosemary leaf extract, thyme extract, lavender, coltsfoot, yarrow, soybean, and vitamin E that repair damaged and unruly hair and restores its strength and luster. This leave-in conditioner moisturizes and detangles the hair and builds the body to make it easy to style.
Key Ingredients: Provitamin B5, Vitamin E, Aloe vera leaf juice, Rosemary leaf extract, Clary extract, Thyme extract, and Nettle extract
Pros
Color-safe
Lightweight
Non-greasy
Suitable for all hair types
Cruelty-free
Sulfate-free
Paraben-free
Vegan-friendly
PEG-free
Phthalate-free
Dye-free
Mineral oil-free
Cons
Doesn't rinse off easily
Expensive
Price at the time of publication: ₹9.75
This strengthening mil from Kerastase is a heat protectant-cum-leave-in conditioner for damaged hair. It protects the hair up to temperatures of 450°F and reduces breakage up to 85%. This leave-in treatment is infused with VitaCement, Vita-Topseal, and Sève de Résurrection that reconstruct, reinforce, and resurface the hair fibers while protecting them from external aggressors.
Pro-keratin rebuilds the hair and adds shine, while the ceramides nourish and strengthen the hair fibers from within. The Sève de Résurrection regenerates and rejuvenates the hair. This product protects the hair from heat, controls flyaways, blocks humidity, and adds shine.
Key Ingredients: VitaCement, Vita-Topseal, and Sève de Résurrection
Pros
Color-safe
Floral fragrance
Thermo protection
Humidity-resistant
Cons
Price at the time of publication: ₹43.25
The Salerm 21 Leave-in Conditioner is made with silk proteins o hydrate, protect, and condition your hair. It is best for porous, dehydrated, damaged, and kinky hair. The advanced formula hydrates your hair and protects it against any damage. It contains silk protein and vitamin B5 that repair, strengthen, and renew the hair and make it silky and shiny. This product protects your hair from sunlight, heat, and chlorine found in pools.
Key Ingredients: Silk proteins and Provitamin B5
Pros
Cruelty-free
Floral aroma
Long-lasting effect
Paraben-free
Sulfate-free
Suitable for chemically treated hair
Cons
Contains alcohol.
Works only on wet hair.
The Silk n Shine Leave-in Conditioner from Hair & Care can be used as a conditioner and hair serum for rough and damaged hair. It is enriched with fruit vitamins that coat each hair strand and detangle knots to keep the hair soft, shiny, and silky. This product also strengthens dry and frizzy hair and makes it manageable. It erases the harmful effects of prolonged exposure to dust, sunlight, chemicals, and hard water.
Key Ingredients: Fruit extracts
Pros
Lightweight
Color-safe
Can be used as a serum
Affordable
Cons
Get unbelievably soft and sleek hair with this organic leave-in conditioner from Giovanni. It contains USDA certified organic ingredients to keep your hair smooth and nourished. The formula includes argan oil and shea butter, which moisten each hair strand and impart softness and shine.
The Brazilian cocoa keratin extract forms a protective layer around each hair follicle and helps strengthen and smooth hair strands. The rooibos tea extract contains antioxidants that stimulate hair growth and make your scalp healthy. Coconut oil and macadamia seed extract tame frizz, detangle the hair, and make it shiny.
Key Ingredients: Argan oil, Shea butter extract, Brazilian cocoa keratin extract, Rooibos tea extract, Coconut oil, and Macadamia seed extract
Pros
100% vegan
Safe for colored hair
Hypoallergenic
Dermatologically tested
Sulfate-free
Paraben-free
Mineral oil-free
Phthalate-free
No artificial colors
Formaldehyde-free
PEG-free
Cons
The Smooth & Shine Leave-In Conditioner from Streax gives you smooth, shiny, and frizz-free hair. It is lightweight and infused with aloe vera that helps promotes hair growth, hydrates and rejuvenates the hair, and makes it soft and shiny. Regular use of this product improves the manageability of the hair in any weather conditions.
Key Ingredients: Aloe vera
Pros
Lightweight
Non-greasy
Color-safe
Cons
Now that you are aware of the best leave-in conditioners in India, here's a buying guide to help you pick the best one.
How To Choose The Best Leave-In Conditioner For Your Hair
Stay Away From Harsh Chemicals
Check the ingredients in your leave-in conditioner. Avoid products containing parabens, sulfates, phthalates, and silicones. Ingredients like silicones can flatten your hair cuticles, cause buildup, and damage your hair. If you have a sensitive scalp, it can also cause painful irritation.
Choose Natural Ingredients
Look for moisturizing conditioners that contain jojoba oil, olive oil, shea butter, avocado oil, or coconut oil. These natural ingredients will nourish, moisturize, and rejuvenate your hair strands.
Choose a leave-in conditioner suitable for your hair type. If you have dry hair, go for a leave-in conditioner with natural oils and emollients to provide all-day nourishment and hydration, add shine, and soothe a dry scalp.
If your hair is color-treated, look for "color safe", "color extending", or "sulfate-free" on the label. These leave-in conditioners contain SPF and color-protecting ingredients that retain your hair color for a long time.
If you have an oily scalp, conditioners loaded with essential oils may weigh your hair down and make it greasy. Hence, choose leave-in conditioners enriched with aloe vera, tea tree, and peppermint. If you have thin or fine hair, go for lightweight, water-based conditioners that give your hair volume and a glossy shine.
Managing dry and frizzy hair is no longer a hassle. Go through our list and points mentioned in the buying guide to pick one that suits your hair type. You can thank us later!

Recommended Articles