The 10 Best Ceiling Lights And Buying Guide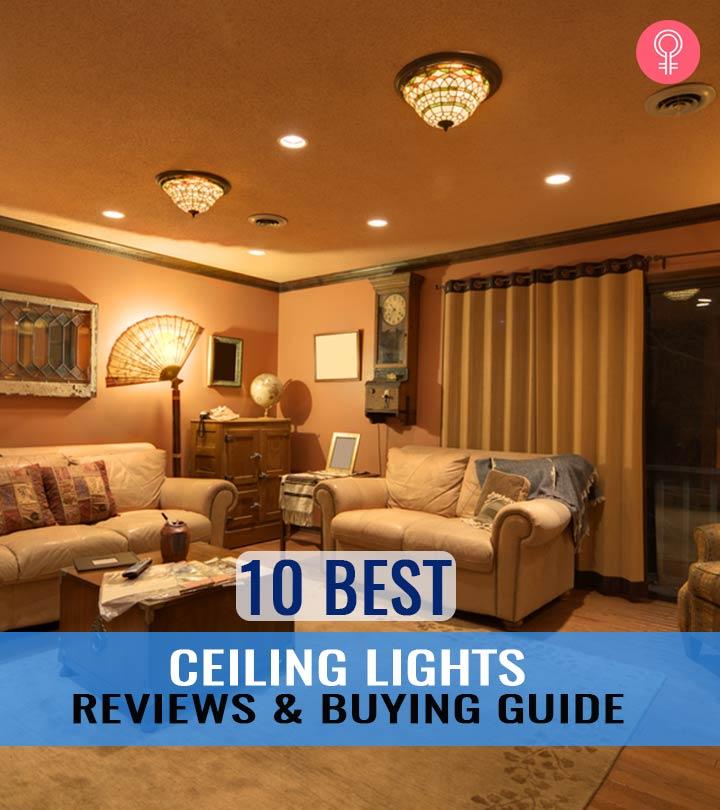 What's the easiest way to spruce up your home décor? Add some lights! Lights, especially ceiling lights, brighten up the dark corners and add accents to the room. They can easily warm up any space. With time, ceiling lights have evolved and are available in unique shapes and designs and provide ambient and accent lighting.
You will get ceiling lights in every shape, shade, and size, and picking the right one for your home can be tricky. That is why we are here with the reviews of 10 best ceiling lights to brighten up your space. Scroll down to take your pick – and let there be light!
The 10 Best Ceiling Lights
The Cloudy Bay LED Flush Mount Ceiling Light is a dimmable ceiling light (up to 10%) and is compatible with most standard dimmers. This beautiful 10-inch light fixture has a brushed nickel finish with a capacity of 17W. It gives a 4000K cool white glow to brighten the room instantly and decreases your power bills by 80%. This ceiling light fixture has an outside switch and easy color temperature control feature. It is easy to install and requires a regular 3″ or 4″ electrical box for setting it up.
Specifications
Dimensions: 10 x 3.2 x 10 inches
Weight: 1.95 lbs
Material: Plastic
Wattage: 17 W
Pros
Dimmable
CRI90+ rating
Easy installation
cETL- certified
Versatile application
5-year warranty
Energy efficient
Cons
The Youtob LED Flush Mount Ceiling Light is affordable and adds a recessed lighting appeal to your room. This ceiling light produces 1200 lumens and 4000k cool white light and has a capacity of 15W. The fixture's round shape ensures even light distribution and saves up to 85% the electricity bill. This light is ideal for the living room and outdoor spaces like corridors. It lasts for 30,000 hours and comes with an 18-month warranty.
Specifications
Dimensions: 8.66 x 8.66 x 0.78 inches
Weight: 0.95 lbs
Material: Aluminum, PC Plastic
Wattage: 15 W
Pros
360° beam angel
1200 lm cool white
Power-efficient
Shock-resistant
Vibration-resistant
Cons
Small installation screws
Not dimmable
The LB72118 LED Flush Mount Ceiling Light is a 12 inch dimmable LED light that produces 1050 Lumens and 3000K soft white light. It has a sleek and stylish design and comes in oil rubbed bronze finish steel frame. This is a perfect alternative to those bulky old-school ceiling lamps and suitable for modern homes.
With a 15W capacity, this LED light perfectly illuminates a large room, ensuring even distribution of cool bright light. This ETL certified LED light saves your power bills and provides 50,000 hours of service. It comes with a 3-year warranty and is best suited for the bedroom, hallway, living room, and office space.
Specifications
Dimensions: 12 x 5 x 3 inches
Weight: 2.2 lbs
Material: Steel
Wattage: 15 W
Pros
Bright and cool light
ETL-certified
Dimmable
Easy to install
Instant start-up
Long service life
Cons
The Airand LED Flush Mount Ceiling Lamp has an impressive square shape and comes with an eye-protection design to minimize glare without compromising brightness. This 24W LED light produces 2050 Lumens and 5000K daylight white or cool white light. It has an IP44 waterproof rating, making it an ideal choice for even bathrooms.
This ceiling light is designed with 240-pieces of top-quality LED chips that illuminate uniformly without any flicker and protect the eyes from glare. It is fit for reading rooms and living rooms. It is LVD / EMC / CE / ROHS certified, saves over 85% of the power bill, and comes with a three-year warranty.
Specifications
Dimensions: 12.6 x 12.6 x 1.9 Inches
Weight: 2.67 lbs
Material: ABS , PC plastic
Wattage: 24 W
Pros
Energy-saving
Eye-protective design
30,000 hours lifespan
Waterproof
80Ra CRI
No flickers
Cons
Tough to install
Not dimmable
The Lithonia Lighting FMLRDL 11 1440 M4 LED Flush Mount Ceiling Light is a compact, 11-inch light for residential use. This Energy Star certified light comes with a 30K-hour service span, which means it will last you for at least five years.
This 20W LED light produces 1400 Lumens and 4000K cool white light and comes with standard Triac based dimmers to help maintain the light levels. Its hidden cam-latches make it easy to install and remove. It is ideal for spaces like bathrooms, study rooms, and bedrooms.
Specifications
Dimensions: 11 x 11 x 3.25 inches
Weight: 1 lb
Material: Steel
Wattage: 20 W
Pros
Cool white light
Energy Star Certified
cUL certified
Comes with dimmers
5-year warranty
Cons
Not waterproof
May flicker
The CLAXY Ecopower Vintage Metal Glass Ceiling Light is a vintage pendant-style ceiling light that illuminates your home and adds a touch of vintage charm to it. This vintage-style semi-flush mount light has an oil-rubbed bronze finish and
a clear glass shade. Such a design allows even lighting.
It has an E26 socket that is compatible with different bulbs, including CFL, incandescent, and LED. This ceiling light has a dimmer switch and supports output up to 60W. It can be used to illuminate and decorate your living room, hallway, stairways, and study. This product comes with three-year warranty.
Specifications
Dimensions: 10.5 x 10.5 x 11.7 inches
Weight: 4 lbs
Material: Metal and glass
Wattage: 60 W
Pros
Dimmer switch
E26 base
ETL listed
Supports smart bulbs
Cons
The LIT-Path LED Flush Mount Ceiling Lighting has a low-key design and produces 800 lumens and 3000K warm white light. This 11.5W ceiling light is dimmable, has a lifespan of 50,000 hours, is waterproof and ETL certified. It is mercury-free, shock-proof, and does not flicker.
The semi-transparent casing or the light ensures even light distribution to create a relaxing environment. It comes with a high-quality LED chip and is easy to install. The ceiling light is perfect for living rooms, study, bedroom, and damp areas like the bathroom.
Specifications
Dimensions: 7 x 7 x 1.34 inches
Weight: 0.46 lbs
Material: PC plastic
Wattage: 11.5 W
Pros
IP44 waterproof rating
Energy Star certification
Easy installation
Rust-proof
Cons
Poor inner soldering
May flicker
The Hyperikon Ceiling Light is a 14-inch ceiling light that uses integrated COB Diode Technology to provide 770 lumens and 4000K warm white light. This power-efficient ceiling light has a 45,000 hours lifespan.
It is easy to install and has a sleek and stylish design compatible with modern home décor. The ceiling light has a 120° beam angle and comes with modern LED dimmers that allow you to dim the light from 100% to 20%. It is best for bedrooms, study rooms, and bathrooms. The manufacturer offers a five-year warranty with the product.
Specifications
Dimensions: 14 x 14 x 4 inches
Weight: 3.19 lbs
Material: Steel, Aluminum
Wattage: 15 W
Pros
Dimmable
Durable
Easy installation
Shatter-resistant
Flush mount
Cons
The ZHMA LED Ceiling Light is a non-dimmable, flush mount light made of high-quality and lightweight plastic. The 8-inch ceiling light produces 880 Lumens and 4500K natural white light and consumes 85% less power than a regular 60W bulb. It comes with an acrylic plastic casing that is heat and water-resistant.
This light uses the latest LED chip that does not flicker and is easy on your eyes. Its brightness degrades 0.1% per 1000 hours of usage, meaning it will last you for years. This ceiling light is perfect for the living room, bedroom, and kitchen.
Specifications
Dimensions: 7.8 x 2.3 x 7.8 inches
Weight: 0.4 lbs
Material: Acrylic, Aluminum, Steel
Wattage: 12 W
Pros
High-power LED chip
Heat dissipation
Durable aluminum frame
Lightweight
1-year warranty
Cons
The Kira Home Addison Semi-Flush Mount Ceiling Light is a modern ceiling light fixture. It can accommodate two LED or CFL lights or up to 60W traditional incandescent medium base bulbs. You can choose from two different finishes – antique bronze and brushed nickel.
This light fixture is UL listed, meaning it is durable and is perfect for decorating your living room or kitchen. It has a frosted diffuser to ensure each corner of the room is illuminated. It does not flicker and is heat-resistant.
Specifications
Dimensions: 13 x 13 x 10 inches
Weight: 2 lbs
Material: Metal
Wattage: 60 W (for incandescent bulbs)
Pros
Elegant design
Supports LED, CFL, and Incandescent bulbs
Easy to install
UL listed
1-year warranty
Cons
These are the best ceiling lights that you can use to spruce up your rooms. Some come with integrated bulbs, while others do not. You can choose based on your preferences. There are a few more factors to keep in mind when purchasing ceiling lights.
Factors To Consider When Purchasing LED Ceiling Lights
Brightness
The wattage does not indicate the level of brightness. For LEDs, the wattage only shows the amount of power a bulb consumes. Focus on the number of lumens to assess the brightness of a ceiling light fixture.
Dimmable Or Not
You can control the brightness with dimmable lights to create a cozy and warm ambiance in the room to relax and enjoy. Check product reviews carefully to ensure the ceiling light is dimmable.
Light Color
LEDs can produce light in all visible colors – white, warm, and soft white. Pick one that you think will meet the light requirement of your home.
LED Chip Quality
An LED ceiling light fixture's lifespan majorly depends on the type of chip installed in it. Pick a light with the latest and reliable chip to ensure long service life. It may cost a bit more, but you will eventually save a lot of money.
Material
Different brands use different materials for their light fixtures. Acrylic is a common choice, but there are better options like PC plastic, ABS plastic, steel, aluminum, and other metals. Usually, metal fixtures are more durable than plastic ones.
Warranty
A reputed light fixture brand should offer at least a 3-year warranty to ensure that you can return or replace the light fixture in case of any issues.
Once you get the light fixture, you have to install it. Here is how to do that.
How To Install Ceiling Lights
Cut the power.
Remove the light holder's canopy to access the wiring and hardware.
Unscrew the black, white, and copper wires.
Uninstall the old fixture.
Equip a new bracket.
Install the new ceiling light fixture.
Connect the right wires and secure them.
Close the canopy.
Turn on the power
can also take professional help for installation. If you are wondering how ceiling lights are better than the regular wall lights, here is your answer.
How Are LED Ceiling Lights Better Than Regular Wall Lights?
Many features make LED ceiling lights better than regular wall-mounted lights, which are as follows:
Design Options: LED ceiling lights are available in numerous designs to fit any type of home décor. The options are limited for a wall-mount steady light.
Color Options: The LED lights are available in many colors to adjust to your house or room ambiance.
Power Efficiency: Compared to regular wall lights, LED lights are way more power-efficient. LED lights can help save up to 85% money on your power bills.
Longevity: LED ceiling light fixtures promise at least three years of unproblematic service. A regular in-wall light can never last that long.
LED ceiling lights are practical fixtures that look good with any décor and also light up your room. These are easy to install and customizable to meet the light requirement for an ideal ambiance. If you have decided to replace the old light fixtures in your home, go ahead and buy any of the products from our list.
Frequently Asked Questions
How many Lumens do you need to light up a room?
The simplest way to determine the right amount of lumens is to multiply the room's square-footage by room foot-candle. For instance, for a 100 square foot room, you will require 10-20 foot-candles. It means you will need a ceiling light fixture the produces 1000-2000 lumens.
What color temperature is the best?
An LED light fixture with 3,000K would produce a soft white light for a warm and cozy feeling. This is perfect for living rooms and bedrooms. A light fixture that produces 4,000K – 5,000K warm yellow light is ideal for kitchens and bathrooms.
Do you need a dimmer switch?
Yes, it is because a dimmer switch helps adjust the intensity of brightness.
Will energy-saving lamps make a big difference?
Yes. Energy-saving lights can save up to 85% of your power bill.
How low should a ceiling light hang?
Your ceiling light should hang at least 6 feet above the floor and 3 feet above the table.
Where to position ceiling lights in a kitchen?
Always position the ceiling lights above the countertop edges. Thus, the exhaust chimney will not block the light, and you will not see your shadow in the cooking pot.
Recommended Articles
The following two tabs change content below.

Latest posts by Harini Natarajan (see all)

Harini Natarajan
As Chief Editor, Harini sets the tone and editorial direction for StyleCraze to deliver engaging, interesting, and authentic content revolving around women's health, wellness, and beauty. She has over 14 years of experience in content writing and editing for online media. She specializes in the areas of Beauty, Lifestyle, and Health & Wellness and is proficient in Medical Sciences (Biology, Human Anatomy and Physiology, and Biochemistry). Her background in Biomedical Engineering helps her decode and interpret the finer nuances of scientific research for her team. Harini is a certified bibliophile and a closet poet. She also loves dancing and traveling to offbeat destinations.