10 Best LED Hula Hoops Reviews With Buying Guide In 2023
These LED hula hoops are the best way of clubbing fitness and celebration together.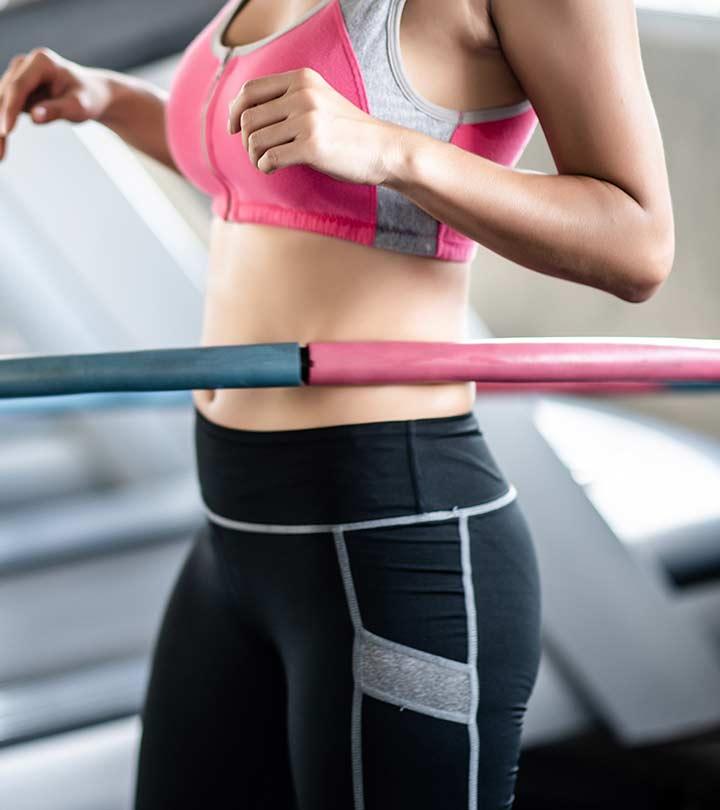 What if we tell you there was a great fun way to burn calories that came with cool LED lights? This isn't a drill- LED hula hoops are a great way to dance, exercise, and party! You can take your light-up hula hoop to a dance party, a child's birthday, a workout session, or even go hooping in the comfort of your own room!Hula hoops are considered a great workout and are always so fun to use. But when there's a whole range of them in the market, it is natural for you to feel overwhelmed when it comes to making a choice. Are you on the same boat as many and confused about which one to pick? We got you covered! Check out this list of 10 of the best LED hula hoops in 2023 to begin your hooping journey.
10 Best LED Hula Hoops In 2023 Worth Investing In

The phrase 'let your light spread' just took on a whole new meaning as the Hoop Shop's hula hoop comes with 28 LED color-changing lights and different patterns that give you the illusion of different lights in the air. The hoop is lightweight and is textured from within to give you great grip so you can have fun without any worries. With a carefully designed single seam connection, the hula hoop is easy to charge. It has an easy assembly process and strobing light effects that make it the favorite for children and adult parties. The LED lights cycle over 7 unique colors in different patterns as you hoop.
Pros
Single seam connection
28 changing colors
Easy power on/off
Rechargeable
Durable
Easy to assemble
Good grip
Cons
Hankyky's dazzling LED hula hoop has multiple color-changing LED lights that make it the perfect companion for dance shows, parties, exercises, and basically any kind of fun! The hoop comes in 4 different sizes to choose from, so you can have the perfect fit. The hoops are durable and made of eco-friendly material that will protect you from getting hurt. Made of a highly elastic PE tube, it can be bent into smaller circles when not in use. This makes it very convenient to carry around, too. This means you can now carry your LED hula hoop even while traveling, and it also comes with a 1-year warranty.
Pros
Strobe effect
Durable
Eco-friendly
Different sizes
Easy power on/off
Elastic
Easy storage
Cons
Price at the time of publication: $25.33
No more messing around with batteries! The Hoop Shop's LED Hula Hoop is easily rechargeable so you can save all that extra money that goes into buying batteries. The hoop has a single seam connection and is easily collapsible to give you maximum enjoyment without any hassle. When not in use, you can simply switch off the hula hoop without worrying about wasted charge. The 14 color-changing LED lights come with a strobing effect and in different patterns to light up your parties, dances, and rooms! The hoop is made of high-strength HDPE tubes with cross sanding to give you maximum control of your body movements.
Pros
Handmade
Collapsible
Single seam connection
Easy power on/off
14 color-changing LEDs
Rechargeable
Cons
UltraPoi's ultra hoop comes with an auto shuffle mode that allows you to have all the fun of strobing colors without having to change patterns. The LED lights are programmed to strobe in unique patterns so that the light of your hoop comes off with radiant luminosity. It comes with a 3.7V rechargeable lithium-ion battery and a wall charger. This means you don't have to worry about buying and carrying spare batteries all the time! The hoop has an effortless power on and off button for added convenience. It is easily collapsible and is available in different sizes so you can choose the one that fits your requirements the best.
Pros
Auto-shuffle
Rechargeable
Smart micro processor
Comfortable
Comes in different sizes
Easy on and off
Durable
Single seam
Sturdy
Cons
Price at the time of publication: $119.95
Pros
Rechargeable
Durable
Sleek
Strobe effects
24 color-changing LEDs
Easy assembly
Cons
What can be better than a hula hoop that glows in the dark! GlowCity's glow-in-the-dark hula hoop is vibrant and comes with multiple colors! They are great for exercising, partying, and to take to dance performances. It has a 36-inch diameter and a 3/4 inch thickness to provide you with the maximum comfort while using the hoop. They also look fantastic in pictures and can even be used as a great photography prop! The light-up hoop is powered by regular AA batteries that can be found anywhere without any hassle. They are well-balanced to give you the support you need while having fun. They are also easy to turn on and off.
Pros
Glow in the dark
Well balanced
Easy power on/off
Vibrant
28 color changes
36-inch diameter
Thick
Cons
Made of high-quality polyethylene, Maylai's 36 inches LED hoop makes working out so much fun and safe! It can be used on the waist, arms, and legs for a great workout to burn calories. The hoop is made of non-toxic material and is safe for use. Its lightweight body and durability make it great for both adults and children. It is easy to turn on and off and comes with a vibrant set of 24 LED lights that make any party or fitness session all the more fun.
Pros
Non-toxic
High-quality material
Easy power on/off
24 changing colors
Usable by kids and adults
Cons
May not be as well-balanced
What's better than a hula hoop that lights up? A non-toxic one! Made of high quality polyethylene, Maikerry's 36″ LED hula hoop is an excellent buy for kids and adults alike. It is skin safe and comes without any harmful radiation-causing elements. It can be powered on and off with ease, and with 24 LED lights that cycle through 7 different colors, the hoop is quite radiant. This makes it perfect for parties, performances, and fun workouts.
Pros
Non-toxic
Skin safe
High-quality material
Easy power on/off
24 changing colors
Lightweight
Usable by kids and adults
Vibrant
Cons
Now you can leave dazzling light trails wherever you go! This Willway's hula hoop comes with 28 color-changing LEDs for the best glowing experience! It is lightweight and easily collapsible to make storage and carrying convenient. It can also be bent as per the user's requirements. The hoop is 36 inches long and weighs about 400 grams. It can be easily powered on and off, making it very easy to use. It is battery-operated so you can carry it anywhere, even without a charger! The multipurpose hoop is great for beginners and professionals and can be used by both children and adults.
Pros
28 color-changing LEDs
Strobe effects
Easy power on/off
Lightweight
Collapsible
Cons
Price at the time of publication: $37.99
There's no better way to be the light of the party than using Echo Glow's professional hula hoops! With an attachment of 84 RGB LEDs and more than 300 patterns, the hula hoop is a fantastic friend for parties, for performances, and for dances. It can be controlled by a special RF wireless technology remote that can be used for up to 50 metres. This makes it great to take on stage while someone can control the lights off-stage. Even for solo acts, the remote is sleek and can be tucked away into your clothes so that you have complete control. The collapsible and easy-to-carry hoop comes with a rechargeable and a single, hot-swappable rechargeable Li-ion battery.
Pros
84 RGB LEDs
300+ patterns
Remote controlled
Rechargeable and removable
Collapsible
Additional pattern controls
Bright
Cons
Now that we know some of the best light up hula hoops, let's move on to factors to consider before buying them.
How To Choose The Best Light Up Hula Hoop
There are a bunch of different LED hula hoops available in the market. You must understand your overall use for the hoop before making the purchase. If you are buying one for a party, you might want to go for something with more LED lights and strobe effects. On the other hand, if you are looking for something for dancing or exercising, a sturdier hula hoop might be better.
Hula hoops come with different sizes and weights. Make the decision about your hoop based on who is going to be the final user. For younger kids, you might prefer to go for a durable, lightweight hoop. For older people, a sturdy hoop with a good diameter to fit the waist properly might be better.
Since there are different hoops with different LED colors, you can make your decision based on the number of LED lights you want your hula hoop to have.
Above we have guided you about factors to consider before buying the LED hula hoops. Now let's learn some of the benefits of doing hula hoops.
What Are The Benefits Of Doing Hula Hoops?
It helps burn calories.
Doing hula hoops regularly tones and strengthens your belly muscles.
Hula hoops improve cardiovascular health and reduce bad cholesterol.
It also Improves balance.
Hula hoop workout needs minimal space.
Frequently Asked Questions
How do you pick the right size hula hoop?
Measure your height from the floor to your belly button. This will help you understand the recommended diameter for your hula hoop. Experienced hula hoopers can pick a slightly smaller hoop.
What size hula hoop should a beginner use?
Adults can pick a hoop with a 38 to 42 inches diameter. For children, you can pick a hoop with 28 to 32 inches diameter, depending on the size of the child. An average sized kid can start with a 30-inch hula hoop.
Does smart hula hoop help lose belly fat?
As per research, hula hoops can help you burn 400 calories per hour. It tones your muscles in the belly area and is considered one of the best exercises for building abs.
Is a smart hula hoop effective?
Smart hula hoops are easy to use, adjustable, soft, and help you burn fat. It has more features than a regular hula hoop, hence making your weight loss journey more effective.
Why pick a smart hula hoop over a regular one?
Smart hula hoop comes with more features and is designed specially to help tighten your core and burn calories. If used properly, it can be more efficient than a normal hula hoop.