10 Best LED Light Therapy Face Masks For Acne – 2020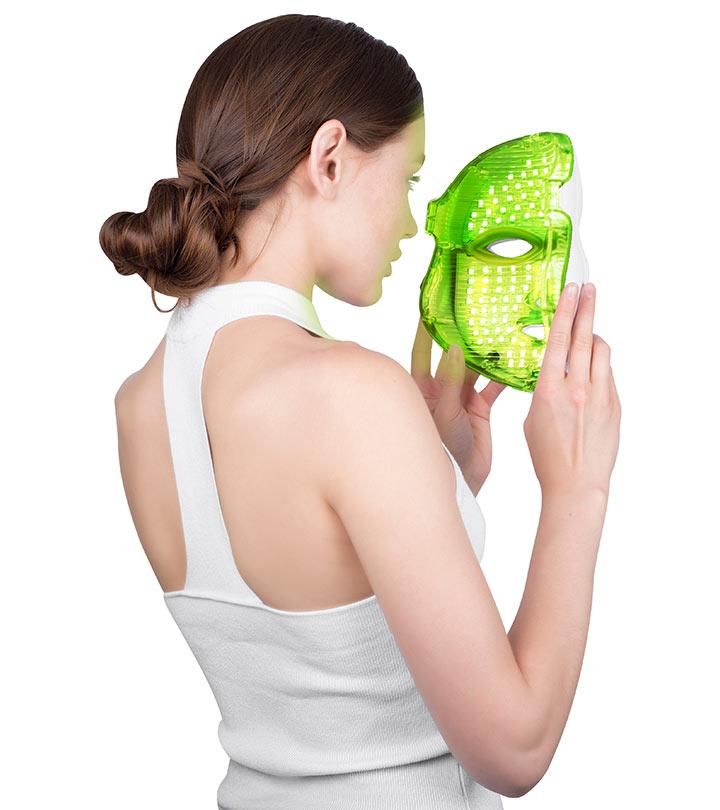 Have you ever tried light therapy masks before? If not, it's time you gave them a shot. Light therapy is currently the most trending treatment option for acne. Although a doctor performs light therapy in a clinical setting, you can also get an at-home LED face mask and try it out yourself. Wondering which one to buy? Here is a list of the best LED face masks available on the market right now.
10 Best LED Light Therapy Face Masks – 2020
Product Claims
Project E Beauty 7 Color LED Face Mask claims to inhibit the formation of melanin and improve skin elasticity. It minimizes the appearance of fine lines and wrinkles to make you appear more youthful. This device uses natural light waves, which are transmitted by LEDs into your skin.
Pros
7 LED colors for various functions
100% UV-free
Non-invasive
Chemical-free treatment
High-intensity LEDs
Cons
Product Claims
Liarty 7 Color LED Face Mask promises to reduce and prevent wrinkles with just twenty minutes of daily use. It comes with an adjustable neck mask for neck skin care. It reduces melanin formation and improves the elasticity of your skin to make you look younger and more radiant.
Pros
7 LED colors for various functions
Easy to use
Covers both face and neck
Removes acne scars
Revitalizes dull skin
Cons
None
No products found.
Product Claims
The EcoFace LED Photon Mask features red and near-infrared wavelengths of light. It penetrates deep into your skin and activates skin cells to repair and regenerate damaged skin. It helps prevent wrinkles and other signs of aging. Its regular use helps reduce the appearance of melanin and red spots and improves skin texture.
Pros
1-year warranty on the mask
6-month warranty on other components
Lightweight and portable
Rechargeable
Made of eco-friendly plastic
Cons
Product Claims
This mask has a combination of red and blue lights that fight acne and prevent future breakouts. The non-UV LED technology used in this device is clinically proven to kill acne-causing bacteria.
Pros
FDA-cleared
Non-UV LED technology
Comes with safety eye goggles
Auto shut off after 10 minutes
Cons
Feels a bit heavy on the face.
Product Claims
This 7-in-1 Photonics Facial Rejuvenation System claims to improve the elasticity of your skin. The light emitted by this mask activates the photoreceptor cells in your skin to brighten your complexion. All you need to do is use it for 20 minutes a day.
Pros
Timer-controlled
Adjustable light intensity
Easy to use
Comfortable to wear
Cons
It takes time to show results.
Product Claims
This light therapy mask emits seven colored lights, each of which addresses specific skin issues, such as wrinkles, pigmentation, fine lines, and skin tightening. The mask is made of 150 UV-free LED lights that do not produce heat and help improve your skin texture and complexion.
Pros
Comes with a remote control
Convenient to use
Cons
Feels a bit heavy on the face.
Product Claims
This wireless LED mask uses natural light waves to transform the skin on your face and neck. The 7-color LED light feature provides an impressive range of benefits such as inhibition of melanin, improved elasticity, reduced wrinkles, and firm skin. It is also reassuring that this mask has been approved by the FDA.
Pros
Suitable for all skin types
Lightweight
2-year warranty
Cons
Product Claims
This face mask claims to give you spa-like results in the comfort of your home. This light therapy mask by Dermashine is inspired by Korean beauty products and emits seven different colored lights to address a wide range of skin issues. It is easy to use and developed with the latest light irradiation technology.
Pros
Comes with a controller (for the LED lights)
Built-in timer
Adjustable elastic straps
Cons
May not sit properly on the face.
Product Claims
This all-in-one LED face mask rejuvenates your skin with just 10 minutes of usage a day. It boosts collagen production and minimizes acne, wrinkles, and fine lines. It claims to prevent future acne breakouts and give visible results in just a month.
Pros
Easy to use
Adjustable intensity
Cons
May not fit properly on the face.
Product Claims
This 3 color LED facial mask makes your skin firm and increases its elasticity. Red light waves revitalize tired skin, blue light helps repair the skin, while yellow light nourishes your skin to make it soft and smooth. It is safe to use for 5-20 minutes per day.
Pros
Sensor switch changes color with one-touch
3 LED colors for various functions
Cons
No warranty information
Color may change randomly
Light therapy masks boost cell production, which, in turn, facilitates the healing process of your skin. Moreover, the lights (especially the red and blue lights) improve oxygen circulation in the deepest layers of your skin that helps fight acne. However, in-office treatments done by a trained professional are much more effective than at-home devices. But this certainly does not mean that these masks do not work at all. Give them a try and let us know about your experience in the comments section below.
Recommended Articles: