11 Best Travel Leggings For Amazing Style and Experience
Pull off your perfect vacation look with comfortable, breathable, and smooth clothing.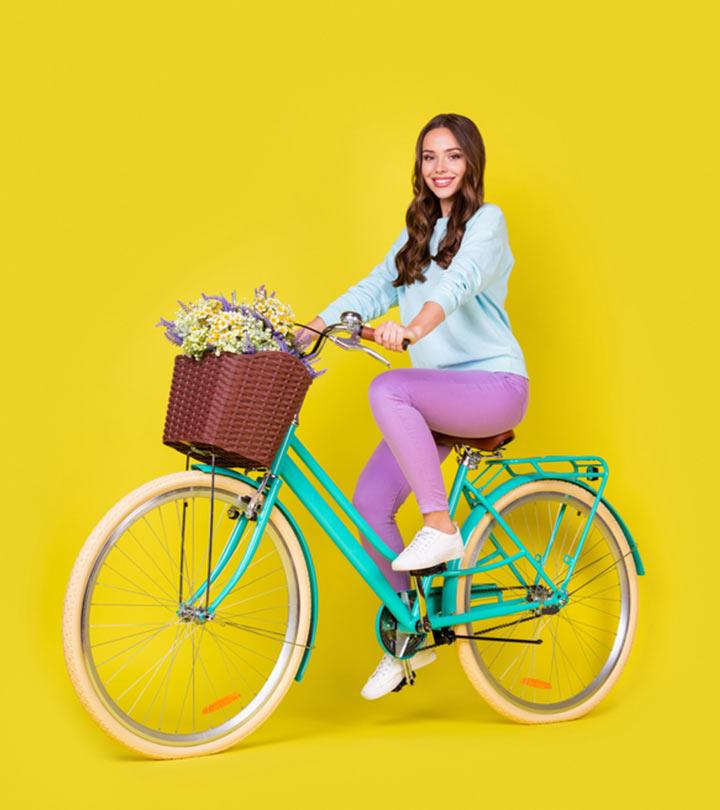 You don't have to settle for your regular sweatpants or uncomfortable leggings every time you travel. You can always choose to invest in the best travel leggings and enjoy the influencer vibe that makes for the perfect picture. Whether you are planning a weekend staycation or a last-minute airport look, you are bound to find a pair that will accentuate your beautiful legs and backside while providing the comfort you need. The best part is that they are versatile and can go with any and everything, including tops, tees, long coats, fluffy pullovers, or a badass jacket. You name it – these leggings can give justice to every look that you try to pull off. To help you get your hands on the perfect pair, we've listed the top travel leggings of this year. Please go through our list and find your next travel companion. We're sure you won't be disappointed!
11 Best Travel Leggings To Make Your Flight Journey A Pleasant One!
Pockets can be life saver when you travel— they help you store your phone, ID card, and other essentials. And these travel leggings feature not 1 but 3 pockets! With 2 large side pockets and 1 hidden pocket, these cute travel leggings are made from non-see-through, 4-way stretchy fabric that hugs your legs to offer a perfect fit. They come with a button closure and a high waistband that not only gives you a smooth and flattering fit but also helps in tummy control. Get ready to take those long confident strides in the airport with absolutely free, unrestricted movement— courtesy of the gusset crotch that offers unmatched support as well as compression. And with that, we're sure you'll want to pick these leggings for airplane travel every time you're out on a vacation.
Pros
Features 3 pockets
Ultra-soft fabric
Wide waist band for secure fit
Non-see-through
Available in many colors
Cons
Some may find them a little too thick.
Price at the time of publication: $23.99
Traveling is all about feeling extremely relaxed and comfortable, and the clothes you wear are a huge deciding factor. With these lightweight leggings for travel, get ready to witness clothing that feels buttery soft against your skin, giving you the right kind of fit when you travel. These form-fitting leggings have that second-skin feel and they're a great pick for when days get pleasant as they're thick enough to keep you warm. However, don't shy away from wearing them during hotter days as they're equally great at sweat control. To make your travel looks a lot more exciting, these leggings from Legging Depot come in a variety of colors and patterns!
Pros
Extremely soft
High-waisted
Non-see-through
Available in various sizes
Cons
Do not come with crotch gusset
Price at the time of publication: $13.99
Designed to be versatile, expect the Dragon Fit Compression Yoga Pants to be effortlessly amazing doing overtime as you wear them to your workout sessions and also pick them as you get ready to catch your next flight. Made from a blend of 88% nylon and 12% spandex, they give you a hugged sensation as they embrace you in their comfort. These travel compression leggings are quite breathable and come with the ability to wick moisture. The most exciting feature is that they have 4 hidden pockets where you can confidently store your phone, wallet, ticket, and keys. The 5.4-inch waistband helps shape your tummy and contour your body.
Pros
4-way stretch fabric
4 hidden pockets
Moisture-wicking ability
Tummy control
High waistband
No roll-down
Cons
May bunch at ankles if you're short
Price at the time of publication: $22.98
Workouts, walks, travel, or just a casual day at work, these travel leggings with pockets from Life Sky are not the one to disappoint. A blend of 77% polyester and 23% spandex ensures superior comfort as the leggings are made to move with you. They're also extremely soft and elastic, making them an ideal wear when you seek true comfort. The moisture-wicking feature of these leggings makes them a suitable choice for when it gets hotter or you decide to sweat it out. The high waistband provides tummy control while ensuring a secure fit. To make these leggings a perfect choice for travel, they feature 2 large pockets on both sides that can store your phone, keys, money, and earphones.
Pros
Ultra-elastic
Breathable
Contours the body
Gusseted crotch
Moisture-wicking
Cons
May slip a little bit while working out
Price at the time of publication: $21.99
Coming from a brand that's been a cult-favorite for years is this Look At Me Now Seamless Leggings that flatter every body type while being uncompromising in terms of comfort. These leggings offer much-need support and flexibility that you absolutely need when you're taking your flight. With these leggings for travel, you don't have to worry about camel toe as they don't feature center seams. The outcome? Seamless shaping and tummy tucking to ensure no muffin top.
Pros
No camel toe
4-way stretch
Smoothing fabric
Double-layer waistband
Cons
The waist band may roll down.
Price at the time of publication: $67
With all the must-have features that a pair of leggings should boast, these leggings can't get any better. Made from ultra-soft material that comprises 75% nylon and 25% spandex, these leggings are blessed with 4-way stretch technology, and the interlock seams and gusseted crotch make them a stand-out product. With secure outside pockets, you don't have to worry about your phone and wallet when you wear these leggings while traveling. And to add more to its features, it is non-see-through and moisture wicking, making it an ideal pick for traveling as well as working out.
Pros
Non-see-through
Moisture wicking
Secure outside pockets
Gusseted crotch
Interlock seams
Available in many colors
Cons
Some may find the waistband thin.
Price at the time of publication: $15.99
If you're on the lookout for travel leggings that are fashionable yet comfortable, these YogaLand USA Women's Yoga Workout Leggings are here to keep you covered. Lightweight, breathable, and sweat-free— these leggings feature a soft 4-way stretch to shape your tummy and legs right up to ankles. While it comes with a high waistband, the pockets have zips to store away your phone and wallet safely. And to add more to it, these leggings also have a hidden inner pocket. Whether you hit the shopping mall, airport, or just head out for a walk, get ready to feel amazing about yourself when you wear these leggings for travel.
Pros
Pull-on closure
Slimming in nature
Allows full range of motion
Durable material
Cons
Price at the time of publication: $27
Add some fun to your travel outfit with these cute leggings for flight that feature travel-related patterns such as cameras, iPods, cars, and air balloons among other things. Made from 92% polyester and 8% spandex, these imported leggings offer a snug fitting and the elastic waistband stays secure and shapes your body. What sets these leggings apart from others is their tapered ankles. And if you're looking for other patterns, you'll find a host of them meant for different occasions.
Pros
Tapered leggings
Stretchable
Durable
Available in various patterns
Cons
Price at the time of publication: $12.99
Travel in comfort and go as many places as you want to in these super soft leggings that are the best travel companions. These leggings for travel are extremely stretchable while feeling soft against the skin owing to their 48% cotton, 47% modal, and 5% spandex construction. While these leggings are made to be thick and durable, nevertheless, they're extremely lightweight and easy to wear all around the year. Almost a travel essential when it comes to travel clothing, these leggings feature 2 secure hidden pockets that can easily store your valuables such as phone, wallet, passport, credit cards, among others.
Pros
Metal zipper pullers
2 hidden pockets
Made for all climates
Ultra-soft material
Cons
May not offer skin-tight fitting
Price at the time of publication: $54.9
When your next vacation involves hiking and other active pursuits, traveling in these leggings would make total sense. Easy to wash and care for, these comfy leggings shape your body with the tummy control design and high-waisted compression band. The patterns made on the leggings also give your butt a good amount of lift. These leggings are made from extremely soft fabric to make them an easy all-day wear, especially when you're taking a long flight to your travel destination.
Pros
Tummy control yoga pants
Breathable
High-waist compression tights
Stretchy
Cons
Price at the time of publication: $8.97
These pull-on style leggings feature hidden elastic in the waist, making them a well-fitted pair of cozy leggings. If you're not particularly a fan of high-waisted leggings and would rather keep your tummy feeling unrestricted, these are for you. These mid-rise leggings sit right below your waist; however, they offer a snug fit and contour your body shape. Made from wrinkle-resistant fabric, they're easy to wear while traveling and are made from a blend of polyester and spandex.
Pros
Wrinkle-resistant
Mid-rise
Pull-on closure
Stretchable fabric
Cons
May not be suitable for workouts
Price at the time of publication: $22.99
Travel leggings should offer uncompromised comfort because a long journey can be exhausting in itself, but when you're dressed comfortably, it gives you one reason to feel at ease and move around freely. Leggings, despite being tight and form-fitting, are amazing-looking. They help you hit the airport in style while also feeling cozy. However, what qualifies a pair of leggings for being worn while traveling? We've elaborated several points that you should consider when investing in travel leggings.
How To Choose Leggings For Travel
Best travel leggings are those that are extremely stretchable so that they fit you well, shape your body— and do all of that without suffocating you. The best kind of fabric that stretches while also offering impressive breathability and movement is a blend of polyester, cotton, and spandex. You can also look for additional features such as 4-way stretch technology that most leggings these days come with, as this again allows free and unrestricted movement.
Traveling can be extremely stressful, especially when it comes to being extra careful about your valuables such as your phone, wallet, credit cards, ID card, passport, etc. This is why, it is always recommended that you buy leggings with pockets as this will save the hassle of either carrying a tiny bag or carrying everything in your hands. It would be even better if these pockets are hidden or have zipper closure.
When you travel, work out, or simply go out for a walk or shopping, one of the biggest worries associated with leggings that may stop you from wearing them is camel toe. However, this problem can easily be solved when you buy leggings that feature a gusseted crotch. While this won't be a feature you would have to worry about if you plan to wear a long and oversized T-shirt, your leggings should definitely have a gusseted crotch if you plan to wear your crop top just to save you from any mishaps.
When you travel long-distance, especially when it's hot, you wouldn't want your leggings to get drenched in sweat, or make you sweat so much in the first place. Therefore, it is best to opt for leggings made from moisture-wicking fabric so that you stay sweat-free and comfy during your flight.
Your leggings should be made from relatively thicker fabric so that they don't become see-through as soon as they stretch. Also, leggings made from thick fabric will also last you longer.
While leggings are extremely comfortable to wear when traveling, you can even style them to look absolutely fab while taking your flight. Here are some cool ideas as to how you can style your leggings for travel.
How To Style Leggings For Travel
Leggings with a knotted T-shirt is one of the classic looks. You can create an amazing yet simple, monochromatic look by pairing your black high-waisted travel leggings with black T-shirt and either rock a knot on the front or back. Complete the look with either black sneakers or white sneakers for a little contrast, and you can never go wrong with this look. It is both comfortable and extremely chic.
If you're all about comfort and would rather dress down while it gets a little colder when you travel, this look will never disappoint you (or those who look at you). Pick a pair of leggings that are ankle-high and wear them with your favorite oversized pullovers. While it creates the most relaxed look, the leggings add style to it by shaping your legs. The best thing about wearing leggings with your oversized pullovers is that you can experiment with leggings in different colors.
Another fall look, if you're all about getting a little dressed up for traveling, you can never go wrong with an overcoat, boots, and your black leggings. The best thing about replacing skinny fit denim pants with travel leggings is that you get to travel in comfort while looking fab. The best colors to pair with your black leggings can be brown, red, or beige colored overcoat.
When it's pleasant and an overcoat or a pullover would be too much for the weather, your best bet is a denim jacket over a white tee. The safest choice when you plan to wear denim jackets is black leggings. To complete the look, you can wear your sandals of neutral color and carry a nice bag in either beige or black.
Traveling from one place to another whether for work or for recreation can be stressful— you might worry about your baggage, getting to the airport on time, and the ever-existing, unceasing doubt about packing all the essentials. While that kind of stress is natural, it all fades away as you safely board your flight. However, traveling in a pair of tight and uncomfortable pants can make your entire duration of travel a bad experience. The safest and the most comfortable choice? Travel leggings! We're sure that our buying guide and list of the bests would have made it a lot easier for you to choose the right ones! So go ahead, pick one (or several), and travel in style and comfort!
Why Trust StyleCraze?
The author, Priyam Gupta, is a fashion enthusiast who experiments with different styles. She went through numerous reviews and feedback available on multiple forums and websites to curate a list of the best leggings for travel that gives you a smooth and flattering fit. These leggings are versatile and can go with all outfits, including tops, tees, long coats, fluffy pullovers, or a badass jacket.
Frequently Asked Questions
Is it okay to wear leggings on a long flight?
Leggings are actually an amazing travel choice, especially when you take a long flight because they're made to be comfortable, soft, stretchable, and so you will feel relaxed while traveling when you wear your leggings.
Should leggings really be classified as an essential travel item?
While there's no rulebook that states what classifies as an essential travel item, travel leggings can definitely be considered as one as they're made to offer unparalleled comfort without compromising on style.
Can you wear compression leggings on a plane?
Yes, wear compression leggings on long flights to have a comfortable journey. They keep the blood flowing into your legs and keep them from cramping up.
What kind of leggings is good to wear on a long flight?
While traveling on long flights, go for high-rise, ankle-length leggings made of soft, breathable fabric. You can also opt for leggings with mild compression and pockets for your essentials.
What length of legging is most flattering while traveling?
Ankle-length leggings, aka ⅞ leggings, are the best pants to wear while traveling. They are comfortable and can be fashioned in the trendiest ways.
Recommended Articles