15 Best Leggings For Women That Are Comfy To Wear On Any Occasion
Run your errands efficiently or work out comfortably with fashionable clothing.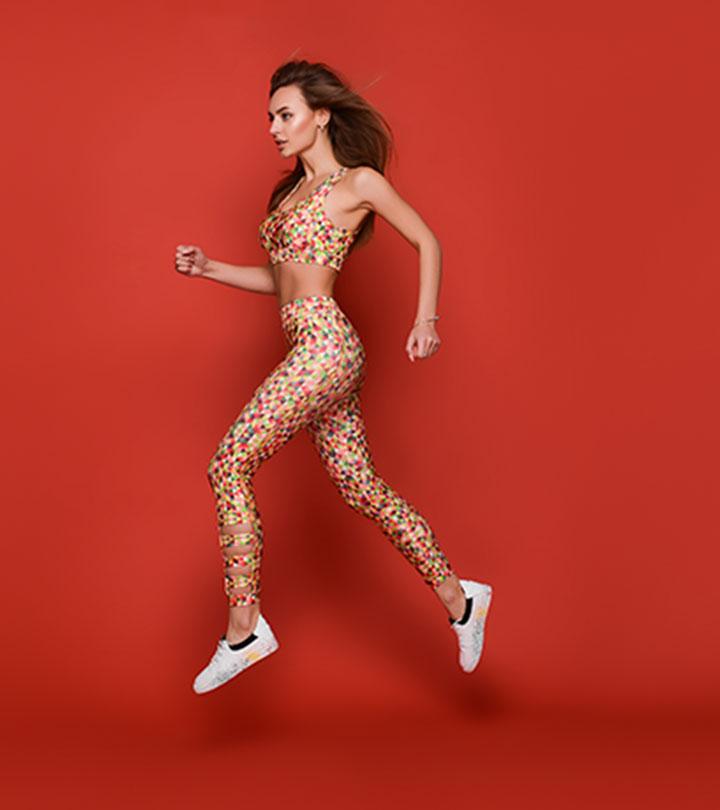 When it comes to versatile clothing options, nothing can beat the best leggings for women. These convenient pants can be worn throughout the year without compromising the comfort factor. Be it yoga classes or a picnic with your friends, a good pair of leggings fit every occasion and allow you to flaunt your legs. They are mostly made with stretchable material that is perfect for fitness enthusiasts.
Leggings are available in different styles and finishes. The shimmery ones are ideal for date nights, while the butt-lifting leggings define your curves. You can style them with shirts, tees, short dresses, and even skirts to create that unique look every time. Since the market offers an overwhelming number of choices in leggings, we have created a list to narrow down your search. Scroll down and explore these bestselling options.
15 Best Comfortable Leggings For Women To Try
The LEGGINGS DEPOT Original Buttery Soft Leggings can be the right pick for you to relax and feel comfortable all day. Pull up the waistband of these high-waisted leggings above your belly to get a customized fit without leaving behind any elastic marks on your skin. They are designed with a soft and buttery fabric that feels light on the body. The burgundy color of these long leggings is bold and opaque and you can wear these leggings and stretch in any direction without worrying about sudden tears. You can also machine wash it in the delicate mode and let it air dry. Based on the numerous reviews, it shows that these leggings have become one of the most popular choices.
Pros
Weightless fabric
Opaque
Stretchable
High-waisted
Cons
Might be too long for petite women
These athletic leggings are made with a super-stretchable fabric that contours the shape of your body and tucks your tummy in. It offers a streamlined structure and lifts your booty for that toned look.  The unique elastic texture of these anti-cellulite workout leggings makes them squat-proof and tear-resistant. Your sweat dries quickly, heat gets dissipated, and body odor doesn't stand a chance as you work out wearing these stretchy women's leggings. According to the reviewers' experience, the leggings fit perfectly and impart shape to your body.
Pros
Wide waistline
Tummy control
Elastic texture and fabric
Booty-lifting
Cons
Not recommended for pregnant women.
Tired of regular jeans making you feel sweaty and sticky? Switch to these jeggings from No Nonsense that's designed for unparalleled comfort. One of the most comfortable leggings you can get your hands on, you can don it to a mall, your workplace, or a trip to the supermarket, and feel light throughout the day. These women's fashion leggings come with a high-waist design and 2 top pockets. The fabric of this pair of flattering leggings is a mixture of 61% cotton, 32% polyester, and 7% spandex and stretches while retaining the shape. Tester's experiences point out that these leggings are highly comfortable and can be easily dressed up or down to suit your event.
Pros
Topstitch with gold color thread
Machine-washable
Shape-retaining stretch
High-waistline
Cons
Not suitable for exercise
Felina Leggings brings to you the ultimate best-fitting leggings for women for working out and for the workplace. These velvety-soft leggings are made of ultrasoft 80% polyester and 20% spandex fabric that is super-comfortable. They are breathable, squat-proof, and move with the body movements you make. The stretchable waistband goes above the waistline and you can keep the tummy tucked in to flaunt your curves. Several customers mentioned that the leggings are highly breathable, comfortable, and suitable for daily wear.

Pros
Gym and office wear
Leggins for all seasons
Breathable fabric
Form-fitting
Cons
The color of the leggings might fade after a few washes.
Stretch without fear and make every yoga session a productive one with the ColorfulkoalaButtery Soft High-Waisted Leggings. Made with 80% nylon and 20% spandex, the fabric is comfortable, flexible, and tear-resistant. Hide your protruding tummy with the high-waisted band that comes with a hidden pocket. These women's black leggings with a flatlock design offer ultimate comfort levels when you exercise. Customers have tested and approved that the leggings are super soft and offer a seamless waistline for a perfect fit.
Pros
Durable leggings
7/8 length
Breathable fabric
Opaque material
Cons
TIt may loosen after a few washes
Retro-style leather leggings for women are making a grand comeback and one such pair is brought to you by Retro Gong. The high-waist tummy control waistband extends downwards into a crotch-line design to prevent the leggings from tearing. You can style these fashionable leggings with a sequinned top, a bomber vest, or even a cool leather jacket to make a style statement wherever you go. The fabric material is soft and breathable and stretches 4 ways to keep you comfortable. According to reviewers, the fabric is thick and of high quality yet does not feel tight on the skin.
Pros
Lightweight and breathable fabric
Available in black and grey
Anti-fold and tear-resistant material
Tummy trimming waistline
Cons
May not be the best choice for summer
Is bending or stretching during yoga making you feel cautious? Concentrate on your yoga session and not on your attire with the Yogalicious Ankle-Length Leggings.  Good quality leggings such as these are hard to come by and this one is made with a high waistband and 4-way stretchable fabric. Made of 83% polyester and 17% spandex, it is soft and keeps your skin free of rashes. You can have a sweat-proof exercise session as these leggings let your skin breathe easily. Stack your smartphone on the side pockets and your keys on the hidden waist pocket.
Pros
Available in many colors
Squat-proof
Sweat-wicking fabric
4-way stretch
Cons
Some may find the side pockets too small
Oalka Performance Leggings are arguably the best everyday leggings for jogging and a hit amongst fitness enthusiasts. These tummy-control printed leggings with pockets conceal your tummy and help you show off a fit body. You can place your smartphone in the anti-slip side pockets and keys in the hidden waistline pocket. The gusset crotch design, interlock stitching, and 4-way stretchable fabric prevent this ladies' legging from tearing or rupturing during workout sessions.
Pros
Sweat-proof
Rash-proof
Available in many colors
Pull-on closure
Cons
Some may find the slightly transparent
Gone are the days of old and boring plain leggings  as this mesh panel leggings from SweatyRocks takes centre stage. One of the best black leggings for women, it is designed with a soft and stretchable fabric and see-through mesh panels for better ventilation and a dash of style. The mid-rise waistline has an elastic enclosure and these leggings look great when paired with crop tops. They can be used as the best lounge leggings or comfortable leggings when you workout, practice yoga, or simply travel.
Pros
Soft fabric
Travel-friendly
Stretchable design
Sweat-proof
Available in pastel colors also
Cons
Flaunt your curves in style with the MOSHENGQI Butt Lift Leggings. These high-waist compression tight-fit gym pants are designed to accentuate your curves. The other advantage of this design is to keep the pants stretchable during your workouts. The 4-way expandable fabric and ribbed elastic sides stretch in all directions to avoid ruptures. It's ideal for the gym as the high-rise waist tucks the tummy in and gives a streamlined body shape. The fabric keeps heat and sweat away while working out and is also suitable for casual wear.
Pros
Breathable fabric
Squat-proof design
Quick-drying
Tummy tucking waistline
Compression waistband
Cons
Some may find the waist area too tight
Working out can be a lot of fun if you are wearing the CRZ YOGA Compression Leggings. These solar color leggings are made of 64% polyamide and 35% lycra and are highly stretchable. It keeps moisture and sweat at bay and allows your skin to breathe. The body-hugging design comes with a tummy tuck waistline free of elastic bands. You can squat and stretch and the leggings will not reveal your panty line. These can be the best leggings for running, hiking, gym, and all forms of exercise.
Pros
4-way stretchable fabric
Moisture-wicking ability
Prevents leg vibrations
Thick and opaque
Cons
The hidden pocket in the waistline is of not much use.
Stretch a little more without worrying about the consequences with the BALEAF Women's High Waist Yoga Pants that pushes you to go that extra mile every single day. These high-quality leggings for yoga offer a body-hugging fit anda  high waistline. The fabric is 87% nylon and 13% spandex and they make the leggings smooth, stretchable, and rupture-resistant. The leggings extend downward to cover ankles and keep them protected. It dries quickly and keeps your skin breathing.
Pros
Stretchable
Breathable
Moisture-wicking ability
Opaque
Cons
These leggings are not designed for short women,
Bored of regular high-rise or mid-rise leggings? The ODODOS Cross Waist Leggings are designed to give you a fashionable cross-waist look. When you wear these body-hugging good-quality leggings, they lift your booty and make your body look streamlined. You can squat and stretch and the interlocked fabric offers a sturdy make. The flatlock design keeps your skin chafe-free and you can exercise wearing these workout leggings without any discomfort. These leggings have been tried and tested by countless reviewers, who confirmed the softness and elasticity of the product.
Pros
Available in bright colors
Opaque
Moisture-wicking ability
Lightweight
Cons
The waistline might roll down if your tummy is bulky.
Not all leggings are meant for workouts and the American Apparel Women's Nylon Tricot High Waist Legging can be a great hit at any party. The shiny fabric of 80% nylon and 20% spandex is soft and stretchable. You get a high waistline that is highly elastic to tuck the tummy in and make the body look streamlined. Pair these trendy leggings with a party top or a glittery blazer and create your own fashion statement.
Pros
Machine-washable
Fitted
Elastic closure
Body-shaping pants
Cons
The leggings might shrink after the first wash.
Exercise leggings look good if they are dark and opaque, but how about adding a contrasting pattern to them? The QUEENIEKE Color Matching Stripes Sports High Leggings come in black with striped patterns of red, blue, and white lines below the knee region. Apart from this stylish look, the leggings are 100% squat-proof and give a body-hugging fit to keep your body compressed while you exercise. Wear these soft garments that are 4-way stretchable and keep your skin free of sweat during the exercise sessions.
Pros
High waistline
Sweatproof
Squat-proof
Hidden waist pockets for cards.
Cons
The leggings are not very durable
These are the best leggings of 2023 you can find online. Read the buying guide below before you plan on adding one of them to your shopping cart.
Things To Look For While Buying Leggings
Size: Leggings look good on you when they are body-hugging. It is okay to buy denim and regular pants of a slightly bigger size, but a loose-fitting pair of leggings will look baggy and bad on you. Similarly, leggings of smaller size can make you look bulgy and even roll off your tummy. Always choose the rightly sized leggings that stretch well on your body and give you a comfortable fit. You can get an accurate fit assessment by consulting a professional tailor.
Length: Leggings come in full-length, ankled, 7/8, and 3/4 lengths for you to choose from. You can wear full-length leggings to your office by pairing them with a formal coat. Ankled and 7/8 leggings are generally selected for yoga, trekking, and gymming. A casual outing calls for you to choose a 3/4 legging paired with a long top.
Fabric: Leggings can be made from buttery-soft spandex material to stretchable interlocked fabrics. You can also get cotton leggings, but they are as good as regular pants. A 4-way stretchable fabric that does not rip off and stays skin-friendly can be the right pick. Get leggings with sweat-wicking fabric to stay comfortable and prevent rashes.
Why Trust StyleCraze?
Srijani Roy Chowdhury, the author of this article, has a penchant for fashion and trends. Her quest for versatile clothing options helps keep her updated about the newest fashion in town. Her in-depth research and online feedback on the best comfortable leggings helped her curate this list. These leggings are stretchable, machine-washable, comfortable to wear, and moisture-wicking.
Frequently Asked Questions
Is it good to wear leggings every day?
Leggings can be the best pants for workouts and yoga, but wearing body-hugging leggings for long hours every single day can restrict the blood circulation in your legs.
Do leggings cause a yeast infection?
Leggings that are not sweat-wicking can cause fungal infections because of the moisture. The sweat-kicking ones do no harm to you.
Are leggings good for hiking?
Yes, ankle-length sports leggings keep you feeling comfortable and are good for your hiking expeditions.
Do leggings make your legs look thinner?
Yes, because leggings are usually worn fitting, they create the illusion that your legs are skinny.
What kind of leggings make you look slimmer?
Dark-colored leggings help you appear slimmer.
Do leggings make your bum look bigger?
Leggings are typically tight. They cling to your body, giving the impression that your bum is bigger.
What length leggings are most flattering?
The most flattering length for leggings is that which falls right above your ankles, making your legs look longer.
Recommended Articles