8 Best Lice And Nit Combs To Buy In 2020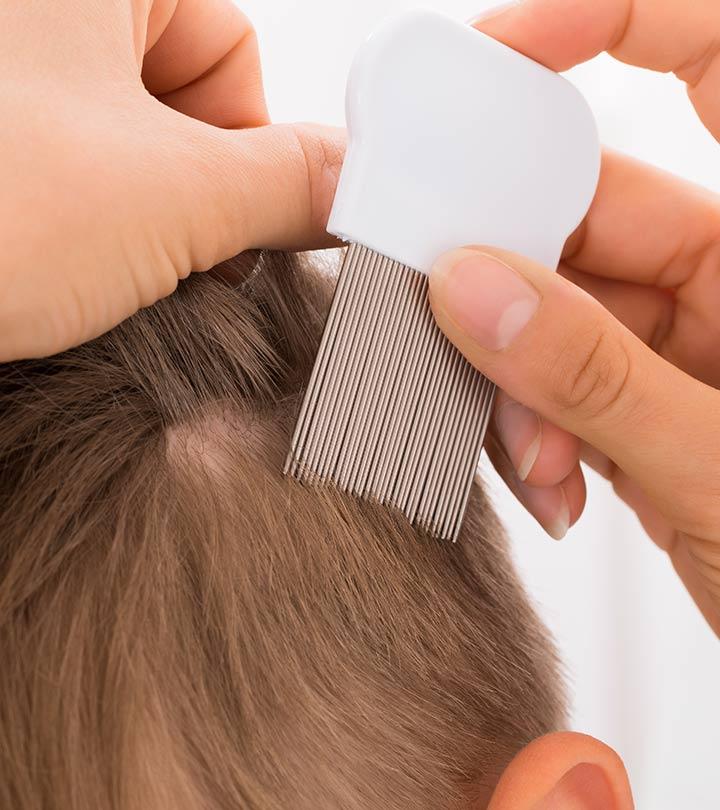 One of the early signs of lice is excessive itching in the scalp. If you find yourself scratching your head often or are experiencing a tickling feeling in your hair that's beyond control, it's time to address the issue.
One of the quickest solutions to remove lice from your hair other than using a chemical lice cream is a lice or a nit comb. These combs are not only effective but also have zero side effects compared to chemical lice shampoos and creams. Without a doubt, lice combs are the surest way to get rid of the pesky parasites. We have curated a list of 8 best lice combs available on the market right now. Check them out!
8 Top-Rated Lice Combs Available On The Market
This head lice comb can remove even the tiniest nits from your hair. Its spiral micro-grooved teeth prevent pricking, scratching, or pulling. The metal lice comb is made from anti-corrosion stainless steel and can be used by the entire family, day after day. It can be sterilized multiple times. nix electric lice comb is the best electric lice comb available in the market.
Pros
Provides firm grip
Strong and durable
Removes maximum stubborn lice in one swipe
Cost-effective
Cons
None
This allergy-free, user-friendly electric lice comb is suitable for both children and adults. It uses stainless steel teeth and suction power to zap out the lice from your scalp and hair. The eggs and lice eliminated from your hair are trapped in the capture filter. After you are done combing your hair, detach the capture filter to dispose of the lice.
Pros
Runs smoothly on your scalp
No sharp edges
Works even on dry hair
Captures maximum lice in one go
Cons
None
This medically-approved lice removal comb is endorsed by the National Pediculosis Association. It has highly polished, precisely spaced, stainless steel teeth with a study and unbreakable handle. It glides smoothly on your scalp without snagging or pulling. This comb can be used by adults and children.
Pros
High-quality comb
Recyclable handle
Can be sterilized multiple times
Easy to hold
Durable
Cons
None
This lice removal comb is a gentle comb meant for adults as well as kids. The stainless steel metal comb for lice ensures to reach even the tiniest and most stubborn lice with ease. The comb comes with a targeted light system and a magnifying glass to aid better removal of lice. It has long and short pin comb options.
Pros
Easy to hold
Comes with an attached light
Suitable for the entire family
Affordable
Cons
Can break easily
These premium lice comb set includes three stainless steel and plastic combs that offer excellent removal of lice in just a couple of swipes. It can be used for different hair types of different lengths. The three combs have three differently spaced teeth. This set is perfect for your entire family.
Pros
Suitable for all hair types
Can be sterilized for 10 minutes
Durable stainless steel teeth
Cost-effective
Cons
Difficult to get out stubborn nits
This lice comb was designed to remove lice without causing any pain or damage to your hair and scalp. The curved steel bristles glide smoothly on your scalp. They go underneath every lice and egg and remove them. This comb is approved by lice technicians. It the best lice comb ever in the market
Pros
Can be sterilized
Easy to use and clean
Affordable
Cons
The handle is not sturdy enough.
The lice comb contains long and delicate steel teeth, designed especially to remove lice from your hair gently. The handle has a 5X magnifier embedded in it that helps detect lice and nits through a thorough inspection. The comb has a mini debris brush, which is used to brush off captured lice and nits that are stuck between the teeth.
Pros
Non-slip design
Easy to carry
Suitable for both adults and children
Cons
Fragile bristles
This electrical lice comb detects and kills lice with mild electric energy that does not cause any pain or discomfort. It is safe for use from ages 3 and above. Once the steel bristles come in contact with lice, the electric discharge zaps and kills them instantly. This device is safe to use on all hair types of different lengths.
Pros
FDA-approved
Includes a brush to clear the dead lice
Emits a buzzing sound
Prevents hatching
Cons
Availability issues
Now that you know what the best lice combs out there are, let's check out the features to keep in mind while purchasing one.
Things To Consider Before Buying A Lice Comb
While shopping for lice combs, look for the features listed below:
These parasites are so tiny that they get camouflaged with your hair, making it difficult for you to see them with the naked eye. Therefore, make sure to choose a fine-toothed comb that can capture the maximum number of lice effortlessly. A regular comb will only leave them behind in your hair.
While removing lice, the bristles need to be strong enough to withstand the pressure. You don't want them breaking midway. Also, if you have extremely thick or coarse hair, use a steel-toothed lice comb that makes your job much easier.
Look for a lice comb that is of good quality as you won't be using it as often as regular brushes.
Although these combs can eliminate a major chunk of lice from your hair, adhering to a healthy hair care regimen can help in keeping your hair healthy and lice-free. Pick a suitable comb from the list, try it out and let us know how it worked for you by commenting below.
Recommended Articles
The following two tabs change content below.

Latest posts by Pooja Karkala (see all)

Pooja Karkala
Pooja is a Mass Communications and Psychology graduate. Her education has helped her develop the perfect balance between what the reader wants to know and what the reader has to know. As a classical dancer, she has long, black hair, and she knows the struggle that goes into maintaining it. She believes in home remedies and grandma's secrets for achieving beautiful, luscious hair. When she is not writing, she learns Kuchipudi, practices yoga, and creates doodles.