The 10 Best Lice Combs To Buy In 2023 + Buying Guide
Carefully pull out the nasty insects from your scalp and get rid of the itching sensation.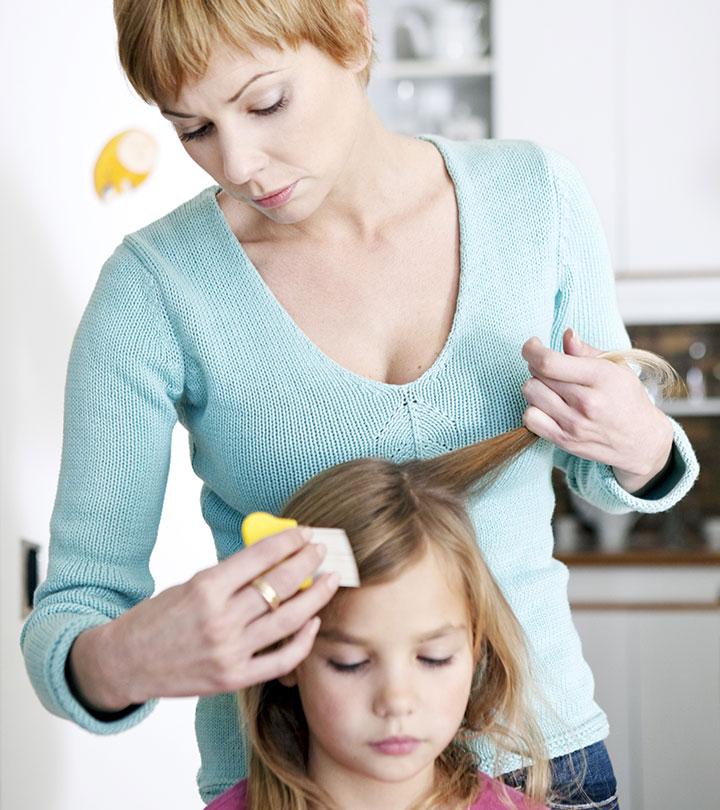 Head lice can happen to anyone for a lot of reasons. That itchy feeling when something keeps moving on your head can be quite annoying. To help treat this condition, you need the best lice comb. Head lice are highly transmissible, but they do not necessarily indicate poor hygiene. Simone de Vlaming, a beauty expert, says, "Lice prefers laying eggs on clean hair rather than "dirty" or unwashed hair. They are parasites that live by drinking our blood. So anyone can get them and not just people with bad hygiene." One of the best and quick solutions to get rid of lice is to use a lice comb. If you are not a fan of putting chemicals in your hair, then you can consider buying one of these combs. In this article, we have mentioned some of the best lice combs on the market. Read on!
10 Best Lice Combs You Can Buy
The Rite Aid Head Lice Comb Kit is the ultimate solution for tackling head lice infestations. The kit includes precision lice combs with fine teeth that are efficient in removing lice and their eggs from the hair. Reviewers love the product because the kit also comes with a powerful LED magnifier that can be attached to the comb, making it easy to see even the tiniest lice and eggs. The comb is made of durable materials and is easy to clean, making it reusable for future lice outbreaks. It comes in a convenient carrying case, perfect for home or on the go. With this lice kit, you can finally say goodbye to pesky head lice and enjoy an itch-free life.
Pros
Come with a LED magnifier
Fine-toothed comb
Ergonomic design
Easy to clean and maintain
Cons
May not be effective for severe cases of lice infestation
This FDA-registered electric lice comb removes lice and nits from your hair instantly. It comes with a disposable capture filter to collect the lice and nits that you can throw away. This allergy-free and user-friendly electric lice comb is suitable for both children and adults. The stainless steel teeth have the suction power to zap out lice from your scalp. It can be adjusted as per the combing angle, and the rounded edges are gentle on your scalp.
Pros
FDA-registered
Includes 4 capture filters
Ergonomic design
Chemical-free
Pesticide-free
Easy to use
Suitable for children and adults
Cons
None
This lice treatment kit includes lice killing liquid gel, a two-sided brush-like applicator, and lice comb. The lice killing formula is non-toxic, pesticide-free, and effective on both kids and adults. The mess-free applicator helps to distribute the liquid evenly, from root to tip, coating lice and nits in each hair strand. The comb is made of metal and can be reused. Still not sure about the product? Check out the multiple rave reviews that boast of its quality and exceptional results.
Pros
Non-toxic formula
Pesticide-free
Easy to use
Sturdy
Cons
Might form a greasy residue on the hair.
The Nitty Gritty Nit Comb is an award-winning lice comb and has patented micro-spiral grooves that remove lice and nits. This lice comb is made of stainless steel and can be used by both adults and kids. It is easy to use and has a sturdy and elegant design. It can be sterilized and reused multiple times.
Pros
Made of stainless steel
Easy to use
Affordable
Sturdy
Lifetime guarantee
Chemical-free
Suitable for adults and kids
Cons
None

This is a medically-approved lice removal comb endorsed by the National Pediculosis Association. It has highly-polished, precisely-spaced stainless steel teeth with a sturdy and unbreakable handle. Many reviews indicate that it glides smoothly on your scalp without snagging or pulling. It can be reused, and unlike other combs, this lice comb maintains its integrity even after boiling.
Pros
Medically-approved
Recyclable
Durable
Sturdy handle
Easy to use
Suitable for adults and children
Cons
The Nix Electronic Lice Comb kills and destroys lice and nits upon contact. It emits an electrical charge that is lethal to the lice but cannot be sensed by humans, so it is safe. This electric louse comb has an LED spotlight and lice indicator. The spotlight helps you see the lice, and the indicator blinks when it detects the lice and nits. The fine-toothed comb can be used on dry hair and is safe for kids older than two years.
Pros
LED lice indicator
Battery operated
Includes one AAA battery
Chemical-free
Pesticide-free
Cons
The metal teeth have a gap between them.
This pack includes three professionally designed lice combs made of high-quality, stainless steel and ecologic plastic. One comb is made of stainless steel with straight gaps between the teeth. The other one has a rounded top made of eco-plastic and offers a comfortable grip. The third one is a two-sided plastic comb that helps to detangle the hair. These combs can be boiled for 10 minutes for sterilization and reused.
Pros
Reusable
Sturdy
Easy to use
Suitable for all hair types and length
Cons
May not catch small nits.
The lice combs come in a pack of two and have fine and textured stainless steel teeth. The textured micro-grooving teeth ensure that these combs do not miss even the smallest nit and lice. Their ergonomically-designed handles provide a secure and comfortable grip to scan each strand of hair with ease. They glide through the hair effortlessly without pulling it.
Pros
Firm grip
Micro-grooving teeth
Ergonomic design
Sturdy
Comfortable hold
Cons
This lice comb has scientifically designed teeth that pull away even the toughest lice and nits from your hair roots without scraping or cutting the scalp. The teeth are made of stainless steel and have a patented micro-grooving design. You can disinfect this scalp-friendly comb and reuse it. Ethically conscious consumers are obsessed with this product as it does not undergo any animal testing.
Pros
Micro-grooving design
Reusable
Durable
Works on dry and damp hair
Suitable for all hair types
Ergonomic handle
Anti-slip grip
Easy to use
Rust-proof
Cons
The VictorieLei Lico combs have stainless steel teeth with precision spacing, which ensures optimal trapping of lice and nits. The rounded grip provides a secure and comfortable hold. It has a magnifier that allows you a close-up view of the scalp area. The magnifying glass ensures you do not miss even the smallest lice and nits. These combs are durable and can be washed and reused.
Pros
Precision spacing
Durable
Reusable
Anti-slip handle
Firm grip
Cons
None
Here are a few things you need to keep in mind before you pick a lice comb.
How To Choose The Best Lice Comb: Things To Consider
These tiny parasites are camouflaged in your hair, making it difficult for you to see them with the naked eye. Hence, choose a fine-toothed comb that can capture maximum lice effortlessly.
The bristles need to be strong to withstand the pressure while removing lice. You do not want them breaking midway. If you have thick or coarse hair, use a steel-toothed lice comb that will make your job easy.
Plastic combs are cheap but weak and last only for a couple of uses. If you want a hygienic, reliable, long-lasting product, buy a metal comb. Metal combs, especially steel combs, can be boiled or sanitized and reused.
To remove the lice properly, ensure you are using the lice comb in the right way. Here is a guide to help you use the lice comb correctly.
How To Use A Lice Comb
Apply conditioner as it suffocates the lice and gets easy to pull the comb through the hair.
Put a towel around the shoulder and comb the hair with a regular comb to remove tangles.
Separate the hair into sections and comb each section carefully with the lice comb. Keep the clean sections separate after combing them.
Get close to the scalp and comb from top to bottom.
Wash the hair to remove the conditioner and lice or nits.
Repeat the process after a few days until the lice and nits are gone.
Why Trust StyleCraze?
The author, Shiboli Chakraborti, is a certified skin care coach. She is also a health and wellness enthusiast. She went through hundreds of user reviews to curate the list of the best lice combs. Lice combs are a great tool to keep the nasty pest in check. They are safe to use on children, who are most prone to be infested. The author has carefully researched and come up with a buying guide to help you buy the right product.
Frequently Asked Questions
Do electric lice combs really work?
Electric lice combs are good for removing adult lice but will not remove nits.
Do lice combs get rid of eggs?
Yes, lice combs can remove lice eggs or nits from the hair.
How long do you have to comb when you have lice?
To control lice infestation, you should continuously comb your hair for 15 minutes a day. Do this for 3 consecutive days to complete the treatment.
Can you get lice from lice comb?
No, if you clean your lice comb after combing your hair, there's nearly no chance of getting it back from the comb.
Do lice move when you comb them out?
Yes, you can spot them moving on your shoulder or the comb to escape or hide from exposure.
How do you clean a lice comb after use?
Remove any eggs or lice on the teeth of the comb with a towel. Soak the comb in hot water and wash it with a gentle soap using a toothbrush.
Recommended Articles