9 Best Lighted Tweezers To Get Perfectly Arched Eyebrows – 2022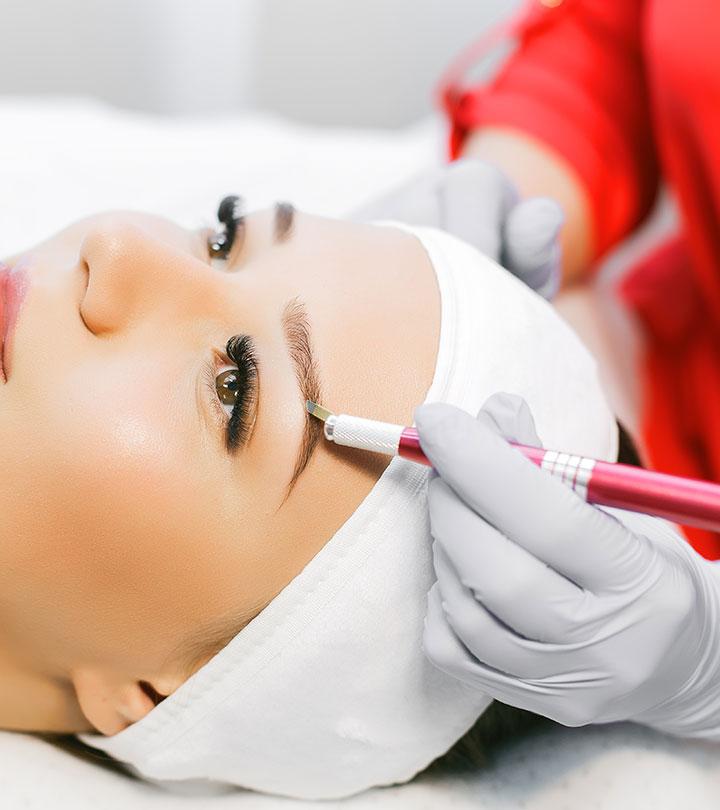 To get the perfectly arched eyebrows, all of us must carry a pair of lighted tweezers with us. While some have the ideal shaped brows that grow out of shape too quickly, or some have bushy eyebrows that require regular trimming. Keeping a pair of lighted tweezers in a girl's makeup pouch can come in handy. The built-in light feature of a tweezer is a savior for so many. It helps us see the tiny strands of hair that distort the entire shape of the eyebrow. It helps you pluck these pesky strands out effortlessly and give the brows a perfect shape. If you are new to lighted tweezers, we have got you the list of the 9 best-lighted tweezers to start with.
9 Best Lighted Tweezers To Give That Perfect Definition To Your Brows
Few products give you that edge above others when it comes to their quality like the Carson Lighted Magnigrip LED Lighted Precision Tweezers. Not only do these tweezers have a built-in led light to guide you with your unruly brow hairs but with a magnifier attached, these also give you 4.5x power magnification. These are battery operated and the base is detachable for further ease of use. You can use these Magnigrip lighted tweezers not only to shape your eyebrows but also to take off any splinters or pluck out any other pesky irritants, making them useful in your first-aid kit as well. You can also use it on your pet or for your craft activities while working with tiny beads and sequins. These come marked with ridged finger grooves to provide you with that comfortable yet firm grip required for the intrinsic tasks. The angle of the magnifier is flexible and the batteries come included so you can start using these straight out of the pack.
Pros:
Led-lighted
Tweezers with magnifying glass
Detachable base
Multipurpose
Cons:
Not angled tweezers
Poor design
It's always a delight when you can find a useful product in a pack of two. Made up of medical-grade stainless steel, these professional lighted tweezers don't rust and are easy to keep clean antiseptically. These lightweight tweezers come in a hinged metal box that makes them easy to store and carry. Larger than the usual tweezers in the market, this pair of illuminated tweezers provide you with a comfortable grip and angle to keep your brows in shape. These also come in handy for splinter removal or plucking out any ingrown body hair with ease.
Pros:
Lightweight
Stainless steel
Comes with a carry case
Cons:
Pointy and sharp edges
Larger than normal tweezers
The Revlon Gold Series Lighted Slant Tweezers come with a bright led light that provides a clear view and accuracy to work through those tiny brow hairs. The tips are slanted and perfectly aligned to provide the right angle and precision to grip and pluck the strands of hair. These Revlon lighted tweezers come coated in titanium to provide maximum strength and durability. Unlike a few other lighted tweezers in the market, the LED light here stays on unless switched off. It's easy to hold and the light is bright enough to spot any stray hairs, making it useful even for the elderly.
Pros:
Bright Led light
Slanted tips
Titanium coated
Durable
Cons:
The Sensix Lumi Tweezers are made with high-quality stainless steel and come with a built-in, battery-powered led light. These lighted tweezers are carefully designed with slanted tips to help reach those tiniest of hairs with ease. These tweezers are easy-to-use and offer you that comfortable grip to reach down to the base of the hair. The led light guides you to the right spot making the plucking process easier, precise, and painless. With the batteries included, these are ready to use straight out of the box.
Pros:
Stainless steel
Unisex
Ergonomic
Multipurpose
Cons:
Hard to press the light button
Not long-lasting
If you have been looking for a good pair of lighted tweezers with a magnifying glass, then you can find the right match in the Mighty Bright Lighted Tweezers. Along with keeping your brows in perfect shape, they are designed to help you magnify and grip any hard-to-hold tiny items. With perfectly aligned pincers and an ergonomically shaped handle, it gives you that ease of use for painless plucking. While the LED light is bright and pretty long-lasting, it's the 4x magnification that makes your work even easier.
Pros:
Bright light
Energy-efficient
Long-lasting
4x magnification
Cons:
The General Tools Bent Tip Lighted Tweezers come with textured serrated tips that provide a secure comfortable grip. These tweezers with led light offer you a clear view and help you pick up strands of hair or tiny items without much of a fuss. These tweezers are corrosion resistant and are designed with a non-glare matte black finish. The yellow sides are made up of durable rubber, providing a non-slip grip. The light is bright enough and shines down in a beam towards the tweezer end. These being on the bigger side, are especially useful in moving counters on board games amongst all other regular uses.
Pros:
Serrated bent tip
Corrosion-resistant
Non-glare finish
Low price
Cons:
Big in size
Not precise enough for fine work
Made up of stainless steel, these illuminated tweezers are equipped with a push-button LED light. The light is bright enough to focus on the hair base helping you pluck the strays out with precision. These eyebrow tweezers with light have slanted tips to give you that desired angle for removing any strand of facial hair. It also comes in handy to find and pull out a splinter. The pink color is a lovely shade and it comes packed in a transparent tube case for that added protection.
Pros:
Stainless steel
Tube casing
Slanted tips
Affordable
Cons:
Not for tiny hairs
Not ergonomic
The LaTweez Black Illuminating Tweezers With Diamond Dust Tips create an extreme grip surface that aids in plucking hair effortlessly. These stainless steel tweezers feature triangle cutouts at the arms and an on/off button made of Swarovski crystal. The tips are perfectly aligned and the diamond dust coating helps tweeze the tiniest of hair with ease. The LED light is bright enough to illuminate the eyebrows and give a clear view of those tiny brow hairs. It comes packed in a travel-friendly carrying case with a magnifying mirror to give you that added advantage on the go.
Pros:
Bright LED light
Compact
Carrying case
Replaceable battery
Cons:
A brand synonymous with the best tweezers out there, Tweezerman, now has these Expertweeze tweezers with LED light. The Tweezerman lighted tweezer has carefully designed slanted tips to give you precision while shaping your brows. The LED light gives a good field of view so that you can proceed and pluck at the base of the stray hair without much effort. With a comfortable grip, it has a nice feel and weight to give you the right hold. These slanted tip tweezers are well-made and carry forth the Tweezerman guarantee.
Pros:
Bright light
Sturdy
Comfortable
Trusted brand
Cons:
Expensive batteries
No fun colors
Now that you have hit the treasure chest of a variety of lighted tweezers, let us also help you choose the best one for you. The following buying guide would help you decide how to choose the best of the lighted tweezers available in the market today.
Buying Guide
How To Choose A Good Pair Of Tweezers With Light
When you are looking for a good pair of tweezers with light, keep in mind the position of the light. Sometimes the light is positioned in such a way that it creates shadows when the tips come together to pluck. The light must be bright enough and the beam should be able to focus at the right spot for you to be able to have a clear view of the hair strand.
Most often than not, a pair of tweezers with slanted tips does the work better than the straight ones. If you are looking for a pair to help you with splinters and first aid then a pair of fine-point tweezers would do the job too.
If the tweezers come with a set of replaceable batteries for the light, then you can get more use out of the pair. The price of the batteries should be reasonable for that as well.
Your favorite pair of illuminated tweezers go wherever you go. It helps then that these be compact in size and come packed in a safe to use carry case.
Tweezer Tips And Tricks
Just like your nails, it's easier to pluck out the pesky stray hairs after you have taken a warm shower. The steam opens up the hair follicles to help you pull out the brow hairs faster and painlessly.
Avoid it during your menstruation
During that time of the month, your hormones are all over and your body is extra sensitive to any stress or strain. It's best not to attempt any body hair removal during those few days each month to keep it easy and pain-free when you do it later.
Use ice, aloe, or moisturizer after tweezing
 Once you are done shaping your brows, a gentle rub of ice or a dab of aloe gel or your favorite moisturizer helps ease out any pain or irritation.
While tweezing at one go might be tempting, it's always advisable to keep taking small breaks in between. Stand back and check-in your mirror how the arch is coming along. That also helps you shape both the eyebrows identically.
Tweezers are a basic grooming necessity as such. But a good pair of tweezers that come with a built-in light can help you highlight the right spots and get all the plucking done in no time. As you can see the base of the hair in the light beam, it makes the whole process easier and pain-free. A pair of lighted tweezers would not only take care of your daily grooming requirements but also be used for first-aid and a variety of other art and craft activities as well. With so many options available, you can never go wrong in picking up the best pair of lighted tweezers as per your needs.
Why Trust StyleCraze?
Chaitra Krishnan, who scribed this article, is our foremost authority on everything makeup and fashion, from what is trending to the products you should use to achieve a look. Maintaining perfectly arched eyebrows can be a hassle. Chaitra recommends using these lighted tweezers to keep your eyebrows trimmed and in shape. She poured over many products, studying reviews and conducting extensive research on each one to bring you this curated list.
Recommended Articles