10 Best Lightweight Moisturizers For All Skin Types – 2023
Keep your skin care issues at bay with products comprising gentle formulas.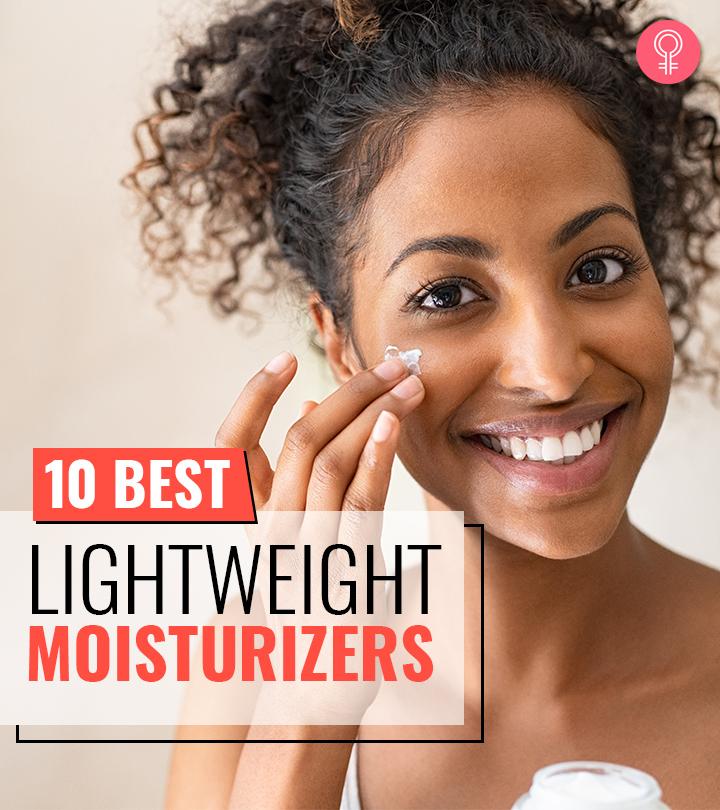 The importance of moisturizing the skin daily cannot be overstated. The best lightweight moisturizer will leave your skin feeling fresh and hydrated. If you are not a fan of the creamy feel of regular moisturizers, the lightweight formulas are for you. These products are water-based and work like a gel. They are packed with powerful ingredients that are moisture bombs for your skin. We have listed the 10 best lightweight moisturizers available online. Check them out!
Top Picks
Top 10 Lightweight Moisturizers To Buy In 2023
If you have oily skin, you will love this ultra-light moisturizing lotion. It reduces the shine, provides a matte-finish, and helps retain the skin's moisture level. It contains hyaluronic acid and ceramides 1, 3, and 6-II that restore the protective barrier of your skin and keep it healthy. Moreover, it contains SPF 30 and protects you from the harmful UV rays. This moisturizer is recommended by The Skin Cancer Foundation and is suitable for normal to oily skin.



Pros
Oil-free
Lightweight
Non-comedogenic
Broad-spectrum sun protection
Developed with dermatologists
Fragrance-free
Suitable for sensitive skin
Cons
The pump dispenser may malfunction.

Quick Tip

Ensure to use a toner before applying this lotion to absorb excess oil.

Price at the time of publication: $14.97
This is a water-based hydrating moisturizer and is best for oily skin. It is a face lotion with a gel-like consistency that is absorbed quickly, without any greasiness and shine. It contains hyaluronic acid and aloe vera that provide 72 hours of hydration. It makes your skin soft, improves the skin texture, and makes it appear healthy.
Pros
Lightweight
Matte-finish
Non-oily
72 hours hydration
Suitable for normal to oily skin
Quickly absorbed
Cons
The fragrance might feel overwhelming.
Price at the time of publication: $18.54
This is a lightweight sunscreen moisturizer, and as the name suggests, it has a whipped cream-like texture. It is whipped with Active Rush Technology to get absorbed fast and protect your skin from sun damage. This formula is non-greasy, provides a matte finish, and reduces dark spots, age spots, and discoloration.
Pros
Contains SPF 25
Oil-free
Non-greasy
Non-comedogenic
Matte-finish
Goes well under makeup
Cons
Price at the time of publication: $23.99
This is a 30% Hyaluronic Acid Complex cream. If you have dry skin, this lightweight and moisturizing formula is perfect for you. It contains three molecular sizes of hyaluronic acid that lock in moisture for 72 hours. The ProHyal+ reduces the appearance of wrinkles and fine lines to give you youthful skin. It also contains hydrolyzed silk that gives your skin a soft and smooth finish.
Pros
Oil-free
Alcohol-free
Fragrance-free
Non-greasy
Cons
Not hydrating enough for mature/older and dry skin.
Price at the time of publication: $113.9
This is an oil-free water cream and contains a bunch of botanical extracts. It includes the Japanese leopard lily and Japanese wild rose extracts that control excess oil, tighten the skin pores, and improve your skin texture. It contains Hadasei-3 and anti-aging complex made of rice, green tea, and algae that gives you a shine-free glow and youthful radiance.
Pros
Mineral oil-free
No synthetic fragrance
Sulfate-free
Paraben-free
Urea-free
DEA/TEA- free
Phthalate-free
Non-comedogenic
Non-irritating
Dermatologist tested
Non-sensitizing
Cruelty-free
Cons
Expensive for the quantity
Price at the time of publication: $123.0
This product has a cream-to-water formula that provides lasting hydration to your skin without leaving a greasy residue. It is developed with Hydrozome technology that protects the natural moisture barrier of your skin. The vitamin C in the moisturizer fights free radicals and brightens your skin by reducing dark spots. It also contains German chamomile extracts to calm skin irritation.
Pros
Paraben-free
Phthalate-free
Sulfate-free
SLS/SLES-free
DMDM hydantoin-free
Urea-free
Petrolatum-free
Mineral oil-free
DEA/TEA/MEA/ETA-free
No formaldehyde-releasing agent
100% cruelty-free
Cons
None
Price at the time of publication: $23.58
This lightweight lotion is formulated for chronically stressed skin. It contains white willow bark extracts, a natural form of salicylic acid, mint extracts to impart a cooling sensation, Icelandic kelp for fighting inflammation, and Meadowsweet extracts to reduce oiliness and tighten the pores. These ingredients help decongest and heal the skin, prevent breakouts, and reduce redness.
Pros
Contains natural extracts
Pleasant fragrance
Non-greasy
Cons
May cause a tingling/burning sensation.
Price at the time of publication: $48.0
This lightweight moisturizing cream has water-jelly like texture and feels extremely refreshing upon application. It gets absorbed into your skin quickly and leaves no sticky residue. It provides 24-hour intense hydration and makes your skin resilient. It is suitable for all skin types.
Pros
Dermatologist-developed
Allergy tested
100% fragrance-free
Oil-free
Suitable for all skin types
Cons
None
Price at the time of publication: $20.9
Acne and blemish-prone skin needs extra protection.The Murad Anti-Aging moisturizer has a blemish-control formula. It has SPF 30 that protects your skin from early signs of aging (photoaging) and prevents blemishes. It contains kombucha black tea ferment that reduces fine lines and wrinkles and an oil-control complex that clears the skin pores and keeps the skin youthful. This lightweight moisturizer is suitable for normal, dry, oily, and combination skin.
Pros
Paraben-free
Phthalate-free
Gluten-free
Sulfate-free
Cruelty-free
Cons

Quick Tip

Use a nourishing serum before applying the moisturizer to keep your skin hydrated. Dry skin can actually secrete excess oil to compensate for the dryness, leading to blemishes and stubborn acne.

Price at the time of publication: $54
This is a refreshing water gel and provides 24-hour intense hydration to your skin. It has a HydraGel complex that prevents dryness, refines your skin pores, and makes the skin smooth. It is an oil-free formula that feels incredibly lightweight on the skin and can be used day and night.
Note: It contains mushroom extracts. If you are allergic to mushrooms, avoid using it. A patch test is recommended.
Pros
Paraben-free
Lightweight
Non-oily
Cons
None
Price at the time of publication: $55.0
Lightweight moisturizers can be a great addition to your skincare routine. They feel nothing on the skin yet hydrate it intensely. But choosing the right one from the various options available can be challenging. Check out this buying guide to learn how to choose the best lightweight moisturizer.
What To Look For While Buying The Best Lightweight Moisturizer
Moisturizers come in varying textures, from lotions to gels. Decide on a texture that suits your skin and feels the best. If you have dry skin, it is best to stick with a cream-based moisturizer. On the other hand, opt for a gel-based moisturizer for oily or combination skin.
Look for active ingredients such as niacinamide and hyaluronic acid in your moisturizer that help to calm irritated skin. It nourishes the skin and strengthens the skin barrier. These active ingredients are gentle enough to work on all skin types and can be a great addition to your daily regimen.
The whole point of a moisturizer is to provide your skin with hydration and moisture. Hence to get the best out of your moisturizer, go for the ones with hydrating ingredients such as aloe vera, shea butter, etc.
Having SPF in your moisturizer will protect your skin from the sun. An SPF-induced moisturizer before applying your sun protectant will ensure double protection from sun damage. Check to see if the moisturizer also works as an anti-aging.
While choosing a moisturizer, it is best to avoid excessive quantities of artificial fragrance, colorings, alcohol, parabens, or talc that can cause irritation and discomfort to your skin.
A moisturizer is a must for everyone, no matter what skin type you have. Whether you have oily, acne-prone skin or want to avoid suffocating your skin with thick lathery creams, good lightweight moisturizers ensure that your skin stays healthy without feeling heavy. These products are water-based and leave your skin feeling fresh and supple. Lightweight moisturizers not only prevent clogged pores but are strong enough to provide adequate hydration throughout the day. These are non-greasy, paraben-free, moisturizers are also enriched with other skin-nourishing ingredients.
Why Trust Stylecraze
Shiboli Chakraborti uses her outstanding analyzing and writing skills to find and review skin care products for her readers. She is a certified skin care coach and hence understands the needs of every skin type. She has scoured many websites to review these best lightweight moisturizers listed in this article. To assist you in choosing the right product, Shiboli has created a comprehensive review besides listing the pros and cons of each product.
Frequently Asked Questions
What is a lightweight moisturizer?
A lightweight moisturizer has a sheer and watery consistency that spreads easily on the skin and gets absorbed faster.It is ideal for people with oily skin types.
Should I use a lightweight moisturizer?
Use lightweight moisturizer if you have oily or acne-prone skin. You may also opt for lightweight moisturizers during warmer months when the temperature is generally high and humid.
Should I use a lightweight moisturizer at night or morning?
Use a lightweight moisturizer twice a day to keep your skin moisturized without clogging pores.
Should I use lightweight or rich moisturizer?
Rich moisturizers have a thicker consistency and are suitable for dry or combination skin types. If you have oily or acne-prone skin, always opt for non-comedogenic and lightweight moisturizers to let your skin breathe.
Do you really need a lightweight moisturizer?
Yes, a lightweight moisturizer maintains your skin's moisture barrier without clogging pores. You need a lightweight moisturizer more during summer and spring when the atmosphere is too humid and sweaty.
The following two tabs change content below.