13 Best Linen Pants For Women That Are Breathable & Airy – 2022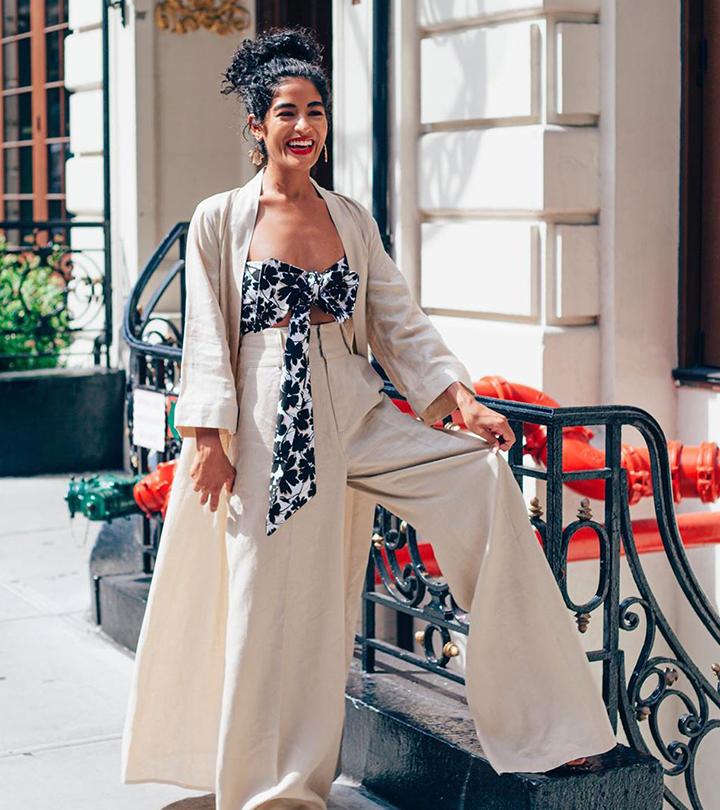 Linen is a good choice of clothing for scorching summers because the fiber is absorbent and strong and dries quicker than cotton. In addition, the best linen pants for women are breathable and airy. They are affordable, lounge-worthy, and can carry you through all warm-weather occasions in style. Whether you want a cropped, flared, flowy, or structured look, you can always find a pair that will be the right fit for you.
Many styles are available at different price points so that you don't have to skimp on quality. For starters, you may want a pair of linen pants that jives with the clothes you already have in your closet. With the multiple options on the market right now, it will be a breeze to get your hands on the perfect pair.
So, if you have not yet stocked up on this essential spring and summer bottom, now is the time. Explore our list of best linen pants now!
13 Best Linen Pants To Buy in 2022
Loosen up and let your body breathe this 2022! These pants are for women who like to add a touch of comfort to their style. An elastic band at the waist, coupled with the wide-leg design, gives you the perfect fit and makes them the ultimate go-to item for linen lovers. And if this doesn't entice you enough, these dreamy pants are available in multiple colors for you! Pair it with a casual tee or a crop top, and you are all set for summer. Breathable, loose, and cozy, complete your weekend look with these high-waisted, extremely comfy linen pants.
Features:
Pure cotton with an elastic band for a comfortable fit.
Wide-legged, breathable, and easy-to-wear.
Available in multiple colors.
Comfort never looked so good! Give that slim-fitted denim jeans a miss and let your body breathe through these white linen pants. Not only do they look relaxing, but they also make one feel at complete ease in the humid weather. Flared at the bottom and cinched at the waist, these chic and cozy pants are a must-have for those looking to add a retro yet trendy vibe to their outfit. And to let out a secret, these loose linen trousers have a cute heart embroidery on the back pocket too.
Features:
Flexible, silky-smooth fabric with a relaxed style.
Flared at the bottom for a trendy yet retro look.
Cute heart embroidery on the back pocket.
There's something about linen pants that makes you want to make it your style staple! Designed to give a relaxed yet chic fit, these straight-lined pants are made of 70% rayon and 30% linen. It comes with a high-smocked banded waist and waist tie that can be styled for any occasion. You can either pair them with blouses or a crop top and add to its slender look and charm.
Features:
Made of 70% rayon and 30% linen, it's skin-friendly, gentle, and breathable.
High-smocked band with a waist tie.
A straight-lined style for a slender look.
Whoever said, 'nothing can replace denim jeans,' clearly has not tried on jogger pants! Loose and soft, this combination of the harem and jogger pants is crafted with a comfort-stretch waist and slanted hand pockets (#pocketsFTW). Its soft cotton fabric ensures easy movement and satiates your comfort and style needs.
Features:
Soft cotton fabric ensures breathability and comfort.
Comfort-stretch waist and slanted hand pockets.
Flowy yet chic, it's a combination of harem and joggers pants.
Why worry about style, when linen pants have got your back! These pants have a laid-back and classy style with a relaxed fit around the waist. Keeping the comfort quotient strong, these are made from 100% imported linen. Pull a chic avatar by pairing it with a fitted tee or crop top and loafers for the day. They also come with side and rear pockets, making it easy to carry your phone and keys. High on quality, these pants up your style game every time you wear them!
Features:
100% imported linen.
Lightweight pants with a relaxed fit.
Fitted tank top and crop linen pants are a match made in style heaven! Pep up your day with these pants that come with an elastic closure. Ideal for long travels, beach getaways, or summer outings, these pants are crafted keeping only your comfort in mind. Cropped a little above the ankle, flared and wide, these women's linen pants are easy to pull on and flaunt this summer.
Features:
Designed for comfort, they are soft and lightweight.
Cropped above the ankle, it's wide-legged and flared at the bottom.
Easy to pull-on and comes with an elastic closure.
Smart, sophisticated, and tapered for comfort, is there a better combination to make a style statement with? Designed with unique high-low pockets, these linen pants are crafted for the woman on-the-go. Made of 100% linen with a comfort-fit elastic band at the waist, these casual pants come with a pull-on closure and can easily match all your favorite blouses and tees. Roll up the cuffs and flaunt those ankles in flats or sneakers this season.
Features:
Pure linen fabric with a comfort-fit elastic at the waist.
Smart, sophisticated and tapered design.
Unique high-low pockets and rolled-up cuffs.
So loose, it's like you're floating in it! These relaxed fit, wide-legged culottes are cozy and enables free movement. They are incredibly soft and flared from top to bottom, thus fitting you perfectly. Pair them with dainty blouses or fitted tees and unleash the fashionista in you! Simple, casual, and designed for comfort, they are great for spring or summer outings. Perfect for daily wear, they are available in several colors.
Features:
Wide-legged design.
Soft fabric that is easy on skin.
When in doubt, unwind in a pair of baggy linen pants. These loose-fitted pants are not only comfortable but also create the perfect Instagram-worthy look. Made of 80% linen and 20% cotton, these bloomer-styled pants are paired perfectly with plain t-shirts, printed tops, sweatshirts, tank tops, and more. Also known as leisure pants, they are available in several earthy colors.
Features:
Made from 80% linen and 20% cotton.
Bloomer-styled.
Available in several colors.
Slender, smart, and comfortable, these black linen pants are a perfect pick for office-goers as well as for traveling. This sleek pair of pants is made from high-quality fabric. It comes in a wide range of colors that leave you spoilt for choice. Designed with two pockets, these pants are made from linen and viscose with a pull-on style for absolute comfort. Pair it with your evening top and make heads turn wherever you go.
Features:
Made from linen and viscose.
Sleek and slender with a pull-on style.
What's not to love about the quintessential pair of linen pants? Made of 100% lightweight linen, these pants are designed with a patchwork pull-on style that offers a relaxed fit. Semi-baggy, cropped, and tapered, they spell cool like no pants ever! Taking inspiration from the classic capris pants, this pair comes with a unique tapered design. These trousers are also available in dark grey, brown, and white.
Features:
Tapered design that offers a comfortable fit.
Can be paired with a casual tee or tank tops.
Taking the crown of comfort-casuals from denim jeans, linen pants are here to stay and slay! These 3/4th cropped linen pants are light, fresh, and give a cozy vibe. They come with two side pockets and elastic comfort fit at the waist. Easy to pull on and take off, pair it with sneakers or flats for a smart look this summer, spring, or fall. If white linen pants are not your thing, you can choose from a wide range of colors. This product- made of pure linen – is all you need to make your vacation all the more cozy and trendy.
Features:
Made from pure linen.
3/4th cropped pants with two side pockets.
Available in a wide range of colors
Simple, elegant, and stylish, these linen trousers are a class apart! Also known as lantern pants, they are a great pick as office and casual wear. If you are looking for a hassle-free outfit of the day, here is a pair that promises style and comfort. A zipper closure, cute buttons, and an elastic band on the back, it's a steal deal for smart dressers. What makes them different from other linen pants is their pleated and cuff design in the front.
Features:
Perfect combination of comfort and style.
It flaunts pleats and cuffs on the front along with a cute button-on style.
Designed with a zipper and elastic band closure.
Recommended Articles: