15 Best Lip Balms With SPF To Make The Lips Smooth & Soft – 2022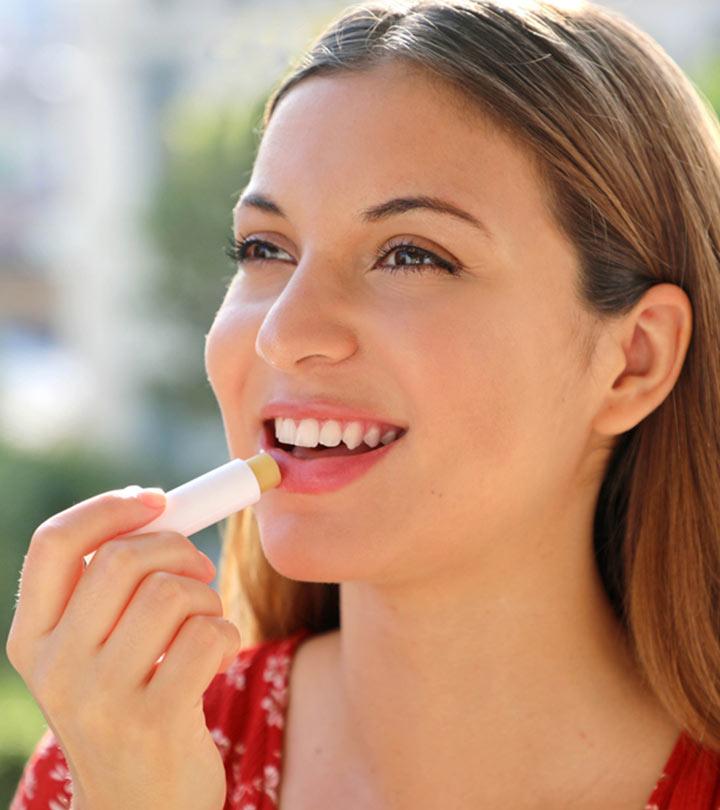 Beautiful lips are a dream for everyone; however, we seldom do what it takes to maintain their health. If you have been looking for the best lip balm with SPF, we have all your lips could need. Like your skin, your lips need protection from the UV rays too. While you would cry over the darkening shade of your lips, you need to make sure your lips are shielded from external exposure as well as nourished from within. As sensitive as the skin of your lips are, you can't apply body sunscreen on them. They need to be treated with lip balms crafted to protect your lips from the sun. All thanks to popular brands, there are many balms to choose from. Here are some of the highest-rated lip balms that will keep your lips pout-worthy without losing out on their color!
Block The Sun Out With Top 15 Best Lip Balms With SPF! (With Buying Guide)
Protect your pout from the harmful UV rays and harsh winds with this Intense Therapy Lip Balm by Jack Black. Ultra-moisturizing with organic ingredients, antioxidants, and broad-spectrum SPF 25, this rich and intense emollient balm claims to provide relief instantly. Soothing blisters and nourishing damaged lips, the enriching formula also contains shea butter, vitamin E, avocado oil, and green tea that prevent the loss of natural moisture too. All you have to do is apply it 30 minutes before stepping out and consider your lips nourished and guarded against free radical damage effortlessly! Check out the review of this product on YouTube to know why it is one of the best out there.
Pros:
Vegan and cruelty-free product
Contains high-quality and FDA-approved ingredients
Repairs damaged, chapped, and irritated lips
Penetrates quickly and soothes instantly
Dermatologist-tested and safe for sensitive skin
Free from paraben and harsh surfactants
Cons:
Thick consistency
May require frequent touchups
Be it any season, this SPF 12 ChapStick claims to keep your lips moisturized for up to 8 hours! Infused with vitamin E, aloe vera, and 9 other moisturizing ingredients, your lips will feel ultra-pampered and protected all the time. Go on, step out without worrying about your lips running dry or getting tanned when you have this sun-blocking and moisturizing chapstick in your pocket. And with three in a set, you clearly won't need a new lip balm for a long time. Don't miss it!
Pros:
Original flavor SPF lip balm
Protects against harmful UVB rays
Moisturizes and heals dry lips
Softens and glides smoothly
A noted brand for more than 125 years.
Cons:
Not recommended for cracked or damaged lips
It may not moisturize intensely.
Minty, icy, and refreshing at the same time! Keep your lips protected from the sun and wind burns with this mint-infused lip balm that'll restore the softness and smoothness with a cooling effect. Formulated with SPF 15 that ensures to keep your lips protected from harmful rays even during extreme weather, it's a great option for those who spend most of their time outdoors. And since the cooling sensation is a sign of the lip balm working and healing your lips, Natural Ice Lip Balm by Mentholatum is a must-try for all.
Pros:
Glides effortlessly on the lips
Keeps lips protected and moisturized
Ideal for daily and multiple uses
Suitable to use for all
A trusted brand for more than 25 years.
Cons:
Not ideal if you are looking for soft consistency
It has a strong mint flavor.
A tinted lip balm is every beauty maven's go-to stick for lip care. After all, it offers the best of both that is color and nourishment, making it easy for them to flaunt their pout on no makeup days! And what's great about Neutrogena Revitalizing Lip Balm is that other than giving you healthy-looking, fuller, and rosier lips, it also provides sun protection (SPF 20!). This means you can totally skip your sun-blocking lipstick for a day when you have this lip-screen in your kitty. And speaking of moisturizing, this salve is formulated with an ion2 complex that works towards repairing the texture and restoring the pinkish glow in just one week! Give it a try to witness the difference.
Pros:
Delivers a sheer tint on the lips
Adds plumpness and definition
Protects against sunburn, UV rays, and tan
Soothes intensely and enhance natural lip color
Ideal for dry, chapped, and damaged lips
Cons:
Requires frequent touchups
Infused with SPF 50, Banana Boat Sunscreen Lip Balm ensures complete protection against harmful rays, whether you are outdoors all day or at the beach. And given that it is water-resistant up to 80 minutes, you can enjoy all water sports without reaching out for your lip balm after every minute! Besides sun protection, its ultra-moisturizing formula also guards the lips against windburns and extreme weather damages. So, if you are planning a getaway or have to stay out in the sun for too long, you might as well glide on this sunscreen lip balm SPF 50 by Banana Boat.
Pros:
Suitable for sensitive skin
Long-lasting and easy-to-apply
Handy and travel-friendly
Protects against harmful UVA and UVB rays
Infused AvoTriplex technology prevents skin damage and aging.
Cons:
Not recommended for very dry lips
It has a bitter taste.
This lip balm guarantees TLC with a dose of unlimited sweetness! Infused with sugar, the non-toxic formula not only moisturizes but claims to repair and shield with SPF 15, protective waxes, nourishing oils, and antioxidant-rich vitamins. And that's not all— it delivers a desirable plump effect that'll enhance the natural color, thus making your lips look glossy and soft at the same time. Want more? It has a citrusy fragrance as well, which is too tempting to resist. Still, want to skip it?
Pros:
Nourishing and hydrating lip balm with SPF
Delivers a sheer and building tint
Free from mineral oils, petroleum and lanolin
Chemical-free and does not contain parabens, sulfates, GMOs, synthetic dyes, etc.
Cons:
Fragile
Not recommended if you are sensitive to smell
Don't mind splurging on a premium lip balm? Then this chapstick by Coola has endless benefits for your precious pout! With every ingredient playing a role in protecting, hydrating, and smoothing your lips, its vitamin and antioxidant-rich natural formula contains raspberry butter, carnauba wax, avocado butter, and beeswax. Guarding against UVA and UVB damages with SPF 30, this moisturizing chapstick is ideal for dry and damaged lips. Also, it promises kissable, smooth, and soft lips after every use! Are you ready to enjoy the bliss of Coola?
Pros:
Includes organic-certified ingredients
Water-resistant up to 80 minutes
Free from paraben, gluten, and GMO
Reef-friendly and cruelty-free product
Provides broad-spectrum protection against sun damage
Dermatologist-tested, hypoallergenic, and non-goopy formula
Cons:
Expensive
It may taste bitter to some.
Kissable lips— anywhere, anytime! Bless your pout with delicious flavors, that other than tempting you will provide intense nourishment instantly. Formulated with SPF 30, this triple action formula is a great option to shield harmful rays, whether you are at the beach, on the slopes, or cruising. Available in three yummy flavors— coconut, banana, and watermelon, the formula also contains vitamin E, aloe vera, and cocoa butter. With three in a pack giving you the freedom to explore flavor as per your mood, get ready to have flaunt-worthy lips all the time with Sun Bum Lip Balm!
Pros:
Glides effortlessly on the lips
Heals, protects, and moisturizes
Hypoallergenic and non-irritating formula
Vegan and cruelty-free
Paraben-free and gluten-free
Provides broad-spectrum protection from the sun damage
Cons:
Not recommended for sensitive skin and lips
It may wear off quickly.
With this lip sunscreen, bask in the sun fearlessly without worrying about damaging your pout. And since moisture loss is the root cause of dry, chapped, and cracked lips, this lip protectant with SPF 30 smears a layer so defensive that it will block the harmful rays effectively. Non-toxic and with no sensitizing chemicals, the formula contains titanium oxide, dimethicone, and zinc oxide to shield your lips from damaging UV rays and drying effects due to the wind or extreme weather conditions. Also, a great option for those who are sensitive to smell, grab this bliss for the lips today!
Pros:
Ensures non-greasy and moisturized lips
Suitable and safe for sensitive skin
Dermatologist-tested and water-resistant up to 80 minutes
Fragrance-free, flavor-free, gluten-free, and preservative-free
It contains no parabens, lanolin, dyes, oil or any other toxic ingredients.
Cons:
Stiff consistency
It may leave a sheer white cast.
Don't let the sun keep you from exploring your sporty side! A must-try for athletes, this sport balm with SPF 50 claims to block 97% of the harmful UVA and UVB rays. And that's not all— it is also water-resistant up to 80 minutes, which means no sweat, rain, or humidity will melt the emollient balm away. Want more? Coppertone Sunscreen Lip Balm offers intense moisturizing benefits as well, as it contains vitamin E and aloe vera. Just what you need to make sure your lips are pampered and protected all the time, pucker up with this quality lip balm this season.
Pros:
Portable and travel-friendly
Lightweight, long-lasting, and lightly-scented
Ensure broad-spectrum protection from harmful rays
Suitable for daily and multiple uses
Ideal for cracked and chapped lips
Cons:
Not recommended for sensitive lips
It may leave bitter aftertaste.
Blush for your cheeks, balm for your lips— do you know a combo better than this? Colorscience's lip balm is going all out to provide the utmost protection from sun damage, blue light, infrared radiation, and pollution. Formulated with advanced EnviroScreen technology that ensures an all-mineral layer on your lips to keep the harmful rays out, it also contains jojoba that moisturizes and hydrates the texture. Making your lips look fuller, healthier, and tinted always, don't blame us if you start using this chapstick more than your regular lipstick!
Pros:
Ensures full and sheer coverage
Water and sweat-resistant up to 40 minutes
Dermatologist-tested, non-comedogenic, and reef-friendly
Hypoallergenic, fragrance-free, and oil-free product
Provides broad-spectrum protection with SPF 50
It does not contain parabens, sulfates, dyes, phthalates, and gluten.
Cons:
Expensive
Stiff consistency
Your lip balm can't get cuter than this! Made from sustainably-sourced ingredients, this Easter egg-like emollient salve will make you want to flaunt your lips even more. Packed with ultra-nourishing ingredients like aloe vera, shea butter, and jojoba oil, it boosts hydration and moisturizes intensely. And it also contains vitamin E along with SPF 30 that ensures complete protection from UVA and UVB rays. Besides this, the packaging is super adorable and will make you want to keep your lips protected all the time! Still, want to miss it?
Pros:
Cruelty-free lip balm with SPF
Prevents moisture loss
Ensures smooth and soft layer
Lightweight and long-lasting
Sweat and water-resistant up to 80 minutes
Free from gluten, paraben, and phthalates
Cons:
The bitter aftertaste may be overpowering.
For those who like all-things natural, Burt's Bees Moisturizing Lip Balm is a must-try! Powered by nature to bless your pucker up with intense nourishment, the formula contains beeswax and peppermint. Though it claims to leave no white residue on the lips, there might be a slight tint, which is normal, since it contains zinc oxide that acts as a shield against the harshest rays of the sun. Protecting your skin from damage and making them look happy and healthier, go all-natural for your precious pout this 2022!
Pros:
Handy and travel-friendly
Leaves a refreshing matte finish
Water-resistant up to 40 minutes
Paraben-free, SLS-free, and phthalates-free
Ideal to use during extreme weather conditions
A natural lip balm that conditions, nourishes and protects the lips.
Cons:
It may feel waxy on application.
Putting the super in Supergoop, this lip balm will absorb the harmful UVA and UVB rays, so your lips don't have to! And other than being a topical shield, it also makes sure your lips stay intensely hydrated and moisturized beneath the protection layer. Infused with the goodness of honey (which is rich in antioxidants btw!), coconut oil, sunflower seed oil, and shea butter, it claims to be an out-and-out feel-good formula for your lips. And did we tell you it is a reef-friendly sunscreen? Use it generously to notice a healthy glow-up on your lips!
Pros:
Acai-flavored and lightweight lip balm
Sweat and water-resistant formula
Free from octinoxate and oxybenzone
Environment-friendly and cruelty-free product
It protects against sun damage with SPF 30.
Cons:
Not ideal if you are looking for pleasant aftertaste
Lastly, this medicated lip balm that claims to protect dry, chapped, and cracked lips with its dense formulation! So, get ready to hit the slopes or go trekking without worrying about moisturizing your lips often as this one ensures full coverage and a long-lasting effect. Also, with SPF 30 blocking the ultra-violet rays, you don't have to think twice before flashing your happiest smile for the pictures! Now, who's ready to give this lip protector a try?
Pros:
Infused with vitamin E and aloe vera
Prevents sunburn and skin damage
Conditions and hydrates the lips
Non-greasy, sweat, and water-resistant
Recommended for snowboarders and hikers
Cons:
It has a wax-like consistency.
There you go, those were the 15 best lip balms with SPF that you must try this 2022. Are you still confused about how to choose the best lip balm with SPF? Read our buying guide below.
Buying Guide – Best Lip Balm With SPF
How To Shop For The Best Lip Sunscreen or Lip Balm?
The More SPF The Better: Truer words were never spoken! The more SPF you have in your dedicated lip balm, the stronger the protective layer will be on your pout. However, it totally depends on your day-to-day activities and exposure to the sun. If you don't step out often, then you can settle for SPF 30 or less, but if you are out in the sun for too long or planning to hit the beach or slopes, SPF 50 is ideal.
Intense Moisturizing Effect: Other than SPF, you must look out for the moisturizing effect too, or else you'll end up with dry lips. Always opt for a lip balm that guarantees both intense moisturizing and nourishing treatments after applying. Also, beware of topical moisturizers because their effects may fade once the lip balm wears off.
What's In The Balm: You must know what's in the lip balm before you apply it. The lip area or skin is extremely delicate and may react to unfriendly ingredients quickly. So, to avoid severe allergic reactions, check the ingredients. Plus, you must not opt for drying ingredients as they may reverse the moisturizing effect.
Lip Treatment: Lip balms also offer different types of lip treatments. So, choose one that fits your needs. The reason being— a balm for dry lips may not work on cracked or sensitive lips. Hence, why you must inspect the suitability before buying.
Water-Resistance: Ideally, you must choose a water-resistant emollient salve. So, in case of humidity, rain, or tears, your lip balm will stay intact all the time.
How Do You Apply A Lip Balm with SPF?
Just like how you would apply your regular lip balm or lip gloss! Use it generously and make sure you cover all areas to enjoy the benefit of the SPF while outdoors. Also, you must re-apply after a few hours or whenever your lips feel dry and dehydrated for best results.
Now, who's ready to say goodbye to sun-damaged and cracked smiles forever? Prep up to flaunt happy, healthy, and rosy lips with one of the best lip balms with SPF this season. With most of the lip balms on the list being dermatologist-tested, intensely moisturizing, and water-resistant, we bet you might feel a little spoilt for choices. So, what are you waiting for? Pick your go-to balm and give your lips a reason to enjoy the sun as much as you!
Why Trust StyleCraze?
Chaitra Krishnan is a makeup enthusiast and offers her recommendation for the best lip balms with SPF to add to your cosmetic collection. She relies on these lightweight, non-greasy lip products to moisturize and protect her lips. She compiled a comprehensive and detailed list of the top products after checking user reviews and feedback on trusted online platforms.
Frequently Asked Questions
Is Lip Balm With SPF Safe?
Yes, absolutely! In fact, if you are planning to step out in extreme weather conditions, then a lip balm with SPF is a must-have to prevent dry, chapped, or damaged lips.
Why Does A Lip Balm Have SPF?
Lip balms with SPF offer optimum protection from the harmful UVA and UVB rays that may cause skin damage, sunburn, or quicken aging signs.
Should A Lip Balm Have SPF?
Ideally, it should, so your lips are always prepared for all kinds of extreme weather conditions, be it the blazing sun or the harsh winds.
Does Chapstick Have UV Protection?
Yes, ChapStick Lip Moisturizer and Skin Protectant comes with SPF 12 that ensures total protection from harmful UVB rays.
Is SPF 20 Enough For Lips?
If you aren't planning to stay out in the sun for too long, then SPF 20 is enough to protect your lips daily.
Recommended Articles