Best Lip Balms Available In India – Top 10 For 2023
Say sayonara to chapped lips and get a luscious pout with these hydrating lip salves.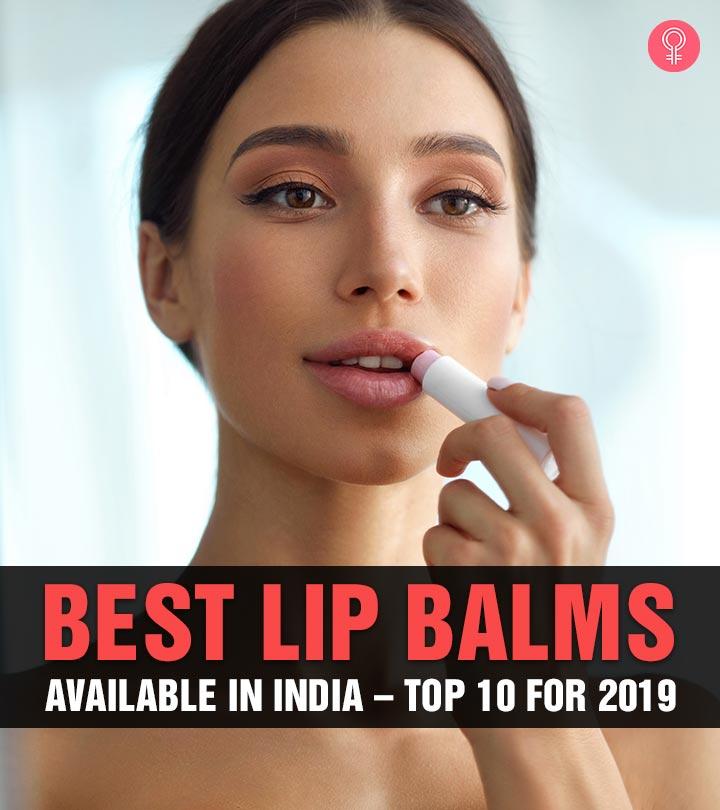 We can't imagine stepping out without a few products in our bags. A good lip balm is one of them.
Whether our lips are tired, have turned sore, or just need a hint of tint, this is one beauty product we always reach out for. Shimmery, long-lasting, tinted, glossy, affordable, quick-dry formula – you ask for it, and you get it!
A lip balm is not just a simple lip care product anymore! It has evolved into a product that also adds sass to your pout. Here's the list of the best of lip balms in India. We bet you'll be excited to put them on every day!
Top 10 Lip Balms Available In India
Product Claims
Don't be fooled by the tub packaging. This lip balm comes with serious benefits. It is loaded with almond oil, honey, vitamin E, and strawberry extracts that take great care of your lips. It leaves a sheer rosy hint on your lips upon application.
Pros
Natural ingredients
Not tested on animals
Paraben-free
Chemical-free
GMP certified
100% organic (certified)
Available in multiple colors and flavors
Cons
None
Product Claims
This lip balm is a cult-favorite. No other lip balm cares for your lips as much as this one does! It has an incredibly enriching formula containing lanolin, peppermint, and, of course, beeswax. All these work in harmony to keep your lips safe and feeling loved.
Pros
100% natural ingredients
Paraben-free
Phthalate-free
SLS-free
Petrolatum-free
Cons
None
Product Claims
Lipstick meets balm – that's how we would describe this product! This tinted lip balm gives such an intense color to your pout that you don't even need a lipstick to layer on. It provides intense hydration to your lips, holding its place for good 4-5 hours (if you don't try to rub it off).
Pros
SPF 20
Contains vitamin E
Contains coconut oil
Cons
None
If you have dark and discolored lips, you need this lip balm! It contains skin brighteners that can reduce dark pigments and melanin patches on your lips and make them softer and brighter. It has a sheer tint, so you can wear it alone without layering it with lipstick.
Pros
Ayurvedic formula
Natural ingredients
No harmful chemicals
Cons
The consistency is a bit runny.
Product Claims
This lip balm makes your lips look luscious and feel moisturized at the same time. It contains shimmering pigments and is manufactured with the unique Hydra IQ technology that provides lasting hydration to your pout.
Pros
Available in multiple shades
Doesn't feel waxy
Mild and refreshing fragrance
Cons
None
Product Claims
Your lips are going to love Lakme Lip Love! It promises you 22 hours of intense hydration along with a subtle hint of color. It also protects your pout from the harmful UV rays. A single swipe can seal the moisture on your lips for several hours.
Pros
Available in 6 shades
SPF 15
Cons
None
Product Claims
Have chapped lips? Erase the signs of neglect and dryness with this luxurious lip balm. Your lips will appreciate your choice as this balm is designed to soften chapped lips. It is extraordinarily moisturizing and seals moisture on your lips – thereby providing them with lasting hydration.
Pros
Ayurvedic product
Ingredients procured sustainably
Handmade
Contains organic cold-pressed oils
Cons
None
Product Claims
Applying this lip balm feels like dipping your lips into a jar full of crushed strawberries. It gives your lips a sheer rosy hint, and the amazing strawberry fragrance keeps lingering for long. It keeps your pout beautifully soft and hydrated.
Pros
Contains community traded beeswax
Fresh fruity fragrance
Cons
None
Product Claims
The Neutrogena lip balm provides your pout with just a subtle hint of sheer and improves their texture within a week. However, you will also get it in a wide range of shades – from nude to berry.
Pros
SPF 20
Lightweight
Natural looking color
Contains shea butter
Cons
Price at the time of publication: ₹6.97
Product Claims
What happens when a lip tint and lip gloss get married? Palladio Butter Me Up Sheer Color Lip Balm is just that! It feels like butter gliding on your lips – it protects your pout like any other hydrating lip balm and gives it glossy and buildable color. Its super conditioning formula is hard to resist.
Pros
Cruelty-free
Paraben-free
Gluten-free
Comes in multiple shades
Cons
None
These lip balms are amazing at healing and repairing damaged lips. But, before you any of them, it is important to keep some points in mind. Mentioned below are a few things to consider when buying a lip balm.
Things To Consider Before Buying A Lip Balm
The lip balm you want to buy should be able to provide adequate moisture and hydration to your lips so that they stay soft, supple, and pink. Lip balms that contain ingredients like shea butter, jojoba oil, and vitamin E are considered to be the best.
While some lip balms are formulated with natural ingredients, others can be synthetic or chemical-based. You can go for either of them based on your preference. Get a natural lip balm if you want something that is mild on the skin and does not cause any side effects. But if you want intense hydration for your chapped lips, chemical-based lip balms are a better option.
Lip balms are meant to nourish the lips. They are available in various shades that add a sheer wash of color to your lips. The color of the lip balm usually corresponds with its flavor like strawberry, orange, plum, etc.
The skin on your lips is delicate and thin. That is why it requires more care and nourishment. Choose a lip balm that has SPF so that your lips stay hydrated.
There is no point in investing in a lip balm if you have to re-apply it constantly. Thus, look for a balm that stays on for hours and does not fade away when you eat or drink.
Pollution, excessive sun exposure, and habits like smoking can cause your lip color to become dark and uneven. Therefore, it's essential to choose a lip balm that addresses those problems.
Lip balms come in two kinds of packaging – tube and tub. Choose the packaging as per your convenience. However, it's recommended to go for a tube as it is more hygienic.
Since the skin on your lips is thinner and more sensitive than the skin on the rest of your body, it has to be ensured that the lip balm you buy is dermatologically tested or clinically approved so that it does not cause any adverse effects. The best way to check the quality of a lip balm is by doing a patch test.
Recommended Articles
The following two tabs change content below.