20 Best Lip Balms For Dry Lips – 2020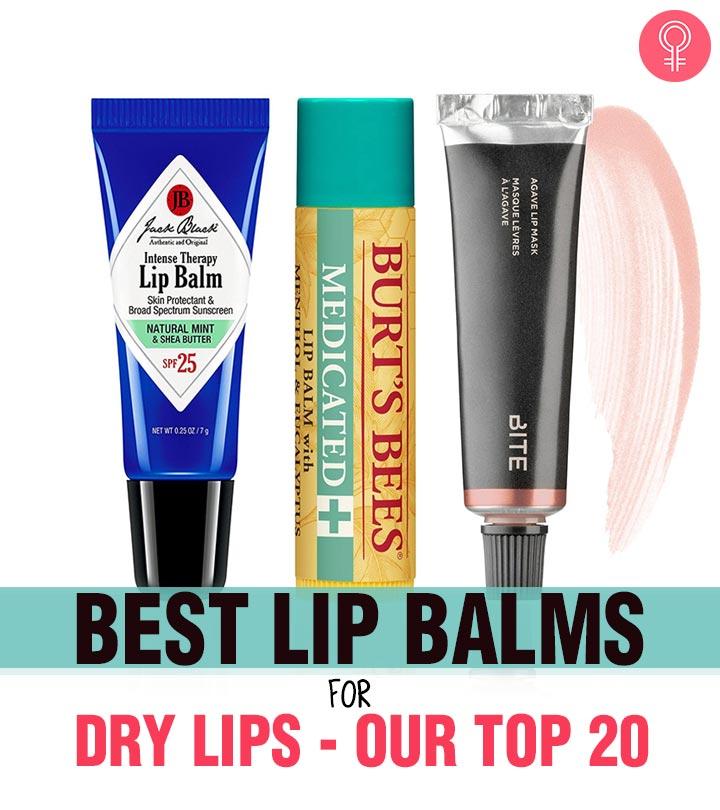 Dry skin does not feel great. But nothing is more painful and unsightly than sore, cracked lips. Chapped lips are super common, especially during the frosty, winter days. Sometimes, they persist no matter how much we try to heal them. If you're struggling with desert-like lips and are on the hunt for a solution, we've rounded up 20 of the best lip balms for you. From medicated, drugstore ones to fancy, luxurious lip treatments – they're all here. Want to know which ones are worth trying? Read on to find out!
20 Best Lip Balms For Dry And Chapped Lips
Pros
100% natural ingredients
Free of parabens, phthalates, and SLS
Replenishes moisture with cocoa, kokum, and shea butter
Helps relieve pain and itching caused by cold sores and fever blisters
Affordable and easily available
Cons
Contains menthol and eucalyptus extract, which can irritate very sensitive lips
Review
You need to keep one of this on your nightstand and one in your bag at all times because it is, hands down, one of the best lip balms out there for dry and dehydrated lips. The butters in this formula soak into the skin on your lips and leave your pout feeling soft and supple after just a few uses. If you are big on using organic products, be it cosmetics or skin care, this medicated lip balm by Burt's Bees is made just for you.


Similar Products

Pros
Hydrates, softens, and de-flakes parched lips
Fragrance-free
Contains vitamin E and antioxidants
Visible difference after just three nights of usage
Affordable and easily available
Cons
Leaves a whitish cast behind
Review
Night time is perhaps the best time to pamper the hell out of your lips. This night treatment is icky to use and leaves a whitish cast behind. But once you wake up and wipe off the lip balm, your lips will look and feel wonderfully soft and supple. It also helps minimize the signs of aging and is extremely gentle on your lips. This lip balm is pure gold and does more than what most expensive brands only claim to do.


Similar Products

Pros
Gives immediate relief to dry, chapped lips
Fragrance-free
Shine-free formula
Provides SPF protection
Easily available and pocket-friendly
Cons
Not suitable for those who are allergic to petrolatum
Review
Blistex Daily Conditioning Treatment combines the goodness of vitamins, moisturizers, and protectants that will keep your lips looking and feeling healthy all year round. This formula is medicated and PABA-free and provides an SPF of 20. If you're looking for a savior for your lips in the harsh winters or summers, this is something you have to try! You can also use it at night and wake up to plump and hydrated lips.


Similar Products

Pros
Heals and repairs parched, peeling lips
Contains ingredients like shea butter and vitamin E
Does not cause irritation
Fragrance-free and paraben-free
Value for money
Cons
Needs to be reapplied every 3-4 hours
Review
Aquaphor is one of the most effective lip balms out there for flaking and parched lips. It provides immediate relief from dry lips, and with regular use, you can see a visible difference in your lips. Its formula has the perfect gel-like consistency that goes smoothly onto your lips without feeling heavy or tacky. This product is multipurpose and can also be used to treat dry skin, diaper rashes, and burns.


Similar Products

Pros
Extremely hydrating
Contains SPF 25
Natural finish
Long-wearing
Free of parabens, sulfates, and phthalates
Cons
The mint may not be suitable for very sensitive lips.
Review
The Jack Black Intense Therapy Lip Balm comes in many different formulations. You can choose between mint, grapefruit, blackberry, and shea butter depending on the condition of your lips. This lip balm is an elixir for cracked, bleeding lips because it is absorbed into the deepest layers of the skin on your lips and moisturizes them from within. It is perfect for both summers and winters.


Similar Products

Pros
Exfoliates lips thoroughly
Leaves your lips soft, plump, and supple
Non-sticky
Available in different flavors
Reasonably priced
Cons
Has a berry-like fragrance that does not dissipate after application
Review
Korean skin care products have won our hearts, and this overnight lip treatment is a must-try if you want to get rid of dryness and fine lines faster. Its formula is enriched with vitamin C, antioxidants, a blend of various berries, and hyaluronic acid. It is absorbed quickly into the skin on your lips, and you wake up to soft, plump, and healthy looking lips. It's free of parabens and phthalates, and the brand is cruelty-free.


Pros
Hydrates and moisturizes lips
Multipurpose stick
Is absorbed easily
Long-wearing
Affordable
Cons
Contains mineral oil and fragrance
Review
If you love the heavenly smell of cocoa butter, this Palmer's lip balm not only smells delicious but also works exceptionally well for moisturizing dry skin, including your lips. Its cocoa butter and vitamin E formula keeps your lips hydrated and soft all day long. This is one of the best value lip balms because it comes in a big container and will last for a very long time.


Pros
Is easily absorbed into your lips
Heals dry and chapped lips quickly
Easy to use
Non-greasy
Cons
Lousy packaging as the mouth of its tube is not designed for direct application
Review
The Kiehl's #1 lip balm is a cult-classic. It is formulated with soothing emollients like lanolin, sweet almond oil, wheat germ oil, and vitamins A and E. It quickly gets absorbed into your lips, making them smoother, softer, and hydrated. You can use it before applying your lipstick to prep your lips. This one's a must-try for everyone looking for an unscented, colorless lip balm to treat chapped lips.


Pros
Multipurpose skin salve
Makes lips soft and supple
Heals mild burns and cuts
Fragrance-free (original)
Cons
Review
This skin salve from Glossier comes in the prettiest tube packaging in four different flavors – the original, cherry, coconut, and rose. It is a paraben-free and hypoallergenic formula that can be used on your lips, cuticles, elbows, and basically anywhere that needs some love. It won't leave you with a heavy, greasy feeling. Instead, it is absorbed quickly, leaving your skin feeling thoroughly moisturized and nourished.


Pros
Smells sweet
Effectively heals dry, chapped, and irritated lips
Multipurpose balm
Ideal for sensitive lips
Cons
Tin packaging makes it hard to open, and the product may melt if left inside a purse on a hot day.
Review
This cult classic lip balm is easy to use and exceptionally versatile. It calms and heals irritation and dry and parched skin, and soothes minor burns. You can use this as a night treatment for your lips and also apply it to your elbows and knees to condition and relieve them from dryness. You'll find this on the celebrity 'What's In Your Purse?' feature in fashion magazines because it's so effective and popular.


Pros
Contains natural hydrating ingredients
Free of parabens, fragrance, petroleum, phthalates, and colorants
Not heavy or greasy
A little goes a long way
Cons
Review
First Aid Beauty's Ultra Repair Lip Therapy balm is enriched with the goodness of shea butter, jojoba oil, and grapeseed oil. It brings even the driest of lips back to life and heals minor burns and cuts. This works especially well as an overnight treatment owing to its thick consistency. You will wake up to soft, conditioned, healthy-looking lips.


Pros
Thick and moisturizing texture
Can be worn under lipstick
Mild, fruity scent
Available in different flavors
Cons
Does a very basic job at moisturizing and nourishing lips (not ideal for extremely chapped lips)
Review
This EOS lip balm gained popularity due to its cute egg-shaped packaging. This formula has a semi-thick consistency, so it won't leave your lips looking too shiny or glossy. If you like sweet-smelling balms, you will love these as they all smell incredibly good. It is good for basic lip care, but if you have severe dryness, this won't substantially help your condition.


Pros
Provides an instant moisture boost to your lips
Comes with SPF 15
Can be worn under lipstick
Reduces the appearance of fine lines
Cons
Review
If you like to keep it real, pick this lip balm from Fresh cosmetics that is enriched with wholesome ingredients like sugar, carnauba wax, jojoba seed oil, and sunflower oil. Its formula not only hydrates your lips but also promotes skin cell growth and recovery. It is made of simple ingredients that won't irritate your sensitive lips. The price factor is the only concern, but it is definitely worth trying if you want to stick to a naturally formulated lip care product.


Pros
Nourishes and moisturizes lips effectively
Comes with SPF 20
Lightweight and is absorbed easily
Affordable and easily available
Cons
Needs to be reapplied every few hours
Review
Maybelline Baby Lips balm comes in a cute, twist-up packaging. This one has a white bullet and applies as a clear balm on the lips with a mild citrusy fragrance. If your lips are dry and dehydrated, this lip balm does a great job at reviving the moisture in your lips and making them soft and supple. However, if you have insanely dry, flaky lips, you will need something more effective, like a medicated product.


Pros
Hydrates and locks in moisture
Softens lips
Affordable and easily available
Good packaging
Cons
Review
Love the smell of caramelized vanilla? Then, this one will smell delicious to you. The Vaseline Creme Brulee Lip Therapy makes for a wonderful overnight lip treatment, owing to its thick texture. You'll wake up to incredibly soft and smooth lips in the morning. It hydrates even the driest of lips and also soothes minor cuts. It is best to leave this lip balm at home because it tends to melt on a hot day.


[ Read – How To Use Vaseline Lip Therapy Creme Brulee ]
Pros
Contains aloe vera and shea butter
Keeps lips moisturized throughout the day
Hydrates well
Provides broad spectrum SPF 15
Cons
Needs to be reapplied every few hours
Review
This is one of the best chapsticks to wear outdoors. It isn't greasy or waxy. Instead, it's creamy and gets absorbed into your lips easily, leaving them smooth and hydrated. If you are looking for an affordable chapstick that's perfect for sunny days, this one by Nivea is a sure-fire winner!


Pros
Organic and vegan
Hydrates and moisturizes lips
Suitable for kids
Cons
Review
These lip balms from Sky Organics come in assorted flavors like strawberry, citrus, coconut, cherry, vanilla, and mint. The brand sources its ingredients like coconut oil, beeswax, vitamin E, sunflower oil, rosemary extract, and calendula from organic, artisanal farmers around the world. Do give this a shot if you want to try an organic lip care product!


Pros
Comes in gorgeous colors
Smells wonderful
Extremely moisturizing
Long-lasting
Cons
Tub packaging is unsanitary.
Review
This Greek tinted lip butter is a holy grail balm for heavily chapped lips. Its rich, buttery texture leaves the lips deeply nourished and moisturized. It is free of parabens, phthalates, and synthetics – and for a daily wear product like lip balm, it's best to avoid such ingredients. This lip butter comes in several flavors and shades.


Pros
Packed with anti-aging antioxidants
Lightweight yet moisturizing
Long-wearing
A little goes a long way
Cons
Review
This lip mask is meant to be used as a nightly recovery lip treatment to soothe your lips and replenish moisture. Not only is the brand cruelty-free, but this lip mask is also formulated without parabens, sulfates, and phthalates. It is also free of gluten and petrochemicals. This stuff is a lifesaver for winters when your lips need some extra protection and hydration.


Pros
Makes lips smoother and healthier
Affordable and easily available
Lips feel hydrated
Free of sulfates and parabens
Cons
Review
Chapstick Total Hydration 3 in 1 Lip Care is a great option if you have sensitive lips. Its long-lasting, creamy formula heals dryness and replenishes moisture effectively. If you are looking for a reliable, inexpensive lip care product, this one by Chapstick definitely needs a spot in your purse and your dresser.


Now that you're acquainted with the best lip balms for chapped lips, here are a bunch of tips that will come in handy to prevent dry lips and heal them faster.
[ Also Try: Sebamed Lip Defense SPF 30 For Dry And Chapped Lips ]
Tips: What Else Can I Do To Prevent And Treat Chapped Lips?
Watch Out For The Ingredients In Your Lip Balm
It is a good idea to choose a lip balm that is paraben-free and contains ingredients like ceramides, beeswax, lanolin, SPF, and humectants like glycerin. If you have sensitive lips, avoid ingredients like artificial colors, fragrances, menthol, and camphor.
Staying hydrated is key for soft, supple skin and lips so make sure you drink at least eight glasses of water a day. It is also essential to maintain a healthy diet. Omega-3 fatty acids are amazing when it comes to keeping your skin hydrated.
Use Sugar To Exfoliate Dry, Peeling Lips
Sugar is a natural humectant, and a DIY exfoliating scrub made of sugar and honey is a great option to get rid of dead skin cells on your lips. Exfoliation also helps you reap all the benefits of your lip balm more intensely as the formula is absorbed into your lips with ease.
Apply Your Lip Balm Outside Of Your Lip Line As Well
The peripheral area around your lips tends to dry out more easily. So, dab your lip balm outside the natural line of your lips as well. You can do this every night and notice how your lips heal.
Don't Pick At Your Lips If They Are Flaky
If you have dry lips, you need to stop licking them and picking at them. This will make them more dehydrated and can lead to bleeding and cold sores.
You can also use oils like extra virgin olive oil or coconut oil to create a lip mask for your pout when it is in need of some extra hydration. It is best to avoid matte lipsticks when you are trying to banish the dryness. Stick to a tinted lip balm instead. That was our roundup of the top 20 lips balms for dry lips. Which one is your favorite? Let us know in the comments section below.
Recommended Articles