7 Best Lip Concealers Of 2023 for A Flawless Lip Look!
Get your perfect pout on point and enhance the color of your lipsticks and glosses.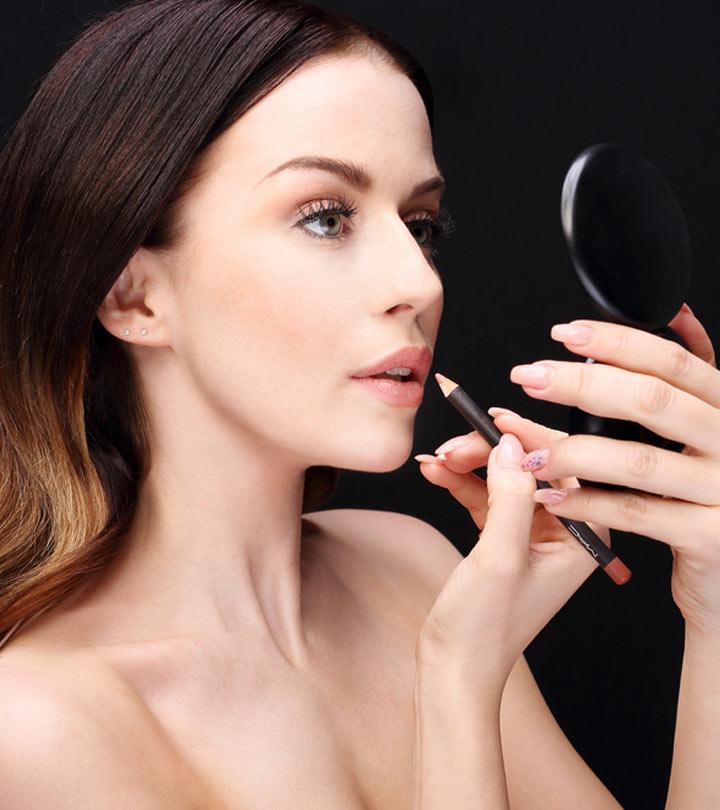 You may pamper your lips throughout the day with good lip balms. But have you tried the best lip concealers? These not only cover discoloration and spots but also make your lips look naturally plump. Wear the best lip concealers under your lipstick or lip balm to get the perfect pout each time. They also make your lip colors pop and last longer.
A pair of well-done lips hold your entire makeup together. A good-quality lip concealer smooths your lips to enhance them for the best makeup looks. So, if you are looking to invest in some good lip concealers for yourself, check out our list of favorites right here.
We have listed the 7 top-rated lip concealers for your use. These have been tried and tested by consumers all over the globe. Read on and check them out now.
Top 7 Best Lip Concealers That'll Make Your Pout Stand Out! (With Reviews)
Top Picks
Pros
Delivers a flawless and seamless finish
Silky-smooth and long-lasting formula
Hypoallergenic and non-comedogenic
Dermatologist-tested, fragrance-free, and cruelty-free
Cons
Price at the time of publication: $6.97
Are you dealing with bleeding lipsticks or lip colors? If yes, then you must try this creamy concealer by Nyx Professional Makeup. Outline your lips and watch the concealer prevent your lipstick from bleeding and fading efficiently. Making your pout look prominent, plumper, and healthier, this cruelty-free lip concealer is easy-to-use and a great option to hide blemishes and dark spots on the skin too. Don't skip it! This video will help you understand the product better.
Pros
Glides on smoothly on the lip line
Brightens and conceals the dark spots
Enhances the lip area effortlessly
Suitable to use on waterline, acne spots, and scars too
Cons
It may flake on dry lips.
The concealer might not last all day long.
Price at the time of publication: $9.99
No less than a magic stick for your lips! This one, other than concealing, brightening, and enhancing your lip area, goes on smoothly and ensures quick application too. Plus, what really makes this concealer different from others is its special formula. With shea butter, beeswax, vitamin A, E, and C, this lip concealer will protect, heal, and moisturize your lips while you flaunt that tantalizing lip color all day long. This also means you don't have to deal with dry or chapped lips by EOD! More like a pampering shield than a concealer for your lips and other skin woes, don't miss out on this ultra-benefiting stick this season.
Pros
Delivers a mattified finish
Provides full coverage
Hides blemishes, flaws, redness, and dark spots
Hydrates and prevents photo-damage
Soft, smooth, and silky formula
Long-lasting, smudge-free, and suitable for all skin types
It does not contain talc or
Cons
Too soft and fragile
It may take longer to blend.
Price at the time of publication: $14.75
Whether you are a fan of Korean skincare products or not, you have to agree that Asians know how to give their lips a kissable glow! Don't believe us? Try Etude House Lip Perfume this season to make your bright lipstick pop like a dream. This ultra-creamy concealer claims to brighten and even out skin discoloration and can also be used as a lip liner to make your pout look prominent and plumper. Just the corrector you need to give your lips a natural and flawless finish, give this cute concealer stick a glide.
Pros
Silky smooth texture
Glides on smoothly
Delivers a dewy matte finish
Conceals blemishes, redness, and dark spots
Ideal to tone harsh or bright lip colors
Cons
It may have a drying effect.
Price at the time of publication: $8.0
Ladies, let's cancel out the lip redness! Here's a milky-pink lip eraser by CANMAKE that'll make you fall in love with your gorgeous lips all over again. Wear it as a base, mix it with the gloss or dare to flaunt it alone, for its moisturizing and silky formula guarantees nothing but a kissable glow. Easy-to-apply as it glides over smoothly; watch your pigmented lips look healthier, fuller, and pout-worthy with every use! A great option for those who dislike the natural beige color, give this lip concealer a go.
Pros
Eliminates feathered lip look
Prevents chapping and drying
Enhances lip color and long-lasting
Ultra-moisturizing and conditioning formula
Cons
It may not be easy to blend.
Price at the time of publication: $7.44
The QIC Perfect Concealer Stick has a thin consistency to cover fine lines and discoloration on your lips effectively. Its oil-free formula offers extensive coverage with a natural finish. It gently glides on your lips without any tugging or pulling for an even application. You can also use it to conceal dark circles, eye bags, spots, and pores.
Pros
 Easy to apply
 Long-lasting
 Medium to full coverage
 Waterproof
Cons
Price at the time of publication: $4.99
Lastly, this lip concealer that packs a "pretty and pamper" combo for your pucker! Considering Innisfree is known for its all-natural and skin-friendly ingredients, this lip concealer is no different. Formulated with shea butter and camellia oil, it leaves your lips looking smoother, moisturized, and ideal for nude shade lip colors to shine on. Do you have sensitive lips? With this lip concealer as the base, you can explore countless lip colors and lipsticks without worrying about drying or chapping! Don't miss it.
Pros
Enhances the lip line
Conceals dark spots and redness
Easy-to-apply and goes on smoothly
Ideal to use alone or with lipstick
Cons
It may be slightly greasy.
Price at the time of publication: $10.46
Stunning lips are now a concealer away! There you go, those were the 7 best lip concealers of 2023 for you. Do you still need assistance with buying the best one? Check out our buying guide below.
Buying Guide – How To Choose The Best Concealer?
Here are some basic things to remember before picking the right lip concealer:
Skin Tone: Pick a lip concealer that matches your skin tone to avoid patchiness or uneven texture. However, if you want to use it as a lip liner to enhance the shape of your lips, then choose a lip concealer that is one shade lighter than your natural skin color.
Skin Type: Your lips are one of the most sensitive areas on the face, so naturally, you must choose a lip concealer that suits the skin type to prevent allergic reactions or irritation. Plus, if you have sensitive skin, opt for a dermatologist-tested or hypoallergenic lip concealer only.
Ingredients: As mentioned earlier, your lip area is ultra-sensitive, so you must check the ingredients before applying a lip concealer. Also, it is advisable to choose a lip concealer with natural, moisturizing, or conditioning ingredients, so your lips get the best of both pamper and glow in one go.
Blending power: If your lip concealer doesn't go on smoothly, it will pull, thus leading to irritation or chapping later. So choose a formula that is quick and easy-to-blend and will go on smoothly for the best results.
Just what your pout needs to pop and shine this 2023! Go, grab the best and most-suited concealer for your lips and get ready to explore a new lip color every day. Why settle for bleeding lipsticks or sheer coverage, when these lip concealers will bring out the "true" color efficiently. Now, what are you waiting for? Get ready to put on your best pout with the best lip concealer of 2023!
Why Trust Stylecraze
Chaitra Krishnan is a big time makeup enthusiast who advocates the importance of using lip concealers for a flawless lip look. She loves using lip concealers because they not only cover discoloration and dark spots but also make your lips look naturally plump. In this article, she suggests some of her top picks and the rest of the products have been carefully chosen by her to help her readers make the best pick.
Can I use a concealer on the lips?
Yes, you can use a concealer or rather a lip concealer on the lips to cancel out the excess redness, conceal the dark spots or blemishes, and even out skin discoloration too.
How can I cover my dark lips?
One of the best ways to cover up dark lips would be to use a lip concealer of the same shade as your skin tone. It will conceal the dark areas and make your lips look brighter and smoother at the same time.
Why do people put concealers on their lips?
Mostly, people either use it to hide the dark spots, balance the uneven skin tone or as a base to make the lip color or gloss appear brighter and "true" to its color.
Can I use a concealer as a lip primer?
Yes, you can use a concealer as a lip primer. Just make sure it suits your skin tone and skin type. Dab it lightly on the lips, blend gently, and then continue to apply the lip color of your choice.
Do you put concealer on your lips before lipstick?
Yes, apply a concealer on your lips before wearing a lipstick. It refines the lips and prevents it from wearing off.
What are the benefits of lip concealer?
Lip concealers fill the cracks in your lips and provide a smooth base for effortless lipstick application. They also blur the uneven spots on your lips.
Which color concealer is suitable for people with blue skin tones?
Use an orange color concealer if you have blue undertones. Orange is the opposite color of blue in the color wheel; so it effectively hides the dark spots and uneven marks on the skin.
Recommended Articles
Best Concealers For Every Skin Concern – Reviews And Buying Guide
Best Full-Coverage Concealers For A Flawless Look!
Best Lightweight Concealers You Need To Try Right Now
Best Long-Lasting Concealers
Best Concealers For Oily Skin You Need Right Now