20 Best Lip Gloss Brands – Our Top Picks In 2023
Add some shimmer and shine to your lips this season with the most dazzling formulations.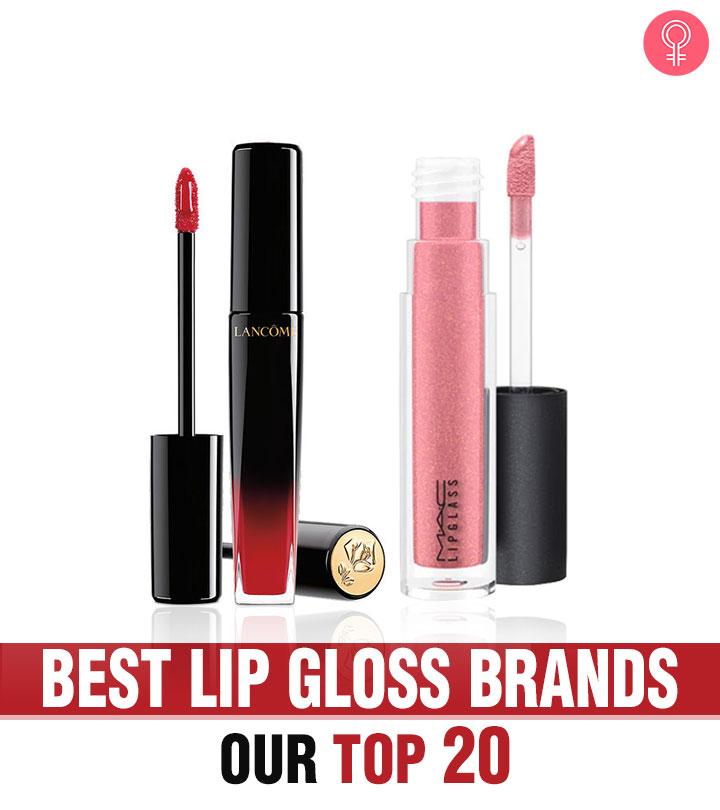 Lip gloss has made a comeback this season. Looks like this particular '90s trend is going to be here for a while. M.A.C, Fenty Beauty, Kylie Cosmetics, NARS, etc., are currently the best lip gloss brands on the market. They have improved the old, greasy, and waxy composition of the glosses. Lip glosses now are lightweight, non-sticky, and non-greasy. You can wear them to both your day and night events without feeling like you have done too much! Go ahead and check out our favorites to add them to your vanity.
20 Best Lip Gloss Brands
This French cosmetics and skin care company is famous for its fashion-forward color spectrum, luxurious textures, and sophisticated design. It was founded back in 1994 by the legendary makeup artist Francois Nars, and ever since its inception, it has become one of the beauty industry's most successful and talked-about brands. You can also check this YouTuber's detailed review to know more about the results after using this product.
Must Try: NARS Lip Gloss
Review
If you're looking for a lip gloss for a subtle, daily dose of glamor, you need to try this! The NARS lip gloss comes in 10 shades and two finishes – a high shine and a shimmer finish. Its formula is incredibly long-lasting and comfortable to wear. It is also enriched with moisturizing ingredients that will leave you with a luminous pout that's free of fine lines. Want to know what we love most? It is non-sticky and has a doe-fit applicator that helps you apply the product with killer precision.
Pros
Long-lasting
Comfortable wear
Easy application
Smooth texture
Non-sticky
Cons
None
Price at the time of publication: $16.22
We've got a special place for M.A.C in our heart. I mean, why wouldn't you love the brand that gave the world Ruby Woo? M.A.C was founded when a photographer and a makeup artist became extremely frustrated by how bad most makeup seemed to look in photos. And then, Madonna was photographed wearing 'Russian Red' during one of her tours – it was all success from then on. Today, the brand sells more lipstick than any other big brand out there.
Must Try: M.A.C Lipglass
Review
M.A.C Lipglass leaves your lips with a gorgeous glass-like finish. Its formula is intensely pigmented and long-lasting. You can use it to either achieve a soft, subtle color or a dramatic one – whatever you're in the mood for. It comes in 38 fabulous shades and is infused with jojoba oil to soften and moisturize your lips. If you're a newbie to lip gloss, M.A.C is something you absolutely need to try to understand how truly wonderful this little tool is.
Pros
Glass-like finish
Long-lasting
Even application
Cons
Price at the time of publication: $21.0
Rihanna's Fenty Beauty is her baby project, and it was created with the promise of 'inclusion of all women.' YES! Have you seen the shade range this brand offers? You'll never end up with the wrong shade of foundation, thanks to Fenty Beauty. The brand was launched back in 2017, and it was named one of Time magazine's best inventions of the year. Did we mention that the brand is 100% cruelty-free? For a thorough review of the product, have a look at this YouTuber's video.
Must Try: Fenty Beauty Glass Bomb
Review
The Glass Bomb is the only rose nude shade of lip gloss you'll ever need! It delivers perfect shine and color that looks stunning on everyone. This handpicked shade by Rihanna also conditions your lips with ingredients like shea butter. It is a non-sticky formula with a peach-vanilla scent that leaves you wanting more. You can apply this at the center of your lips over lipstick for instantly fuller-looking, voluptuous lips.
Pros
Non-sticky
Pleasant smell
Paraben-free
Phthalate-free
Cruelty-free
Cons
Price at the time of publication: $21
Broadway is a beloved cosmetics brand that designs its beauty products for girls who like to invest smartly in their cosmetics. They provide you with high quality ingredients but at an affordable price. They have a wide range of categories in their beauty products – lip, nail, face, eye, and a decent range of accessories. Check out this YouTuber's review of the product if you require more details.
Must Try: Broadway Vita-lip Lip Gloss
Review
This trendsetting lip gloss comes in a set of 3 with the essence of mint, rosehip, and coconut. It adds shine to your lips with a glossy finish. The non-sticky formula keeps your lips healthy and hydrated. It glides smoothly on your lips, soothes cracked lips, reduces fine lines, gives a beautiful shine and makes you feel refreshed. Additionally, the lip gloss heals your lips and is easy to use and carry.
Pros
Non-sticky
Easy to apply
Travel-friendly
Value for money
Pleasant smell
Cons
Price at the time of publication: $3.99
NYX is a staple makeup brand whether you are a makeup enthusiast or a beginner. The 17-year-old brand is one of the most influential and highest ranked brands owing to its wide range of affordable and professional cosmetics. None of its products are tested on animals, and it is PETA-certified.
Must Try: NYX Butter Gloss
Review
The NYX Butter Gloss is available in a whopping range of 34 shades. The formula is buttery soft, and each color delivers a beautiful sheer to medium coverage. If you are looking for a low maintenance lip gloss with a bunch of moisturizing lip balm-like properties – you will love these. They are also very impressive when it comes to their staying power. Their confectionary scent will leave you craving for something sweet. We highly recommend giving these a shot!
Pros
Creamy consistency
Suitable for all skin tones
Versatile colors
Non-sticky
Featherproof
Cruelty-free
Cons
Price at the time of publication: $4.75
A relative newcomer on the beauty block is Kylie Cosmetics by reality TV star and the reigning queen of controversy and Snapchat – Kylie Jenner. The brand gained immense popularity after the release of its Kylie Lip Kit, and it has now made a special place for itself in the beauty world.
Did you know that Best Long-Wear:Kylie Cosmetics is entirely cruelty-free and all shades of the Kylie Lip Kit are vegan?
Must Try: Kylie Jenner Gloss
Review
This lip gloss goes on very smoothly, and its formula never feels goopy or sticky. Yes, it's worth all the hype! It works well even on dry lips as the formulation is exceptionally hydrating owing to the presence of vitamin E. The staying power is quite brilliant, and it is also very pigmented, leaving you with an even application. Although it is a tad bit pricey for a lip gloss, it is definitely worth a try.
Pros
Hydrating
Non-sticky
Comfortable wear
Cruelty-free
Cons
Price at the time of publication: $21.92
Buxom Cosmetics is Bare Escentuals' color line ranging from lip products to eyeshadows. This brand celebrates bold, badass statement makers and makeup risk takers, and so does its makeup. If you're one to play and experiment with makeup, this brand is meant for you.
Must Try: Buxom Holographic Full-On Plumping Lip Polish Top Coats
Review
This hypnotic lip gloss from Buxom is for all you bold and edgy women out there who love anything that's a little extra! This formula gives you a holographic high-shine and also moisturizes your lips, as it is enriched with the goodness of vitamins A and E, leaving you with plump and luscious lips. It is available in eight shades and three finishes – sparkle, prism, and opalescent – to match every skin tone.
Pros
High shine
Lasting moisture
Cooling sensation
Pleasant fragrance
Cons
Might trigger allergies
Hard applicator
Price at the time of publication: $23
This luxury brand is, undoubtedly, one of the most powerful brands in the world of couture, makeup, and fragrances. It all goes back to 1954 and the timeless lipstick that launched the Dior makeup line.
Must Try: Dior Addict Ultra-Gloss
Review
The Dior Addict Ultra-Gloss is a must-try if you love a gloss that's lightweight, non-sticky, and feels divine on your lips. It is quite expensive for a lip gloss, but if you're in the mood to indulge, we won't stop you. It's not just the formula that's brilliant, but it's also the beautiful packaging. It comes in 18 shades and three finishes – sparkling, iridescent, and sheer.
Pros
Lightweight
Non-sticky
Mirror shine finish
Easy application
Dermatologist-tested
Sustainable package
Cons
Price at the time of publication: $46.88
Glossier is a beauty brand that's inspired by real life. It is all about minimalist, chic beauty, and we see why the brand has appealed to millennials like no other. It has products ranging from skin care to makeup. It is 100% cruelty-free and also has a range of vegan products.
Must Try: Glossier Clear Lip Gloss
Review
This clear lip gloss from Glossier stands out owing to its amazing texture and staying power. A clear lip gloss deserves a spot in your beauty bag for the days you feel like keeping it simple. You can also use this over your lip color for added shine. The formula is enriched with vitamin E that keeps your lips nourished and hydrated. It is delightfully lightweight and will stay on for hours.
Pros
Long-lasting
Lightweight
Non-sticky
Complements all lipsticks
Dermatologist-approved
Vegan
Alcohol-free
Cons
Price at the time of publication: $25.43
American makeup artist and one of the most popular beauty bloggers, Huda Kattan founded this brand. Huda has achieved significant popularity on Instagram – with more than 25 million followers as of 2018. Her beauty label achieved success with its false eyelashes, which were worn by reality TV star Kim Kardashian! She was also declared as one of the '10 Most Powerful Influencers in the World of Beauty' by Forbes.
Huda Beauty Lip Strobe
Review
This is the only collection of metallic lip glosses you need! It has sheer to full coverage glosses that are designed to be worn either alone or layered with your favorite lip color. It is available in a bunch of 12 metallic shades, each of which is packed with rich pigments and subtle glitter. The formula is non-sticky and has a beautiful texture that makes it super comfortable to wear. It is also free of parabens and sulfates.
Pros
Full coverage
Comfortable wear
Non-sticky
Glittery
Paraben-free
Sulfate-free
Cons
None
Price at the time of publication: $16.5
Lancôme is a renowned luxury brand that offers not only makeup but also innovative skin care products and fragrances. The brand, founded back in 1935, represents the quintessence of French beauty – something about effortless chic that every woman in the world wishes to master.
Must Try: Lancôme L'Absolu Lacquer Gloss
Review
This is a hybrid lip product that can be worn as a lip gloss, lip stain, and lipstick. It is formulated with the goodness of glycerin, so your lips stay hydrated and supple all through the day. Its staying power is impressive, and we also love the high-shine effect it creates on your lips. If you want to keep it simple, this lip gloss from Lancôme will help you keep it natural. It is available in a range of 30 shades.
Pros
Buildable formula
Comfortable wear
Lightweight
Full coverage
Non-sticky
Hydrating formula
Cons
None
Price at the time of publication: $33.32
Marc Jacobs Beauty takes delight in the luxury of long-wearing color and innovative textures and inspires you to push boundaries to create your own personal style. The brand offers luxury skincare, cosmetics, and fragrances that define your individuality and personality.
Must Try: Marc Jacobs Enamored Hi-Shine Lip Lacquer
Review
This mint-scented lip lacquer from Marc Jacobs Beauty comes in 30 stunning shades that range from pinks to shimmering lavenders. The formula is incredibly pigmented and hydrating with its blend of high-performance ingredients. Its packaging is classy and feels good to hold. If you want a reflective formula that is comfortable to wear and non-sticky, you will love this!
Pros
Cushiony texture
Non-sticky
Long-lasting
Cons
Price at the time of publication: $46.99
Anastasia Soare launched her beauty company's first product line back in 2000. She was the first to introduce the world to brow shaping and brow products. All her products are inspired by makeup's unique ability to create the illusion of facial symmetry, balance, and proportion. Today, the company has massively expanded beyond the brow category into all areas of makeup.
Must Try: Anastasia Beverly Hills Lip Gloss
Review
The shade range of these lip glosses is awe-inspiring. There are over 58 shades for every skin tone. Its formula offers opaque high-shine color and a striking, non-sticky finish. We love its sponge-tip applicator that is so easy to use and gives you an expert finish in one swipe. This lip gloss is also great for those of you with dry lips as it is enriched with nourishing oils and an irresistible vanilla fragrance.
Pros
High-shine
Comfortable wear
Mirror-like finish
Precise application
Non-sticky
Full coverage
Cruelty-free
Cons
Price at the time of publication: $16
This 22-year-old American beauty company is a subsidiary of French cosmetics company L'Oreal. It is famous for its products that include lip, eye, and nail colors, as well as other face and body products. We bet you've owned at least one Naked palette in your life if you're a makeup enthusiast as it is the most famous eyeshadow palette from their collection.
Must Try: Urban Decay Naked Lip Gloss
Review
This lip gloss has an exceptional formula – it goes on smooth, doesn't become sticky at any point, and leaves your lips with a beautiful, long-lasting shine. It is meant for you if you like sheer lip glosses that only add a flush of color to your lips. It is available in 9 subtle shades. Yes, the price is on the higher side, but you get what you pay for – a quality product that won't disappoint you. This product is also 100% cruelty-free and vegan.
Pros
Long-lasting
Non-sticky
Adjusts to the pH level of the lips
Vegan
Cons
Price at the time of publication: $49.85
One of the most popular drugstore brands, Revlon was founded in 1932 in America during the Great Depression. Charles and Joseph Revlon, its founders, were inspired by the Hollywood actresses of their day to create a nail polish to match their scarlet lips, and that's how it began. Today, Revlon sells cosmetics, skin care, fragrances and personal care products.
Must Try: Revlon Super Lustrous Lip Gloss
Review
If you're on the hunt for a wallet-friendly lip gloss, nothing beats the Revlon Super Lustrous Lip Gloss. It boosts hydration and instantly plumps lips with moisture for a colorful, fabulous shine. It is available in 12 shades that range from pinks to corals. We love its consistency, which is soft and non-sticky that makes it glides on like a dream and gives your lips a mirror-like shine.
Pros
Lightweight
Non-sticky
Provides fuller lips
Hydrating
Affordable
Oversized applicator tip
Cons
None
Price at the time of publication: $7.83
Besides being one of the most popular brands of women's lingerie, Victoria's Secret also sells fragrances and beauty products. It was founded in 1977 and is now America's largest retailer of women's lingerie.
Must Try: Victoria's Secret Beauty Rush Lip Gloss
Review
This lip gloss leaves you with a sheer color and shine and also smells delicious. It is available in 24 shades. Its formula is moisturizing and stays on for hours together without much trouble. However, it does have a slightly thick consistency, making it quite sticky to use on the entire lip. This works best when you want to add some gloss to the center of your lips.
Pros
Moisturizing formula
Long-lasting
Pleasant fragrance
Cons
Price at the time of publication: $14.49
Started back in 2000, Tarte combines glamorous makeup with ingredients that are good for you. It offers eco-chic, cruelty-free, vegan, and hypoallergenic cosmetics and skin care products. Its mission is to give back to the environment. Impressive?
Must Try: Tarteist Lip Paint
Review
This lip gloss has beautiful shiny glitter on a base of clear gel that makes your lips attractive. It has hyaluronic acid to hydrate and keep your lips soft, supple, and plump. This lip gloss is vegan, cruelty-free, and gluten-free. It is available in three different attractive shades and is highly pigmented. This juicy gloss is suitable to be used on all skin tones, making it an absolute favorite!
Pros
Hypoallergenic
Suitable for all skin tones
Comfortable wear
Long-lasting
Vegan
Eco-friendly
Gluten-free
Cons
Price at the time of publication: $29.41
One of the world's most beloved drugstore brands, Maybelline was founded in 1915. It is famous for the quality of its products and has changed the face of the beauty industry ever since its inception. Mascara wasn't even a thing before the founder of Maybelline coined the term and introduced it as a part of the brand's collection. Wow!
Must Try: Maybelline Color Sensational Vivid Hot Lacquer Lip Gloss
Review
Whether you want a luminous nude, a punchy red or a pop of purple, this lip gloss range from Maybelline has got you covered. Its formula is exceptionally comfortable to wear and non-sticky, with a sheen that looks gorgeous even from a distance. It is available in 12 super-saturated shades, including shades like purple and blue.
Pros
Comfortable wear
Non-sticky
Full coverage
Smooth application
Affordable
Cons
Takes time to dry
Unpleasant smell
Price at the time of publication: $4.97
Every woman needs a bit of Chanel in her life. It is one of the most sought-after high-fashion brands ever since its inception in 1909. Its beauty line is equally chic and timeless as the fashion, and it makes luxury accessible to everyone.
Must Try: Chanel Rouge Coco Gloss Moisturizing Glossimer
Review
This luxurious lip gloss formula is enriched with peptides, coconut oil, and vitamin E, along with its exclusive Hydraboost Complex. If you like an ultra-light formula that's non-sticky and leaves your lips feeling visibly plump and smooth, this is the way to go. It is available in 24 shades with a dual-sided applicator that helps you achieve even and optimal coverage.
Pros
Lightweight
Non-sticky
Suitable for daily wear
Precise application
Even coverage
Cons
None
Price at the time of publication: $49
Covergirl was founded in 1989, and it offers a wide array of beauty products at wallet-friendly prices. It is popular for its fashion-forward and award-winning products that have won all our hearts.
Must Try: Covergirl Colorlicious Lip Gloss
Review
This is one of the most affordable and best lip gloss brands out there. It is non-drying and moisturizing and has a semi-shiny finish. The shade Berrylicious is excellent for daily wear (if you're into that) as it's subtle and extremely versatile. Its staying power isn't all that great, but when you pair it with a lip liner, there's really nothing like it for a $5 product. It is also available in 13 shades.
Pros
Affordable
Sheer tint
Non-drying
Cruelty-free
Cons
Price at the time of publication: $6.99
Finding a suitable gloss that can complement your look can be tricky. Some glosses can work wonders for your look, while others may look sticky and mess up the lip shade you want to create. So, here is a buying guide to help you select the best lip gloss brand.
How To Choose The Best Lip Gloss Brand
Consider the variety of shades that a lip gloss brand offers. Not all shades will complement your skin tone. So, you should consider a brand that provides many shades in pink, nude, red, and berry categories so you can pick one per your preference.
Opt for a brand that offers additional skincare benefits in their lip glosses. For example, choose a brand with lip glosses made with hydrating ingredients like vitamins A and E, carrier oils, etc. Additionally, you should avoid brands that include harmful chemicals like alcohol, glycol, paraben, sulfates, phthalates, and synthetic dyes in their formulation. Always go for lead-free and cruelty-free formulated brands.
Along with various shades, a lip gloss brand should also offer lip glosses with different finishes. Liquid lip glosses come in a thicker texture and provide a shiny look. If you choose creamy lip glosses, these are very soft and smooth and offer a light color finish. Sheer glosses are comparatively light and almost look like skin. Tinted lip glosses are also light but have a hint of color. Finally, if you go with glitter lip glosses, they offer you a shimmery look on the lips. Opt for a transfer-proof formula for long-lasting wear.
Your lips need sun protection too, so go with lip gloss brands that offer SPF 15 or more in their products. It will protect you against ultraviolet rays and prevent pigmentation on your lips.
Some lip gloss brands can cause redness, bumps, and rashes over the sensitive skin on the lips. Therefore, go for lip gloss brands that aren't too intense or harsh. Choose lip glosses that have a soft formula and aren't overly scented. You can also test the product in a small area to avoid any skin irritation.
[ Also Try – Too Faced Lip Injection Extreme ]
A simple stained lip with a splash of lip gloss is unbeatable. It is classy, chic, and so feminine. It's time you pick your favorites from our roundup of the top lip gloss brands and stash them in your purse, ladies! And if we missed any of the best lip gloss brands, let us know in the comments section below.
Why Trust StyleCraze?
Esha Saxena, the author, enjoys makeup and has the lowdown on the best lip gloss for your cosmetics collection. She believes that these lightweight, non-greasy lip products will dramatically improve the appearance of your lips. After surveying online reviews and user feedback, she has compiled this comprehensive and detailed list of the top products.
Frequently Asked Questions
What is the purpose of lip gloss?
Lip gloss gives your lips a moisturized and glossy look instantly.
Is lipgloss better than lip balm?
Lip balms are far more moisturizing than lip glosses. Lip glosses are chiefly for getting a glossy look, but some are formulated to be moisturizing to some extent.
Does lip gloss dry your lips?
No, most premium lip glosses have a moisturizing formula that will not make your lips dry.
How long does lip gloss last?
Lip gloss lasts on your lips for a few hours only and needs to be reapplied after every meal as it comes off easily.
Can I wear lip gloss every day?
You can wear them daily as they don't lead to cracked lips.
Can I apply lip gloss without lipstick?
Yes, you can apply them directly to your lips and get a nude glossy lip look.
Recommended Articles: