10 Best Lip Liners Available In India
Steal the show with dramatic lip makeup and attract loads of admiring glances.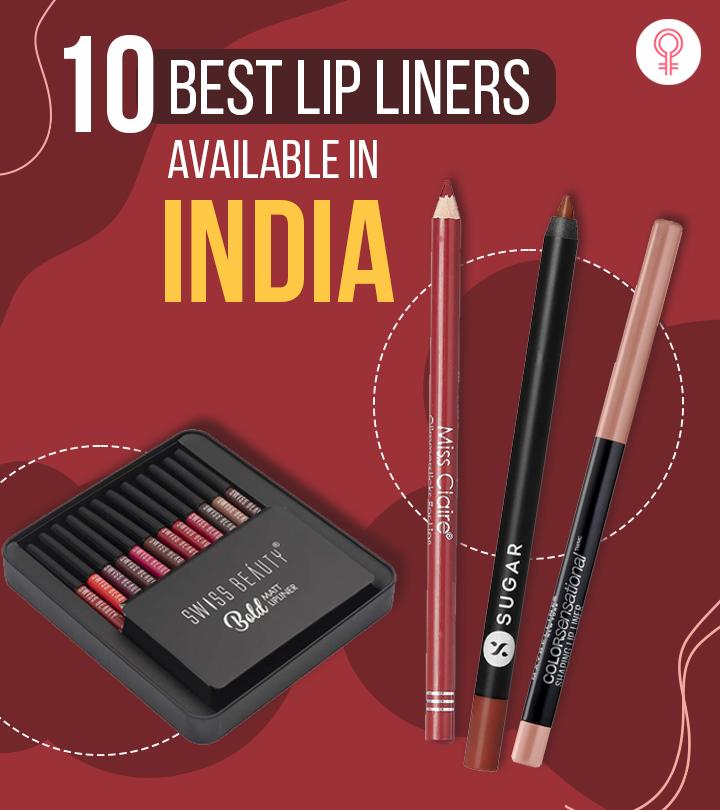 Lipsticks are essential to amp your makeup, but they often smudge easily. Fortunately, lip liners step in as saviors and keep your lipstick in place. They are applied to the outline of your lips to define them and make them appear fuller. They ensure the lipstick's longevity and enhance its color. They can also be used to hide imperfections and uneven skin tone. This article lists the 10 best lip liners in India to achieve that smudge-free lipstick application. Scroll down to pick your favorites!
10 Best Lip Liners Available In India
This lip liner from Maybelline instantly defines your lips and prevents smudging of your favorite lipstick. It helps you create fully accentuated lips. The creamy formula of the lip liner glides smoothly on your lips for a flawless finish. It is available in a variety of shades, ranging from nude and pink to red and mauve, to match your lipsticks.
Pros
Goes on smooth
Highly pigmented
Smudge-proof
Smear-proof
Cons
Price at the time of publication: ₹5.2
The Me Now Super Matte Lip Liner Pencil comes in 12 different shades to glam up your everyday look. These matte-textured lip liners are intensely pigmented and glide smoothly onto the lips. You can consider applying a lip balm before using the lip liner to prevent dryness and increase its longevity.
Pros
Waterproof
Smudge-free
Pack of 12
Long-lasting
Cons
Contains parabens
Sharpener not included
Price at the time of publication: ₹218
The Exaggerate Full Colour Lip Liner from Rimmel London is fine-tipped with a soft and creamy texture. It offers rich color and makes your lipstick last all day. This retractable lip liner adds definition and volume to the lips and brightens up your face. The slanting tip of the lip liner makes application convenient and easy.
Pros
Lightweight
Creamy formula
Smudge-proof
Goes on smooth
Highly pigmented
Cons
This lip liner pencil from ADS comes in 12 different shades to match every look and occasion. Its intensely pigmented formula offers a velvety, creamy finish and glides smoothly on the lips. The pigmented dual-use pencil blends effortlessly and can also be used as a lipstick.
Pros
Smooth application
Highly pigmented
Available in a range of colors
Includes a sharpener
Cons
Not long-lasting
Not smudge-proof
The GlamTools Bold Matt Lipliner is available in a wide range of shades to pep up your look. This pack contains 12 creamy-textured lip liners that can be used to define, line, and fill your lips. They glide smoothly on the lips and offer a long-lasting stay. The gentle formula suits all skin types and doesn't irritate the lips.
Pros
Hypoallergenic
Easy application
Long-lasting
Gentle
Highly pigmented
Cons
The Lakmé Perfect Definition Lip Liner is suitable for daily wear. It offers rich color payoff and is hypoallergenic and gentle on the lips. This soft lip liner suits all skin types and improves the longevity of your lipstick. It is available in four different shades and does not require frequent sharpening.
Pros
Smudge-free
Easy application
Hypoallergenic
Gentle
For all skin types
Highly pigmented
Non-transferable
Cons
Price at the time of publication: ₹260
The Wet n Wild Color Icon Lip Liner pencil has a rich and creamy formula that glides effortlessly onto the lips. It can also be used as a lipstick. The lip liner works wonderfully in preventing your lipstick from smudging.
Pros
Highly pigmented
Goes on smooth
Cruelty-free
Non-drying
Long-lasting
Cons
Price at the time of publication: ₹146
The Swiss Beauty Bold Matte Lipliner set includes 12 different shades, and its formula is gentle on the skin. Its creamy texture glides smoothly on the lips to define, line, and fill them. These classic wooden lip pencils can also be used as a lipstick base to make your lipstick last longer. The lightweight formula also moisturizes the lips.
Pros
Hypoallergenic
Lasting stay
Waterproof
Suits sensitive skin
Cons
Not very pigmented
No sharpener
Price at the time of publication: ₹549
The shimmery lip liners from Miss Claire have an intensely pigmented formula that blends well into the skin to offer rich color to the lips that lasts all day. It is available in 58 shades that can be used as both lip liners and lipsticks. The waterproof formula provides a satiny smooth finish and defines your lips without tugging at them.
Pros
Highly pigmented
Long-lasting
Waterproof
Smooth application
Cons
Price at the time of publication: ₹55
The Lipping On The Edge Lip Liner from Sugar Cosmetics has a smooth formula that offers a matte finish. It promises to deliver an intense color payoff that lasts for up to 10 hours without smudging. It is available in eight stunning colors and comes with a dual sharpener, an inbuilt cleaning stick, and a smart holder to keep the blades clean and prevent them from getting misplaced.
Pros
Transfer-proof
Smudge-proof
Water-resistant
Extended stay
Smooth application
Highly pigmented
Gel-based
Cons
Price at the time of publication: ₹448
Lip liners offer multiple benefits. Scroll down to the next section to know what they are.
Benefits Of Using A Lip Liner
Prevents Smudging: A lip liner prevents smudging while offering a defined shape to your lips.
Aids Better Application Of Lipstick: You can also use a lip liner underneath your lipstick to get an intense color payoff and extended stay without frequent reapplication.
Makes Your Lips Look Fuller: Applying a lip liner not only defines and shapes your lips but also makes them appear fuller.
Here are some factors to keep in mind before buying a lip liner.
How To Choose The Best Lip Liners
To get the most desirable outcome from your lip liner, make sure that it matches and blends well with the color of your lipstick.
Always ensure that the product you are buying is free of harsh chemicals like sulfates and parabens. These additives can cause dryness and irritation of the skin.
The best and most convenient way to get an idea about any product is by going through the user reviews. These reviews can be trusted to know more about a product's texture, finish, and longevity.
Invest in a trusted brand to avoid any quality-related issues. The better the brand, the better the quality of ingredients used.
That was our round-up of the best lip liners available in India. These products help define and enhance the beauty of your pout. If you are tired of retouching your lips during your office hours or parties, considering trying out a lip liner from the above list.
Frequently Asked Questions
Are lip liners suitable for all skin tones?
Yes, lip liners are available in various shades to complement different skin tones. Pick a warm color if you have a warm undertone and a cool-toned shade for a cool undertone. Choose peachy, rosy, and orangish shades for warm undertones. Opt for deeper red, purples, and blue tinted shades for cool undertones.
How long does lip liner last on the lips?
The longevity of lip liners varies depending on the brand and formulation and your activities for the day. When talking or eating, your lip liner can wear off. Generally, lip liners last for several hours on the lips if they are smudge-proof and long-wearing.
Can lip liners be used as a standalone lip color?
Yes, lip liners can be used alone to create a matte or satin lip color. Simply fill in your entire lips with the lip liner for a pigmented and defined look.
Can lip liners be used to correct uneven lip shapes?
Absolutely! Lip liners are perfect for re-shaping and defining the lips. Use a lip liner to correct asymmetrical or uneven lip shapes and create a more balanced appearance.
Are there lip liners available in waterproof formulas?
Yes, brands like Swiss Beauty, Me Now, and Miss Claire offer waterproof lip liners that don't smudge and fade, making them ideal for long-lasting wear, especially in humid or rainy conditions.
Can lip liners be used to create an ombre or gradient lip effect?
Yes, lip liners can be used to achieve an ombre or gradient lip effect. Pair different lip liner shades with lipstick colors to create a blended, gradient lip look. Blend the colors softly with a lip brush or fingertip for a seamless transition.
Recommended Articles