16 Best Lip Oils To Replenish Moisture – 2022
Rejuvenate and refresh your lips the right way with these non-sticky products.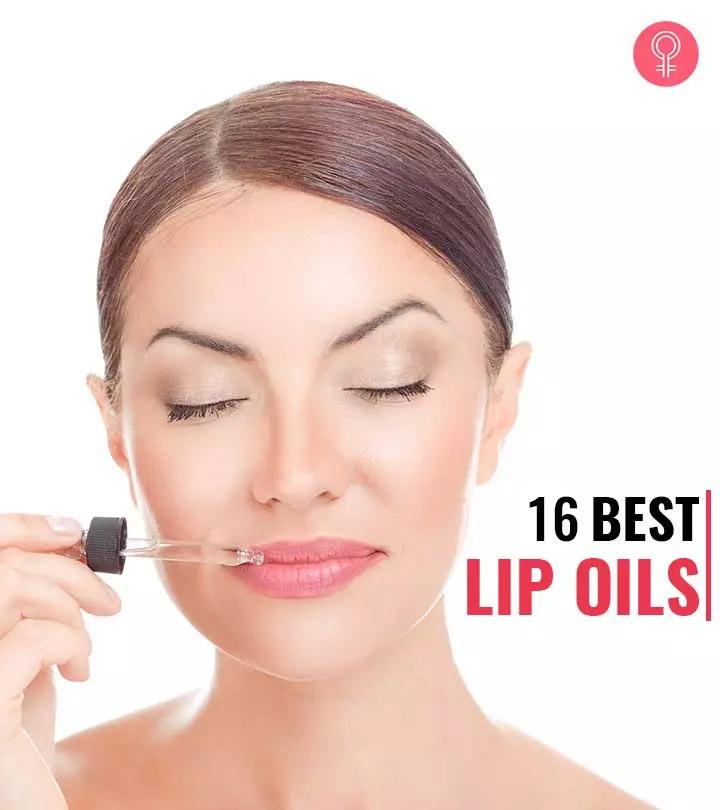 Lip oils are ideally formulated to treat your lips, nourish them, and soothe the delicate lips. Lips have a delicate and thin layer of the skin and are prone to aging and damage. The best lip oils help treat your lips and pamper them. These oils are enriched with vitamins, amino acids, and fatty acids that repair your lips. In addition, lip oils also help to rejuvenate your lips, replenish moisture, and make them soft and healthy.
Sometimes, the regular use of lip glosses, lipsticks, and other makeup products makes your lips chapped, dry, or cracked. And using lip balms isn't enough. They cannot restore your lips to their original health. That's when lip oils are essential to hydrate your lips and enjoy the pout. Furthermore, some lip oils work as glosses, tints, and lip plumpers, while some provide night treatment balms.
In this article, we have mentioned a sifted list of the ideal lip oils that nourish your lips. Read on.
What Exactly Are Lip Oils?
Lip oils help moisturize your lips, especially during the winter when your lips tend to get dry and chapped. They contain vitamin E that helps nourish your lips. The oil-based formula imparts a high-shine finish to your lips without being sticky.
Are lip oils any different from lip balms or lip glosses? Let's find out!
What Is The Difference Between Lip Oil, Lip Gloss, And Lip Balm?
Unlike the rest of your body, the lips do not have any sebaceous or oil glands. Lip balms contain wax that coats your lips and relieves dryness. Lip oils penetrate your lips and hydrate and heal them. They are long-lasting, while lip gloss and lip balms require reapplication every few hours.
Let's now take a look at the 16 best lip oils available online.
16 Best Lip Oils Available Right Now
The Yes To Coconut Cooling Lip Oil is long-lasting and helps condition your dry and cracked lips. The non-sticky formula contains virgin coconut oil, olive oil, shea butter, cocoa butter, and cooling eucalyptus oil that soften and moisturize your lips. This cruelty-free lip oil imparts a natural shine to your lips. It does not contain petroleum and parabens. Here is an informative video that tells you more about the product.
Pros
Long-lasting
Non-sticky
Petroleum-free
Cruelty-free
Paraben-free
Cons
None
Price at the time of publication: $6.95
The Elizabeth Arden Sheer Kiss Lip Oil is lightweight, long-lasting, and nourishes your lips. It is tinted and helps rejuvenate your lips without any greasiness. This lip oil contains coconut oil that hydrates and softens your lips. Avocado oil with antioxidant benefits and Tsubaki oil improve the overall texture of your lips. These ingredients support the lips natural collagen and make your lips plump.
Pros
Non-greasy
Lightweight
Long-Lasting
Cons
None
The ULTAbeauty Juice Infused Lip Oil helps nourish and soften your lips. It contains vitamin E and Alaria eculenta extract, which is rich in antioxidants. This lip oil conditions and soothes your lips, minimizing wrinkles. It is free of gluten and parabens.
Pros
Minimizes lip wrinkles
Gluten-free
Paraben-free
Cons
None
Price at the time of publication: $9.0
The Applecoco Lip Oil is non-sticky, lightweight, and hydrates your lips. It is formulated with soothing apple water and coconut oil that help remove dead skin from your lips. This lip oil also contains a botanical blend rich in vitamins A, C, and E that nourishes the lips. It is equipped with a doe-foot applicator that glides smoothly on your lips. This vegan product is cruelty-free and does not contain sulfates, parabens, phthalates, and gluten.
Pros
Non-sticky
Easy to apply
Vegan
Cruelty-free
Sulfate-free
Mineral oil-free
Gluten-free
Phthalate-free
Cons
Price at the time of publication: $12.0
The Almay Color & Care Lip Oil-In-Stick is lightweight and non-sticky. It smoothens, moisturizes, and nourishes your lips, making them healthy. This lip oil enhances your lip color with a subtle tint. It contains a blend of buckthorn berry, camellia seed, and evening primrose oils. It is suitable for sensitive lips and available in six skin-compatible shades. This hypoallergenic
product is cruelty-free and does not contain parabens, phthalates, and artificial fragrances.
Pros
Lightweight
Non-sticky
Paraben-free
Phthalate-free
Hypoallergenic
Dermatologist-tested
Cruelty-free
No artificial fragrances
Cons
Price at the time of publication: $6.48
Hanalei Lip Treatment harnesses the power of Hawaii's native botanicals such as kukui oil. This oil contains essential fatty acids and vitamins C, A, and E that relieve dryness and soothe chapped or cracked lips. It also contains moisturizing shea butter, agave, grapeseed oil, castor oil, and olive oil that rejuvenate, nourish, and repair your lips by providing intense hydration and antioxidant protection. This healing treatment leaves your lips soft and smooth. This cruelty-free product does not contain harmful chemicals such as parabens, sulfates, and phthalates.
Pros
Provides intense hydration
Soothes chapped lips
Paraben-free
Sulfate-free
Phthalate-free
Cruelty-free
Cons
Price at the time of publication: $15.0
Latorice Lip Extreme Volume Plumper has a natural formula that locks in moisture, leaving your lips hydrated. This natural lip enhancer makes your pout look fuller and healthier. Its effective moisturizing ingredients soften and soothe the lips. They protect them from chapping and cracking in harsh weather or environment. This formula lasts long and helps in reducing lip lines.
Pros
Plumps up the lips
Reduces lip wrinkles
Repairs dry lips
Natural ingredients
Long-lasting
Cons
Creates a tingling sensation initially
Price at the time of publication: $9.98
Ogee Sculpted Lip Oil is a balm, primer, and lip treatment rolled into one product. It is made with 100% organic coconut oil, jojoba oil, and vitamin E that soften and moisturize the lips. This blend of cold-pressed organic oils instantly hydrates and heals the lips with its essential fatty acids and antioxidants. The product's revolutionary delivery system ensures quick absorption which helps in prepping and priming the lips for other products such as lipstick or lip gloss. The buttery emollients also protect your lips from drying and chapping. The peppermint oil in this formula is refreshing, and it improves blood circulation which leads to an appearance of fuller and plumper lips. This product is clean and free of harmful chemicals. It is a lightweight oil that does not clog pores.
Pros
Hydrates the lips
Works as a primer
Protects the lips
Certified organic
Cruelty-free
Gluten-free
Non-comedogenic
GMO-free
Lightweight
Paraben-free
No synthetic fragrances
Phthalate-free
No artificial dyes
Does not contain petrochemicals
Cons
The product starts bleeding after some time
Price at the time of publication: $28.0
When it comes to lip care, Burt's Bees Tinted Lip Oil is one of the best. Its click-and-twist pen has a soft brush applicator that makes it handy and easy to apply. Its non-sticky formula is hydrating and nourishing. It is made with 100% natural ingredients like coconut oil and meadowfoam seed oil that strengthen the delicate skin on the lips, leaving it soft and smooth. They also reduce fine lines. It provides a glossy finish and sheer tint to give your lips a fresh and dewy appearance. Its lightweight texture spreads easily and evenly. This lip oil is available in 6 shades that provide sheer coverage. This product is safe to use as it is free from parabens, phthalates, petrolatum, and SLS.
Pros
Non-sticky
Glossy finish
Reduces fine lines
Strengthens the delicate skin on the lips
Available in multiple shades
Natural ingredients
Sheer coverage
100% recyclable packaging
Paraben-free
SLS-free
Subtle tint
Petrolatum-free
Phthalate-free
Travel-friendly
Cons
Difficult to dispense the product
Price at the time of publication: $7.99
Nooni Applemint Hydrating Lip Oil is a Korean formula that soothes and moisturizes dry lips. Its silky and non-sticky formula nourishes the thin, delicate skin on the lips. The soothing apple water in it sloughs away dead skin cells, while raspberry extract adds a natural color to your pout. The mint in it has a cooling and refreshing effect on the lips by stimulating blood circulation. This also makes them fuller. The rich blend of botanical oils along with vitamin C protect and repair the skin. It also brightens and helps treat the discoloration of the lips. This hydrating and plumping lip oil is vegan and cruelty-free.
Pros
Plumps up the lips
Vegan
Cruelty-free
Non-sticky
Paraben-free
No mineral oil
Paraben-free
Sulfate-free
Phthalate-free
Easy to apply
Suitable for all skin types
Cons
Price at the time of publication: $12.0
Ruby Kisses Hydrating Lip Oil replenishes moisture and softens the lips. It also reduces the appearance of fine lines and wrinkles. This hydrating lip oil is rich in antioxidants that capture the free radicals that cause aging. The formula also contains amino acids that nourish the lips and restore them. This lip oil has a fresh fragrance and lasts for a while. It also offers sheer coverage, which makes your lips look dewy and fresh. 
Pros
Nourishes the lips
Moisturizes the lips
Reduces fine lines
Sheer coverage
Natural ingredients
Cons
None
Price at the time of publication: $4.79
The luxurious lip oil from NYX has a sweet vanilla and cherry blossom fragrance and a glossy finish. This oil has a silky smooth formula that spreads evenly and hydrates and rejuvenates the lips. Use it regularly to get super soft lips! Its formula is rich in almond, rosehip, jojoba, and avocado oils that replenish and soothe dry, cracked lips. Its glossy finish adds a natural glow to the lips.
Pros
Glossy finish
Easy to apply
Pleasant fragrance
Protects the lips
Reduces inflammation
Cruelty-free
Vegan
Available in multiple shades
Cons
Price at the time of publication: $6.0
ChapStick Total Hydration Vitamin Enriched Lip Oil has an innovative formula that contains various vitamins and fatty acids to nourish and hydrate your lips. Vitamin C is a powerful antioxidant that protects the lips as well as helps in reducing pigmentation. This non-tinted lip oil is also rich in omega 3, 6, and 9 fatty acids that are essential for skin health. They moisturize the lips, leaving them soft and healthy. The wax base of this lip oil seals in moisture and prevents drying or chapping. This non-sticky lip oil is lightweight and spreads evenly on the lips. It gives your lips a glossy and shiny finish.
Pros
Non-tinted
Lightweight
Non-sticky
Glides on smoothly
Moisturizes the lips
Cons
Price at the time of publication: $4.8
I DEW CARE Glow Easy Nourishing Vitamin C Lip Oil is enriched with jojoba seed oil, sunflower seed oil, and raspberry seed oil that provide essential nutrients such as fatty acids and vitamins to your lips. These moisturizing ingredients soften and smoothen the lips by replenishing and locking in moisture. The vitamins B, C, and E in this oil nourish the lips and protect them from environmental stressors. This lip oil provides intense hydration and repairs your lips so that they don't chap or crack easily. The raspberry seed oil adds a hint of color and shine to the lips!
Pros
Relieves dryness
Anti-aging formula
Vegan
Cruelty-free
Gluten-free
Paraben-free
Phthalate-free
Sulfate-free
Suitable for all skin types
Cons
Price at the time of publication: $12.0
Milani Moisture Lock Grapefruit Oil Infused Lip Treatment is a lightly tinted oil that is in nutrients. It has the powerful antioxidant benefits of grapefruit seed oil that revitalizes and nourishes the lips while protecting them from the free radicals that exacerbate aging. This lip treatment has a lovely texture and consistency. It has a fruity scent, and it imparts a subtle shine to the lips that lasts for a few hours.
Pros
Imparts shine
Easy to apply
Nourishes the lips
Anti-aging formula
Cons
May dry out the lips in a few cases
Price at the time of publication: $18.99
butter LONDON Sheer Wisdom Lip Oil has a smooth and creamy formula that pampers your lips. It is infused with a blend of amino acids that are essential for cell regeneration.  This treatment oil contains Tahitian coconut oil and chia seed oil that soften and condition your lips. The prickly pear seed oil in it stimulates collagen, while cloudberry oil is a soothing antioxidant. This nourishing lip oil is lightweight and easy to apply. It also contains green tea extracts that combat environmental stressors and free radicals. This lip oil revitalizes, tightens, and conditions your lips. It is available in multiple neutral shades and is suitable for most skin types.
Pros
Prevents damage to the lips
Anti-aging formula
Lightweight
Nourishes the lips
Glossy finish
Sheer color
Creamy formula
Requires very little product per use
Cons
Price at the time of publication: $22.0
Let's now look at a few benefits of lip oils. Read on!
What Are The Benefits Of A Lip Oil?
It contains vitamins E and C that have anti-aging properties and help minimize the signs of aging.
It moisturizes your lips and helps prevent dryness, chapping, and peeling.
It makes your lips visibly plump.
It imparts a subtle natural tint to your lips.
It helps redefine the shape of your lips and cupid bow area.
The following section lists the various skin-loving ingredients present in lip oils.
What Should Lip Oils Contain?
Coconut Oil: The primary benefit of coconut oil is that it helps moisturize your lips. This ingredient helps treat dry and chapped lips.
Macadamia Oil: Macadamia oil, also known as sweet almond oil, hydrates your lips. It prevents dryness, breakage, and peeling.
Jojoba Oil: Jojoba oil is rich in vitamins A, D, and E. It is easily absorbed into your skin and keeps your lips healthy.
Vitamin E: Vitamin E is an excellent moisturizer that nourishes and softens your lips, making them supple.
Here are a few queries regarding lip oils answered for you.
Which Ingredients Should Be Avoided?
The lip oil should be free of potentially harmful ingredients to save your lips from unwanted irritation. Purchase a lip oil that does not contain camphor, menthol, salicylic acid, parabens, phenol, and artificial fragrances. These ingredients might irritate and dehydrate your skin, causing inflammation.
How To Apply Lip Oils
If you want a translucent shine on nude lips, wear your lip oil bare.
If you want a sheer gloss over your lipstick, apply a lip oil topically.
To moisturize your lips, apply lip oil before going to bed and let the ingredients sink in overnight.
Pro tip: Gently exfoliate your lips with a scrubber before applying lip oil. This helps create a super-smooth, flake-free finish.
Do Lip Oils Protect Against UV Rays?
Yes, they can. The lips are sensitive, and hence, dermatologists recommend lip oils to protect them against the harmful effects of UV rays. Lip oils with SPF 15 or above are ideal for sun protection.
The next section will help you find the ideal lip oil as per your requirement.
How To Choose The Right Lip Oil For Your Lips
To achieve the look and feel of glossy lipsticks, opt for a lip oil with a subtle hint of color.
During winters, the lips tend to get dry and chapped. Lip oils for winter remain glossy and moisturize your lips without being sticky or greasy.
If you are looking for a tinted lip oil, ensure the color is ideal for regular wear.
For overnight use, buy a transparent lip oil. Wearing lip oils overnight heals chapped lips faster and better.
Why Trust StyleCraze?
The author, Shiboli Chakraborti, is a certified skin care coach and has curated the list of the best lip oils for her readers after thorough research. She went through numerous user reviews and feedback on multiple online forums and brand websites to pick vitamin, amino acid, and fatty acid-rich oils that repair your lips. The products listed in this post help rejuvenate your lips, replenish moisture and make them soft and healthy.
Frequently Asked Questions
Is lip oil better than lip balm?
Both lip oil and lip balms are great for lip moisturization. Lip balm contains wax which prevents moisture from evaporating off your lips and lip oils simply add instant moisture.
Is lip oil better than lip gloss?
Looking from an overall health perspective, yes, lip oils are a better option as compared to lip gloss. Lip oils give a shiny effect to the lips without feeling sticky like lip gloss. However, they are very transfer-prone.
When should I use lip oil?
You can use lip oils throughout the day for a boost of moisture for your lips. You can even wear lip oils under or on top of lipsticks.
Can I sleep with lip oil on?
Yes, you can absolutely apply lip oil before bed to keep your lips moisturized for the entire night.
How do you use lip oil?
Just like you would apply a lip balm or a gloss, you can wear lip oils on their own or on top of lipsticks for a glossy finish.
Is coconut oil good for lips?
Yes, coconut oil can be extremely beneficial for your lips. They keep them healthy and moisturized.
Can you use face oil on your lips?
Yes, you can apply face oil on your lips but it may not work as effectively as lip oils. You can pair face oil with lip balm for better results.
Recommended Articles