Best Lip Plumper Products – Our Top 15 Picks
Whether it is youngest of the Kardashian-Jenner clan, Kylie Jenner or the goddess named Angelina Jolie, their plump and luscious lips have been the talk of the beauty town for a while now and have become the ultimate desirable feature to possess.  While most of us mere mortals are not blessed with a perfect pout, there are a number of products available in the market to give you that plump full lips you have always desired. Though going under the knife is a permanent and sure shot way to achieve it, there are also other lip plumping products that give the perfectly plump lips minus the pain.
So What Are Lip Plumpers?
Lip plumpers are basically products that help you to achieve plump lips by increasing blood circulation in the lip area so that it looks puffier. Some lip plumpers also use reflective substances that bounce off the light to mimic a fuller lip. Collagen and hyaluronic are common ingredients in the lip plumpers that shapes, boosts and hydrate your lips, resulting in a perfect pucker.
Best Lip Plumper Products
Here are a few products that you can consider for that enviable pout.
 1. Too Faced Lip Injection
Like most of the other products by the brand, Too Faced Lip injections does not disappoint you. It gives a full, dramatic pout with 3-4 applications and is long lasting. It has a sweet flavor of berries, and the brand claims that it will become a part of your daily makeup regimen.
Pros:
Excellent results when it comes to plumping. Gives a glossy, fuller finish to the lips.
Long Lasting
Vegan friendly
Cons:
The burning sensation is severe, and temporary redness can occur if the product comes in contact with the skin outside lips
Too Faced Lip Injection Power Pumping Lip Gloss Review
The product guarantees instant transformation. Though it causes a burning sensation, the ingredients are mostly natural, so there is no fear of side effects, or it causing any harm to the skin. The sensation might last for 5-10 minutes but is totally worth it.
Rating: 9/10

2. Smashbox O-Plump Intuitive Lip Plumper
Move over regular lip plumpers and make way for intuitive lip plumper. Designed to be unique, this is the cool-kid of the make-up block.
Pros:
Intuitive Formula
Satisfactory plump
High Gloss Finish
Hydrates the lip
Cons:
The burning sensation is intense
The effect wears off quickly
Smashbox O-Plump Intuitive Lip Plumper Review
The intuitive formula is designed to change color depending on the skin it is reacting with, thus the shade you get is unique and perfect for you. It glides on smoothly and feels satiny-soft on the skin. The color is good enough for you to forego lipsticks. Just dab a little on your lips, wait for your unique color, and you are good to go.
Rating: 9/10

3. Soap and Glory Sexy Mother Pucker
This one has a cult following of its own. Immediately after application, you might question the hype, but the Superfill microspheres present in the formula keeps volumizing the lips upon absorption of moisture. The quirky name and the fun packaging adds to the experience of the product.
Pros:
It guarantees a full and plumpy pout
Does not wear off too easily, which means less re-application
It is available in a variety of shades.
Cons:
The tingling and buzzing sensation can be extreme for some.
The formula is on the thicker side and feels heavy on application.
It takes time to act
Soap and Glory Sexy Mother Pucker Review
Upon application, the buzzing sensation lasts longer than the usual plumpers and does not immediately produce a voluptuous pout. But in about 30 mins the effect starts showing and lasts for a considerable amount of time. The high glycerine content also ensures effective hydration and a good hold.
Rating: 9/10

4. NYX Plump-it Up Lip Plumper
This is the most economical one on the list. Like their other products which are killer dupes of some of the best luxury brand products, this lip plumper does its job well, without burning a hole in your pocket.
Pros:
Gives a plumped up look with a 3D effect
Available in wide variety of shades
Budget friendly
Cons:
Have to apply multiple coats for the desired effect
NYX Plump-it Up Lip Plumper Review
With a price tag that is easy on the pocket, the product does not compromise on performance or quality. The formula is non-sticky even after multiple coats and the colors are exquisite. The peptides present in the product synthesizes collagen making lips look more firm and plump.
Rating: 9/10

5. Skyn Iceland Plumping Lip Gel
If you thought gel masks were only for eyes or faces, think again. This gel mask not only plumps but hydrates the lips and reduces the appearance of fine lines, leaving a healthy, youthful glow.
Pros:
Acts fast
No uncomfortable burning or tingling sensation
Non-Greasy formula
Cons:
The plumping is subtle
The effect does not last very long
Skyn Iceland Plumping Lip Gel Review
The gel mask infused with active natural ingredients and state-of-the-art technology, apart from plumping, gives your lip the pampering they deserve. The gel mask comes in an individual wrapping and in the shape of oversized lips that is easy to use. Just put the gel mask on your lips and let it work its magic. After ten minutes, the lips feel plumped, hydrated and basically fabulous.
Rating: 9/10

6. Niod Lip Bio-Lipid Concentrate
Enriched with a rich dose of lipids, peptides and hyaluronic acid, this oil based plumper is perfect for an instant dramatic pout. The brand also claims, prolonged usage can give up to a 25% increase in volume over time.
Pros:
Fast Acting
Dramatic pout
The tingling sensation is nothing unbearable
Requires a very small amount
Cons:
The effect is not very long lasting
The list of chemical content is a tad bit intimidating
Causes redness when it comes in contact with the skin around lips
Niod Lip Bio-Lipid Concentrate Review
The instant gratification is the highest in this product. It gives a glossy and pouty pucker, and a smooth, hydrating feel on the lips. However, it requires re-application as the effect wears off quickly.
Rating: 8.5/10

7. Lancer Skincare Volume Enhancing Lip Serum
The product may fall short of expectations of those looking for an instant plump, but it is a gem when it comes to adding volume to lips over time. It comes in gloss formula and adds shine to dull lips along with volume
Pros:
It has anti-aging properties that help reduce lip wrinklesHas a nourishing and calming effect
Cons:
Does not give an instant pout and the effect is slightly on the subtle side.
Lancer Skincare Volume Enhancing Lip Serum Review
As the product takes a little time to show results, it is a good idea to make it a part of your night-time skincare regimen. The coconut oil present in the product will nourish your lips to give them a new healthy glow you always wanted.
Rating: 8.5/10

8. Deborah Milano Volume and Colour Lip Plumper
If you are a beginner in the world of pouty puckers and do not want to shell out a ton of money for your first encounter with lip plumpers, then this is the product for you.
Pros:
Noticeable increase in volume
Gives a shiny finish
Stays put for hours
Hydrating and non-sticky
Cons:
It does not come with a wide variety of shades.
Deborah Milano Volume and Colour Lip Plumper Review
The hyaluronic filling spheres act well and boost the volume up to 25%. It is transfer-proof and lasts long. The shine gives the lips a juicy appearance. Though the variety of shades are limited, the color usually suits a wide range of skin tones. Also, only very a small amount is required for application as the non-greasy formula glides on smoothly.
Rating: 8.5/10
9. Glamglow Plumarageous Gloss Lip Treatment
The product comes with a sleek packaging and has a fun applicator. It has a strong minty flavor and a super glossy finish.
Pros:
Gives a high level of plumping upon first application and a real increase in volume when used for about a week.
Has a soothing minty flavor
Cons:
The burning sensation can be intense for some people.
The formula might appear a little heavy and goopy on an application.
Glamglow Plumarageous Gloss Lip Treatment Review
The intense burning sensation, though uncomfortable, yields quite a dramatic impact. The matte variant hydrates the lips really well and fills in the pores and lines. Gives a glossy finish and make lips look juicier almost instantly.
Rating: 8.5/10

10. DuWop Lip Venom
One of the most popular ones on the list, the DuWop Lip Venom, lives up to its name. It is also a pioneer when it comes to lip plumpers. The pleasant cinnamon smell and naturally active ingredients like cinnamon, ginger, and watergreen increase the blood flow, resulting in a puffier pout.
Pros:
The tingling sensation is mildThe stimulants are mostly natural products
Does not need too many touch-ups
Cons:
The impact is subtle
The design of the applicator makes it a little difficult to get to the bottom of the container, thus does not give you the full worth of your money.
DuWop Lip Venom Review
The natural stimulants give a good blood flow to the lips for a plumping effect, and the cinnamon and ginger gives a tingling effect, that is pleasant and soothing. However, the transformation is not very dramatic.
Rating: 8/10

11. CandyLipz
Moving away from the serums and gloss, CandyLipz is a lip plumping device that gives you a fuller pout. It is basically a suction device where you are supposed to put your lips in the cut-outs and inhale. The vacuum created, give the lips a plumper appearance. It comes with an adorable packaging that looks like an apple.
Pros:
It gives a pouty appearance that is quite noticeable.
Since it is a device and not a product, there is absolutely no fear of chemicals touching your skin.
It is reusable and lasts long.
There is little to no pain, burning sensation or physical discomfort of any sort.
Cons:
The plumping effect fades away really quickly, in about 2-3 hours.
Because of the pull created by the vacuum, it leaves a red line around your mouth and a bluish-purple mark on your lips that can be mistaken for a light bruise.
CandyLipz Review
The suction method works well for a plumpy lip. It is necessary to read the instruction manual though. Also, make sure your lips are not chapped or have any minor cuts or bruises. Regular use can give better results, but the bluish hue might look awkward if not expertly concealed under lip color.
Rating: 8/10
12. Murad Rapid Collagen Infusion
Though it adds a certain volume, the real reason to use this product would be to reduce the fine lines on your lips, hydrate it and give it a complete makeover. The product makes your lip look fresh and youthful while adding just the right amount of volume for an enviable pout that is also healthy.
Pros:
The product is completely free of paraben and sulfates.
The formula is non-greasy
Is gentle on skin
Cons:
Does not give a dramatic pout
Is colorless and shine free (Can be a pro, depending on your choice)
Requires re-application frequently.
Murad Rapid Collagen Infusion Review
On application, the product glides on smoothly and visibly reduces the appearance of fine vertical lines for a healthy looking lips. The collagens increase the blood circulation, without causing any unpleasant sensation. The volume added, though not very dramatic, is noticeable.
Rating: 8/10

13. Buxom Full-On Lip Polish
If plump lips in different colors every day is what your heart desires, look no further. The product allows you to select from a huge range of colors as it comes in 18 different shades. A shiny, glossy finish with a pop of color and a subtle pout is all you need on the days when doing a full face makeup just seems like too much work.
Pros:
High glossy finish
Available in 18 shades
Stays put for really long
The minty-fruity flavor is soothing
Cons:
The consistency is a little on the thicker side
The tingling sensation lasts long
Buxom Full-On Lip Polish Review
On application, the product is a little thick, but glides on smoothly. The shimmer is a bit too much for those who prefer a more subtle look. The plumping effect is satisfactory, and all 18 shades are trendy and suit a wide variety of skin tones, which is the best thing about the product.
Rating: 7.5/10

14. Bliss Fabulips Instant Lip Plumper
The Bliss Fabulips Instant Lip Plumpers are a part of the Bliss Fabulips Kit, but also retails separately. The formula is colorless and has a faint minty flavor.
Pros:
The pout is instant and quite dramatic
The effect lasts long
The formula is clean
Cons:
The formula can dry out the lips for a few if used over an extended period
Bliss Fabulips Instant Lip Plumpers Review
The product feels smooth on skin and the cork tree extract and peptide complex ensures increased blood circulation resulting in lips that look pillowy and soft. It also does an excellent job of replenishing moisture to the lips.
Rating: 7.5/10
15. Dior Addict Lip Maximizer
The Dior Addict Lip Maximiser is a perfect product if you are a beginner in the world of lip plumpers. It is available in 3 beautiful shades of pink, apricot, and beige and has a soothing fragrance of vanilla and mint.
Pros:
It does not cause any uncomfortable tingling or burning sensation like most other lip plumpers
The sheer colors do not impact the color of your lipstick.
it is hydrating and soothing on the skin
Cons:
Does not yield a dramatic increase in the volume of your lips
Re-application is necessary, as it fades off quickly
Dior Addict Lip Maximizer Review
The product acts quickly upon application and almost instantly makes your lips shinier, moisturized and voluptuous. It is infused with collagen and marine-based fillers and has a cooling effect on the skin of your lips. Prolonged wear definitely brings about a noticeable difference in the volume of the lips.
Rating: 7.5/10

*Subject to Availability
Important Tips To Be Followed While Choosing And Using The Lip Plumpers
Different lip plumpers, with their wide variety of ingredients, react differently on every skin. What works for you and what does not is something that only you can figure out. Expect a few trial and errors.
Do not go overboard with plumping. Know the difference between a sensual pout and a duck-face. Overly plump lips look artificial and flatters no one.
Although a little burning or tingling sensation is common with most of the lip plumpers, depending on your pain threshold if the sensation gets unbearable wipe off the product immediately. The skin on our lips is sensitive, so know where to stop.
If you are using a suction device for lip plumping, make sure the material is non-toxic and refrain from using suction if you have fine cuts, bruises or extremely chapped lips.
For shiny or glossy plumpers, focus on the cupid bow a little more than the rest of the lips. It will create a highlighting effect.
So with all the knowledge, products and tips at your disposal keep rocking those perfect puckers and give Kylie Jenner and Angelina Jolie a run for their money. OK, maybe that is a little far-fetched, but remember with a juicy pout and an attitude to match, you can conquer the world.
Have you used any products to get the perfect pout? Do let us know in the comments box below.
Recommended Articles

The following two tabs change content below.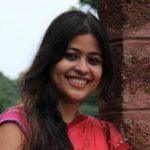 Latest posts by Avipsha Sengupta (see all)