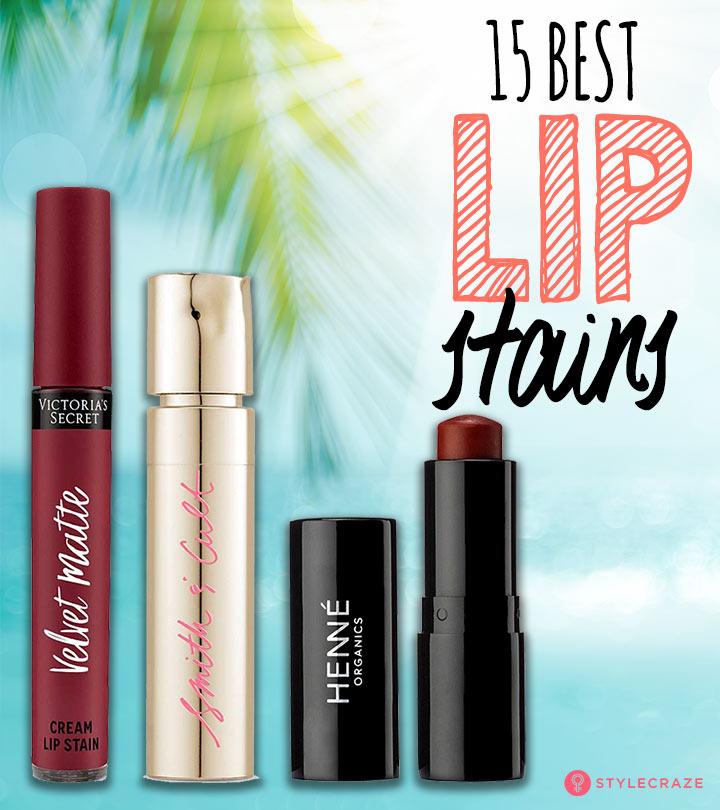 Women are divided into two categories – ones who love makeup, and the ones who don't. The women who don't love makeup find something as simple as lipstick a bit too much for their liking. Their lips feel heavier when they wear it, and there's no way to convince them otherwise. But even they agree that they need something to keep their lips hydrated and moisturized. Besides, a little color bit of color doesn't hurt anyone. Lip tints or stains are a great option if you fall in this category of people.
They don't contain many chemicals that can end up in your system inevitably as you tend to lick up anything on your lips. I love my lipsticks, but I'm also a fan of lip stains and always carry one in my bag. So, here's a round-up of the best lip stains out there. Check it out!
15 Best Lip Stains That You Need To Try Out
Top 15 Best Lip Stains That Last Longer
1. E.L.F. Aqua Beauty Radiant Gel Lip Tint
Review
E.L.F.'s Aqua Beauty Radiant Gel Lip Tint is a water-based formula and feels weightless on your lips. It spreads quickly, so spread a little bit all over your lips and build it up according to your preference.
Pros
Weightless
Spreads easily
Long-lasting
Cons
None
Rating
4.9/5
2. Revlon Balm Stain
Review
Revlon's Balm Stain glides like butter on your lips and makes them feel baby soft. It has a shimmery finish with a perfect flush of color. It is available in a wide range of shades in the chubby stick format. Some of them are a little more pigmented than others to match your mood.
Pros
Highly moisturizing
Light but vibrant
Easy to use
Cons
Wears off easily
Rating
4.9/5
3. Dior Addict Long-Wear Lip Tattoo Tint
Review
This is a transfer-free lip tint by Dior that stays for more than 8 hours and gives you natural looking lips the whole day. Talk about the power and quality of brands!
Pros
Water-based emollient
Weightless
Transfer-free
Cons
None
Rating
4.9/5
4. NYX Professional Makeup Soft Matte Lip Cream
Review
This product by NYX is a delightful, vibrant, and dreamy lip cream that hits the sweet spot between a lip stain and a lipstick. Though it is light and weightless, it gives you a beautiful matte finish that lasts a long time. It comes in 12 incredible shades, but the nudes are fan favorites because they give a natural tint to your lips.
Pros
Creamy and rich texture
Long-lasting
Matte finish
Cons
Not suitable for dry or cracked lips
Rating
4.8/5
5. Milk Makeup Lip Stain
Review
This is a fully hydrating and nourishing lip stain. It contains rosemary, olive, and vitamin E oils, unlike other lip stains. It gives your lips a beautiful, pigmented wash of color and a glossy finish – best of both worlds!
Pros
Cons
The roller ball gets stuck sometimes.
Rating
4.8/5
6. Tarte Lipsurgence Lip Tint
Review
A lip tint that leaves you with a creamy, velvety, and matte finish in the perfect nude shade is almost impossible to find. But that is exactly what Tarte Lipsurgence Lip Tint delivers. It is ideal for everyday use, lasts long, is easy to apply, and leaves you with naturally healthy-looking lips.
Pros
Velvety finish
A perfect nude tint
Long-lasting
Cons
None
Rating
4.8/5
7. Clinique Chubby Stick
Review
Almost everyone owns one of these Clinique Chubby Sticks, and it comes as no surprise. If you don't have one yet, get it even if you are not big on lipsticks. The Chubby Stick is easy to use. It can be used as a stand-alone lip stain or over or under your lipstick for a hydrating look. One stick is all you need.
Pros
Extremely hydrating
Sheer tint
Leaves your lips with a little shine
Cons
Needs to be touched up multiple times a day
Rating
4.7/5
8. Victoria's Secret Velvet Matte Cream Lip Stain
Review
Whether you are looking for that perfect nude or want to add a little drama to your lips, Victoria's Secret's range of Matte Lip Creams has it all for you. This non-drying and nourishing formula is infused with olive oil and vitamin E oil that give your lips the hydration they need throughout the day. It is a big bonus, especially during winters.
Pros
Full coverage
Creamy
Non-drying
Cons
Not long-lasting
Rating
4.7/5
9. Josie Maran Lip Stain
Review
One stick that doubles up as a lip stain and gloss. It is enriched with antioxidants that help to pack moisture because of its unique formulation of coconut water and argan oil. It gives out a beautiful shine, without being overpowering.
Pros
Infused with argan oil and coconut water
Packed with antioxidants
Free of chemicals, sulfates, or parabens
Cons
The color dries out in a few uses.
Rating
4.7/5
10. Lancome Juicy Tubes
Review
Anyone who is into lip stains knows about Lancome Juicy Tubes. It stays true to its name, giving you an ultra glossy but sheer finish that leaves a beautiful wash of color on your lips. It is a must-have in every girl's handbag.
Pros
Glides on smoothly
Gives out a sheer and vibrant wash of color
Cons
Needs to be reapplied throughout the day
Rating
4.7/5
11. Smith & Cult Lip Stain
 Review
This is a soothing lip balm with a burst of color. It is uniquely formulated with a hydrating peptide bond and green tea extracts that are loaded with antioxidants to protect and moisturize your lips. It does all this while leaving you with beautiful and naturally stained lips.
Pros
Gives your lips a fuller and healthier look
Long-lasting
Cons
Not very pigmented
Rating
4.6/5
12. Benefit Cosmetics Benetint Rose Tinted Lip
Review
This is a lip tint that doubles up as a cheek stain. Benefit Benetint gives you a vibrant and robust flush of color that is unlike most lip tints. It is a smudge-proof and sheer formula that does its job to the T.
Pros
Suitable for all skin tones
Works as a lip and cheek stain
Cons
Looks greasy
Rating
4.6/5
13. Winky Lux Women's Purple Flower
Review
This is the lip balm that started a revolution in the cosmetic industry with its formulation. It gives your lips a unique shade depending on your body temperature and the pH levels of your lips. The real chrysanthemum flower inside the sheer stick makes it all the more fascinating to use.
Pros
Bright and unique colors based on your lips' pH value
Hydrating and nourishing properties
Cons
None
Rating
4.6/5
14. Pixi Lip Brilliance Balm
Review
Give your lips everything they need to keep them healthy along with a flattering hue. This balmy crayon hydrates your lips instantly and gives them a tint depending on your lips' pH value.
Pros
Long-lasting
Non-drying
Easy to use
Cons
None
Rating
4.5/5
15. Henne Organics Lip Tint
Review
A delicate nude or a gentle pop of red – no matter what you are looking for, Henne Organics has it all. Their lip tint range is formulated with all-organic ingredients like castor, coconut, jojoba, avocado, and vitamin E oils that leave you with luscious and healthy-looking lips. It is the perfectly balanced lip tint for everyday use.
Pros
Moisturizes lips
Cruelty-free
Cons
Expensive
Rating
4.5/5
Do you like lipsticks? Or are you a lip stain person? If you are, did we cover the best of them all? Let us know by leaving a message in the comments section below!

The following two tabs change content below.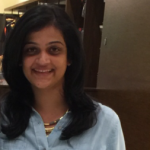 Latest posts by Pratima Ati (see all)