10 Best Anti-Aging Lip Products To Get Rid Of Lip Wrinkles
Maintain the plumpness of your lips with the right makeup and skincare essentials at hand.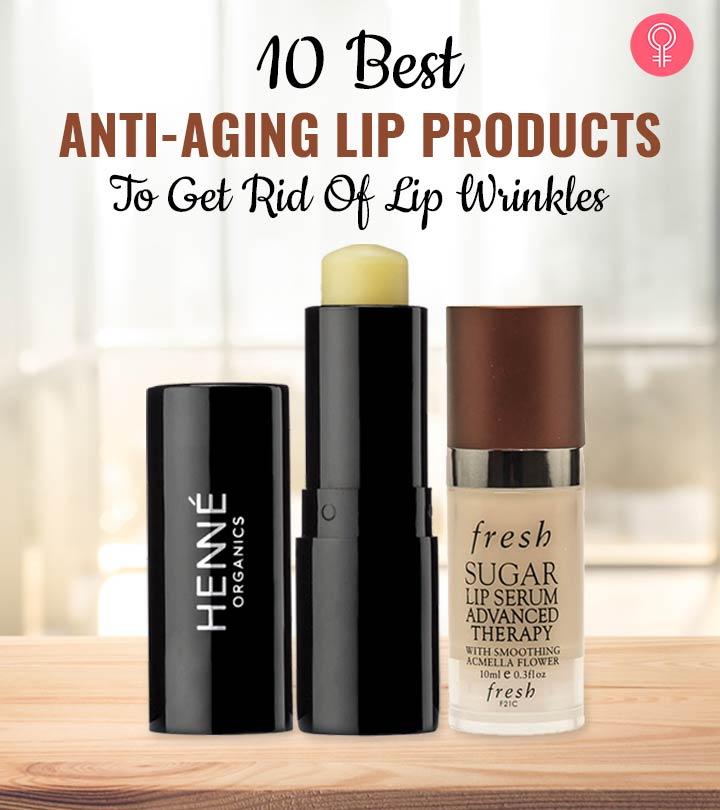 The skin on our lips is extremely delicate, and hence it is no surprise that aging affects it. So, if wrinkles and fine lines are popping up on your lips, it is time you add the best anti-aging lip products to your skin care regimen. As your lips start to lose their natural softness, volume, and definition, these products will offer them the necessary moisturization. They hydrate dry lips and make them look younger and plumper.
The anti-aging lip products promote collagen production and leave your lips feeling soft and smooth. Are you in search of one such product that will help you get rid of the pesky wrinkles and fine lines on your lips? We have got you covered. Swipe up for the details!
Top 10 Anti-Aging Lips Products To Check Out Right Now
Burt's Bees Beeswax Lip Balm has a minty freshness to it that helps rejuvenate your lips. It contains beeswax, vitamin E, and peppermint oil that hydrate and nourish dry and chapped lips. Just one swipe of this lip balm leaves your lips feeling soft and smooth all day. It relieves soreness and prevents your lips from drying out further. If you are still unsure, check out this honest review.
Key Ingredients: Beeswax, coconut oil, sunflower seed oil, peppermint oil, rosemary leaf extract, soybean oil, and canola oil.  
Pros
Paraben- and SLS-free
Light consistency
Soothes dehydrated lips
Cons
None
Dermalogica Nightly Lip Treatment is an overnight lip serum that hydrates your lips and reduces the appearance of wrinkles. It contains Indian gentian extract, sesame extract, and shea butter that help restore the skin volume, reduce fine lines, and hydrate your lips. It improves your skin's resilience and restores the skin barrier function to fight the signs of aging. Check out this review for a closer look about the product.
Key Ingredients: Shea butter, Indian gentian extract, and sesame extract. 
Pros
Vegan
Cruelty-free
Paraben-free
Lightweight formula
Suitable for dry lips
Cons
Does not last long on the lips
Verso Skincare Lip Serum is a powerful product that helps fight the signs of aging lips. It is powered by retinol 8 to provide you with younger, softer, and plumper lips. It reduces the appearance of dark spots and fine lines around the lips. This formula contains highly potent ingredients like a vitamin A complex that helps in the rejuvenation process by boosting the skin's natural production of collagen.
Key Ingredients: Retinol 8, hyaluronic acid, and peptides. 
Pros
Vegan
Cruelty-free
Paraben- and sulfate-free
Moisturizes your lips
Stays on for hours 
Cons
VENeffect Anti-Aging Lip Treatment is formulated with advanced phytoestrogen technology that helps reduce and prevent the appearance of lines and wrinkles on the lips. Its deeply hydrating formula soothes dry and chapped lips. It softens and plumps up your lips within a few uses. It also prevents your lipstick from smudging and makes your lip color last longer.
Key Ingredients: Castor seed oil and vitamin E. 
Pros
Adds a rosy glow to your lips
Moisturizes dry lips instantly
Minimizes wrinkles
Evens out the skin surface
Light consistency 
Cons
None
This luxurious lip balm is a 100% natural and organic lip balm. It is incredibly moisturizing and leaves your lips looking soft and youthful. Its formula contains nourishing ingredients like coconut oil, beeswax, avocado oil, cocoa seed butter, and vitamin E. These ingredients reduce dryness and prevent lip wrinkles with each use.
Key Ingredients: Coconut oil, beeswax, avocado oil, cocoa seed butter, and vitamin E. 
Pros
Lasts long on the lips
Non-greasy formula
Keeps your lips hydrated all day
Delivers quick results 
Cons
None
Vanicream Lip Protectant And Sunscreen is a long-lasting lip cream that helps prevent moisture loss due to dry climate conditions. It contains zinc oxide and titanium dioxide that protect your lips from the harmful UVA and UVB rays. It also contains dimethicone that prevents dryness and flaking on the lips. This lip treatment is perfect for extremely chapped and easily irritated lips. 
Key Ingredients: Zinc oxide, titanium dioxide, and dimethicone. 
Pros
SPF 30
Fragrance-free
Free of parabens and other harmful chemicals
Suitable for sensitive skin
Cons
None
Fresh Sugar Lip Serum Advanced Therapy is a lip-plumping serum and primer that targets the visible signs of aging to give you smooth, supple lips with more defined contours. Its formula contains camellia flower extracts and kigelia Africana fruit extract that improve skin elasticity and revive the natural skin barrier. Within a single application, it improves the definition around your lips for a visibly fuller look. It also decreases roughness and leaves your lips nourished and soothed. This video review will help you understand more about the product.
Key Ingredients: Acmella extracts and lavender extracts. 
Pros
Makes your lips firmer and toner
Adds a rosy hue to your lips
Long-lasting moisturizing effect
Reduces fine lines and wrinkles 
Cons
None
CeraVe Healing Lip Balm is perfect for severely dry and chapped lips that need quick relief. It is formulated with broad-spectrum SPF30 to protect your lips from the harmful UV rays. Its formula contains hyaluronic acid, ceramides, and dimethicone for extra hydration. It replenishes the skin's natural barrier and prevents photoaging. This balm soothes dehydrated lips instantly and protects their delicate skin from the drying effects of wind. The vitamin E in this balm provides long-lasting moisture to your lips.
Key Ingredients: Avobenzone (3% Sunscreen), dimethicone (1% skin protectant), homosalate (10% sunscreen), octisalate (5% sunscreen), and octocrylene (10% sunscreen).
Pros
Developed by dermatologists
Recommended by The Skin Cancer Foundation
Delivers quick results
Suitable for severely chapped lips
Fragrance-free 
Cons
Laneige Lip Sleeping Mask soothes and moisturizes your lips to give you smoother and more supple lips. It has a soft texture that allows the lips to absorb the balm quickly. The formula is enriched with vitamin C and antioxidants from a blend of strawberries, cranberries, and goji beans. Its patented Berry Mix Complex offers a sweet and fresh fragrance that stays all day long. The formula is created using exclusive Moisture Wrap technology that keeps your lips moisturized for more than 8 hours.
Key Ingredients: Fruit extracts
Pros
Improves the skin tone of your lips
High-quality ingredients
Adds a soft glow to your lips
Available in 5 flavors
Light and non-greasy texture 
Cons
Lancer Skincare Volume Enhancing Lip Serum is an advanced lip treatment that gives you lush and youthful-looking lips within a single application. Its formula helps smoothen out the appearance of wrinkles and vertical lip lines and defines the lip contours for visible plumpness. It provides hydration to dry and chapped lips. It smoothens and conditions your lips with a glossy sheen that lasts for all day.
Key Ingredients: Shea butter and Dictyopteris membranacea extract.
Pros
Adds a shiny look to your lips
Makes bold lipsticks stand out
Moisturizing formula
Just a little product required per use 
Cons
Availability issues
Expensive
After checking out these anti-aging lip products, you must be wondering precisely which ingredients reduce wrinkles and fine lines on the lips. Find out the answer in the next section.
What Are The Important Ingredients To Look For In An Anti-Aging Lip Product
According to dermatologists, these ingredients help fight against the signs of aging:
Hyaluronic Acid: It helps retain the natural moisture levels of your skin and hydrates the lips.
SPF: Helps protect your lips from UVB/UVA rays and prevents the signs of aging caused by photodamage.
Vitamin E: A strong antioxidant that helps fight the free radicals that damage the skin cells.
Shea Butter: It contains natural fatty acids and vitamins that help heal and soften dry and chapped lips.
Retinoids: They help rejuvenate the skin cells for a new layer of skin.
Collagen-Boosting Ingredients: Reduces the depth and volume of wrinkles.
Why Trust StyleCraze?
The author, Pooja Karkala, loves everything about skincare. She finds satisfaction in bringing the perfect products to you. She has done exhaustive research by going through various product reviews to curate the list of the best anti-aging lip products out there. This list gives you a look into some of the top lip products out there that boost collagen production and leave your lips feeling juicy, soft, and smooth.
Frequently Asked Questions
Does Vaseline help reduce lip wrinkles?
Vaseline protects sensitive skin from peeling, but it does not reduce or treat wrinkles.
Recommended Articles