16 Best Lipstick Brands In The World 2022
Gentle lip care brands that cater to your fashion sense and skin care issues.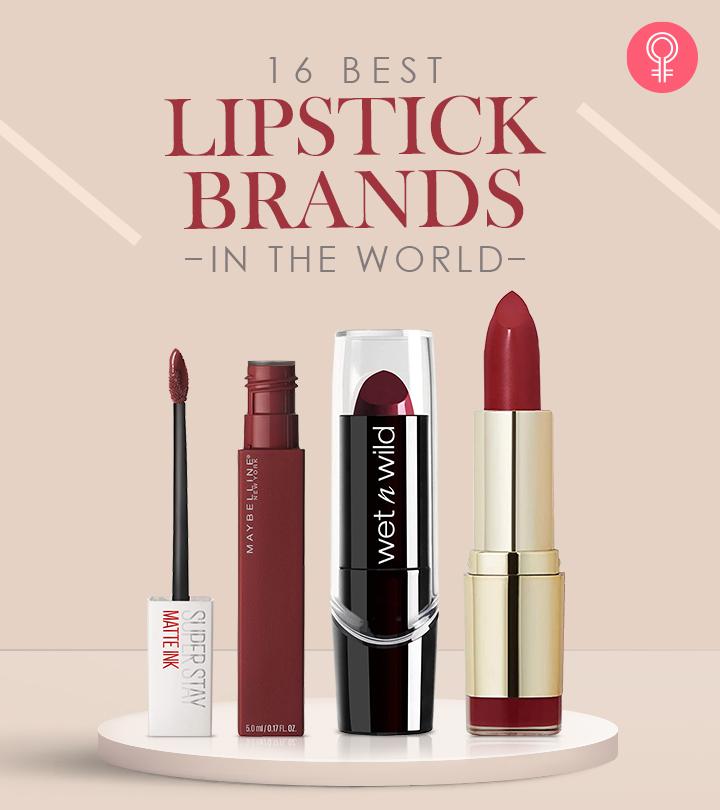 Lipstick is essential for adding that oomph to your makeup look. A good lipstick highlights your lips and elevates your confidence. It contains nourishing ingredients that moisturize your lips without drying them out. You must always go for high-quality lipsticks with rich color pay-off. In this article, we have listed the 16 best lipstick brands in the world along with the best products and shades they offer. Scroll down to check them out!
16 Best Lipstick Brands In The World
The Maybelline New York Super Stay Matte Ink has a unique formula that lasts all day without fading and staining. This lipstick does not transfer and dries with a matte finish. The Voyager shade has a dark red undertone, is highly pigmented, and gives a 16-hour-long saturated matte finish. It has a unique arrow-shaped applicator for precise application. This shade is suitable for all skin tones.
Pros
Smooth application
Smudge-proof
Super pigmented
Fade-proof
Lightweight
Long-lasting
Available in 40 shades
Cons
L'Oréal Paris Colour Riche Lip Color is infused with omega 3, vitamin E, and argan oil which nourish, moisturize, and soften your lips. This creamy lipstick glides smoothly on your lips and dries within a few minutes. The luxurious Blushing Berry shade has violet undertones and is suitable for evenings and nights out. It keeps your lips soft, smooth, and ultra-hydrated and gives a flawless look when used with a lip liner.
Pros
Moisturizes the lips
Creamy finish
Affordable
Cons
Covergirl Lip Color provides full coverage in one single swipe and lasts for 24 hours without fading. This vibrant lipstick leaves your lips with a lustrous shine. Its advanced formula keeps your lips looking vibrant and fresh for up to 24 hours. It is also transfer-resistant. Moreover, the lipstick dries in 1-2 minutes and does not feel sticky on the lips. The shade Always Rosy looks great on all skin tones
Pros
Cruelty-free
Fade-proof
Long-lasting
Cons
None
Wet n Wild Lipstick is a highly pigmented lipstick infused with vitamins A and E, aloe vera, and macadamia nut oil to protect your lips from sun damage and over-drying. This lipstick feels smooth and keeps your lips hydrated all day with a silky finish. Moreover, its silky formula does not settle in the fine lines on your lips. Blind Date is a stunning shade that looks perfect in the autumn and winter seasons and gives a bold look on various skin tones. Watch this YouTuber's honest review to get a better idea about the product and its features.
Pros
Creamy formula
Highly pigmented
Long-lasting
Cruelty-free
Cons
Milan Color Statement Lipstick is smooth, vibrant, and gives a matte finish in seconds. This lipstick glides on smoothly in one swipe and looks pretty on your lips. This cruelty-free lipstick is infused with vitamins A and C to nourish your lips. The shade Best Red looks very bold, adds shine, and moisturizes your lips.
Pros
Lightweight
Long-lasting
Nourishing
Cruelty-free
Cons
Dries out the lips
Not vegan
Stilla Stay All Day Liquid Lipstick glides on smoothly, adding shine to your lips and giving full coverage without leaving any patches in between. Its weightless formula sets perfectly with a smooth finish in one swipe and lasts for 12 hours. In addition, this liquid lipstick is formulated with vitamin E and avocado oil to moisturize your lips and deliver a matte finish. The shade Bacca is a subtle plum that is perfect for the evenings.
Pros
Lightweight
Glides on smoothly
Transfer-resistant
Full coverage
Cons
Haus Laboratories Laboratories Le Monster Matt Lip Crayon glides like butter on your lips without drying them out. This lipstick is highly pigmented and feels hydrating on your lips for hours. It spreads evenly with ease and with an impressive color pay-off. The shade Influencer goes well with every skin tone while giving full coverage.
Pros
Vegan
Cruelty-free
Non-drying
Non-sticky
Non-flaking
Easy to apply
Cons
Revlon Super Lustrous Matte Lipstick has a rich matte formula that does not feel dry on your lips. This moisturizing lipstick has a luxurious botanical blend of agave, moringa oil, and capuacu butter to hydrate your lips instantly in one stroke glide. The shade Cherries In The Snow compliments all skin tones very well and is excellent for a night out. In addition, it leaves your lips with a perfectly luscious shine.
Pros
Smooth texture
Glides on easily
Lightweight
Cons
The nourishing and moisturizing Rimmel Stay Matte Liquid Lip Colour gives full coverage for your lips. Its delivers precise application and looks gorgeous. It is lightweight and comfortable, leaving your lips with a super matte finish. In addition, this waterproof lipstick does not fade or stain your lips all day long. This combo of lipstick and lip liner is perfect for the holidays.
Pros
Lightweight
Long-lasting
Easy to layer
High color pay-off
Waterproof
Cons
Kuckian Cosmetics Lipstick is highly pigmented and glides on effortlessly, giving full coverage to your lips. Its weightless formula sets perfectly without being greasy and dries quickly on your lips. This smooth lip color is enriched with the goodness of vitamin E to provide moisturization to your lips and prevent sun damage. The shade Brute is perfect for everyday wear.
Pros
Offers UV protection
Non-greasy
Non-drying
Vegan
Cruelty-free
Matte finish
Cons
Anastasia Beverly Hills Lipstick is a super pigmented lipstick with an ultra-smooth matte finish. The shade Dead Roses compliments fair to medium skin tone. It looks gorgeous when worn with smokey eye makeup. This easy-to-apply lipstick glides on your lips effortlessly and feels comfortable all day long.
Pros
Matte finish
Highly pigmented
Long-lasting
Lightweight
Cons
None
Burt's Bees Lipstick 100% Natural Glossy Lipstick conditions and soothes your lips with its creamy formula. It keeps your lips moisturized all day with ingredients like moringa oil, meadowfoam seed oil, and raspberry oil. With regular use of this lipstick, you get back the natural color of your lips. Its versatile shades are long-lasting, lightweight, and can be worn every day.
Pros
Fade-proof
Lightweight
Paraben-free
Phthalate-free
SLS-free
Petroleum-free
Cons
Revlon Ultra HD Vinyl Lip Polish is the best lip color for a photo-ready look. This lipstick is highly pigmented with a luxurious shine and does not feel sticky on your lips. It is enriched with vitamin E, shea butter, and aloe vera extracts to heal and repair your lips from within. It also smoothens and moisturizes your lips in one stroke. The fragrance of the lipstick is very soothing. The Hot Pink shade is perfect for anyone going for a vibrant summer look.
Pros
Highly pigmented
Long-lasting
Soothes the lips
Cons
None
The e.l.f. Liquid Matte Lipstick has the best non-sticky formula. It spreads evenly and dries quickly. The brand features a unique slim and diamond-shaped applicator for smooth and flawless application. In addition, it is enriched with vitamin E to nourish and condition your lips. It is 100% vegan, cruelty-free, and free from any harsh chemicals, so your lips don't burn or feel irritated. The shade Blushing Rose is the perfect nude for all skin tones.
Pros
Easy to apply
Long-wearing
Non-sticky
Vegan
Cruelty-free
Phthalate-free
Paraben-free
Nonylphenol-free
Ethoxylates-free
Triclosan-free
Triclocarban-free
Hydroquinone-free
Cons
Nars Velvet Matte Lip Pencil has a semi-opaque pigmented formula which glides evenly and smoothly on the lips. The shade feels light and comfortable without drying out your lips for 5 long hours. Its lightweight formula repairs and rejuvenates your lips with regular use. Get the shade Pop Life if you are looking for a brick red lipstick.
Pros
Non-greasy
Non-sticky
Easy to apply
Affordable
Fade-proof
Cons
Urban Decay Vice Lipstick has a creamy matte formula that conditions and nourishes your lips. It contains aloe vera, jojoba oil, avocado oil, and babassu oil that add long-lasting moisture to your lips. This highly pigmented lipstick leaves your lips with a sheer finish and looks perfect on all skin tones.
Pros
Highly pigmented
Travel-friendly
Waterproof
Smudge-proof
Non-transfer
Cons
None
Lipsticks are the first thing that comes to mind when we think of makeup. However, many different lipstick brands are available, so picking the best one is essential for a flawless makeup look. Here are some guidelines to assist you in selecting the perfect lipstick from the best brand.
How To Choose The Best Lipstick Brands In The World
The very first thing to consider when choosing a lipstick brand is the shade range offered by the brand. Various lipstick shades complement skin tones. So, you should pick a brand that provides a variety of lipstick shades like nude, pink, red, berry, and more. There should be a shade for every mood.
The second step is to know your undertone. The three types of undertones are: warm, cool, and neutral. For warm undertones, peachy nudes, reds, and oranges will look good. Wear nude or soft mocha, wine, or blue shades for cool undertones. There is a broad spectrum of color options available for neutral undertones because they can go both ways.
The cosmetic market has a wide range of lipstick brands with formulas ranging from liquid lipsticks, glossy lipstick, matte lipstick, and even metallic lipsticks. Choose the correct formula depending on your overall makeup look and your comfort. Generally, matte lip shades are long-lasting and comfortable, whereas glossy and glittery ones wear off quickly and often need reapplication.
Choose a lipstick brand that uses hydrating ingredients like vitamin E, shea butter, and aloe to hydrate, nourish, and heal your lips while adding a pop of color. You can also choose formulas containing nourishing oils such as coconut oil, olive oil, jojoba oil, and almond oil, leaving your lips firm, smooth, and supple.
You need to keep a few things in mind when you are buying lipstick. Check out what you need to consider below.
How Do You Choose The Best Lipstick Brands In The World?
This mostly depends on the type of finish you are looking for. Lipsticks come in a four main types of finishes.
Matte: Matte lipsticks are one of the best choices as they blur the edges of your lips and give a bold look to them. They are specifically designed not to look shiny. Matte lipstick lasts longer and is fade-proof. Though matte lipsticks can be a bit drying, many brands make them smooth enough to let you move your lips around effortlessly. Revlon Matte 051 rules the world with its luxurious look.
Satin: Satin finish lipsticks are semi-matte and slightly glossy. They are smooth, lightweight, and super comfortable. They are soft to touch, pigmented, and don't feel sticky on the lips. In addition, satin lipsticks are formulated with a creamy formula to keep your lips moisturized. E.l.f, Maybelline, NYX, and Dior Addict Halo lipsticks are top brands of lipsticks in the world for a satin finish.
Glossy: Glossy lipsticks leave your lips with a high shine finish. They feel very light and comfortable on the lips and keep your lips moisturized all day long. In addition, they nourish and plump up your lips. Maybelline and Colorpop are some of the most famous lipstick brands for glossy lipstick.
Sheer: Sheer lipsticks are the best for an everyday look. They deliver a sheer wash of color that looks very natural. They also form a thin layer on the lips to prevent environmental damage and provide moisture. Clinique, Aimy Smart, and Mineral Fusion are a some world-famous lipstick brands for sheer lipsticks.
Why Trust StyleCraze?
The author, Baishali Bhattacharya, is certified in makeup artistry and is a certified image consultant as well. She not only knows the tips and tricks of makeup to accentuate your best features but also has the knack of making you look and feel good. So when it comes to choosing the best lipstick brands out there, she has done a fair share of research on the shades, ingredients, types, formulations, and company ethics to help you select nothing but the best. Cruelty-free, vegan, luxurious, or drugstore, choose your favorite from this top selection of lipstick brands and style it subtle or dramatic to let your lips do all the talking.
Frequently Asked Questions
Which lipstick brand is the best?
Maybelline is the best brand for lipstick in the world.
Which brand of lipstick is best for daily use?
Clinique and Maybelline offer the best lipsticks for daily use.
Which is the most expensive lipstick?
Couture Beauty Diamond lipstick is the most expensive lipstick in the world.
Which lipstick lasts the longest?
CoverGirl lipsticks are the best long-lasting lipsticks.
Can I wear lipstick every day?
Yes, you can wear a good-quality lipstick every day as it does not damage your lips.
Which brand of matte lipstick is the best?
Rimmel is the best matte lipstick brand. It offers a wide variety of matte colors that provide full coverage. They glide seamlessly on your lips while delivering a super matte finish.