13 Best Lipstick Cases Of 2022- Reviews & Buying Guide
Keep your favorite lippies intact with some excellent makeup storage options.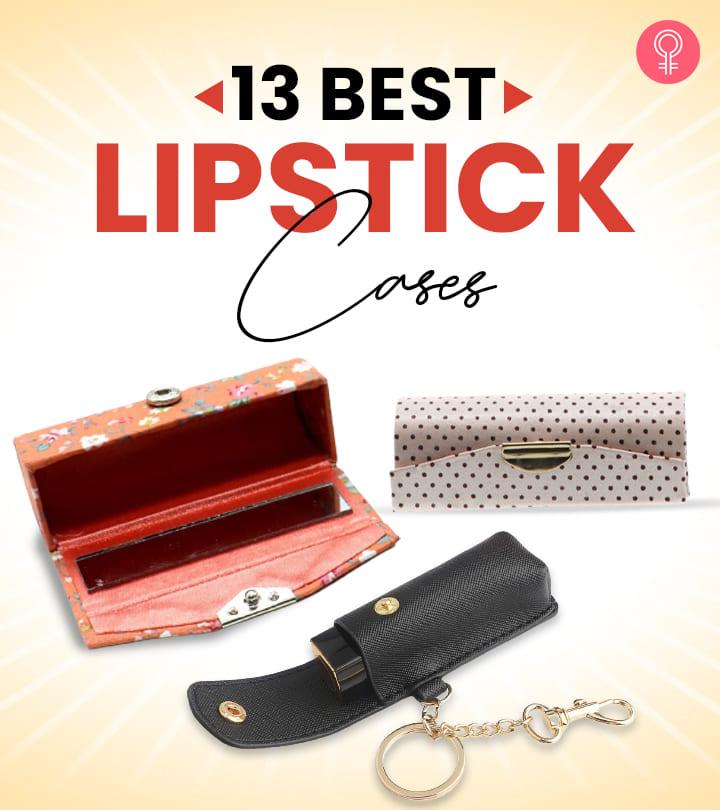 If you are a person who adores lipsticks and collects different shades, you need lipstick cases to flaunt your hobby in style. Here are 13 handpicked lipstick cases that are irresistible and need a place in your purse. By looking at how cute they look, you cannot resist buying one! They are like little clutches made in a perfect size to carry your favorite lipstick. If you have a lipstick that you use daily and cannot risk dunking it in your purse, putting it in a case will ensure it does not break or lose its mechanism.
13 Best Lipstick Cases In 2022
The beautifully designed SenseYo Floral Lipstick Case Holder is made of top-quality material that is durable. The package includes four floral lipstick case holders that can hold one lipstick each of the standard size. The circular design is ideal for lipstick tubes of any shape – square or round. This vanity kit features a mirror inside the flap for on-the-go application or touch-ups.
Pros
 Durable
 Sturdy
 Has a mirror inside
 Compact
 Value for money
Cons
 The fabric might wear off.
Say goodbye to the humdrum of finding lipsticks in your handbag with the Nature Ann Lipstick Case. The superior-quality metal keychain can be hung on your bag. This way, you can easily access your favorite lipstick for a quick touch-up. The case is made of PU leather of the highest grade and is durable and stylish.
Pros
 Waterproof
 Dirt-resistant
 Lightweight
 Compact
 Suitable for most lipsticks
 Wear-resistant
 Durable
Cons
 The snap fastener doesn't work properly.
The Champagne Polka Dot Lipstick Case is approximately 3.5 inches wide and can fit a standard lipstick effortlessly. It comes with a snap closure to keep your lipstick safe. This lipstick case has a mirror inside that helps you put on the lipstick without any hassles. The polka dot print makes it look stylish and elegant.
Pros
 Suitable for all lipsticks
 Sturdy
 Durable
 Attractive design
 Compact
Cons
None
The Earnda Makeup Lipstick Case can hold up to three small lipsticks and is perfect for traveling. It is made of smooth PU leather material and has a glossy finish on the edges. The button closure safeguards your cosmetic products.
This lipstick case has a small built-in mirror that allows you to apply lipstick while on the go. Its exquisite style and cutting-edge design make this pouch look classy. It is available in different colors to match your outfits.
Pros
 Compact
 Can hold up to 3 lipsticks
 Convenient
 Durable
Cons
 Might not be suitable for big lipsticks
The Houder Designer Lipstick Case is an ultimate combination of function and fashion. It can easily hold most round or square lipsticks available on the market and comes with a built-in mirror. It is lined with soft black velvet that absorbs any shock and keeps your lipstick safe.
Pros
 Long-lasting
 Sturdy
 Stays securely shut
 Lightweight
 Available in a variety of patterns
Cons
This set includes 12 lipstick holders and 12 embroidered gift bags. The lipstick holders are made of good quality plastic material. The base of every case is wrapped in silky satin. Each lipstick case comes with a mirror inside so that you can apply lipstick or touch up your makeup anytime and anywhere. It comes with a zipper and a snap button that keeps your items safe and secure.
Pros
 Durable
 Convenient
 Sturdy
 Cute design
 Value for money
Cons
 May have a strong chemical odor
The LCTCKP Designer Lipstick Case is made of high-grade stainless steel and has a glass cover. It is spacious enough to store a standard lipstick tube and has a built-in mirror. This case is lined with soft black velvet that protects your lipstick from scratches. Its exquisite, personalized design and classic packaging make this product an ideal gift for all your female friends and colleagues.
Pros
 Suitable for most standard lipstick sizes
 Sturdy
 Durable
 Affordable
 Available in various designs
Cons
This lipstick case from Bestbling is made with thousands of rhinestones and is ideal for those who love blingy and sparkling items. This stylish and elegant product is an ideal pick for parties and disco nights. It can easily fit into your purse or pocket and can hold one lipstick of standard size. It has a mirror on the top side of the interior.
Pros
 Compact
 Lightweight
 Long-lasting
 Budget-friendly
 Secure closure
Cons
The Auear Women Floral Lipstick Case is elegantly designed with high-quality cloth fabric. The fine craft makes its surface smooth and sturdy. It has a golden snap button closure, which makes it super easy to store your lipsticks. The case features a small mirror inside so that you can apply lipstick conveniently and precisely. The package includes four lipstick holders in different colors and floral patterns.
Pros
 Durable
 Sturdy
 Pocket-friendly
 Different floral designs
Cons
The Beautyflier Women's Soft Leather Lipstick Case has a clip button enclosure and is ideal for keeping your lipstick and lipgloss safely for everyday use. It is made of top-quality leather material, which is sturdy and durable. This lipstick holder can easily fit a regular-sized lipstick or other beauty products, such as lip gloss, lip balms, or essential oil rollers. It comes with a rectangular mirror, which makes it convenient to put on lipstick accurately.
Pros
 Convenient
 Compact
 Lightweight
 Sturdy
Cons
None
The Kilofly Double Lipstick Case is made of top-grain leather and is stitched to perfection. This product can hold up to two lipsticks of standard size and conveniently fits in the pocket. It can also easily carry a credit or debit card. This case has a mirror on the interior top side of the leather flap for hassle-free touch-ups. The magnetic button closure not only keeps the contents safe but also gives a stylish and sophisticated look to the product.
Pros
 Carefully stitched hems
 Features a mirror
 Magnetic button closure
 Pocket-sized
Cons
None
The Luxja Travel Lipstick Case is well-built with heavy-duty nylon material and is designed to hold a maximum of 12 lipsticks. It has three rows, out of which the first two rows can hold lipsticks of below 3.5 inches, and the last row can store lipsticks below 4.5 inches in length.
The soft padded interior of this travel case keeps your lipsticks safe and secure from scratches. It comes with a top zipper pocket where you can conveniently store lip brushes and other small tools. This case comes with a small mirror that can be used to apply lipsticks on the go. The top handle attached to the bag makes it easy to carry it around.
Pros
 Soft padded interiors
 Mini-compartment design
 Flexible dividers
 Easy to carry
 Sturdy
Cons
None
This lipstick case from The StoreKing is made of the best quality leather material. It can store one standard-sized lipstick. It is small and compact and easily fits inside the pocket. The lipstick case features a mirror on the interior top portion of the leather flap for quick and hassle-free application. The standard button closure keeps your lipstick and other beauty products safe and secure.
Pros
 Built-in mirror
 Durable
 Convenient button closure
 Flexible
Cons
None
Storing and carrying your favorite lipstick is now easy with these lipstick cases. However, you need to consider some factors in order to choose the best lipstick cases. In the section below, we will elaborate those factors for you. Read on!
How To Choose The Best Lipstick Case
 Material: When it comes to choosing the best lipstick cases, material plays a crucial role. Lipstick holders are available in different materials – metal, leather, cloth, or plastic. Invest in a product that is made of sturdy and durable material, such as leather or faux leather.
 Closure Style: Generally, lipstick holders come with a snap button closure that makes it simple to insert and remove the lipstick. Always go for a clasp that is neither too loose (that might not keep your products secure) nor too tight (that might not be easy to use).
 Size Of The Holder: Lipstick cases are available in different sizes. While most of them hold a standard sized tube, some are available for more customized sizes. Some cases hold more than one tubes. Select a size as per your requirement.
Why Trust StyleCraze?
The author, Baishali Bhattacharya, is certified in makeup techniques and loves recommending the best products to users through her well-researched articles. She has put together the above list of best lipstick cases after thoroughly researching a wide range of products available on the market and considering the reviews posted by users. These sturdy and durable cases come in attractive designs and help you carry your favorite lipsticks without any hassle.
Frequently Asked Questions
What are lipstick cases made of?
Lipstick cases are made of high-quality, durable leather to keep your lipsticks safe and protected, ensuring they do not break or lose their mechanism.
Does unopened lipstick expire?
Yes. Any lipstick that is more than two years old must be disposed of.
Can you reuse lipstick cases?
Yes, you can reuse lipstick cases to store other makeup or essential items that can fit in.
Recommended Articles