9 Best Lipstick Colors For Brunettes
Gorgeous lip shades that beautifully complement your natural hair and skin tone.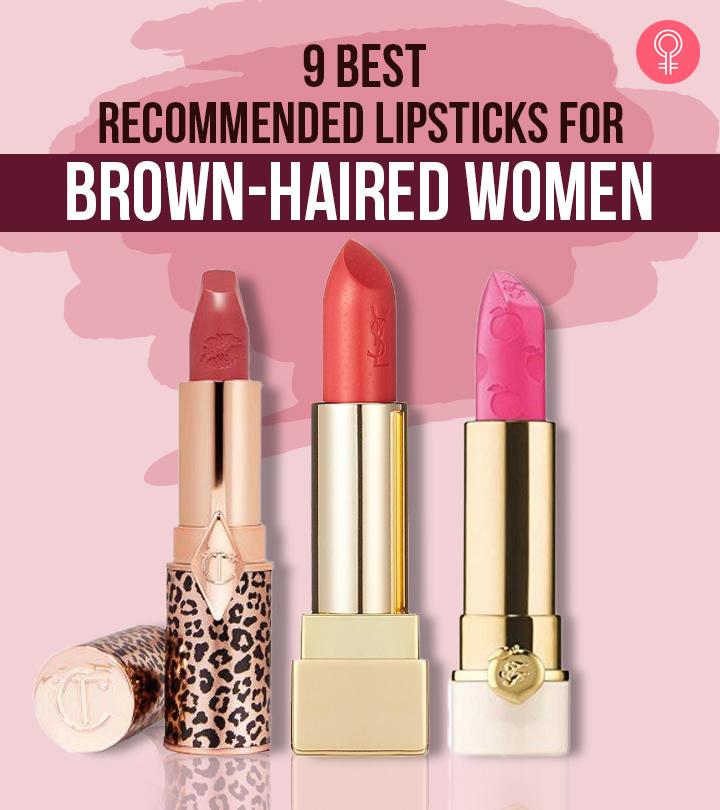 Women with brown eyes and hair are literally visual goals, but it is also vital to pick the best lipstick colors for brunettes that best suit those luscious locks. Lipsticks can complement or contrast your hair or skin tone, but you need to find the right balance. For instance, light or nude shades look great on those with blonde hair, and warm tones can make women with brown hair slay. Go all out with those deep reds and bright shades of pink if you are a brunette looking for the lipstick of their dreams.

9 Bestselling Lipstick Colours For Brunettes
Stand out and make a statement with this super luxe liquid lip color by Lime Crime. The unique formula dries down to a luxurious velvety matte finish. The beautiful pink shade blends perfectly onto your lips and complements your brown hair with ease. There is no need to worry about smudges and occasional touch-ups. This lipstick is entirely kiss-proof.
Pros
100% vegan formula
Long-lasting
Kiss-proof
Smudge-proof
Does not bleed
Cruelty-free
Cons
Price at the time of publication: $20
This lipstick by URBAN DECAY has a super luxurious and long-lasting formula that leaves you with dazzling lips with just a single swipe. The creamy texture glides seamlessly onto your lips, while the highly pigmented shade enhances your look. No more peeling, dryness, or chapping, as this lipstick keeps your lips feeling moisturized all day.
Pros
Goes on smooth
Long-lasting
Smells good
Non-drying
Cons
None
Price at the time of publication: $19.65
Nourish and condition your lips with this rich lip shade from NARS. Dolce Vita is a dusty rose shade that glides smoothly on your lips and leaves behind silky rich color. It is infused with passion fruit seed oil that moisturizes the lips and moringa oil that locks in color to retain its vibrancy. The lightweight formula makes it comfortable for daily wear and leaves your lips looking spectacular.
Pros
Lightweight
Non-sticky
Non-drying
Does not bleed
Goes on smooth
Cons
Price at the time of publication: $28.11
This gorgeous rich plum shade comes in a super cute heart-shaped stick. The pointed edges make contouring your lips easy, while the rounded edges provide precise application. This lipstick is enriched with rose extract, which offers ultimate hydration to your lips. The lightweight and buttery formula blends perfectly onto your lips. The formulation is color-saturated and enhances your appearance instantly.
Pros
Sweet fruity scent
Gentle
Lightweight
Glides effortlessly
Hydrating formula
Cute packaging
Cons
Price at the time of publication: $29.86
The super lush, long-lasting matte lipstick from Yves Saint Laurent is the perfect choice for brunettes. The highly pigmented formula offers medium to full coverage and dries to a gorgeous satin finish. This premium lipstick is infused with antioxidants and hydrospheres that protect and condition your lips.
Pros
High color payoff
Goes on smooth
Non-drying
Comfortable on the lips
Cons
None
Price at the time of publication: $29.76
The Kiss Creme Lipstick by Kat Von D has are volutionary formula that dries to a perfect velvety matte finish without drying your lips. It is infused with nourishing ingredients that repair and condition your lips on the go. LOLITA is a mauve red shade that makes your lips pop and complements your brown hair perfectly.
Pros
Creamy texture
Highly pigmented
Lightweight
Smooth application
Long-lasting
Cons
None
Price at the time of publication: $22.13
Indulge in a burst of buttery goodness with this intense matte lipstick by Too Faced. The unique formula contains a blend of sweet figs and juicy peaches that gives your lips a rush of hydration and long-lasting moisturization. It glides on your lips and settles in a gorgeous matte finish that lasts for up to 8 hours without smudging.
Pros
Long-lasting
Pleasant fragrance
Easy to apply
Paraben-free
Sulfate-free
Phthalate-free
Cons
None
Price at the time of publication: $21.11
This gorgeous lipstick from Fenty Beauty is lip shade goals. The weightless, soft matte lipstick sits perfectly on your lips and does not crease. It comes with the perfect wand for easy and precise application. Get super plump and dazzling lips in a single stroke and get ready to turn heads!
Pros
Vibrant
Non-drying
Easy to apply
Long-lasting
Highly pigmented
100% cruelty-free
Cons
None
Price at the time of publication: $34.99
This limited-edition lipstick by Charlotte Tilbury is a must-have in your vanity. Charlotte created this iconic beachy rose lip shade as a homage to Jennifer Aniston. It adds the right amount of pop that brightens up your face and leaves your lips looking dreamy. The formula is infused with antioxidant-rich tea tree extracts that condition and repair your lips from within. The 3D glow pigments in this lipstick create a plumping illusion that leaves your lips feeling fuller.
Pros
Super hydrating
Goes on smooth
Non-drying
Cons
Price at the time of publication: $41.95
Picking a lipstick shade may seem like an easy task, but it has a lot of nuances to it. From choosing the right shade to complement your hair to check what works best with your skin, there is endless research to do. This is why we have a comprehensive buying guide for you to select the right lipstick to perfectly go with your brunette hair.
How To Pick The Best Lipstick Color For Brunettes
Consider your hair color before selecting a lipstick shade. For instance, it is best to stick to nude to light brown lipstick shades if you have naturally brown hair. However, with dark brown or chocolate hair, you can play with bolder colors like ruby, crimson, plum, or cherry. For hair on the chestnut color spectrum, go for shades that mimic the reddish undertones of your locks, including wine, berry, or coral. Finally, opt for peach or apricot lip colors for brunettes with golden or blonde highlights.
Your skin color and undertones are crucial in determining the right lipstick shade for your brunette hair. Take both of these factors into account before making a selection.
If you are fair-skinned with cool undertones, you can go with vibrant shades of blues, violets, rosy pinks, and fuchsia to complement your skin. For warm undertones, look for shades of berry with orange undertones. These include deep reds, burgundy, warm pinks, or corals.
If you have medium skin with warmer undertones, choose peachy nudes, deep mauve, deep cinnamon, and rich browns to beautifully complement your skin. On the other hand, those with cool undertones can opt for bright pinks, pink nudes, cherry reds, or purple shades.
The best options for dark skin tone with warmer undertones are cinnamon, reddish browns, deep crimson, and hot pinks. In contrast, shades of plum, mauve, and violet are the top picks for those with cool undertones.
Why Trust StyleCraze?
The author of this article, Baishali Bhattacharya is a certified makeup and image consultant. She has carefully browsed through online reviews while picking the best lipstick colours for brunettes. Baishali has recommended shades that would complement your brown hair perfectly. Her well-researched article ensures that the products are high-quality yet budget-friendly while keeping your safety and convenience in mind. Not only are these lipsticks long-lasting, but they're also smudge-proof and cruelty-free.
Frequently Asked Questions
What colors do brunettes look good in?
Deep pinks, bright blues, and greens with a yellow undertone, such as pear ruby red, burgundy, plum, and claret, suit brunettes.
How long do lipstick colors last?
Lipstick colors usually last 12-24 hours.
Do lipstick colors expire?
Yes, lipstick colors expire. They usually last two years.
Can I use lipstick colors for brunettes every day?
Yes, you can use lip colors for brunettes every day if they complement your skin tone.
Recommended Articles