13 Best Lipsticks For Older Women, According To Experts – 2023
Invest in these stunning lipsticks that give you a graceful and oh-so-flawless look.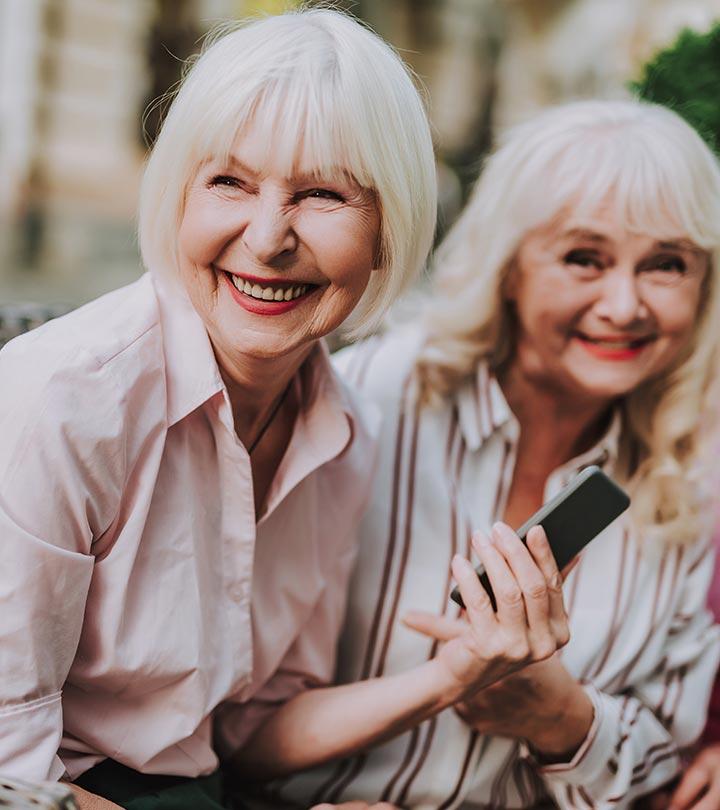 With aging skin, women often become conscious of their choices regarding what to wear, which eyeshadow to choose, or which lipstick to buy. To help you look beautiful no matter what your age is, we have listed some of the best lipsticks for older women. After all, lips are one of the best features of your face that talks a lot about your appearance. We have got some lipsticks that moisturize your dry lips but don't accentuate fine lines. These lipsticks will suit your look like fine wine! They will add just the right color that will make you look confident and young but not bolshie.
Lorrie Pearson, a professional Makeup Artist, says, "Your lipstick is the perfect wardrobe accessory, the color you choose is your statement piece."
Have a look at the 13 best lipsticks for older women below. We have chosen age-defying formulas made with safe and moisturizing ingredients to help you look and feel the best.
Top 13 Best Lipstick For Older Women Of 2023 With Buying Guide
Made specially for older women, this L'Oreal Paris Luminous Hydrating Lipstick nourishes and moisturizes your lips. The brown lipstick is formulated with nourishing serum and pro-vitamin B5 at its center that helps to keep your aging lips hydrated. To get the anti-aging look with its Brilliant Brown shade, you should begin the application from the upper lip center. Then, work towards the lip edges, following the contour of your mouth, and lastly, glide over the bottom lip.
Pros
Age perfect
Smoother lips
No chemical used
Rich and creamy texture
Provides 9-hour hydration
Does not feather into lines
Cons
Color may not properly appear on some complexions
Price at the time of publication: $7.89
Get a creamy and semi-matte finish texture with this Bobbi Brown non-drying lipstick. Its Brown shade delivers a flattering medium pink-brown hue and makes your lips look younger. The cream lipstick allows easy application and it gives a comfortable feel to your aging lips. To get a polished look, follow the natural line of your mouth while applying the lipstick and cover the upper and lower lips evenly.
Pros
Long-wearing
Moisturizing
Full-coverage color
Lasts up to 10 hours
Glides on smoothly
Cons
Color may not suit cooler skin tones
Price at the time of publication: $22.01
Want fuller and younger lips? Get this Elizabeth Arden Ceramide Ultra Lipstick that delivers a lustrous and intense look to your lips. Infused with Volulip™, this lip color makes your thin and fine-lined lips plumper and young. The nourishing lipstick is moisture-enriched pigments that make it perfect for older women. Check out this video to know more about this coral lipstick.
Pros
Long lasting
Soft young lips
Comfort and shine
Does not feather into lines
Contours seem more defined
Cons
Some may find it slightly greasy
Price at the time of publication: $24.0
If you like natural and minimal makeup, the BOOM! by Cindy Joseph Cosmetics Boomstick Color is what you need. It is a multi-tasking product that can work as your lipstick, blush, and even bronzer. The sheer lipstick comes in a berry color and mimics the natural skin tone of the wearer and offers a radiating glow to their face.
Denyse O'Connor, beauty, cosmetic, & personal care blogger, adds, "It goes on so well and it works with everybody's skin tone to create a really radiant look." This lightweight, creamy formula glides smoothly and lasts an average of six to eight hours on your lips. It adds a smooth, delicate flush to your lips and cheek that gives you a lively appearance. Denyse O'Connor says, "It feels absolutely smooth and wonderful on my lips.
Pros
Lightweight
Easy to apply
Travel-friendly
Cruelty-free
Cons
Might leave the skin sticky
Price at the time of publication: $28
Are you searching for a matte lip color that does not dry out your lips? The Runway Rogue 90s vibe lipstick is the perfect combination of matte and moisture. It is infused with squalene that prevents trans-epidermal moisture loss. It is also formulated with safflower oil and castor seed oil that keeps your lips smooth and supple, and the licorice root extract protects your lips from free radicals. This natural-looking lipstick is non-comedogenic and glides smoothly on your lips, offering them a matte rose look. The anti-feathering lipstick is long-lasting and provides buildable coverage.
Pros
Long-lasting
Non-comedogenic
Easy to apply
Buildable coverage
Paraben-free
Talc-free
Sulfate-free
Gluten-free
Cruelty-free
Cons
Price at the time of publication: $28
The CATKIN Matte lipstick is inspired by traditional Chinese paintings. The lipstick paste is uniquely carved with miniature Chinese relief structures. Youtuber Gina, adds, "It is carved! It's like one of those things you don't want to use because it's so pretty. It is really nice, it's not drying on your lips. The packaging is so beautiful, it's worth it." The formula is infused with plant-derived healthy ingredients like squalene, phytosterols, Simmondsia chinensis seed oil, limnanthes alba seed oil, and vitamin E that keep your lips moisturized despite offering a matte finish to them. This anti-bleeding lipstick offers a full-bodied effect, is lightweight, and ultra-pigmented lipstick glides smoothly over your lip contours and lasts 24 hours.
Pros
Long-lasting
Lightweight
Highly pigmented
Does not bleed out
Cons
Price at the time of publication: $17.99
The Pippa of London Envy Matte Lipstick is a highly pigmented statement lip color. The mauve lipstick is infused with bamboo extracts that nourish and soothe your lips, vitamin E that prevents aging signs and radical damage, and shea butter that moisturizes and softens your lips. This smoothing lipstick is also formulated with synthetic waxes and elastic film that make it smudge- and flake-proof. The cruelty-free lipstick also has a long-wearing formula.
Pros
Highly pigmented
Smudge-proof
Does not bleed
5-hour long wear
Easy to use
Cruelty-free
Cons
Price at the time of publication: $27.5
In Rebellious Rose shade, this sculpting lipstick gives your mature lips a full-on cream finish. It glides on smoothly for an even application. You will get beautifully shaped and sculpted lips with this lip color that has multi-faceted pigments to define your lips. The moisturizing lipstick prevents dryness all day long.
Pros
Highly pigmented
Soft and smooth
Comfortable feel
Up to 8-hour wear
Suitable for all skin tones
Cons
Some may find it a bit greasy
Price at the time of publication: $20.57
Look younger with this Brain Teaser color that leaves a medium pink brown hue on your lips. Its soft creamy formula will keep your lips moist and make them look young by not feathering into fine lines. Enriched with beauty organic oil, this lipstick delivers a luxurious satin-finish look and pampers your lips with antioxidants. It is formulated with castor seed oil, beeswax, and cocoa seed butter.
Pros
Long-lasting
Highly pigmented
Ultimate hydration
No color bleeding or flaking
Food grade organic ingredients
Cons
May not have a decent odor
Price at the time of publication: $28.0
Plump up your pout with the MAC Amplified Creme Lipstick. It has an ultra-creamy formula and glides smoothly on your aging lips. It makes your lips feel hydrated and is a blessing for normal to dry lips. This light baby pink lipstick is highly pigmented, is suitable for light to medium complexion, and offers a semi-glossy finish.
Pros
Full coverage
Mild fragrance
Smooth application
Easy to use
Cons
None
Price at the time of publication: $24.99
The Bodyography Matte Lip Lava Liquid Lipstick is a creamy, non-drying formula that keeps your lips smooth all day. The anti-aging lipstick is infused with antioxidant-rich fruits, superfoods, and nourishing minerals that keep your lips healthy and protected from radical damage. This ultra-soft bright lip color is 3x more pigmented that dries instantly into an opaque finish. This vegan lipstick is also designed with micro-absorb technology that prevents color from bleeding and flaking.
Pros
Creamy consistency
Non-drying
3x pigmented
Long-lasting
Does not flake
Value for money
Vegan
Paraben-free
Gluten-free
Lead-free
Talc-free
Cons
None
Price at the time of publication: $11.35
Make your lips attractive as well as hydrated with this Charlotte Tilbury Hot Lips Lipstick. The antioxidant rich lipstick is also formulated with orchid extracts and is the perfect choice for soft and moisturized lips. It will give you a smooth glide with extra precision with the help of its square-angled tip. Its buildable formula makes your lips appear young with a soft matte finish.
Pros
Long-lasting
Age perfect
Cruelty-free
No Paraben
Gluten-free
Cons
Price at the time of publication: $43.43
Benecos Natural Lipstick in Watermelon is a cranberry hue that will suit any skin tone. With antioxidant-loaded ingredients, this plum lipstick gives a soft creamy texture to your lips and makes them look young. Organic jojoba, castor seed, and avocado oil with candelilla wax add the moisture factor in the lipstick, while vitamin C and E along with babassu oil serve as preventive protection for your lips.
Pros
Gluten-free
No chemicals
Smoother lips
Cruelty-free
Cons
May not last throughout the day
Price at the time of publication: $12.45
Before you decide a lip color, take a look at our buying guide of lipstick for older women to choose the right one:
Buying Guide
1. What's the best lipstick shade for skin tone over 50?
To choose the perfect lipstick shade, you have to match the hue with your skin's undertone. If you have warmer undertones, lipsticks with fiery red and orange bases will look pretty on you. And if you are the one with cooler undertones, lipsticks with purple, silver, and blue bases will be lovely choices. However, women with neutral undertones have a wider range of lovely options of lipsticks as any shade will be suitable for them.
Not aware of your skin's undertone? Check the color of your veins on the wrists. If it appears olive, you probably have a warmer undertone, and if the color of veins is purple or blue then that means a cooler undertone. A neutral undertone will probably have blue-green veins.
2. What types of ingredients should I look for over 50?
The skin of women over 50 begins to show fine lines, wrinkles, and dryness. Therefore, your beauty products should have nourishing and moisturizing factors to keep your skin healthy and soft. While choosing an age-defying lipstick, pick the ones that are made of natural and organic ingredients. And the types of ingredients that you should avoid while choosing lipstick for older women are chemicals, parabens, sulfate, phthalates, lead, and fragrance.
3. What color lipstick makes you look older?
Aging beautifully needs work and to follow that you need to be cautious while choosing products for your face. Lipstick plays an important role in making your face beautiful and as you age, you have to pick the one that does not make you look older than your age. Bright colors like red need to be picked carefully as it may not be an age-appropriate lipstick. As a woman ages, the lips become thinner, so if you choose bright and deeply saturated colors, it may result in bleeding around the mouth edges. As a result, those wrinkly deep lines will be highlighted making you look much older.
4. What lipstick shades can make you appear younger?
Lighter shades of lipstick make you look younger. Avoid bright and bold color lipstick with age and settle for lighter hues. However, the choice of lighter shades also depends on your skin fairness. Here's a tip: Apply a concealer, as per your skin tone, at the border of the lips to emphasize them.
5. Best lipstick for older women: choose the perfect color?
The best lipstick for older women is the one that suits her skin tone. If you are good with warmer tones, then your undertone is yellow. Therefore, your choice will be shades like scarlet, coral pink, orange, navy blue, brown, warm green, and cream. And for the cooler tones, the undertones are blue, so you will look best with purple navy, cherry red, icy blue, fuchsia, pink, and grey lipstick.
6. How to choose the perfect lipstick color for older women?
Lips lose volume with age and lipsticks can add that fullness, but you need to choose the right one. Here are factors to consider while choosing the perfect lipstick color for older women.
Shades: The right shade gives you a younger look while nude lipsticks make you look paler. The ideal colors of lipstick for women over 50 should be lighter like soft and muted corals or roses under nude bases. Do avoid brighter colors or shimmery lipsticks as they highlight the lines on the lips and around the mouth.
Long-lasting: At any age, women need long-lasting lipstick. However, in the case of older women, the smooth lips are taken over by wrinkled lines. Due to this, the lipstick ends in those lines and smudges faster. Therefore, ladies over 50 should own long-wearing lipsticks that can stay intact for at least 5 hours.
No bleeding: With age, your lipsticks may bleed and creep into lines around the mouth, which is not attractive. So, pick a transfer-resistant lipstick that would not let you go through this issue.
Texture: Choose well-pigmented lipsticks for mature wrinkled lips. Also, creamy texture is the perfect choice so that you can slide it on your lips easily.
Why Trust StyleCraze?
Srijani Roy Chowdhury is a makeup aficionado who finds her passion in recommending the best makeup products to her readers. For this article, she researched a long list of lipsticks for older women, keeping in mind hundreds of reviews from different trusted online forums and conducting exhaustive research on their formulations. These long-lasting, full-coverage lipsticks glide on smoothly and keep your lips soft and hydrated.
Frequently Asked Questions
Can an older woman wear red lipstick?
There is no harm in wearing red lipstick, but it may not look as flattering as you get old. Women with warmer undertones can go for lipsticks with a fiery red base.
Why does red lipstick make me look old?
The borders of the lips diffuse more when you are old. If you apply red lipstick on those lips, which also becomes thin and has fine lines, it will make your appearance much older than the actual age.
Does lip liner make you look older?
Lip liner for older lips can help in adding volume. Apply the liner and lipstick of the same shade to look younger and with fuller lips.
Does matte lipstick look good on older women?
Matte lipstick is a great choice for older women. Lighter shade lipsticks with matte finish will give a natural look to aged women.
Should older women wear dark lipstick?
Women over 50 should avoid darker colors of lipsticks on their thin and wrinkled lips. The vivid and dark shades can make your mouth look harsh and severe.
How do you get lipstick to stay on aging lips all day?
You can make lipstick stay on aging lips throughout the day by prepping your lips well. Exfoliate and moisturize your lips to achieve a smooth base. You can also use a hydrating lip primer to remove flakes. Finally, apply the lipstick using an applicator brush.
Recommended Articles: