17 Best Lipsticks For Women That Are All-Time Favourites – 2022
Add a bold factor to all your looks with these marvelous long-lasting lip hues.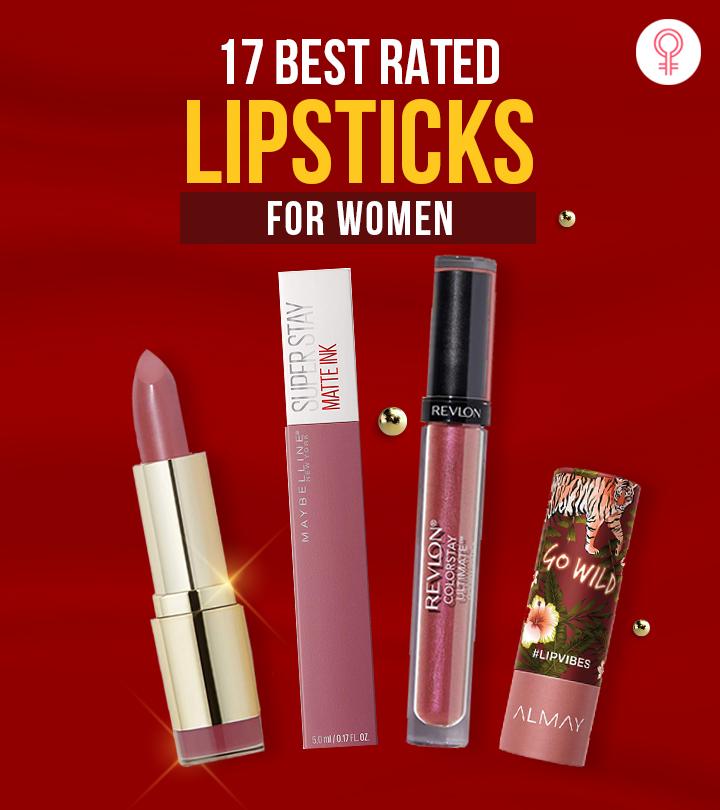 Even if you like to wear minimal makeup, you cannot skip wearing lipstick. There are always some common lipstick shades somewhere in everyone's vanity. However, if you just want one or two basic shades in your kit, it might be tricky for you to choose the best lipstick for women. From the multiple shades and options available online, we have shortlisted the 17 best lipstick for women that will instantly brighten your face. Keep scrolling to explore them all!
17 Best Popular Lipsticks For Women
The Maybelline SuperStay Matte Ink is a liquid formula that is mask-resistant. It glides on the lips smoothly and stays for 16 hours. The liquid lipstick comes with a precision tip applicator that helps in a smudge-proof application. It has a matte finish and can be topped with a lip balm or gloss. This lipstick is available in 40 highly pigmented shades ranging from nudes to classic reds. 
Pros
Transfer-resistant
Long-lasting
Smudge-proof
Highly pigmented
Glides smoothly on the lips
Available in 40 shades
Cons
This matte lipstick from NYX glides smoothly on your lips and offers a silky matte finish. The creamy formula is highly pigmented and non-drying and adds an opaque pop of color to your lips. It is available in 27 shades to complement various skin tones, outfits, and moods.
Pros
Long-lasting
Highly pigmented
Goes on smooth
Does not smudge
Cruelty-free
Available in 27 shades
Cons
The wet n wild Silk Finish Lipstick is enriched with aloe vera and vitamins A and E to give a silky finish to the lips. The macadamia nut oil in the formula contains antioxidants that hydrate the lips and make them supple and smooth. The highly pigmented colors give a bold look and are suited for any day or night look. This lipstick is available in 23 flattering shades. 
Pros
Moisturizes the lips
Goes on smooth
Good color payoff
Cruelty-free
Cons
The Milani Color Statement Lipstick has a naturally nourishing formula enriched with vitamins A and C. It glides easily on the lips and offers a bold matte finish and long-lasting wear. This lipstick is available in 40 vibrant shades to complement every look. The colors range from pretty pinks to bold reds and passionate purples, which stand apart from the regular lipstick colors.
Pros
Long-lasting
Moisturizes the lips
Available in 40 shades
Cruelty-free
Cons
The Burt's Bees Satin Lipstick has a 100% natural formula that keeps your lips moisturized for 8 hours. It is infused with moringa oil, beeswax, vitamin E, and raspberry seed oil to soften and condition the lips. The creamy texture glides smoothly on the lips to impart a satin finish. This non-drying lipstick is available in 18 vibrant shades that deliver bold color to the lips.
Pros
Long-lasting
Lightweight
Moisturizes the lips
Available in 18 shades
Cruelty-free
Paraben-free
Phthalate-free
Petrolatum-free
SLS-free
Cons
The stila Stay All Day liquid lipstick has a creamy formula that delivers bold color with a matte finish that stays on for 12 hours. It is formulated with avocado oil and vitamin E to keep the lips hydrated and soft. The lightweight formula is comfortable and does not bleed or transfer.  It comes in 19 different shades in sheer and shimmery finishes.
Pros
Lightweight
Creamy texture
Long-lasting
Does not bleed
Does not transfer
Paraben-free
Sulfate-free
Phthalate-free
Cons
This full-coverage, long-wearing lipstick from Revlon has a liquid formula that gives a satin finish to the lips and sets in with a single coat. It is available in 12 shades, ranging from nudes, pinks, browns, reds, and purples to corals, which can work for a day or night look. The colors are transfer-proof, last for 24 hours, and make the lips feel soft and velvety.
Pros
Lightweight
Transfer-proof
Long-lasting
Transfer-proof
Available in 12 shades
Cons
The Go Wild #LipVibes from Almay is a creamy matte finish lipstick. The smooth and silky formula is rich in vitamins C and E and shea butter that makes the lips soft and keeps them moisturized. The stick has a unique bullet shape, which is easy to apply and does not smudge. This lipstick is available in 24 shades, which include 12 cream, 10 matte, and 2 topper finishes. You can mix and match the shades for bold and unique looks.  
Pros
Hypoallergenic
Comfortable on the lips
Good color payoff
Goes on smooth
Fragrance-free
Non-sticky
Non-drying
Cons
The Mynena Liquid Matte Lipstick is non-transferable and comes in bold shades that dry into a vivid, opaque finish. The non-sticky formula glides on smoothly and keeps the lips moisturized. The highly pigmented velvet lipstick has an enticing vanilla fragrance and offers full coverage with just one coat. It has mineral-based ingredients, making it safe for all skin types.
Pros
Waterproof
Transfer-resistant
Smudge-proof
Kiss-proof
Does not bleed
Paraben-free
Vegan
Cruelty-free
Cons
The Continuous Color Lipstick from COVERGIRL is infused with ingredients rich in vitamins A and E and castor seed oil. It helps lock in moisture and keeps the lips nourished and soft. The lipstick stays put for up to six hours. The moisture-rich formula comes in many shades that make the lips look luscious and vibrant. 
Pros
Lightweight
Moisturizing formula
Long-lasting
Non-sticky
Cons
The Neutrogena MoistureSmooth Color Stick has a moisturizing formula that conditions the lips in just three days. The twist-up color stick is convenient to use and makes the lips feel soft and smooth. It is made with shea butter, mango, and other fruit extracts that keep the lips hydrated, moisturized, protected, and nourished.
Pros
Glides smoothly on the lips
Dermatologist-tested
Available in 16 shades
No sharpener needed
Cons
The Catkin Rouge Matte Lipstick makes your lips feel soft, smooth, and moisturized. The waterproof formula is highly pigmented and is formulated with vitamin E, jojoba oil, and natural botanical ingredients that prevent chapping and dryness. The creamy formula glides on smoothly to nourish the lips and keep them luscious. 
Pros
Long-lasting
Non-sticky
Fragrance-free
Alcohol-free
Mineral oil-free
Cons
The MOODmatcher Lipstick from Fran Wilson is enriched with aloe vera and vitamin E to hydrate the lips. The color-changing lipstick stays on for up to 12 hours and responds to body chemistry. It does not cause feathering, fading, or bleeding and does not require any touch-ups. It takes just two minutes for this lipstick to reach its peak personalized color.
Pros
Waterproof
Kiss-proof
Smudge-proof
Long-lasting
Fade-proof
Hydrates the lips
Color-changing feature
Cons
This all-natural lipstick from Fifth & Skin is an organic formula enriched with botanical extracts, organic butter, and essential plant oils that protect, nourish, and moisturize the lips. It is infused with vitamins A, B1, B2, B6, and E, calcium, and real vanilla extract to condition and smoothen your lips.
Pros
Goes on smooth
Hydrating formula
Highly pigmented
100% natural
Paraben-free
Cruelty-free
Vegan
Lead-free
Phthalate-free
Petroleum-free
Gluten-free
Cruelty-free
Preservative-free
Cons
The SRSLY Satin Lipstick from e.l.f. Cosmetics has a smooth, silky formula that offers a highly pigmented, long-lasting color to the lips. Just one swipe of the lipstick provides an intense color payoff that can help you slay any look with ease. The creamy formula does not run or bleed and gives the lips a smooth, soft appearance. This lipstick is available in 10 shades.
Pros
Highly pigmented
Cruelty-free
Vegan
Phthalate-free
Paraben-free
Triclosan-free
Hydroquinone-free
Cons
This Velvet Matte Lipstick from FACESCANADA has a non-drying formula and is infused with vitamin E that keeps the lips soft and moisturized. It is highly pigmented and can withstand high temperatures without drying. This lipstick is available in 15 shades, glides easily, and gives the lips an elegant matte finish. 
Pros
Lightweight
Long-lasting
Goes on smooth
Paraben-free
Cruelty-free
Cons
The Dramatically Different Lip Shaping Lipstick is a rich, hydrating formula that offers skin care to the lips. It has a 3D pearl center that sculpts the lips and their contours, giving you an instantly smooth pout. This lipstick is available in a large range of shades and improves the definition of the lips over time.
Pros
Hydrating formula
Goes on smooth
Long-lasting
Good color payoff
Cons
None
Why Trust StyleCraze?
The author of this article, Baishali Bhattacharya, is an expert in makeup artistry and loves to write informative articles about the same. She has curated a list of the best-rated lipsticks after carefully browsing online reviews and reading product specifications and ingredients. Her list features lipsticks that are smudge-proof and long-lasting. Not only are these lipsticks available in several colors, but they also glide smoothly and moisturize your lips.
Frequently Asked Questions
Is it OK to wear lipstick every day?
Yes, it is safe to apply lipstick every day. Do ensure, though, that you buy a good quality lipstick that keeps the lips moisturized and is easy to remove at the end of the day.
Can lipsticks darken lips?
No. The cosmetic industry has evolved, and good brands and good quality lipsticks no longer cause the darkening of the lips.
Should you apply lip balm before lipstick?
Yes, it is advisable to apply lip balm before using some lipsticks as it keeps the lips moisturized and helps the lip color stay on longer without drying or chapping.
Is it safe to use old lipstick?
A lipstick ideally has an expiry date of one year. The waxy coat of the lipstick dries up and smells rancid with time. The hard wax collects bacteria, so it is not recommended to use old lipsticks that are more than a year old.
What color lipstick makes you look younger?
Lighter colors, such as pinks, corals, and neutrals, can make your lips appear bigger and make you look younger.
Which lipstick is best matte or glossy?
Lips that are glossy or matte are perfect for any occasion. Glossy lipstick is quick and easy to apply and imparts a fresh, natural look, but requires frequent application. Matte lipsticks are a non-shiny alternative to glossy lipsticks, offering pure color and a smooth, even texture.
Does matte lipstick dry your lips?
Yes, matte lipstick may dry out your lips, so always wear a lip balm before applying matte lipstick.
Recommended Articles