15 Best Lipsticks For Medium Skin Tones That Are Worth The Hype
Brighten and level up your lip game with a suitable shade for your complexion.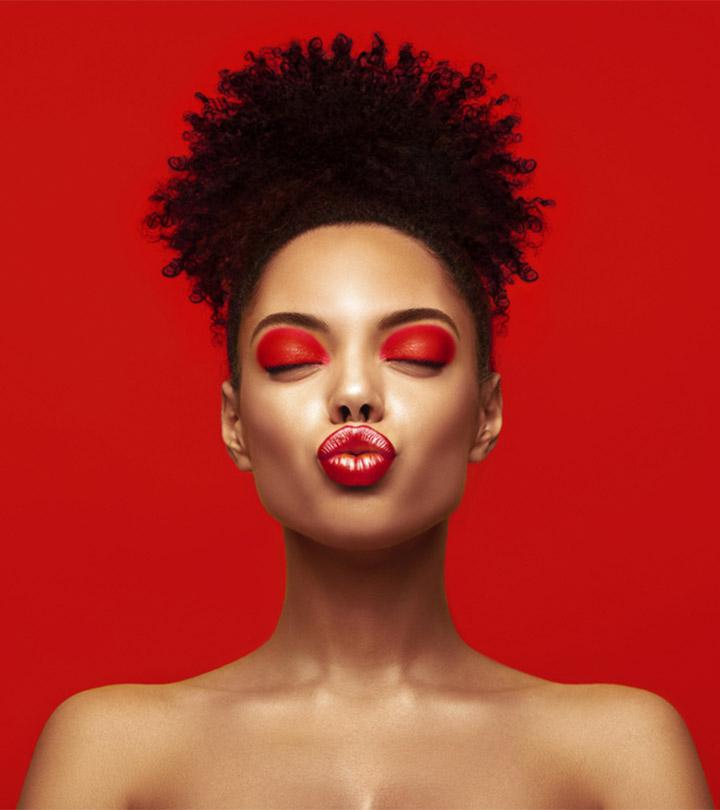 A quick swipe of a well-suited lipstick can transform your look from drab to fab in a moment, but for us brown-skinned people, it may be tricky to find shades that suit our complexion. The search for the best lipsticks for medium skin tones can be long if you don't know where to look. A nude lipstick may look fantastic on someone with a lighter skin tone, but if it is tweaked with a dash of hot pink, it can up the oomph factor of someone with a medium complexion effortlessly. While a standard black eyeliner can highlight blue, green, brown, or gray eyes equally well, we cannot say the same about lipstick. Most of us get too many lipstick recommendations at once. Despite it being a staple in every makeup enthusiast's handbag, a majority of us are most likely to roam around with one that does not suit our skin tone. We may have raided our moms' vanity during childhood and smeared whichever lipstick was within our reach on our lips, but that needn't be the case now! If you don't know which shades to get for your honey-like complexion, check out our curated list of a few lipsticks that suit medium skin tones perfectly!

15 Lipsticks For Medium Skin Tones That Bring Out Your Best Features
If you're looking for a lipstick to compliment your beautiful medium skin tone, you're going to love this creamy lip color that blends brown and red for a gorgeous hue, ensuring you glow. This lipstick shade features a soft, velvety texture, and its mineral-based formula glides on smoothly to deliver a rich, saturated color that lasts all day long without requiring frequent touch-ups. Flaunt the perfect pout by pairing this matte finish lipstick with a matching lip liner for dolled-up lips that are sure to turn heads. The formula is vegan, cruelty-free, and dries to matte perfection.
Pros
Matte finish
Soft, creamy texture
Mineral-based formula
Smudge-proof and wear-resistant
Vegan and not tested on animals
Cons
Some might find that this lipstick has an overpowering odor.
Here's a gorgeous nude to add a touch of class and cool refinement to your look. Infused with skin-loving vitamin E and avocado oil, this super moisturizing lipstick delivers rich, high-impact color to give those with a medium skin tone just the oomph they need to make their lips pop. The creamy, velvety texture and lightweight finish make it easy to wear this lipstick all day, every day. Whether you're getting ready for work or heading out for brunch with your girlfriends, pair this lipstick with some mascara for a look that is both stylish and understated. This is one of the must have lipstick shades for medium skin tones.
Pros
Creamy, moisturizing formula
Infused with vitamin E and avocado oil
Rich, high impact color
Suitable for all-day wear
Cons
Might not be best suited for those with very dry skin.
The Wet n Wild's Silk Finish Lipstick is here to add a bold pop of color to your look. The highly-pigmented formula of this red lipstick contains vitamins A and E, aloe vera, and antioxidant-rich macadamia nut oil. This lipstick leaves your lips feeling hydrated and smooth. It is a long-lasting lipstick that offers you the perfect pout, and it can be used alone or layered with a lip liner and lip gloss for a vibrant effect. It is a makeup artist-approved product that helps you style any look with ease.
Pros
Smooth application
Moisturizes the lips
Highly-pigmented formula
Non-sticky
Cons
Get the soft, luscious lips that you've always dreamt of with this velvety liquid lipstick which combines irresistible, long-lasting color and all-day comfort in a pretty little bottle. The perfect accessory for your handbag, this statement-making lipstick has a classic matte finish and is infused with jojoba seed oil and vitamin E to keep lips looking and feeling buttery soft, and nourished. Free of parabens, this beauty product is suitable for those with dry and sensitive skin and is ideal for everyday use.
Pros
Infused with vitamin E and jojoba oil
Lasts upto 12 hours
Soft, velvety texture
Vegan and cruelty-free
Cons
Some might find that this lipstick tends to be a bit flaky.
Embrace the chic diva in you with this gorgeous nude barely-there hue designed to highlight and enhance your natural medium skin tone. Ideal for when you're looking for a cool, understated finish, this coral lipstick has a creamy, velvety texture and lasts all day long without requiring frequent touch-ups. Suitable for all skin types, this universally loved shade helps balance your beautiful glow and is the perfect gift for the minimalist fashionista in your circle.
Pros
Lasts upto 8 hours
Soft, creamy color
Suitable for all skin tones
Ideal for gifting
Cons
Some might find the color of this lipstick a bit dull for nighttime use.
The Black Radiance's Lip Color provides long-lasting full coverage and a beautiful shiny finish. It is perfect for people with combination skin, as it deeply moisturizes the lips without leaving your face feeling greasy or heavy. The shade of bronze complements fair to medium skin tones. So, if you are looking for high-quality makeup that lasts through any occasion, this bronze crayon should be on top of your list.
Pros
Shiny finish
Long-lasting
Moisturizes the lips
Soft, creamy texture
Value for money
Cons
Bring a natural brightness to your face and highlight your bronze skin tone with this incredible liquid lipstick designed to help make your lips take center stage. Enriched with moisturizing ingredients like jojoba oil, shea butter, and avocado oil, this liquid lipstick has a soft texture and a gorgeous matte finish. This beauty product is vegan and not tested on animals, making it the ideal choice for the conscious consumer who doesn't want to compromise on quality.
Pros
Enriched with shea butter, avocado oil, and jojoba oil
Easy to apply
Suitable for daily use
Vegan and cruelty-free
Cons
Some might find that this lipstick needs to be touched up a bit frequently.
Here's a 2-in-1 beauty must-have which combines beautiful lip color with a moisturizing topcoat that ensures you have pucker-ready lips all day long. The gorgeous neutral color flatters those with medium skin tones. Its smooth texture allows this neutral lipstick to glide on seamlessly for a glossy, shiny finish. Its enhanced features help you achieve exceptional results. Flaunt soft, supple lips with this unique glossy lipstick which delivers brilliant color and full coverage while the nourishing topcoat provides essential moisture.
Pros
2-step formula with moisturizing top coat
Lasts upto 24 hours
Transfer-resistant and smudge-proof color
Cruelty-free
Cons
Might not be best suited for those with very sensitive skin.
Clean beauty never looked this good! Here's a non-toxic lipstick made of high-quality vegan ingredients to ensure you can enjoy your makeup guilt-free. Say hello to vibrant color and ultra-hydrated lips that look and feel soft and oh-so-luscious. Made with pure pigments and chock-full of sustainably sourced nourishing ingredients like hyaluronic acid, vitamin E, and grapeseed oil, this lipstick delivers long-lasting color while keeping lips supple and deliciously soft.
Pros
Moisturizing formula with active botanicals
Infused with skin-plumping hyaluronic acid and konjac root
Free of parabens, phthalates, and sulfates
Vegan and animal test-free
Cons
Some might find this lipstick a bit difficult to remove.
If you're looking to clean up your beauty regime, start with this moisturizing matte lipstick infused with herbal ingredients to provide full coverage and high-impact color without compromising health. Featuring an angled bullet design for easy application, this lipstick is formulated with coconut and palm leaf to help create a rich, smooth texture. Aloe, ginseng, chamomile, and ginkgo, a medical tree native to China, work together to moisturize and nourish the lips while providing a creamy, matte finish that is sure to have the compliments rolling in.
Pros
Vitamin-infused moisturizing formula
Enriched with botanical extracts
Gluten-free
Free of parabens
Vegan and cruelty-free
Cons
Some might find this shade of lipstick a bit dull.
Introduce the goodness of nature into your skincare routine with this moisturizing vitamin-infused lipstick which combines quality and comfort into a pretty little package. This natural lipstick glides on smoothly for a creamy, long-lasting finish, infused with certified organic ingredients like shea butter, cocoa seed butter, and coconut oil. Ideal for those with a medium skin tone, this lipstick will help you say goodbye to chapped lips and flaunt a beautiful look with just a hint of vibrant color.
Pros
All-natural, nourishing ingredients
Lead-free, non-toxic formula
Free of parabens, phthalates, and petroleum
Non-GMO and gluten-free
Cruelty-free
Cons
Some might find the texture of this lipstick a bit greasy.
Give your moisture-deprived lips a boost of antioxidants with this gorgeous vegan lipstick formulated with natural and organic butter, essential plant oils, and botanical extracts. Made without toxic chemicals, this creamy lipstick glides on effortlessly to deliver vibrant color while conditioning and nourishing your lips so that you're always pucker-ready. Designed for the health-conscious young woman who likes her look to always be on point, you can't go wrong with this mauve lipstick!
Pros
100% natural and lead free formula
Smooth and creamy texture
Free of parabens, phthalates, and petroleum
Hypoallergenic
Vegan and cruelty-free
Cons
Some might find that this lipstick smells a bit unpleasant.
Here's a lipstick that comes inscribed with an inspiring affirmation to help you kick start your day with beautifully defined lips and oodles of confidence. Formulated with moisturizing vitamin E, jojoba seed oil, and shea butter, this hydrating lipstick also features encapsulated water which releases overtime to keep the lipstick from drying out. Flaunt fresh, younger-looking lips with a gorgeous color that highlights and enhances your medium skin tone so that you can step out with a radiant glow that lasts all day long.
Pros
Infused with jojoba seed oil, vitamin E, and shea butter
Easy to apply
Non-toxic, gluten-free formula
Free of parabens
Vegan and cruelty-free
Cons
Some might find the size of this lipstick a bit small.
Shimmer and shine with this classy, understated lipstick which adds just a touch of mystery and drama to your look. Suitable for daily wear, this versatile lipstick has a smooth, creamy texture and can be used to either elevate your workday look or to balance out an over-the-top smokey eye before an evening out. Bold color payoff, superior coverage, and a gorgeous semi-lustrous finish are reasons enough that this popular lipstick is a hot favorite amongst young divas everywhere. According to the reviews, it is one of the most moisturizing lipsticks out there.
Pros
Ultra-creamy formula
Bold color payoff
Full coverage with semi-lustrous finish
Suitable for all skin types
Cons
Some might find that this lipstick is not very long-lasting.
Flaunt a perfectly contoured pout with this 2-in-1 lipstick infused with a primer for a flawless, intense matte finish. Say hello to gorgeous non-sticky lip color which won't budge, whether you're eating lunch, talking through a work presentation, or drinking cup after cup of coffee. Featuring a sophisticated pen tip for precise application, this lipstick lasts upto 9 hours and provides high coverage with a silky smooth finish. Add this gorgeous lip color to your makeup bag, and you'll thank us later!
Pros
Lasts upto 9 hours
Creamy, lightweight texture
Non-sticky and non-feathering formula
High color intensity
Free of parabens
Cruelty-free
Cons
Might not be best suited for those with extremely dry skin.
Now that we've had a look at our pick of the 15 best lipsticks for medium skin in 2023, let us look at some things to consider when picking the right lipstick for your unique requirements.
How To Choose The Best Lipstick For Medium Skin
Whether you're looking for a nude, lightweight lipstick to finish up your understated work look, or a bright, radiant color to compliment your cocktail dress are factors to consider when picking the right shade of lipstick. If your style is minimalist and you like the same lipstick to carry you through your early morning meeting all the way to late dinner with friends, pick a color that is suitable for all-day wear. Don't hesitate to try a few before you find one that becomes your signature shade.
If you're dealing with chapped, flaking lips, pick a lipstick with a creamy, velvety texture that glides on smoothly to nourish your lips while delivering high-impact color. Want a lipstick that doesn't feel caked on? Go for one with a lightweight texture that lasts all day long without requiring frequent touch ups. Lastly, those who like their lipstick to double up as a lip gloss should pick a liquid one which has a gorgeous shiny finish.
Don't ignore the ingredient list at the back of your beauty product as it can tell you volumes about the makeup you put on your skin. Those with sensitive skin problems should pick a lipstick which is dermatologist tested and labeled as hypoallergenic. Skin-loving ingredients like shea butter and vitamin E are great for those with dry, chapped lips as they provide essential hydration to moisture-deprived skin. As always, steer clear of nasty ingredients like parabens, phthalates, and sulfates as they can be potentially harmful in the long run.
Why Trust Stylecraze?
The author, Priyam Gupta, is passionate about makeup and beauty products and the way they affect your skin! When it comes to lipsticks, she makes sure you choose the one best suitable to your skin tone. She has gone through multiple site comparisons and customer testimonials before shortlisting these top lipsticks for medium skin tone beauties. Liquid, cream, or matte, choose your favorite formulation and shade to color your smile with style and confidence.
Frequently Asked Questions
Which lipstick is best for those with a medium skin tone?
Deep mauves and berry tones work beautifully to highlight medium skin tones without looking garish or overdone. Don't hesitate to try a few lipsticks till you find a shade that brightens your complexion and adds a glow to your look.
Which lipstick shades work best with a medium skin tone?
There are plenty of gorgeous shades which will help enhance your medium skin tone without making you look washed out. Peachy nudes, coffee browns, deep mauves, and bright hot pinks are great shades to start with to help accentuate your gorgeous golden hue.
Recommended Articles
Best Nude Lipsticks That Suit Every Skin Tone
Best Lipstick Shades For Women With Fair Skin
Best Lipstick Colors For Olive Skin
Best Orange Lipsticks For All Skin Tones