14 Best Liquid Blushes For A Natural & Radiant Look + Buying Guide
Achieve flushed, sun-kissed glow on your cheeks with these buildable formulas.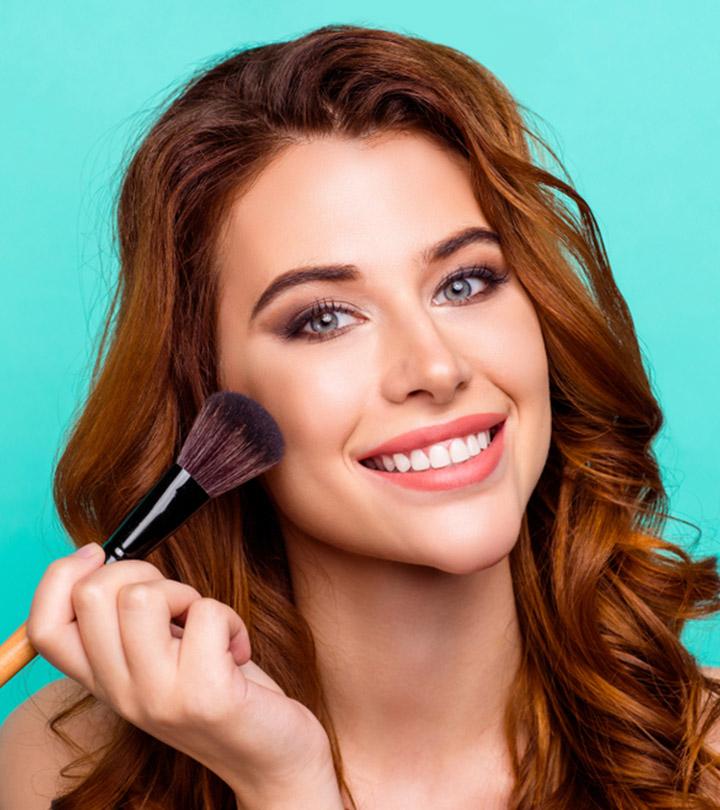 If you love a natural sun-kissed glow and hydrated flush, a liquid blush is an absolute must-have. The best liquid blush blends effortlessly and lasts much longer than powder blush. Moreover, liquid blushes have a buildable formula and will not make your cheeks appear dry and matte.
If you have struggled with dry skin during summer because of powder-based makeup, then a dab of liquid blush can give you a hydrated glow. Knowing their significance, and keeping in mind the liquid blush trends, we have made a list of the 14 most effective liquid blushes that will give you a natural sheer and a long-lasting shine. You will be all set to go out and enjoy a beach day out or a day in the boardroom. So, scroll down to check out the list and take your pick.
We have curated a list of the 14 best liquid blushes that will provide a natural sheer and give you a long-lasting shine.
14 Amazing Liquid Blush To Create The Best Glow
Liquid blush is not something a newbie starts with but with the Daniel Sandler Watercolor Fluid Blusher, you can now glow instantly because of its easy blendable formula. This gel-based formula works better than a powder or cream-based blush and gives you a natural-looking rosy radiance. Just apply a small amount of the liquid foundation and dab to blend into your skin for natural blush shades. Check out this review for a detailed understanding about the product.
Pros
Suitable for all skin types
Water-resistant
Available in different shades
Little goes a long way
Cons
Price at the time of publication: $35.97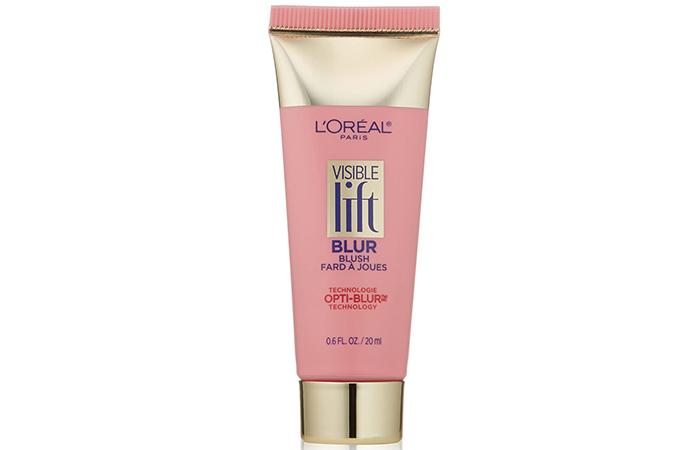 Have you heard of a blush that instantly evens out wrinkles and fine lines to give you smooth skin? The L'Oreal Paris Visible Lift Blur Blush does that and more. It is formulated with blur technology that slips on a cushiony soft look giving you a radiant and fresh glow. This anti-aging liquid blush for cheeks visibly lifts your skin and erases its uneven texture, leaving you with flawless-looking skin. This video review will help you understand more about the product.
Pros
Fresh, youthful finish
Blurs out dullness
Leaves skin with a sheer taint
Natural-looking finish
Lasts all day long
Cons
Might stain other surfaces
Price at the time of publication: $14.5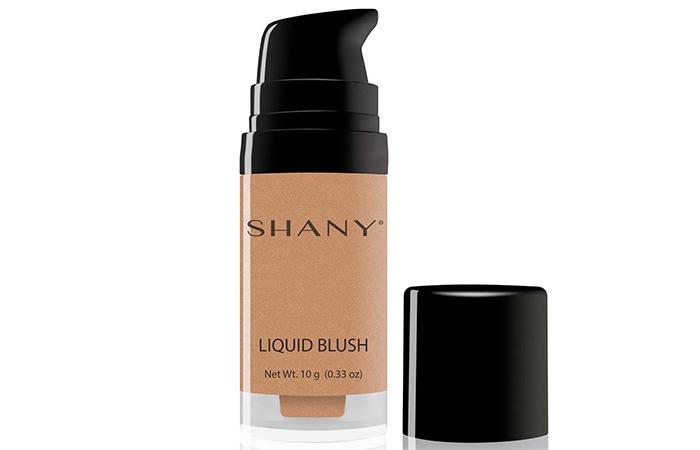 A super pigmented liquid blush for a super confident woman, the Shany Liquid Blush enhances the color of your cheeks and stays on for a long time. The gorgeous pigment in this tinted blush has a soft and silky satin texture that blends into your skin easily allowing you to sculpt your perfect cheekbones. Apply the natural-looking blush with a brush or simply use your fingers to get skin that looks like silk. This cream-to-powder liquid formula is suitable for all skin types and can be used daily.
Pros
Hydrating blush formula
Free of parabens
Portable packaging
PETA friendly
Airless pump design makes it easy to use
Cons
Price at the time of publication: $11.95
The liquid blush that's been the ruler of rose tints, this liquid blush leaves you with a sheer tint giving your skin an attractive glow. With just 3 strokes on the apples of your cheeks, the Benetint Rose-Tinted Lip & Cheek Stain gives you a long-lasting radiance. Simply blend in the tinted blush to your cheeks with your fingers and watch them light up with a dewy and healthy glow. It is the best drugstore liquid blush.
Pros
Sheer tinted, see through color
Can be used for lips and cheeks
Kiss-proof and long lasting
Provides great coverage
Build-up formula
Cons
Price at the time of publication: $36.99
If you're a fan of having rosy cheeks, this liquid blush is for you. It is formulated with DMAE and gives you shapely cheekbones. The soft texture and subtle color of this liquid blush adds a tint of healthy tint to the apples of your cheeks. The Perricone MD No Blush Blush contains a broad spectrum mineral formula to protect your skin from the sun's rays. The texture of this long wearing blush is like a serum and it gives your cheeks a natural finish.
Pros
Contains SPF 30 for sun protection
Provides a natural glow
Keeps your skin youthful
Adds a rosy flush to cheeks
Cons
Might make the skin dry
Does not come off easily
Price at the time of publication: $28.0
Get an all-day blushing look with the Milani Cheek Kiss Liquid Blush. The lightweight creamy blush formula blends well and is ideal for highlighting your cheekbones with a natural-looking rosy tint. It is infused with powerful ingredients like rose extract, watermelon, and pomegranate that hydrate and enhance your skin tone with just the right amount of finish. In addition, the liquid blush comes in 6 different shades to make you look glowing and flawless. If you are still unsure, check out this honest review.
Pros
 Sheer tinted
 Vegan
 Cruelty-free
 Easy to apply
 Multi-use
Cons
None

Price at the time of publication: $8.97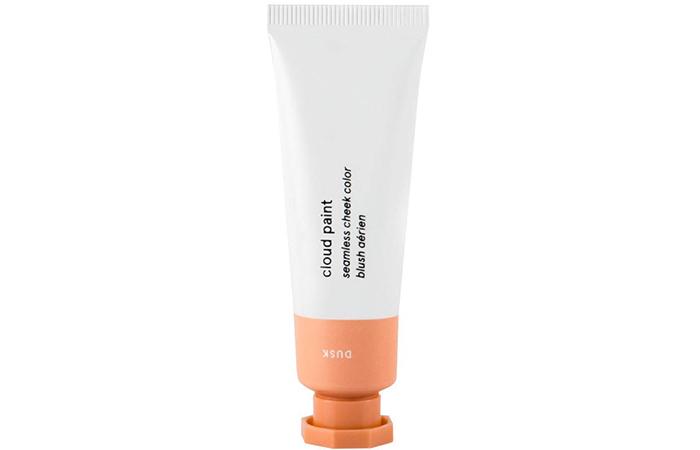 One of the most favorite products among customers, the Glossier Cloud Paint Seamless Cheek Color is an extremely user-friendly cheek stain. This gel-based creamy formula has a sheer tint that gives you a radiant shine. This affordable cream blush also includes skin nourishing ingredients like collagen to ensure you are left with a natural dewy look and healthy skin.  It is the best drugstore cream blush.
Pros
Contains moisture-binding collagen
Available in 6 vibrant blush colors
Blush for all skin tones
Little goes a long way
Comes in a tube that's easily portable
Cons
Price at the time of publication: $33.66
Make your cheeks appear natural and flawless with the Sace Lady Pigmented Blush. The liquid and silky water-based blush formula blends smoothly and glides effortlessly on your cheeks. This highly pigmented blush is ideal for parties, weddings, and event makeup. It stays all through the day and delivers a glowing complexion. In addition, the liquid blush comes with a heart shape applicator for precise and easy application.
Pros
 Lightweight
 Clump-free
 Blendable
 A little goes a long way
 Gives a natural flushed cheek look
 Long-lasting
Cons
None
Price at the time of publication: $6.9
If you're looking for a natural flush of color that accentuates your cheekbones, the Perricone MD No Makeup Blush is your go-to. It is made with a sheer tint, buildable formula that blends into your skin easily. The natural-looking blush tint gives your cheeks a flush of youthfulness and brightens your cheekbones. For best results, apply on the apple of your cheeks and gently pat with your fingertips in an upward motion.
Pros
Makes skin even and smooth
Visibly lifts up skin
Contains vitamin C Ester
Improves discoloration
Gets rid of dullness
Cons
Packaging might be too small
Price at the time of publication: $28.0
All you need is one drop to achieve a long lasting glow! The Nars Liquid Blush glides on the skin effortlessly and delivers the most natural-looking radiance. All you need is one pump to give your cheeks a veil of natural satin finish and maintain a healthy glow. It contains skin moisturizing oils like monoi and tamanu to keep your skin supple and resilient. Get your hands on this silky elixir and enjoy the radiant shine all day long!
Pros
Weightless formula
Blends in easily
Natural-looking finish
Buildable formula
Foolproof dispenser
Cons
Might be a little glittery
Might leave a stain
Price at the time of publication: $30.0
Formulated with a delicate and silky texture, the Karite Liquid Blusher naturally brightens your skin and evenly distributes the liquid to blend into your skin. Its buildable formula allows you to add more shine to your cheeks as you use more of the product. This blush glides on to your skin and gives your base makeup an additional pop of color.
Pros
Evens out discolored skin
Smooth and silky formula
Long-lasting formula
Highly-pigmented
Waterproof liquid formula
Cons
Might leave a stain on surfaces
Price at the time of publication: $4.99
Create a soft-focus dewy look with the Rare Beauty Soft Pinch Liquid Blush. This blush comes in both matte and glossy finishes. It is offered in 8 different shades and is suitable for all skin types. You can use this blush over your daily foundation to achieve a naturally blushing look. The dewy blush formula blends smoothly on the skin and provides medium coverage.
Pros
 Long-lasting
 Lightweight
 Highly-pigmented
 A little goes a long way
 Sulfate-free
 Mineral oil-free
 Paraben-free
 Vegan
 Cruelty-free
Cons
Price at the time of publication: $29
Formulated to blend in easily with your skin, this gel-cream liquid gives your skin a radiant blush finish. It has won several awards like the Glamour Beauty Awards 2019, BRIDES Beauty Awards 2019 and the Refinery 29 Beauty Innovator Award 2019, making it one of the best products under $25. Just a small drop of this silky formula blends into your skin seamlessly and leaves you with a fresh and healthy color. It can also be mixed with other shades to get a customized hue.
Pros
Vegan
Lightweight gel-based formula
Comes with a precision dropper applicator
Non- staining formula
Cons
Some might find it too pigmented
Price at the time of publication: $19.2
You don't have to worry about a liquid blush that dries out your skin when you have the Chantecaille Cheek Gelee Hydrating Gel Cream Blush. This gel-based formula blends in the goodness of a cream and the power of color to hydrate your skin while giving it a glow. It can be used on your cheeks and eyes. Give your cheeks a tint of soft and playful pink with a tinge pearl when you use this product.
Pros
Little goes a long way
Cruelty-free
Blends in with makeup
Free of parabens and sulphates
Cons
Price at the time of publication: $39.1
Lucy Dare, a professional makeup artist says, "Liquid blushes are great if you love dewy, radiant skin and they blend really well with liquid foundations for a natural look." Now that we've gone through the list of some of the best liquid blushes, let's look at what are things we must consider before choosing the right liquid blush.
How To Choose The Right Liquid Blush? – Buying Guide
Why Should You Go for a Liquid Blush?
A liquid blush is a water-based solution that is heavily pigmented. They are concentrated formulas that require just a tiny drop to give your cheeks a sheer liquid blush. The fluid texture of the blush makes it easy to blend into the skin to give you a natural flush of color. Cheek stains are great to keep your skin glowing, especially during the summer months.
Powder based blushes dry out your skin while cream-based blushes make them sticky during summer. Because a liquid blush is water based, it makes it a great lightweight makeup product for summer months without having to worry about the stickiness or dryness it causes to your skin.
What Is The Right Way To Apply Liquid Blush?
Now that you've picked your favorite liquid blush, let's look at the steps to apply them. Here is a guide on how to flawlessly apply liquid blush on your skin:
Start with cleansing your face and applying adequate moisturizer. If you're stepping out into the sun, ensure that you've applied a sufficient amount of sunscreen to protect your skin from the sun. You could also use a primer to make it long lasting.
If you use BB cream, foundation or tinted moisturizer, apply it as per routine. It is best to keep this layer as thin as possible so that your face does not get caked up with products.
For a natural-looking blush, apply the product directly to your skin and blend into it with your fingertips. This will give you a sheer tint. You could follow it up with a tinted moisturizer.
To apply the cheek stain, dab a small amount of liquid blush on to your cheeks and quickly blend it into your skin. The best way to do this is by using your fingertips for even distribution.
The most common method used is to apply it on the apple of your cheeks and blend it on to the edges. Build coverage around your cheekbones to make them prominent and distinct.
In case you need further blending, you could also use a foundation brush or a makeup sponge to spread the product as you require.
If you feel the blush is too much, apply a layer of foundation over it to even it out until you get the desired shade. You could also use compact powder to set the blush, depending onyour skin type.
Continue to complete your makeup application to get that flawless long-lasting summer radiance.
Why Trust StyleCraze?
Author Srijita De, a makeup enthusiast, is well-versed in skin care products. This buying guide highlights the benefits of liquid blush and how to make sure you get the most from it. She compiled the top products list after thorough and detailed research of all products available on the market. This lightweight product gives you a natural flush of color by blending easily into the skin.
Frequently Asked Questions
Which is better liquid or powder blush?
Liquid blush has the potential to give you a more natural sheer tint rather than a powder based blush.
Is liquid blush good for oily skin?
Liquid blush for oily skin work surprisingly well for as compared to cream-based blushes because they evaporate quickly.
Which liquid blush is good for dry skin?
The best kind of liquid blush for dry skin is the one which contains emollient ingredients.
Is liquid blush better than cream blush?
Liquid and cream blushes are one and the same. They enhance the complexion and add a natural-looking finish to your cheeks. They are highly pigmented and hydrating and offer buildable coverage.
How long does liquid blush last?
A liquid blush stays good for 6 months to one year after opening the seal. Using the blush for more than 1 year might increase the risk of breakouts and infections.
Can you use liquid blush on your lips?
Technically, yes, you can use a liquid blush along with your lip balm to create a monochromatic makeup look.
Does liquid blush cause acne?
Whether or not you might experience acne from using a blush does not depend on its texture but on its formulation and ingredients. So, make sure to invest in high-quality, gentle liquid blushes only.
Do you put liquid blush on before or after the foundation?
Most commonly, blush is used after the foundation and concealer.
Recommended Articles