13 Best Liquid Exfoliators For Smoother And Nourished Skin In 2021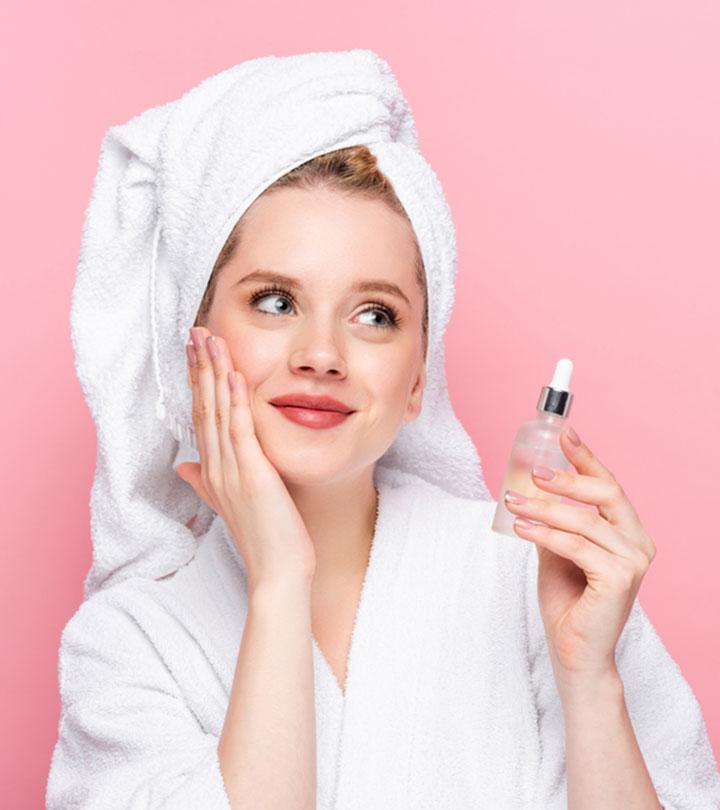 Do you wonder how Gigi Hadid's face looks like every makeup artist's dream canvas? When you think about it, if you're looking for clear skin, the essential addition to your daily CTM skin routine could possibly be exfoliation. It's enriching for your skin, and liquid exfoliators are a miracle alternative to scrubs, which can sometimes dry out your skin. The best liquid exfoliators contain acids like salicylic acid, glycolic acid, mandelic acid, and lactic acid, which help remove dead skin cells far more efficiently. To add to that, you get visible results in just a few days!
You don't want to be left with red or irritated skin, so liquid exfoliants are a great bet. They not only remove dead skin cells from the surface of your skin but also help renew cell generation. Our list of the top 13 best liquid exfoliators for brighter and smoother skin will take you through the products available on the market so you can make a choice that works best for you.
Top 13 Best Liquid Exfoliators For Soft And Bright Skin
The Paula's Choice 2% BHA Liquid Exfoliant is a skin-perfecting chemical exfoliator that is gentle and non-abrasive, making it suitable for all skin types. With 2% beta hydroxy acid or salicylic acid, this leave-on-exfoliator will unclog and diminish large pores, exfoliate dead skin cells, smooth out wrinkles, fine lines, and even out your skin tone. The lightweight BHA liquid exfoliant formula also contains green tea extracts that are absorbed quickly and dramatically improve your skin's texture to give you a radiant and youthful glow. You can combat redness, wrinkles, aging, blackheads, and clogged pores with this hydrating and scientifically-backed formula.
Pros:
Tackles clogged pores
Gentle facial leave-on exfoliant
No added fragrance
It does not contain parabens
Suitable for all skin types
Cons:
This leave-on liquid exfoliant may feel greasy for some.
The Ordinary Lactic Acid Superficial Peeling Formulation is an affordable exfoliator that targets uneven skin tones, textural irregularities, and fine lines. This water-based serum has a pH formula of approximately 3.8 and is intended to be used before oils and creams for the optimum results you want for your skin. Best suited for dry skin types, the mild-exfoliating formula of the lactic acid will help you reduce signs of inflammation and sensitivity, while purified Tasmanian pepper berry that is a plant-based derivative, reduces any skin irritation.
Pros:
Alcohol-free
Silicone-free and gluten-free
It does not contain oils or nuts
Vegan product
Cruelty-free
Cons:
It may not be suitable for sensitive, peeling, or compromised skin.
With 5% glycolic acid, the Pixi Skintreats Glow Tonic is a highly-concentrated exfoliating facial toner that helps you improve your skin's texture and complexion by deeply cleansing pores and sweeping away excess oils and impurities. For a brighter and smoother complexion, this formula contains aloe vera and ginseng that nourish, soothe, and hydrate your skin. As the glycolic acid accelerates cell renewal and gets rid of dead skin cells faster, you can incorporate this toner into your daily skincare routine to visibly minimize pores and acne. Suitable for all skin types, this exfoliating formula can be used twice a day and can also be followed up with a hydrating serum or moisturizer.
Pros:
For a smoother and brighter skin complexion
Alcohol-free
This product is not tested on animals.
Contain natural ingredients like aloe vera
Cruelty-free product
Cons:
If you're looking for a gentle and hydrating formula, the Body Shop Drops Of  Youth Liquid Peel Exfoliant is ideal for you. Formulated with 3 plant cells, including Edelweiss from the Italian Alps, sea holly, and Criste Marine from the Brittany coast, this liquid peel removes impurities from your skin while lifting dead skin cells and residuals. Using the Body Shop liquid exfoliator solution regularly will not just help you get rid of skin pollutants but also leave you with fresh, smooth, and luminous skin. Trust that you will instantly feel like dead skin cells are lifted with this product, and you are free from any dirt or grime left behind on your skin's surface.
Pros:
100% vegan
Contains plant-based ingredients
Cleanses and leaves your skin free from impurities
Suitable for daily use
Cruelty-free
Cons:
Some users felt that it dried on their face quickly, making it feel crusty.
The By WishTrend Mandelic Acid 5% Skin Prep Water is exfoliating water formulated to remove dead skin cells and smoothen dull and rough skin. This hydrating and non-irritating exfoliant can be used even on the most sensitive skin daily. Formulated with 5% mandelic acid, this product helps improve pigmentation as well as restore aged skin. Infused with ingredients like sorbitol, beta-glucan, panthenol, vitamin C, and licorice, you can get improved skin tone and texture and additionally prep your skin for other products.
Pros:
Maintains pH balance of 5.0
Vegan-friendly and cruelty-free product
Ethanol-free formula
Paraben-free and silicone-free
It does not contain steroids
No artificial colors or fragrances
Cons:
Some may find the fragrance of this product to be overbearing.
For oily and combination skin, the Clinique Clarifying Lotion will help strip away skin impurities and dead cells while offering an instant burst of refreshment. You can use this gentle daily exfoliating lotion twice a day to address any skin issues. Formulated while keeping all types of Asian skin types in mind, this formula effectively and gently clears away dead skin cells without irritating or upsetting the skin's natural barrier. This liquid exfoliating lotion is dermatologist-developed and specially formulated for maximum results to give you smoother and clear skin.
Pros:
Preps skin for moisturizer
For oily and combination skin
Paraben-free
Contains no fragrance
No phthalates
Cons:
Some may find that this product feels slightly sticky on your skin.
With the best hydrating extracts, the Glow Recipe Watermelon Glow BHA + PHA Pore-Tight Facial Toner are formulated with essential vitamins and amino acids that help your skin feel renewed. With gentle watermelon extracts and PHA to provide gentle exfoliation and hydration, you'll be one step closer to smoother-looking skin. Infused with willow bark, a natural form of BHA to unclog tight pores, and cactus water, which helps seal in moisture while delivering electrolytes and antioxidants, this facial toner is a steal!
Pros:
It can be applied directly to your skin
Free from parabens and sulfates
No mineral oil
It does not contain phthalates or drying alcohols
No synthetic dyes
Vegan product
Cruelty-free
Cons:
Some may find the scent to be slightly overbearing.
The Naturium BHA Liquid Exfoliant 2% is an effective formula that contains salicylic acid and bioactive fruit acids to give you smoother and brighter skin. This leave-on liquid exfoliant helps you unclog pores, even out your skin tone, and fight the signs of premature aging. If you're looking for a daily formula that your skin needs, this product contains BHA that delivers natural exfoliation for young skin and controls excessive oil production. The powerful and non-irritating formula also contains microencapsulated salicylic acid specially developed to be mild on the skin and created for sensitive skin.
Pros:
Made with the highest-quality botanical, earth, and marine-based ingredients
It comes with a money-back guarantee
Cruelty-free and paraben-free
Vegan product
Gluten-free
No added fragrances
Biocompatible and dermatologist-tested
Cons:
It may not be entirely suitable for susceptible skin.
Ideal for all skin types, the Caudalie Paris Vinoperfect Brightening Essence is a concentrated formula that is an ideal addition to your anti-dark spot regime. From the French skincare-line, which uses age-defying technology, the lightweight essence is gentle yet effective in smoothing, plumping, and illuminating tired complexions. Enriched with glycolic acid that works to eliminate dead skin cells and white peony extracts that revitalize dulled skin to reveal an even, healthy glow, this essence has a delicate and natural orange blossom fragrance that provides an immediate sensation of freshness.
Pros:
Vegan
Restores radiance and luminosity
Evens the complexion and moisturizes the skin
97% of ingredients are of natural origin
Clinically tested and proven formula
Cons:
If you're looking for a solution that isn't as penetrating as a skin scrub, the Billy Jealousy LiquidSand Exfoliating Facial Cleanser thoroughly exfoliates your skin to remove dead surface cells, dirt, and grime. This liquid exfoliating cleanser helps reduce the appearance of fine lines, nourishes skin while improving luminosity, and also preps the skin for a less irritating shave without over-drying it. With lactic AHA and silica, this formula is specially formulated for men and helps to flush out any clogged pores, leaving your skin feeling healthier and renewed.
Pros:
Cruelty-free
PETA approved
It does not dry out the skin
SLS-free
No added colors
Safe for all skin types
Cons:
The Bliss Clear Genius Clarifying Liquid Peel transforms your skin overnight for a clear, calm, and smooth complexion. This spa-quality, pore-cleansing facial treatment comes with a patented time-release system that delivers a 10% optimal blend of alpha (AHA), beta (BHA), and polyhydroxy (PHA) acids to decongest pores and exfoliate dead surface cells and give you smaller and tighter-looking pores overnight. The dermatologist-tested lactic acid exfoliator also contains salicylic acid, and glycolic acid, which are effectively combined to suit all skin types.
Pros:
Cruelty-free
Vegan product
Dermatologist-tested
Fragrance-free
Suitable for all skin types, especially oily and problematic skin
Cons:
The product may have a strong scent that some may find overpowering.
The Cos De Baha S2 Salicylic Acid BHA, 2% Liquid, is a snail mucin filtrate serum that contains a blend of niacinamide and D-panthenol enzymes that soothe irritated skin and evens out your complexion. The gel serum gently glides over your skin, building a moisture barrier for long-lasting hydration. You will be left with smooth and comfortable skin when you use this snail serum that also contains chondroitin that improves skin elasticity, and makes the skin smooth. The snail secretion filtrate acts as a strong anti-wrinkle agent and improves wrinkles, and keeps your skin elastic and healthy.
Pros:
High-quality ingredients
Cruelty-free
Suitable for acne-prone skin
It does not contain alcohol
Paraben-free and sulfate-free
Cons:
It may feel slightly sticky on your face.
The bareMinerals Poreless Exfoliating Essence is a gentle daily exfoliating liquid that will leave your skin looking refined and smooth. Suitable for all skin types, this formula contains prebiotics like sugar cane and sugar maple that support healthy-looking skin, along with skin-refining super fruits like bilberry, noni-fruit, orange, and lemon extracts to help minimize the appearance of enlarged pores. Clean your skin without compromising its health with this product that is free from various chemicals and synthetic fragrances, which makes this product also suitable for sensitive skin types.
Pros:
Rich in exfoliating super fruit acids and nutrient-packed prebiotics
weightless essence
Minimizes pores
Paraben-free and phthalate-free
Cruelty-free
Vegan product
No added synthetic fragrances
Cons:
It may have a slightly watery consistency.
Since you've browsed through our list of the best liquid exfoliators for smoother skin in 2021, you can get ahead of the buying game. In case you're a little confused about finding the right product for you, we've got you covered with our guide.
How To Choose The Liquid Exfoliator That's Right For You: A Buying Guide
Depending on your skin type, skin concerns, and skin routines, you can make an ideal choice when it comes to buying the right facial liquid exfoliator for your skin. The best liquid exfoliators for the face contain beta hydroxy acids (BHA), such as salicylic acid, penetrate pores and go deeper than the skin's surface. In contrast, products with AHAs, such as lactic and glycolic acid, are gentler. BHAs and AHAs both exfoliate dead skin to expose a healthier, younger-looking complexion. BHAs tend to have additional antibacterial and anti-inflammatory properties, making them an excellent anti-aging and anti-acne treatment.
What Ingredients You Should Be Looking Out For in A Liquid Exfoliant
Salicylic acid is the most common BHA. Concentrations can range between 0.5 and 5 %, depending on the product at hand. It's well-known as an acne treatment, but it can also help calm down general redness and inflammation.
Glycolic acid is the most common type of AHA. It's also made from a widely available plant: sugarcane. Glycolic acid provides significant exfoliation. This makes it a comprehensive treatment for many skin concerns. And thanks to its antimicrobial properties, it may even help prevent acne breakouts.
Lactic acid is another common AHA. Unlike other AHAs made from fruits, lactic acid is made from lactose in milk. It's also known for its significant exfoliation and anti-aging effects.
As its name suggests, citric acid is made from citrus fruit extracts. Its primary purpose is to neutralize the skin's pH levels and even out rough skin patches. Citric acid makes a good serum or toner used before applying a moisturizer. It may even help work with sunscreen to provide maximum UV protection.
Mandelic acid contains larger molecules derived from almond extracts. It can be combined with other AHAs to increase exfoliation. Used alone, the acid may improve texture and pore size.
What Are AHAs And BHAs?
AHAs or alpha hydroxy acids are water-soluble acids made from sugary fruits and often help you tackle mild hyperpigmentation (including age spots and scars), enlarged pores, fine lines and wrinkles, and uneven skin tones. Alpha hydroxy exfoliants help peel away the surface of your skin so that more evenly pigmented skin cells may generate in their place. AHAs are primarily suitable for all skin types. Still, those with extremely dry or sensitive skin may want to gradually incorporate AHAs into their skincare routine to avoid irritating the skin.
BHAs or beta hydroxy acids are oil-soluble and, unlike AHAs, can get deeper into the pores to remove dead skin cells and excess sebum. They work wonders when it comes to tackling acne and sun damages. They work by penetrating the hair follicles and drying out excess skin oils to unclog your pores.BHAs are often considered suitable for combination and oily skin. Dermatologists also recommend using lower concentrations to calm more sensitive skin types.
Frequently Asked Questions
Are liquid exfoliants good for the skin?
Yes, they are more gentle than scrubs that can often dry out your pores.
Is it possible to use both AHAs and BHAs?
Yes, if you find the right combination, you can use both AHAs and BHAs for an effective remedy, especially when it comes to acne-prone skin. AHAs and BHAs yield fuller skin when used together. This may be due to increased collagen production, which can make both the dermis and epidermis visibly plumper.
How often can you use a liquid exfoliator?
Ideally, you can use a liquid exfoliator once every couple of days for maximum results.
We get that the thought of subjecting your skin to chemical acids can be daunting, but dermatologists recommend liquid exfoliators over physical scrubs as they can be gentle and do not require applying too much pressure on your skin. AHAs and BHAs share similar benefits, and you can obtain some level of exfoliation from each one. Each ingredient, however, can be used to achieve different skincare goals. If you're looking for an all-inclusive anti-aging treatment, an AHA may be the best fit, while a BHA may work better for you if you want to calm down redness and inflammation or get rid of acne.