13 Best Liquid Glitter Eyeshadows For Beautiful Eyes
Get long-lasting glittery eyes within minutes of minimal effort and be party-ready JLT!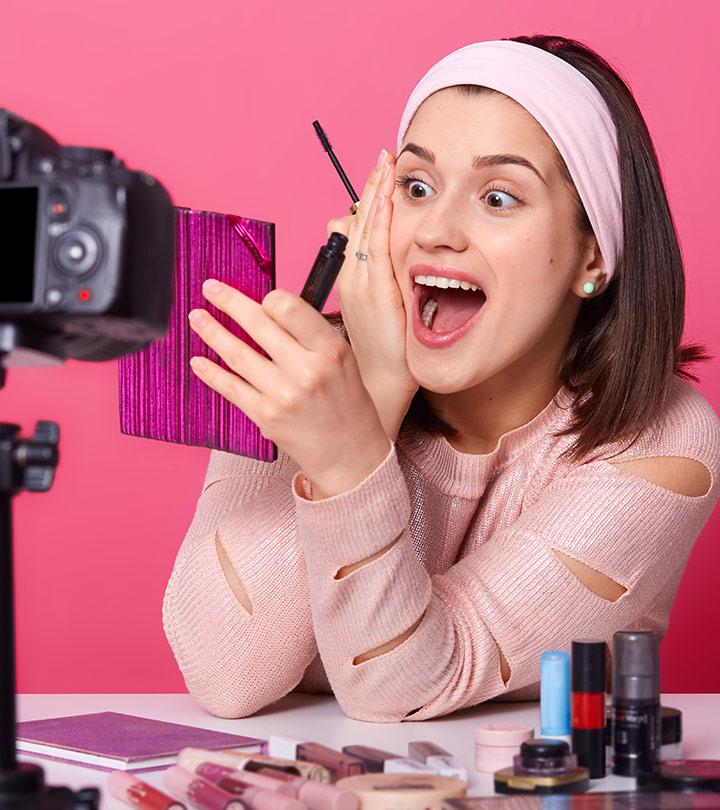 The best liquid glitter eyeshadow is a perfect addition to your makeup kit. Well, hear us out to know why. Liquid eyeshadows that offer a glitter finish take your eye makeup from drab to fab within seconds! You can achieve stunning, shimmery eyes without any effort! Just make sure that you consider factors like texture, hold, and staying power when looking for the best liquid glitter eyeshadow.
Your eye makeup is pivotal to your whole look. To nail the best eye looks, you must invest in good quality eye makeup products. Here, we have listed the best 13 best liquid glitter eyeshadows with sparkly and holographic finishes. Each product on this list has been closely reviewed so that you find it easier to pick the one most suitable for you. The buying guide, along with the products, will assist you in making a good purchase decision. Go on and pick the best one for your next eye makeup look.
Top 13 Liquid Glitter Eyeshadows For A Glittery Night Out
This glitter liquid eyeshadow is quite in demand right now because it offers high pigmentation and is quite versatile as well. It has multiple uses and can be used as an eyeliner, eye shadow, or even nail polish. It has a holographic finish that gives off a unique look to your overall makeup. The eyeshadow range includes colors like blue, red, green, silver, yellow, orange, and pink. The eyeshadow can be worn throughout the day because it is long-lasting and water-resistant. Check out this video to know more about this product.
Pros
Long-lasting
Available in many shades
Water-resistant
Versatile
Holographic finish
Cons
May not suit some skin types
Does not dry quickly
Every elf liquid glitter eyeshadow review will sing praises about this particular product, and for good reason! This cult favorite is the winner of the Allure 2022 Best Of Beauty Award. It can take your whole eye makeup to another level with just one swipe. The formula offers shimmery coverage, and minimal fallout. And as it is gel-based, it is quite comfortable to wear throughout the day. You can use your fingers for a soft casual look or layer it on for a night out on the town. Choose from eight stunning shades, and experience high impact pigmentation. Before buying, have a look at this video for more details.
Pros
Cruelty-free
Vegan
Paraben-free
Gel-based
Comfortable wear
Cons
When we talk about long-lasting liquid eyeshadows that have an insanely sparkly finish, we are talking about the Stila Glitter & Glow Liquid Eye Shadow. This product reigns supreme in the eye makeup category. These pocket-sized vials are available in every shiny color you want, from shimmery purples to iridescent metallics and the ever-popular rose gold. This product is packed with pigment and provides a gorgeous sheen because the formula is infused with pearl pigments. The liquid shadow delivers the best results with minimum fallout. Watch this video to know more about the product.
Pros
Smooth application
Travel-friendly
Lightweight
Highly pigmented
Cons
Not suitable for daily wear
The Covergirl Liquid Glitter eyeshadow is an iconic liquid because it is filled with highly saturated color and a multi-dimensional shimmer finish. The lightweight formula has a non-sticky feel and you can wear it comfortably, all day and night. The application is super smooth and it won't clump or cause any fall-out. The formula is quick-drying, as well. You can choose from six amazing shades, that suit every skin tone and look great with every outfit.
Pros
Lightweight
Smooth application
Highly pigmented formula
Shimmer finish
Cruelty-free
Cons
May not suit oily or acne-prone skin types
Add a dazzling pop of maximum impact glamour glitter liquid eyeshadow to your makeup look, with this product. If you are looking for a long-lasting formula that is cruelty-free and comes in versatile shimmery shades, then this set of four eyeshadows is a perfect choice. The formula is quite pigmented, has a velvety smooth application, as well as easy to blend and layer. The set includes shades like bronze, gold, black, and silver.
Pros
Long-lasting
Highly pigmented
Available in a set of four
Shimmery finish
Smooth application
Cons
This glitter eyeshadow liquid is supercharged with color and glitter flecks that result in a sparkling finish. The glossy formula is easy to apply and blend, so you don't have to worry about any annoying fallouts as you enjoy a night on the town. You can choose from six shades, mix and match them to create a look that will make heads turn. Also, this liquid eyeshadow is sweatproof and waterproof, so it will stay in place and have a shiny finish for a long time.
Pros
High-gloss effect
Water-resistant
Sweatproof
Stain-free
Cons
May smudge if applied without primer
This holographic eye topper gives off a high-impact finish and shimmering prismatic effect. You can either wear it on its own or top it off over a neutral eye shadow. The Milani liquid eyeshadow is available in shades like rose gold, lavender, opal, and peacock blue, which you can use to create a statement look. The formula is water-based and cruelty-free, so it is suitable for sensitive skin. It's also quick-drying, with minimal fallout. You can create a multi-dimensional glitter layer because the product has a concentrated, foil-type effect.
Pros
Cruelty-free
Shimmer finish
Versatile
Suitable for daily wear
Cons
This glitter liquid eyeshadow is quite sparkly and looks gorgeous. You can create a variety of eye makeup looks with this versatile product. You can use it as an overlay shadow or an eyeliner. This is an eyeshadow that you will want in your makeup bag. The formula is safe and unique, it does a great job at not fading away and lasting through the day. You can use this eyeshadow for any festive occasion.
Pros
Long-lasting
Waterproof
Quick-drying
Shimmer finish
Cons
May need several reapplications for the best result
If you are looking for a liquid eyeshadow that is long-lasting and provides excellent color, then this is the one for you. Highlight your best feature for any event, by using this product to seamlessly contour and blend your eye makeup. The formula has a water-infused texture, is lightweight, and it provides a super smooth application. After the liquid eyeshadow dries, it will lock in most of the sparkles and there will be minimal fallout. It's safe for all skin types because the eyeshadow is hypoallergenic and cruelty-free.
Pros
Water-infused texture
Vegan
Cruelty-free
Hypoallergenic
Long-lasting
Cons
Not suitable or daily wear
This glitter liquid eyeshadow contains glitter particles that are known to increase saturation. Hence, providing dimension and depth to your eyes. It's a great eyeshadow if you want to create bold looks for the evening. We suggest that you opt for the diamond eyeshadow shade, it will make your eyes sparkle and stylish. The product is available in 12 amazing shades, so you can choose one that will match every occasion and outfit.
Pros
Increased color saturation
Available in 12-shades
Shimmer finish
Quick-drying
Cons
Bring out your inner shiny diva with this marvelous liquid eyeshadow. It is brimming with shiny particles that are saturated with shimmer. You can choose from eight beautiful colors that are suitable for any occasion. The formula is smooth and easy to apply, so you can layer and blend it like a dream. It is sweat-resistant and long-lasting, also it won't leave any annoying stain after you take it off. Perfect your eye makeup with sparkling liquid eyeshadow.
Pros
Provides dimension to your eye makeup
Highly pigmented
Does not stain
Sweat-resistant
Long-lasting
Cons
This eyeshadow is available in 12 beautiful shades that go with every outfit. The product is highly versatile because the tip provides maximum precision that is used to draw sharp lines. So, you can create beautiful eyeliner designs on your eyes too. The intense glossy and shimmery finish is a result of the pigmented and quick-drying gel base formula. The flexible and precise tip allows you to have complete control over the application process.
Pros
Precise and flexible tip
Suitable for evening makeup looks
Available in 12 shades
Quick-drying
Cons
May need constant touch ups
With this liquid eyeshadow, you can choose from four amazing colors that will make your eyes shine, for any occasion. This product also comes with an ultra-fine brush that has a definitive felt tip. It allows a smooth application and you can create a delicate eyeshadow look with it. You don't have to worry about any stains, once you take it off as well. The liquid eyeshadow is smudge-proof and sweat-proof as well.
Pros
Lightweight
Travel-friendly
Smudge-proof
Long-lasting
Ultrafine brush
Smooth application
Cons
Now that you are aware of the 13 best liquid eyeshadows available, you must also understand the various factors to look for before choosing the perfect one. Thus, we have compiled a buying guide that will help you with your shopping process.
Buying Guide
How Do You Choose And Use A Glitter Liquid Eyeshadow?
Pigment:
The main reason people opt for liquid eyeshadows is that they provide higher saturation and pigmentation. The shimmer is a bonus, and altogether these elements can make your eyes pop. So, when looking for a sparkly or a tinted formula liquid eyeshadow, ensure that the formula is saturated with intense color that is visible with just one swipe.
Long-lasting:
Look for liquid eyeshadows that are long-lasting, and will have minimal fallout. Look for gel-based formulas, as they will stay on the longest without smudging or appearing patchy.
Shimmer finish:
A shimmery liquid eyeshadow is great for layering your eye makeup look. Thus, you must look for formulas that have a shimmer finish that will provide dimension and emphasize your eyes, in the best way.
Using a liquid eyeshadow:
Liquid eyeshadows are quite potent and versatile, so you must remember that a little bit goes a long way. You can use it as an eyeliner or a highlight color on the inner corner of your eyes and the brow bone.
Why Trust StyleCraze?
The author, Chaitra Krishnan, is a makeup enthusiast. She has conducted hours of in-depth research and gone through many online reviews of the products to pick the best liquid glitter eyeshadows for her readers. She has considered all user requirements and features like staying power, pigment, and shimmer finish to bring you this list of the best quality products to try.
Frequently Asked Questions
Is liquid glitter eyeshadow safe?
Yes, liquid glitter eyeshadows are the safest glitters to use. The applicator it comes with makes the process of applying directly on the lids very easy.
How do you keep liquid glitter eyeshadow in place?
Liquid glitter eyeshadows are generally smudge-free and stay in place till you remove it with a makeup remover. However, if you want to make them long-lasting, you can use an eye makeup primer prior to applying the eyeshadow.
What kind of glitter is safe for eyes?
Liquid glitters are safe to use because they are quick-drying, smudge-free, and easy to apply without much effort.
Does liquid glitter eyeshadow crease?
No, liquid glitter eyeshadows do not crease. But if your eyelids are prone to creases in general, you can either use a primer or set the eyeshadow with some powder.
Is lemonhead glitter eye safe?
Yes, lemonhead glitters are safe to use as they are made with high-quality, non-toxic ingredients.
Where do you put glitter on eyes?
Glitter is used on the high points of the eyes to enhance them. You can put it on the center of the eyelids.
Can you use pressed glitter on eyes?
Yes, you can use pressed glitter on the eyes instead of liquid glitters. The application can be done with a flat eyeshadow brush or your fingers.