15 Best Liquid Highlighters To Add Shine And Glow On The Face
Achieve that sleek and sculpted look with liquid highlighters that blend effortlessly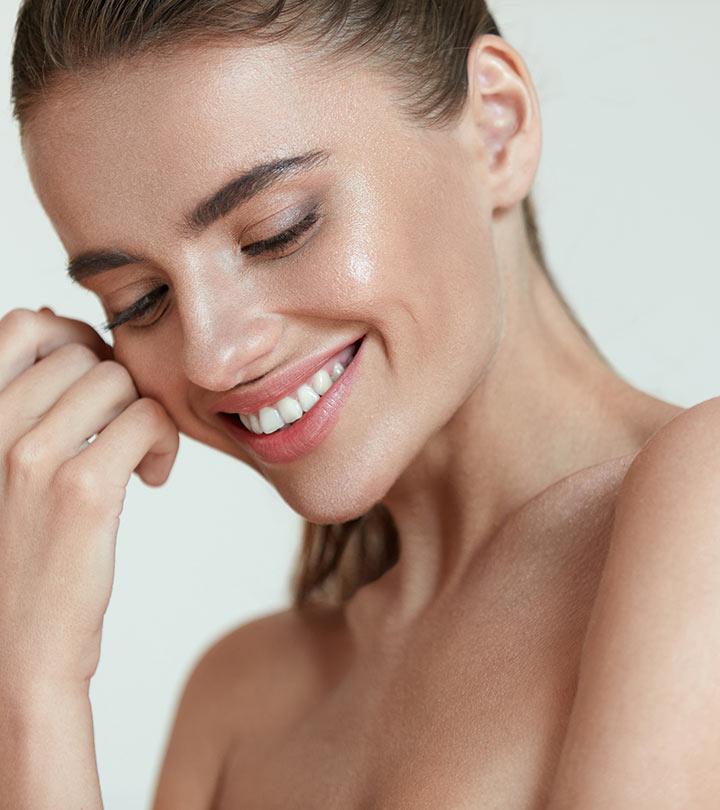 Liquid highlighters are highly concentrated pigments that add shine to the high points of your face. The best liquid highlighters come with a multipurpose feature that can radiate the skin, and not just by highlighting the cheekbones. As a result, these are suitable for all skin types. They provide a controlled finish. In addition, these are easier to blend and build compared to powder highlighters.
A liquid highlighter is ideal for cheekbones, cupid bows, and the nose bridge. A small drop of highlighter can do wonders on your face. Check out our list of the 15 best liquid highlighters to get chic looks, stylish glow, or intense radiance.
Top 15 Best Liquid Highlighters For Radiant Skin
Instant hydration combined with effortless shine, the L'Oreal's True Match Natural Glow is all about that natural, multi-dimensional glow. Made of ingredients like shea butter and glycerin, the liquid highlighter keeps the skin hydrated and moisturized and far from looking patchy. One of the best liquid highlighters is available to you in 4 different shades for dark, fair, medium, and deep skin tones. Choose the one that compliments your skin tone and dab away!
Pros
Effortless glow
Infused with organic ingredients
Weighs 1.44 ounces
Product dimensions are 1.2 x 1.2 x 5.2 inches.
3 types of uses: tinted moisturizer, primer with foundation, highlighter
Cons
Doesn't have a built-in SPF
Price at the time of publication: $6.99
The next edition to the "oh so beautiful" highlighting fluid family is the Mary-Dew Manizer liquid highlighter by the Balm. The face highlighter is neither too sticky nor too light but a creamy mix of a subtle sheen. Though the packaging comes in a tiny bottle with a wand but is worth every penny. Mix this creamy liquid illuminator with some moisturizer, primer, or foundation, and find your face looking like the ultimate focal point of radiance. Check out more about this product in this video.
Pros
Highly-pigmented
Blends easily
Lightweight
Cruelty-free
Paraben-free
Cons
The wand isn't long enough.
Price at the time of publication: $22.18
A few drops of this Milani Strobe liquid illuminator and you are all set to shine like a star all day. The highly concentrated formula is rich and creamy and blends evenly on all the high points of your face. Wear on the cheekbones, forehead, the bridge of your nose, and Cupid's bow for an intense highlight. The product is available in 6 various lovable shades and caters to women of all ethnicities. Check out this video to learn more.
Pros
Infused with ultra-fine-illuminating micro pearls
Suits all skin types
Reasonably-priced
Cruelty-free
Vegan
Cons
Too sparkly
Poor staying power
Price at the time of publication: $12.99
Hand-picked by makeup experts and fashion enthusiasts, this argan oil-infused creamy highlighter is all about a healthy and subtle luminous glow. With Josie Mara Entertainment Illuminizer's high beam liquid face highlighter, a little goes a long way. A brand with a conscience believes in serving you with products that are free of any form of animal cruelty or synthetic ingredients. Nyssa Green, an Emmy award-winning makeup artist, says," The argan oil in this makes it a winner for me!" Take a tiny drop of the highlighter, mix it with a foundation or a moisturizer, and smudge it evenly on the focal points of your face. Watch this video for more information about the product.
Pros
Vegan
Cruelty-free
Paraben, peg, and phthalate-free
Free of synthetic fragrance and mineral oils
Formulated with 100% pure argan oil
Formaldehyde-free
Cons
The pump dispenses more liquid than needed.
Price at the time of publication: $26.0
Keep your makeup kit stocked with a rose gold tinted lightweight formula like the Wet n Wild Megaglo Hello Halo highlighter. It's easily blendable quality makes for a very convenient application, more so when you are running late for an event. Natural ingredients like murumuru seed butter and grapeseed oil are used in the formulation of this natural liquid highlighter making it a healthy, skin-friendly product. What's more? The highlighter is available in 6 different shades for all skin tones and types, making it a one-stop highlighter shop for all makeup lovers.
Pros
Intensely pigmented
Infuse with vitamin E and murumuru seed butter
100% cruelty-free
Certified CF by PETA
Cons
Price at the time of publication: $5.79
Maybelline liquid highlighters are all about the intense shine and the silky finish. A buildable liquid highlighter with micro-fine pearl pigments highlights the high points of a face giving it some depth and adding a hint of drama. The Master Strobing highlighter uses unique strobing techniques to enhance the features of your face. Achieve that instant glow by applying the subtle highlighting formula in four different ways; mixing with a foundation, applying with an illuminating primer, highlighting the focal points of a face, or wearing it alone.
Pros
A silky liquid
All-over dewy glow
Cruelty-free
Reasonably priced
Durable
Cons
Does not have too many color options
Price at the time of publication: $9.11
Who doesn't know Nars and their viral collection of cosmetics, and skincare products? This highlighter, as the name suggests, is just that— bold and beautiful. It is a light-reflecting, peachy-pink colored liquid solution that blends into the skin like butter, leaving a glossier radiance. Nyssa Green, an Emmy award-winning makeup artist, says," This is currently in my kit and I love it!" The convenient packing makes it easier to use as a light press on the tube pushes out enough solution for your entire face. Wear it alone or over makeup and find yourself looking transformed.
Pros
Product weight: 1.1 ounce
A liquid-gel formula
Highly-pigmented
Travel-friendly packaging
Longevity: 5-6 hours
Cons
Price at the time of publication: $26.95
We are what every girl expects their skincare products to be—organic and skin-friendly. This liquid highlighter with highly-concentrated micro-pearls is oil and water-free which makes it highly buildable and blendable on any skin. For that lit-from-within glow, take a small drop of the Glow Creator liquid highlighter by Dermablend and watch your skin transform into a glowing masterpiece. We boast inclusivity and have the best drugstore liquid highlighter available in four different shades for women of all skin tones.
Pros
Lightweight
Easy-to-use
Oil-free
Non-comedogenic
Dermatologist-tested
Free from all the synthetic ingredients
Suits sensitive skin
Cons
Too sparkly for a few skin tones
Price at the time of publication: $33.0
What does this Benefit's High Beam Liquid Highlighter have to flaunt about? It is a concentrated, dewy liquid highlighter solution that lasts you for years! The classic pink is a popular color, backed by subtle incandescent in the formula, which when applied gives a major glow. Experts suggest that you use this highlighter from Benefit Cosmetics over makeup instead of applying it alone for the #trending glass skin look. Blend it along the bridge of your nose, your cheekbones, forehead, or brow bones by using blending techniques that make your features appear sharp and edgy.
Pros
Concentrated
Gives a radiant look
Easy-to-use
Long-lasting
Durable
Cons
Doesn't come with a wand or applicator
A lit-from-within glow that builds from sheer to intense effortlessly is what Eddie Funkhouser's Glow Drop Liquid Highlighter is all about. It illuminates facial features and all the high points such as the cheeks, nose, forehead, etc., and leaves your face looking bright and new. Considered as one of the best liquid highlighters, this one is best known for creating a more diffused even complexion. Take a small dollop of the highlighter on the fingertips; massage it evenly on all the focal points for a soft-focus look.
Pros
Vegan
Cruelty-free
Paraben-free
Gluten-free
Non-GMO and no soy
Cons
Too dark for a few skin tones
Price at the time of publication: $16.98
A shimmering dewy liquid highlighter that creates a shining glow and radiant skin is the ultimate match for every face. This ultra-light liquid highlighter comes in a soft gold shade that looks extremely subtle and one-with-the-skin when applied evenly. Do not worry about the side-effects of makeup as the formula is specifically designed to keep your skin's health in mind.
Pros
Sheer-liquid highlighter
Easy-to-use pump mechanism
Lightweight
Durable
Cons
Price at the time of publication: $57.8
Cover FX Custom Enhancer Drops is formulated to use as a highlighter. You can mix these drops alone or mix them with any beauty products or over makeup as a highlighter. This customizable highlighter provides a bronze tint and a shiny look. Cover FX drops offer a great glow and are available in different shades. Also, this highlighter for darker skin tones helps in highlighting specific facial features.
Pros
Natural glow
Available in various shades
Metallic finish
Cons
Price at the time of publication: $32
The brilliance of this NYX Professional Makeup liquid highlighter is the all-round approach it has over a skin. It keeps the skin hydrated, brings out the glow from within, and is also available in 8 different shades for all skin tones. Its easily blendable quality means you won't need to add extra time to your makeup routine to get a radiant complexion. Mix it with a moisturizer or primer with the glamorous face liquid highlighter to highlight your face or use it as a body bronzer along with the deep neck tops.
Pros
Creamy in texture
Leaves a soft subtle glow
User-friendly
Easy-to-apply
Durable
Available in 9 shades
Cons
The applicator is too big and doesn't apply in the right way.
Expensive
Price at the time of publication: $8.47
Are you in love with the no-makeup look? Get yourself the Pericone MD No Makeup Highlighter that comes with all the skincare benefits. Made with light-reflecting pigment pearls, the liquid formula is non-greasy and evens out the skin tone by bringing a shine and sun-kissed radiance. Ingredients such as vitamin C Ester are mainly used for reducing the dullness and discoloration. The compounds used in the formulation makes it a medicated product, best suited for sensitive skin types.
Pros
A liquid-gel formula
Improves dullness and discoloration
Infused with light-reflecting pigment pearls
Contains vitamin C Ester
Lightweight
Fragrance-free
Cons
The price is slightly high for the quantity provided
Price at the time of publication: $31
Now donning that sunkissed look with the help of a highlighter with a golden tint becomes easier. Ilia's Liquid Light Serum Highlighter is all that you need to protect your skin from the outdoor heat and pollution. This natural liquid highlighter is formulated with botanical extracts and also proclaims to be a cruelty-free product. This highlighter offers a sunlit complexion and is a treat for all animal lovers.
Pros
A blend of organic and natural botanicals
Silicone, gluten, parabens, phthalates, and sulfates-free
Free of synthetic fragrances and dyes
Cruelty-free
Vegan
Cons
Price at the time of publication: $42.0
Despite the detailed guidelines on which highlighter suits what type of skin, there are still a few common mistakes that people make while choosing a highlighter. Let's discuss the important points that must be kept in mind while choosing a liquid highlighter.
How To Choose The Right Liquid Highlighter?
It's best to find a shade that suits your skin tones and undertones. Though highlighters with peach and golden hues are more popular, they suit fairer skin tones best. Dewy liquid highlighters with golden and champagne shades are best for medium to wheatish skin tones, while bronze and copper shades are more popular amongst people with a darker skin tone.
Liquid highlighters must have a texture that is neither patchy nor runny. This helps in blending the liquid highlighter evenly on the skin. A creamy silky texture is an ideal formulation that is easier to spread and stays put on all types of skin.
A highlighter is considered to be of good quality if it does not cause any harm to the skin. Look for high-quality but affordable liquid highlighters that are free from synthetic materials to avoid rashes or breakouts.
Some of the best highlighters do not show the desired outcome because of an amateur technique of application. There are ways of applying a highlighter, which if ignored will not give the best results.
What Is The Best Way To Apply A Highlighter?
One often suffers from the dilemma of how to apply liquid highlighters. Liquid highlighters work best when applied with the help of your finger. The warmth of the finger helps blend the highlighted evenly. Though it can get a little messy along the way with your fingers swamped with shiny hues. Some even go for a brush or a sponge to apply the highlighter uniformly on all the high points.
Just like any other makeup product, face liquid highlighters have a shelf-life of their own. Let's check the durability of a highlighter and the period they can last you.
How Long Does A Liquid Highlighter Last?
It completely depends on how often you use your highlighter. A liquid highlighter makeup, if used regularly will last you a little over a year. All in all, highlighters are generally good for 1-3 from their date of manufacturing. If stored in a cool and dry place, most highlighters go on for 2-3 years. To be on the safer side, check for the scent of the product to know if it has gone bad or not.
Why Trust StyleCraze?
Srijita De, the author of this article is a makeup enthusiast and loves experimenting with different kinds of makeup products. She uses her expertise and experience to research thousands of user reviews to bring together this list of the best liquid highlighters. These products help to define your face structure and enhance your facial features. They are made to suit every skin type.
Frequently Asked Questions
Q. Is a liquid highlighter any good?
A. Highlighters are the last step of a makeup ritual. It is mainly used to bring some shine on the focal points of a face like the cheekbones, forehead, nose, chin, etc. Mixing the highlighter liquid with some foundation brings a gold-like spark on the face.
Q. How is a liquid highlighter better than powder?
A. A liquid highlighter blends easily and the application is more intensive than any powder. One can even mix it with any foundation or moisturizer to reduce the dewiness if they like. Dabbing the formula evenly all over the face is more convenient with the help of a liquid highlighter.
Q. Which liquid highlighter is best for fair skin?
A. Any highlighter with a whitish, light gold, or light pink shade will look best on lighter skin tone. You can always refer to our list of highlighters that include Nars' Orgasm Illuminator, Milani Strobe Liquid Highlighter's Day Glow, or Wet n Wild Megaglo's Halo Goodbye which were specifically designed for people of lighter skin tones and undertones.
Q. Where and how to use liquid highlighter applied?
A. The liquid highlighter is applied to the high points of a face; around the cheekbones, below the bridge of the nose and the brow bone, and over the cupid's brow in lesser quantity. Follow these highlighter application tips for a radiant look.
Q. Can you apply a liquid highlighter before the foundation?
A. Liquid highlighters tend to break down the foundation below. So one must use it before applying foundation or mix liquid highlighter drops with any other moisturizer and apply with makeup.
Recommended Articles