10 Best Liquid Lipsticks That Stay All Day Long – 2022
Get these lightweight formulas for a smooth and hydrated feel on your lips.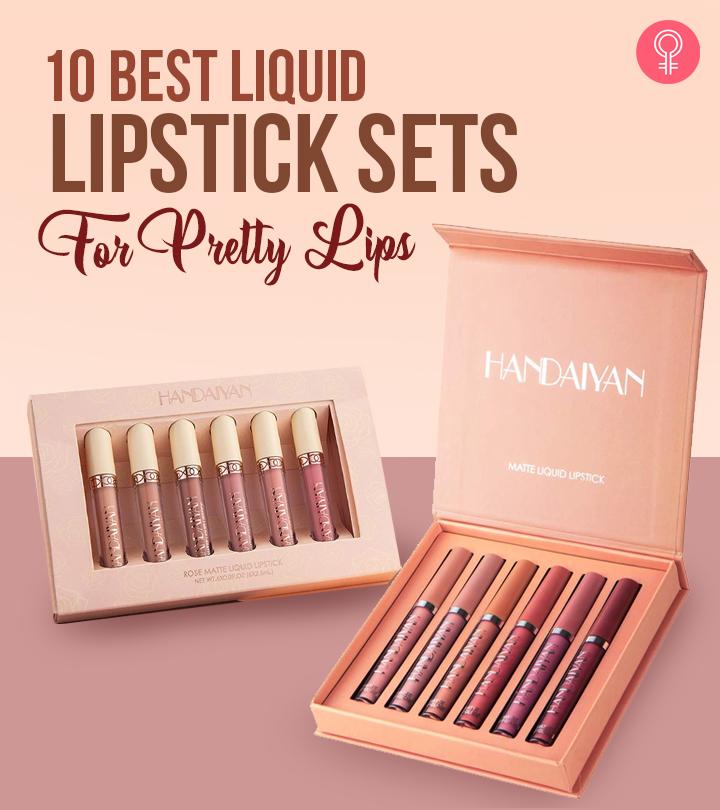 Switch your bullet lipstick for the best liquid lipstick you can get your hands on and it will be a choice that you won't regret. Bullet lipsticks smudge, fade, and transfer quickly whereas liquid lipsticks stay on for long hours and create a very smooth and hydrated feeling on your lips. You can get liquid lipsticks in many shades, so you need not worry about not finding your favorite ones. From rosy pinks to peachy nudes, you will find every shade to cater to all your makeup moods and colors that suit your skin tone to perfection.
We have got the list of the top 10 liquid lipstick sets that are expertly formulated, so take your pick!
10 Best Liquid Lipstick Sets
This set of six full-size lip colors from Beauty Glazed Matte Nude Lipstick is a must-have. The shades – Exposed, Dolce K, Coco K, Candy K, Kristen, and Leo – suit almost all skin tones and come with excellent color payoff. These long-stay lip colors have a velvety texture that does not dry the lips and leaves a matte finish. The compact tubes are beautiful packed in a gold and black embossed box, making it perfect for gifting.
Pros
Goes on smooth
Easy to carry
Waterproof
Long-lasting
Velvety texture
Cruelty-free
Vegan
Cons
UCanBe Lady's Night Matte Lip Color set consists of six velvety matte liquid lipsticks, six matching lip liner pencils, and a moisturizing lip gloss primer. These highly pigmented shades – Nude Pink, Nude Brown, Orange-Brown, Tomato Red, Bold Red, and Satin Grape – have buildable coverage. The lip liner has a soft texture that glides smoothly on the lips to enhance their shape. It also prevents the lipstick from feathering. The lip primer's moisturizing formula feels light on the lips.
Pros
Non-sticky
Long-lasting
Smudge-proof
Waterproof
Cruelty-free
Cons
The stunning liquid lipstick collection from Myuango consists of six high color payoff shades in subtle hues. These colors do not fade easily and are transfer-proof. They add intense shine, offer full coverage, and stay long on the lips. The non-sticky formula provides a matte velvety finish to your lips.
Pros
Long-lasting
Does not crease
Non-sticky
Cons
None
The Meet Matte Hughes collection contains six exquisite nude shades – Trustworthy, Sincere, Charming, Genuine, Patient, and Humble. These lipsticks are highly pigmented and run smoothly on your lips to create an enticing matte finish without being patchy. The limited-edition set can be a great gifting piece for your friends and family.
Pros
Lightweight
Long-lasting
Highly pigmented
Goes on smooth
Cons
This set of 24 lipsticks from Langmanni is a perfect gift for makeup lovers. The vivid shades, ranging from browns to blues, give you fabulous lips every time. These highly pigmented lipsticks offer a rich color payoff in one swipe and last up to 12 hours without fading. The moisturizing formula is infused with raspberry seed oil, moringa oil, and vitamin E that keep the lips hydrated and nourished.
Pros
Hypoallergenic
Kiss-proof
Non-sticky
Long-lasting
Waterproof
Cons
This liquid lipstick set from Langmanni has 12 full-size lipsticks in vibrant shades. These lip colors come with a convenient doe-foot applicator that provides full coverage in just one swipe. The highly pigmented colors leave your lips with a matte finish, while the moisturizing ingredients keep your lips hydrated. These lipsticks are kiss-proof and long-lasting.
Pros
Waterproof
Goes on smooth
Long-lasting
Non-fading
Non-sticky
Cons
This gorgeous collection from Lemonsac contains seven liquid lipsticks neatly packed in a beautiful black case. These lipsticks have a hydrating formula that stays all day without drying out your lips. The seven highly pigmented shades give an instant bold matte finish with one swipe. These shades range from subtle to dark hues and are designed to suit all occasions.
Pros
Lightweight
Long-wearing
Highly pigmented
Easy to remove
Moisturizing
Cons
None
The Kat Von D Liquid Lipstick Obsession Set is a xo vinyl mini lip cream set containing four vegan lip glosses: Blossom, Carnation, Tulip, Hollyhock. These are emollient-based gel formulae that hydrate the lips and deliver highly pigmented color while adding shine to them.
Pros
Creamy formula
Doesn't dry the lips
Vegan
Cruelty-free
High shine finish
Cons
The Bonnie Choice Matte Liquid Lipstick Set consists of six matte nude shades in warm to cool undertones. These highly pigmented shades are made of natural ingredients suitable for all skin types, including sensitive skin. The silky formula wears gently on the lips, offers full coverage, lasts long, making the lips look fuller. The warm shades are rich in color and are suitable for all occasions and seasons.
Pros
Well pigmented
Made of natural ingredients
Suitable for all skin types
Long-lasting
Waterproof
Cons
The six-piece liquid lipstick set from Famoustore is perfect for lipstick lovers. The highly pigmented shades offer rich color payoff and are designed to suit all occasions. These lipsticks are formulated with natural ingredients like vitamin E and beeswax that keep your lips moisturized throughout the day. They are also infused with vegetable oils to give a natural shine to your lips and keep them hydrated.
Pros
Long-lasting
Smooth application
Highly pigmented
Natural ingredients
Does not feather
Cons
Frequently Asked Questions
How do you apply liquid lipstick perfectly?
• Apply lip balm to your lips.
• Line your lips with a lip liner.
• Dip the applicator into the tube.
• Start with applying on the outer corners of the lower lip.
• Then line the edge and fill in the lower lip with a few swipes.
• Press your lips together and transfer some lipstick to the upper lip.
• Then draw the outer edge of your cupid's bow and the upper lip with the liquid lipstick.
• Fill in the upper lip entirely with a few swipes.
• Blot your lips on some tissue paper to absorb the excess moisture from the lips and give them a matte look.
How long can you use liquid lipstick?
You can wear liquid lipstick for eight to ten hours a day.
What is the difference between lipstick and liquid lipstick?
Liquid lipsticks contain more oils and polymers and less wax. As a result, they dry down to an opaque finish. In contrast, regular bullet lipsticks contain several emollients that offer your lips a glossy look and feel.
How long does liquid lipstick take to dry?
Liquid lipsticks take approximately three to five minutes to dry.
Is liquid lipstick flammable?
Yes. Liquid lipstick contains oils that can catch fire.
Can you layer liquid lipstick?
Yes. Apply thin layers of liquid lipstick to achieve a smooth lip look. But try to layer the lipstick when it is wet.
How do you melt liquid lipstick?
Add four to five drops of cold-pressed coconut oil to your solidified liquid lipstick tube. Then, shake the tube and leave it for five minutes to melt the product.
How do you keep liquid lipstick from cracking?
Wear a moisturizing lip balm before applying the liquid lipstick to prevent it from cracking. In addition, exfoliate the lips once a week to get rid of the dead skin cells that crack your lips.
Recommended Articles